Inbox: Was trading Hicks for Murphy the right move?
Twins beat reporter Rhett Bollinger answers questions from fans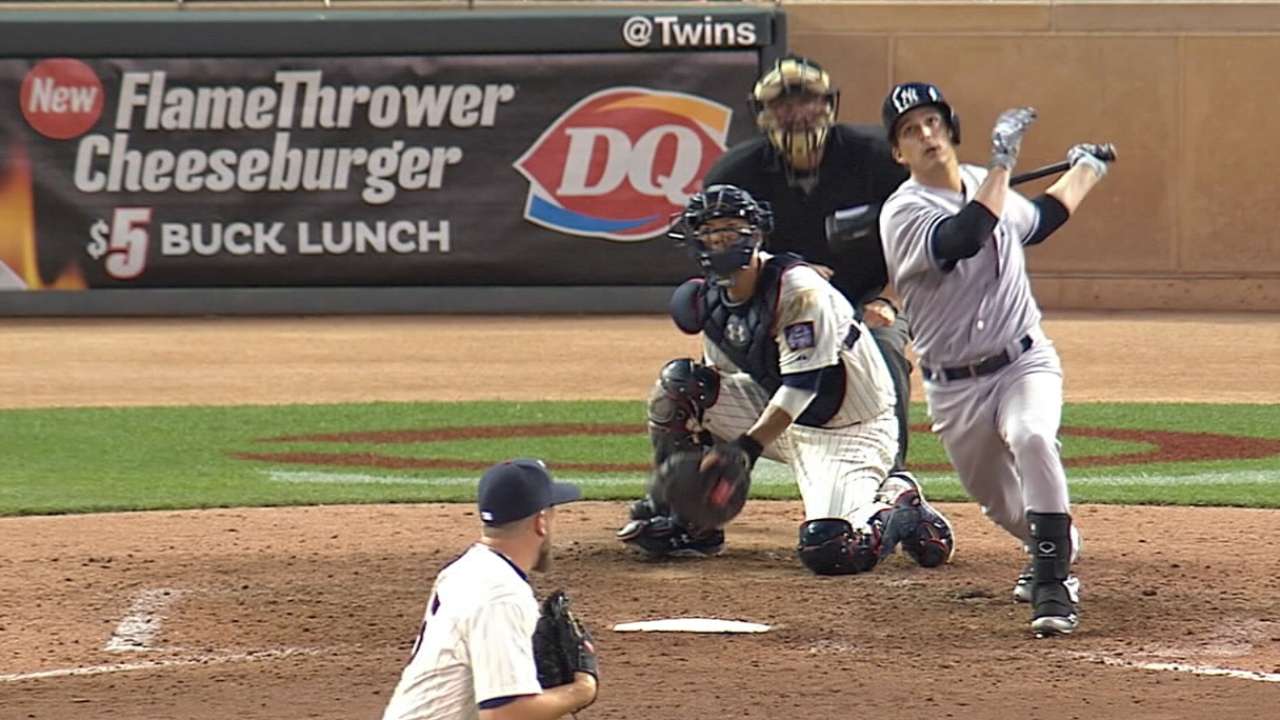 MINNEAPOLIS -- The Twins have been busy early in the offseason, winning the bid on Korean slugger Byung Ho Park and trading Aaron Hicks to the Yankees for catcher John Ryan Murphy.
So there's plenty to discuss about what the Twins have done so far and what they plan to do going forward, and with that in mind, here's the first Twins Inbox of the offseason:
The Hicks trade really caught me by surprise. He was really starting to develop into a great center fielder and was really starting to hit the ball well. His average was great toward the second half of the season when he came off of the DL. What are your thoughts on the trade?
-- Jacob L., Remsen, Iowa
The trade caught me a little bit by surprise considering Hicks finally started to show signs of a breakout in 2015 after struggling offensively in the Majors in his first two seasons. But most of his production came in one month, as he hit .346 with a 1.001 OPS in July, but never topped a .701 OPS in any other month. And the Twins have several other young options in center, including Byron Buxton, Eddie Rosario and Max Kepler.
So while Hicks, 26, showed some signs that he's starting to figure it out, there's still no guarantee he's going to provide much offense going forward, as the switch-hitter is a career .206/.284/.311 batter against right-handed pitching. But the Yankees bet high on his upside and gave up a quality catcher in Murphy, who the Twins have under control through 2020.
Murphy, 24, doesn't quite have the same ceiling as Hicks, but he's a safer bet to be a solid regular at catcher going forward, which was a huge area of need for the Twins. He can split duties with Kurt Suzuki in 2016 and take over from there. He's regarded as an above-average defensive catcher with a strong arm, with the potential to be a slightly above-average hitter. So there's some risk Hicks becomes an All-Star with the Yankees, but he still has a long way to go. The trade made sense for both sides, as the Twins traded from a position of depth to get a much-needed catcher who is more than just a backup.
With Terry Ryan likely to continue to be aggressive on the trade front, who aside from Trevor Plouffe, Majors or Minors, would likely be a trade chip? And is shortstop also an area to be addressed or will Eduardo Escobar and Danny Santana be the options heading into Spring Training?
-- John G., Robbinsdale, Minn.
Plouffe remains the club's most obvious trade chip on its big league roster, as it could look to move him for pitching to make room for Miguel Sano at third base. But the Twins have maintained they're looking to keep Plouffe, which would move Sano to the outfield in the short term.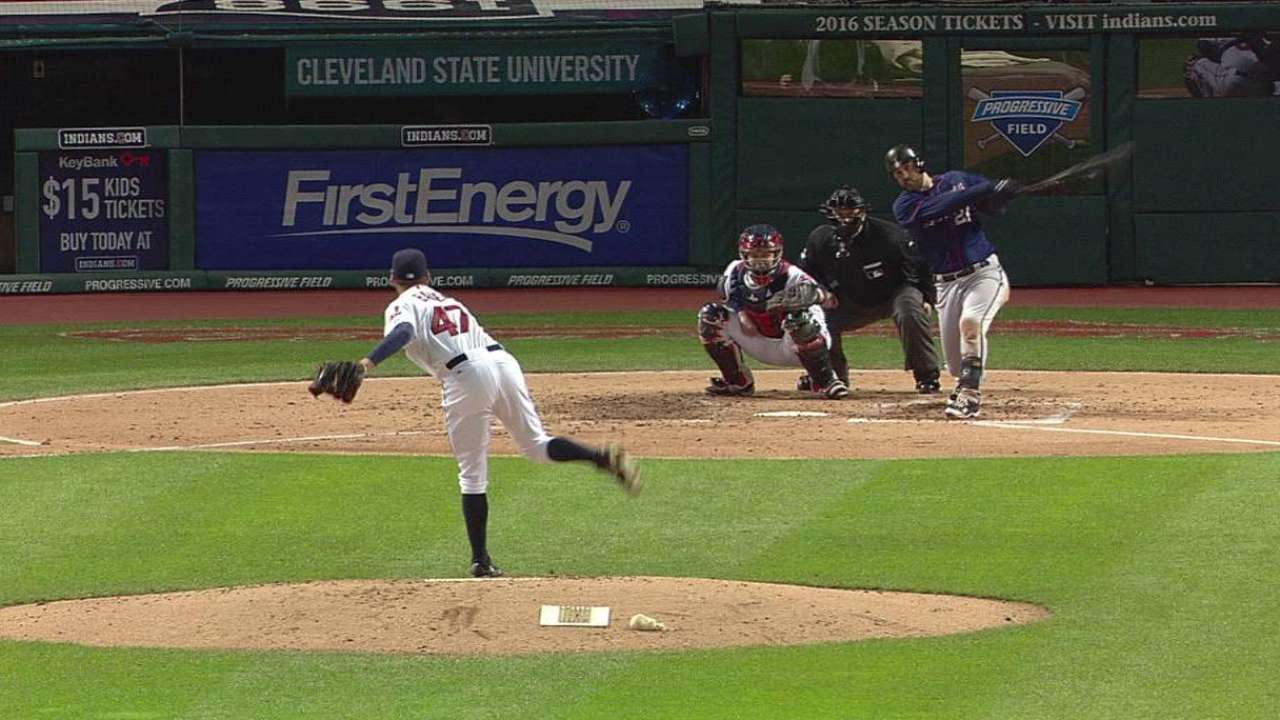 Outside of Plouffe, the Twins have a few intriguing Minor League pieces, including Jorge Polanco, who is regarded as a solid middle-infield talent, but is more likely to be a second baseman than a shortstop, which means he's blocked by Brian Dozier. But as far as younger players on the Major League roster, they'd be selling low on players such as Oswaldo Arcia, Kennys Vargas or Santana, who all struggled in 2015.
Arcia gives the Twins some outfield depth after the retirement of Torii Hunter and the Hicks trade, while Santana is expected to see more time in center field than shortstop to give the Twins an option in center in the absence of Hicks. As for Escobar, Twins manager Paul Molitor said after the season he believes Escobar did enough to be the starting shortstop heading into next season.
Is there any hope that Alex Meyer can be a viable Major League pitcher, or have the Twins given up on that?
-- Travis J., Edgeley, N.D.
Given his impressive stuff and the fact he's 25 years old, the Twins certainly haven't given up on Meyer, but the question remains whether he's better off becoming a full-time reliever after his struggles in 2015. Meyer, at 6-foot-9, has had trouble with his mechanics and had a 7.09 ERA in 39 1/3 innings as a starter at Triple-A Rochester and a 16.88 ERA in 2 2/3 innings with the Twins last season.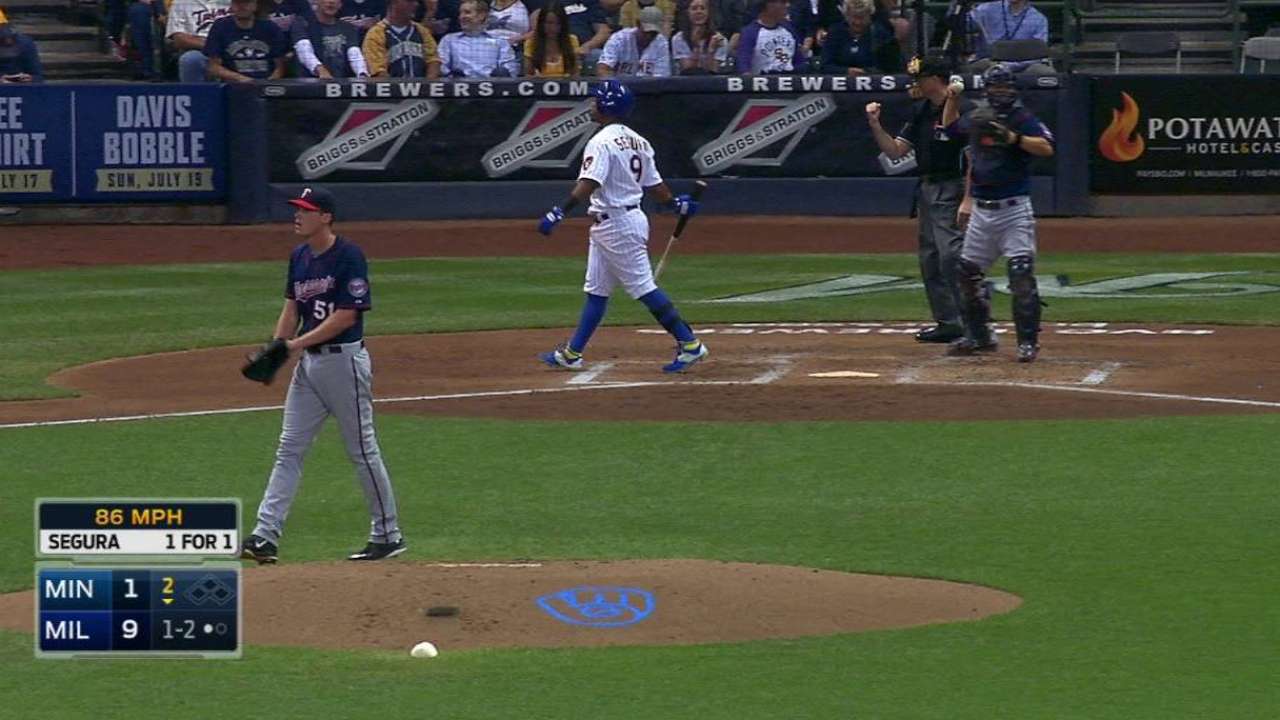 But as a reliever at Rochester, Meyer had a 3.08 ERA with 59 strikeouts in 52 2/3 innings, and the Twins desperately need power arms for their bullpen, so it could make some sense to use him as a reliever in 2016. Meyer, though, has to regain his confidence after his down season, as he still has the potential to be a big piece for the Twins, even in a bullpen role.
What happened to Josmil Pinto? Two years ago this guy was said to be our future catcher, but now I hear we have no depth at catcher. So is Pinto still in the mix?
-- Eric V., Little Falls, Minn.
Pinto has always had above-average offensive potential, but his defense behind the plate has been a question. He had a chance to be the club's backup last year, but missed most of last season due to a concussion and didn't catch a game after June 9.
So he's technically still in the mix but more as a depth option at Triple-A. Given his limitations defensively, the Twins made the trade for Murphy, who is expected to be their catcher of the future. Prospects Stuart Turner and Mitch Garver are part of that catching depth for the Twins and are participating in the Arizona Fall League.
Rhett Bollinger is a reporter for MLB.com. Read his blog, Bollinger Beat, follow him on Twitter @RhettBollinger and listen to his podcast. This story was not subject to the approval of Major League Baseball or its clubs.