Papi to the Hall? Our HOF voters weigh in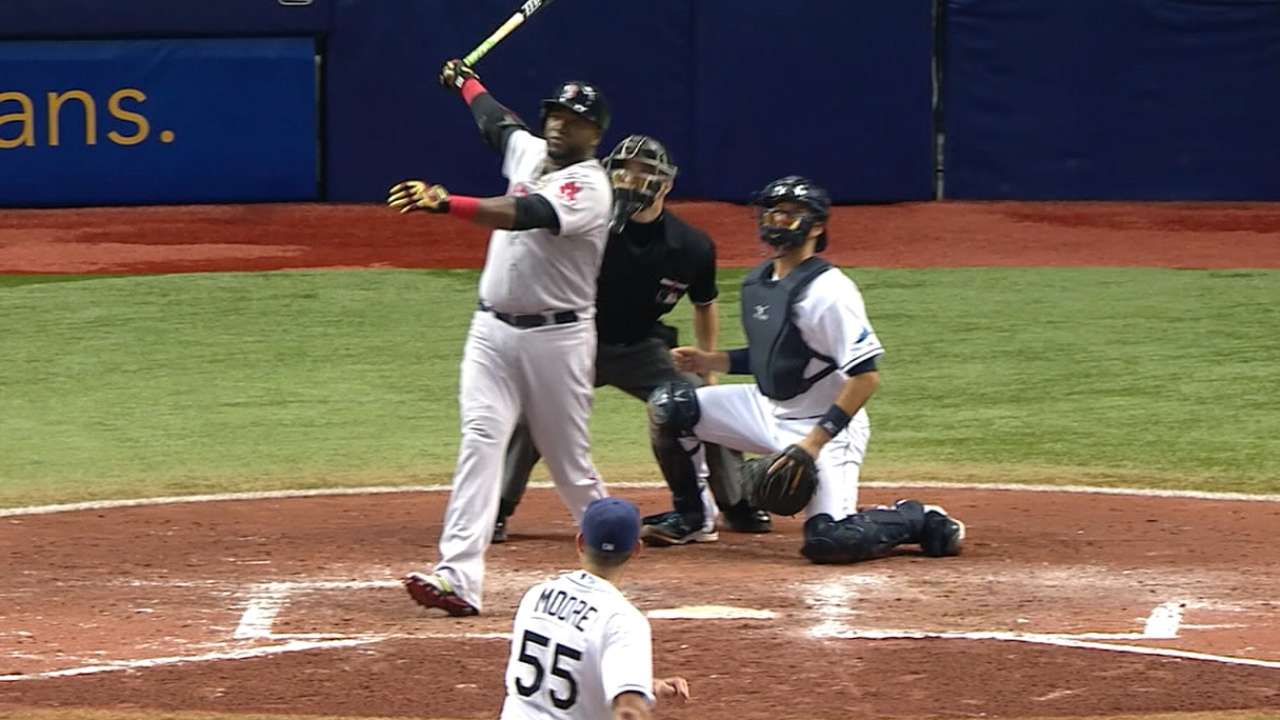 Now that David Ortiz has announced that 2016 will be his last season, the conversation has turned to his legacy and whether or not he is worthy of the Hall of Fame. His supporters will cite his 500-plus home runs, dramatic hits and the fact that he was instrumental in ending the Red Sox's 86-year World Series drought in 2004 while helping to lead Boston to two more championships in '07 and '13.
His detractors will say that he was almost exclusively a designated hitter and point out his controversial connection to performance-enhancing drugs.
• Papi confirms he will retire after 2016 season
Will Ortiz make it to Cooperstown? We won't really know until he hits the ballot in 2021, but to get a sense of his chances we asked a number of MLB.com reporters who have Hall of Fame votes if they plan to vote for Big Papi. This is what they said.
Mike Bauman
I would vote for Ortiz for the Hall of Fame. He has met a fundamental criterion for election by being a dominant player during his career, turning the fortunes of an entire franchise in the process.
Barry M. Bloom
Yes. I think the role of the DH in baseball history needs to evolve forward and an Ortiz induction would take it to the next level.
Chris Haft
My gut reaction is no. I'll admit that I'm a tad biased against DHs entering the Hall. That said, I could change my mind when the time comes. After all, I vote for certain relievers; if I employ that logic, I ought to consider DHs too, right? Nevertheless, baseball's greatest performers are men who excelled at multiple skills. So I'm inclined NOT to vote for Papi. But, again, I've changed my mind before.
Paul Hagen
Ortiz has HOF numbers, so the question really is whether or not he'll be voted in on the first ballot. So far, there seems to be a disinclination to vote for DHs, but who knows what the thinking will be in five years when he's eligible.
Richard Justice
Yes. He has produced at an elite level (he leads the American League in homers and RBIs during his 13 seasons with the Red Sox). He has won three championships and has been one of the faces -- if not the face -- of one of the great franchises in professional sports. Slam dunk.
Terence Moore
At the moment, I can't envision voting for a player who primarily was a designated hitter and had has at least one of his spikes in the PEDs mess.
Mark Newman
He dominated during his era: a nine-time All-Star, 500-plus home runs, heroic three-ring leader and a .962 postseason OPS. PEDs suspicion never has been relevant to my HOF voting. He would be a yes.
Marty Noble
I've yet to vote for a designated hitter or someone connected to PEDs. My opposition isn't what it was two or three years ago, but I have some time to think.
Tracy Ringolsby
I am, at this time, torn on the issue of the DH. The fact he has been a great hitter is wonderful, but there is another side to the game. And to be one of the greats, I see a need to be a more complete player. While I do not have a problem with the PEDs issue, I am sure his name having been associated with PEDs will be a factor for some voters.
Phil Rogers
I can't ignore him being tied to PEDs use in the 2003 survey testing, and to date, haven't voted for any candidates linked to PEDs use as I can't see my way around the character clause in the voting guidelines. That said, this is a soft "no," because there's a lot of nuance to Ortiz's reported positive; he'd be a yes otherwise.
• Signing Ortiz changed Red Sox's course
Tom Singer
Absolutely. The biggest shade on his Cooperstown-worthy career is the DH thing, and indeed, we will be getting into hypocrisy territory if he gets in while the man for whom the DH Award is named -- Edgar Martinez -- remains out. I have consistently voted for Martinez, but to no avail.
Lyle Spencer
My impulse right now is that I would vote for him given the totality of his impact on the game, including his leadership with the Red Sox during their run of championships and excellence.
T.R. Sullivan
I would lean toward voting for Ortiz. But if Ortiz gets in the Hall of Fame, then Jeff Bagwell better be there waiting for him, and it also might be time for Fred McGriff to get a fresh look.