Urshela to train with Lindor in offseason
Indians want rookies to remain close as third baseman looks to improve at plate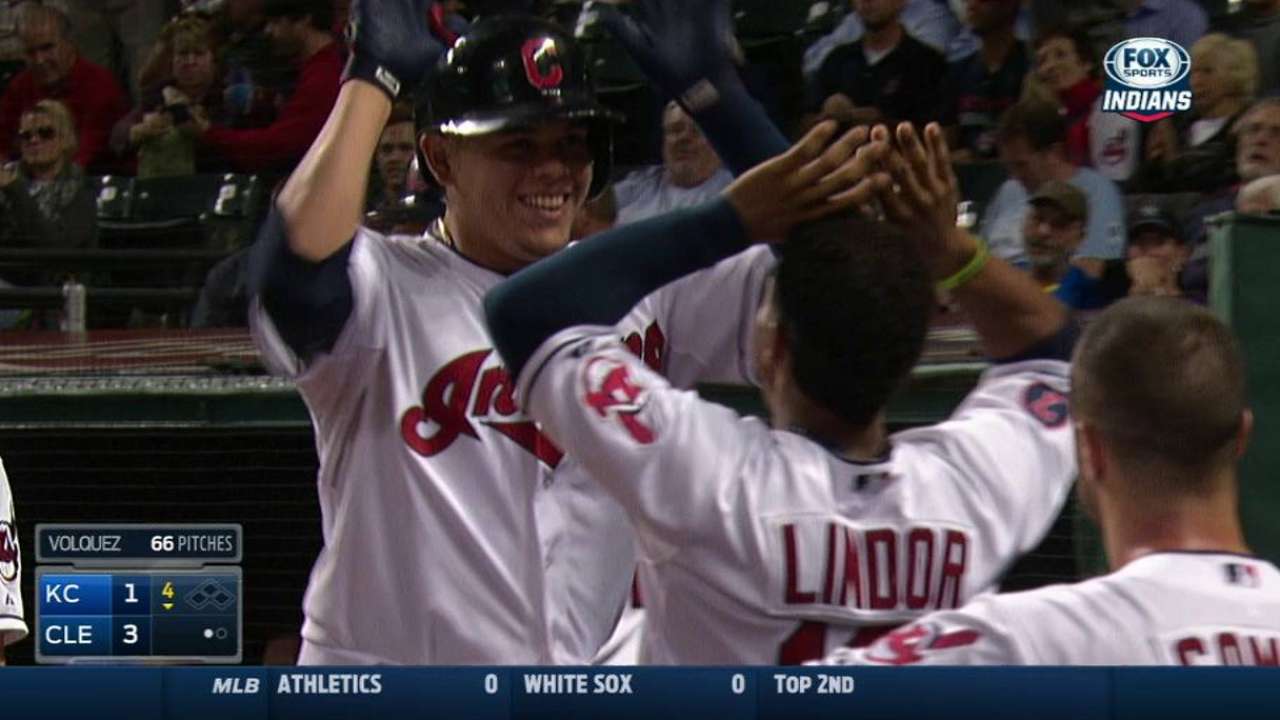 CLEVELAND -- Francisco Lindor and Giovanny Urshela are accustomed to close proximity. For the past three years, they have climbed up the Indians' organization ladder, Lindor manning shortstop and Urshela handling third base at their stops along the way.
Their partnership on the left side of Minor League infields culminated in their respective promotions to Cleveland this past season, when Lindor and Urshela helped shore up the Tribe's previously troubled defense. The pair will remain close this offseason, as Urshela plans on heading to Florida to train with Lindor before they return to Arizona for Spring Training.
"I think it's a good idea," Indians manager Terry Francona said at the end of the season. "I think they'll push each other and I think it's really good."
Francona's first choice was to have the 24-year-old Urshela spend the bulk of the winter training at the team's complex in Goodyear, Ariz., where the club holds a strength and conditioning camp and has trainers and medical staff on duty. The Indians manager also knows that asking a player to spend a season, and then an offseason, away from his home country (Colombia in Urshela's case) can be hard on a player.
Training with Lindor was a good compromise. Francona said the plan was to have the 24-year-old Urshela join Lindor in Florida in December before a trip to his home country for the holidays. Urshela would then return to Florida to stay and train with Lindor in January for the weeks leading up to the beginning of spring camp.
"I think those guys will motivate each other," said Indians president of baseball operations Chris Antonetti. "You see the dynamic they have when they're on the field together. They have that same dynamic off the field. One of the things that's great about Francisco ... is he takes his offseason very seriously. We know he's going to put in the work and push himself.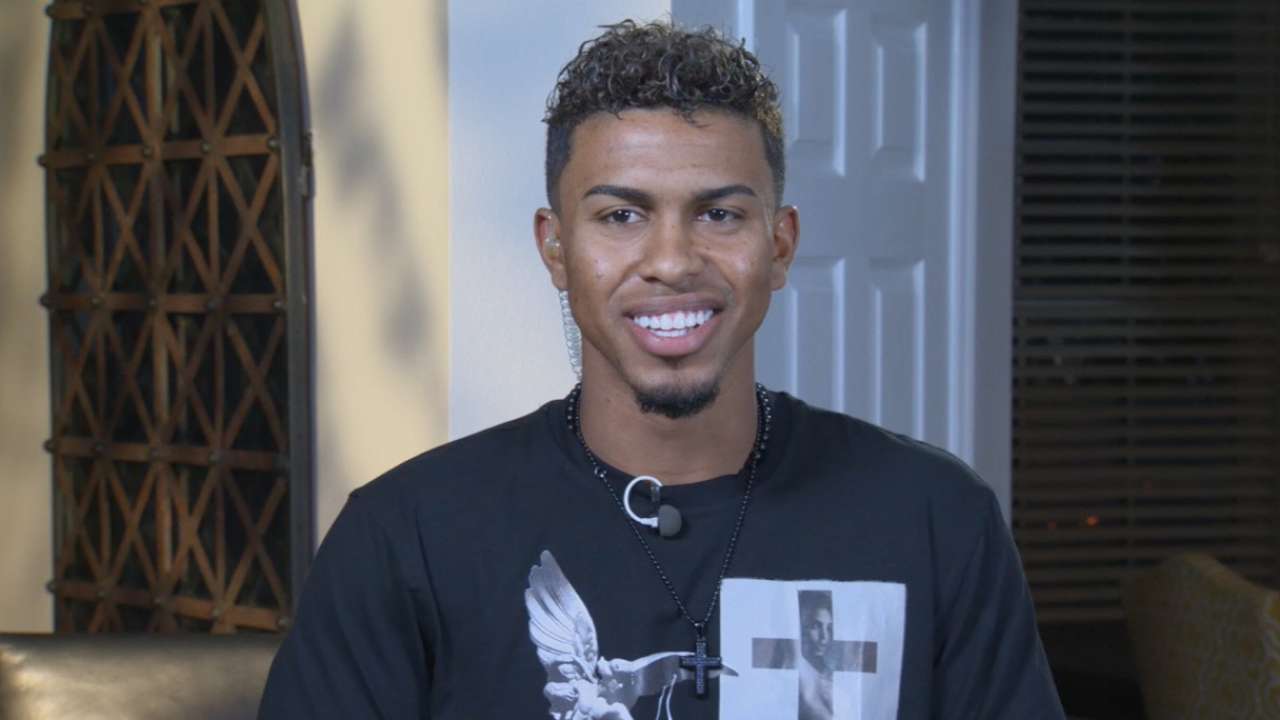 "If that has the result of Gio and Francisco pushing each other and coming into Spring Training in the best condition possible, that seems like a really good formula for success."
As things stand, Urshela projects to be Cleveland's starter at third base come Opening Day. That could certainly change as the Indians maneuver through the offseason, but the Tribe knows it has a strong defender at the hot corner in the young infielder. What the Indians do not know for certain is exactly what kind of Major League hitter they have.
When evaluating Urshela's offensive showing in 2015, when he hit only .225 with a .608 OPS in 81 games for Cleveland, it is important to keep in mind how many health setbacks he encountered. The third baseman sustained a left knee injury in winter ball last year, missed Spring Training due to a back issue that flared up again in May and then sat out part of September with nagging right shoulder soreness.
Urshela hit just .192 with a .559 OPS across August and September while dealing with the discomfort.
"It was a very tough, very hard year for me," Urshela said. "I try to always be healthy and get out there and come every day being positive. I was trying to finish the season healthy, so that's what I tried to do. And that's what I did."
Urshela has always been highly regarded for his defense, but he put himself on Cleveland's radar with his offense two seasons ago. Before the injuries struck throughout this past year, Urshela hit .280 with 18 homers, 60 extra-base hits, 84 RBIs and an .825 OPS in 128 games between Double-A and Triple-A in 2014.
"We know that potential is in there," Antonetti said. "Gio himself said that's his area of focus going into the offseason. He wants to get his body back to feeling the way it did prior to 2014. If he does that, we've all seen what he's capable of doing. We think he'd have a chance to impact us, not only defensively the way he has already despite some of his injury limitations this year, but impact our offense as well."
Urshela's training this offseason is critical in that regard.
"Gio understood," Francona said, "that coming into camp next year strong and fast and in good shape is going to be really important."
Lindor was looking forward to training with his close friend, too.
"It'll be big," Lindor said. "Having him next to me, training with me, is going to make me push myself a little harder. I'm sure he's going to push himself harder and it's going to help us continue that chemistry that we have. It's going to help us come in ready for the team next year."
Jordan Bastian is a reporter for MLB.com. Read his blog, Major League Bastian, follow him on Twitter @MLBastian and listen to his podcast. This story was not subject to the approval of Major League Baseball or its clubs.