MLB.com Columnist
Phil Rogers
Signing Ortiz changed Red Sox's course
At recommendation of Eljaua, Boston snagged slugger after release from Twins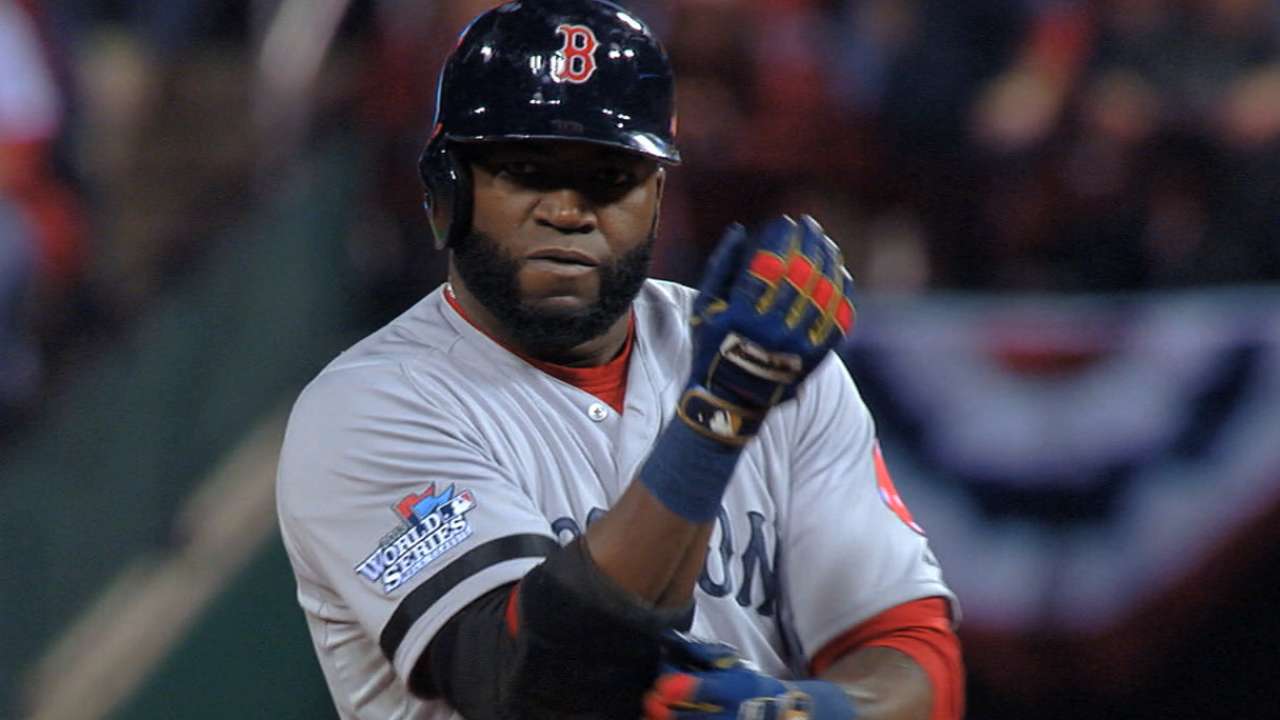 Sometimes history writes itself. That was the case for the Red Sox with David Ortiz and Louie Eljaua, one of the scouts who pushed the hardest for Theo Epstein to sign him.
Epstein and Eljaua had spent much of the fall of 2002 wooing Cuban defector Jose Contreras. They used a full-court press that legend says at one point included Eljaua booking all the rooms in Hotel Campo Real, in Managua, Nicaragua, because it would inconvenience the Yankees, who were also in hot pursuit.
Epstein and his team did not get their man that time, with Contreras signing with the Yankees on Christmas Eve. But less than a month later, Epstein struck gold, signing Ortiz for $1.25 million after the Twins released him, in part because of the recommendations of Eljaua, Dave Jauss and others who had seen Ortiz work his big-game magic for Escogido in the Dominican Winter League.
Thus began the relationship that has rewritten Boston's modern baseball history, with Ortiz claiming a spot alongside Ted Williams and the franchise's other legends as the Red Sox won the World Series in 2004, '07 and '13. Ortiz, who turned 40 Wednesday, announced that he will retire after the 2016 season.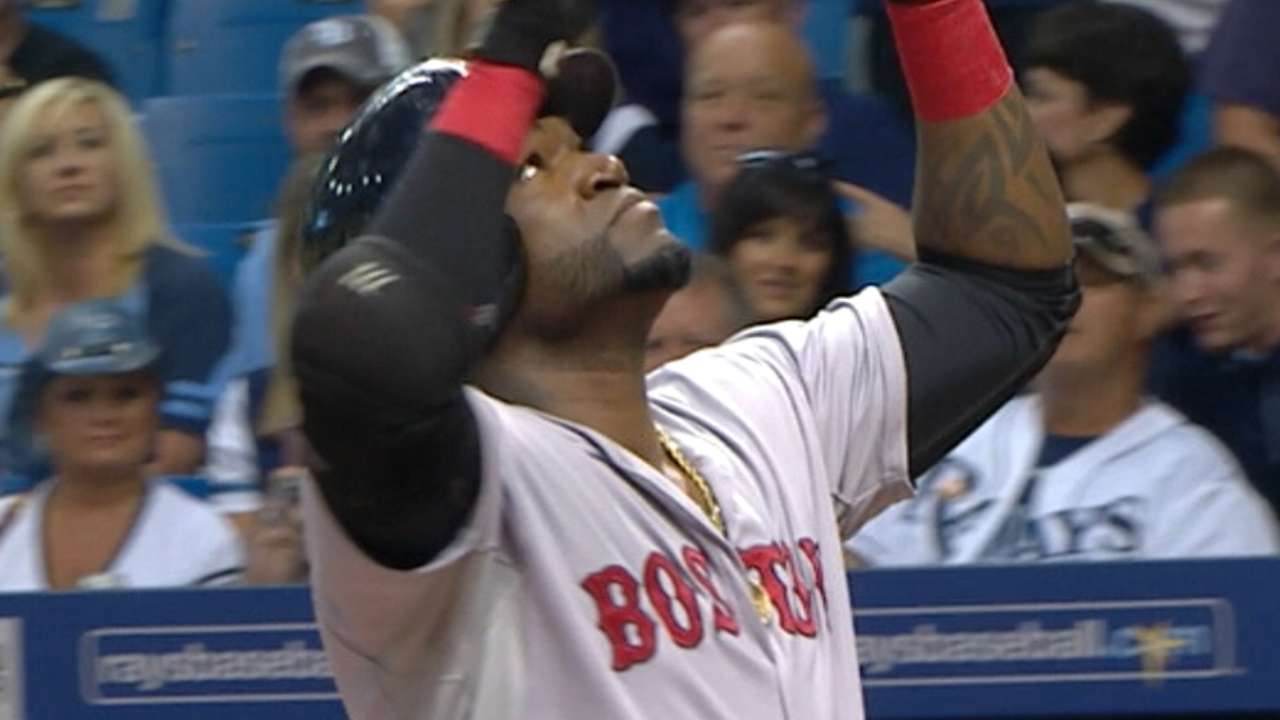 "I have to say that I had a small hand in this," said Eljaua, who is now the Cubs' head of international scouting. "He was on Theo's radar as soon as Minnesota cut him loose. Myself and Jesus Alou, who was our top scout in the Dominican, just confirmed what Theo thought about him."
Ortiz was coming off a season with the Twins in which he had hit .272 with 20 home runs in 125 games. Bill James, who had joined Epstein's front office after elevating the art of statistical analysis, and other behind-the-scenes voices encouraged Epstein to seize the chance to grab Ortiz as they tried to upgrade a first-base position that had been manned by Tony Clark and Brian Daubach in 2002.
"Everybody was in favor of signing David Ortiz," James once told "60 Minutes." "I liked him because of his numbers, the scouts liked him because of his swing, [and] some people liked him because they knew he was a positive guy in the clubhouse."
• Past, present Sox agree: Ortiz one of a kind
Jauss, the son of late Chicago Tribune sportswriter Bill Jauss, was then a scout for the Red Sox who spent his winters managing Licey in the Dominican Winter League. He had added Ortiz to his roster for the 1999 Caribbean Series, and he knew him well.
Epstein called Jauss after the New Year to work out Ortiz, wanting to make sure the Twins hadn't released him because of an unknown injury. Now a bench coach for the Pirates, Jauss told the Washington Post he worked the 27-year-old "like he was a 16-year-old free agent" and found no negatives to report.
Eljaua recalls Ortiz as one of the most productive hitters in the league year in, year out for Escogido. He didn't see any reason that couldn't carry over to the American League.
"Winter ball in the Dominican at the time was still being played at a very high level, with a lot of intensity,'' Eljaua said. "Plus he was only entering his age-27 season. Jesus and I had seen him play a lot of Winter League games. We felt that he was still on the rise. He had just come off a 20-homer season with Minnesota and had always been a clutch performer in big situations for Escogido."
Epstein cited Ortiz's "high ceiling" and an agreement between the organization's scouts and analysts when Boston signed him. While Epstein told reporters he could "be an impact middle-of-the-lineup bat," Ortiz would join four others -- Kevin Millar, Jeremy Giambi, Dave Nilsson and Earl Snyder -- auditioning for the Red Sox's first base-DH mix the next spring.
• In their words: Red Sox reflect on Ortiz
Eljaua remembers a belief that Ortiz could benefit from playing at Fenway Park, where the Green Monster would turn long outs into extra-base hits. But you needed more imagination that that to see where Ortiz would go in his remarkable career.
"I'd be lying to you if I thought he would put up the numbers he has, but again, we felt there was more in there than just a 20-homer guy," Eljaua said. "We did feel that he potentially had his better years in front of him. I also remember talking as a group that the Green Monster could help his production greatly if he could learn to drive the ball the other way more. To his credit, he did take his game to another level. It truly has been fun to watch what he's done over the years since arriving in Boston."
Eljaua looks forward to the summer day when he can attend Ortiz's induction in Cooperstown.
"I would like to think he's a Hall of Famer,'' he said. "I would think he has made a pretty good case for himself. Not just his career numbers, but what he has done in the postseason, what he has meant to the city of Boston and to the people back in the Dominican Republic. The entire body of his work is amazing. He has a lot to be proud of. I'm very happy for him."
Phil Rogers is a columnist for MLB.com. This story was not subject to the approval of Major League Baseball or its clubs.