Boxberger aims to continue evolution as closer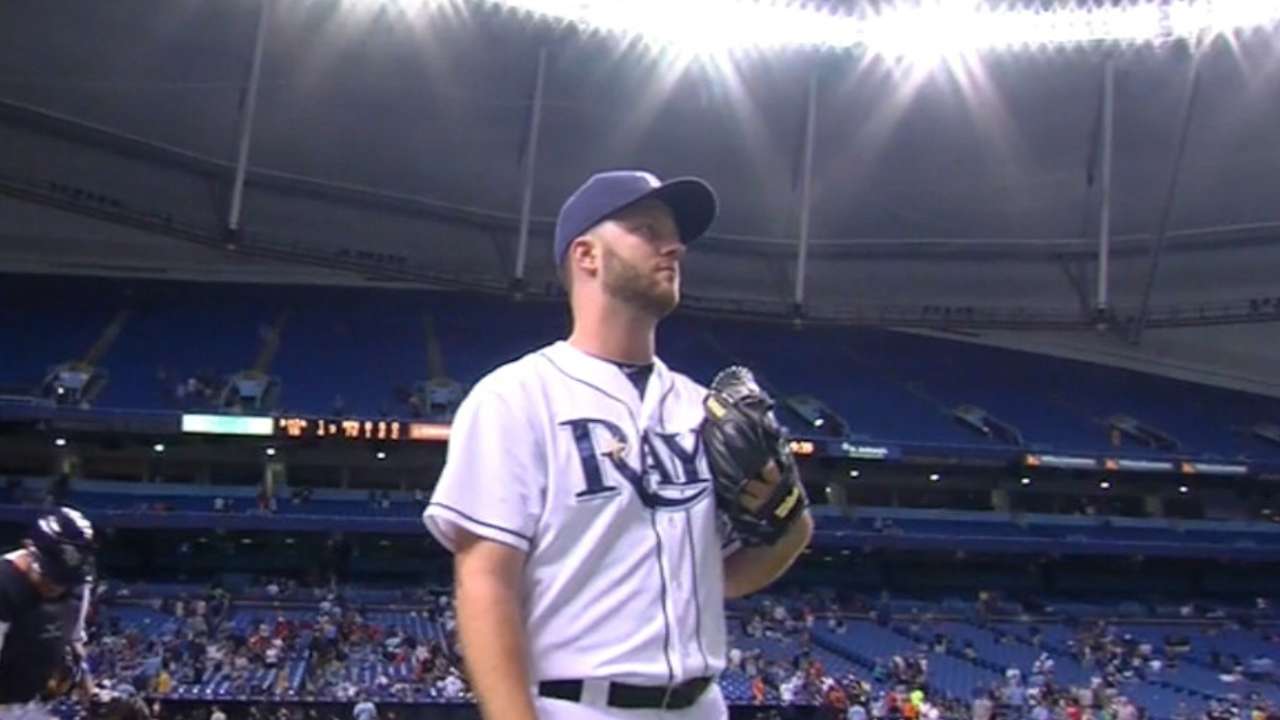 ST. PETERSBURG -- According to Baseball Reference, 236 of the 271 batters Brad Boxberger faced in 2015 came in "late and close" situations. That's enough to make a cup of coffee nervous.
All the while, Boxberger remained calm, posting an American League-leading 41 saves. Yes, the second-year Rays closer did give it up a few times -- he absorbed a club-record six walk-off losses (the most in the Major Leagues since Philadelphia's Brad Lidge's six in 2009) -- but he didn't have the luxury of being a closer in the traditional sense, either. Boxberger was used in the middle innings at times to try and snuff opposing rallies.
According to Rays pitching coach Jim Hickey, not having a specific role -- particularly early in the season -- was a tough situation for Boxberger. Hickey also pointed out that almost every time Boxberger pitched, he was doing so in a "high-leverage" situation.
"It's kind of like the new age, what the Rays are doing, especially," Boxberger said. "And kind of how baseball is going, with fewer permanent roles for certain guys. It's definitely a learning process for me and whoever has to do that role, instead of just being prepared for one situation. You have to be prepared for multiple."
Another tasty morsel for Boxberger haters to chew on is the fact that he made 11 scoreless appearances against division-rival Boston, equaling the most in Major League history in a season.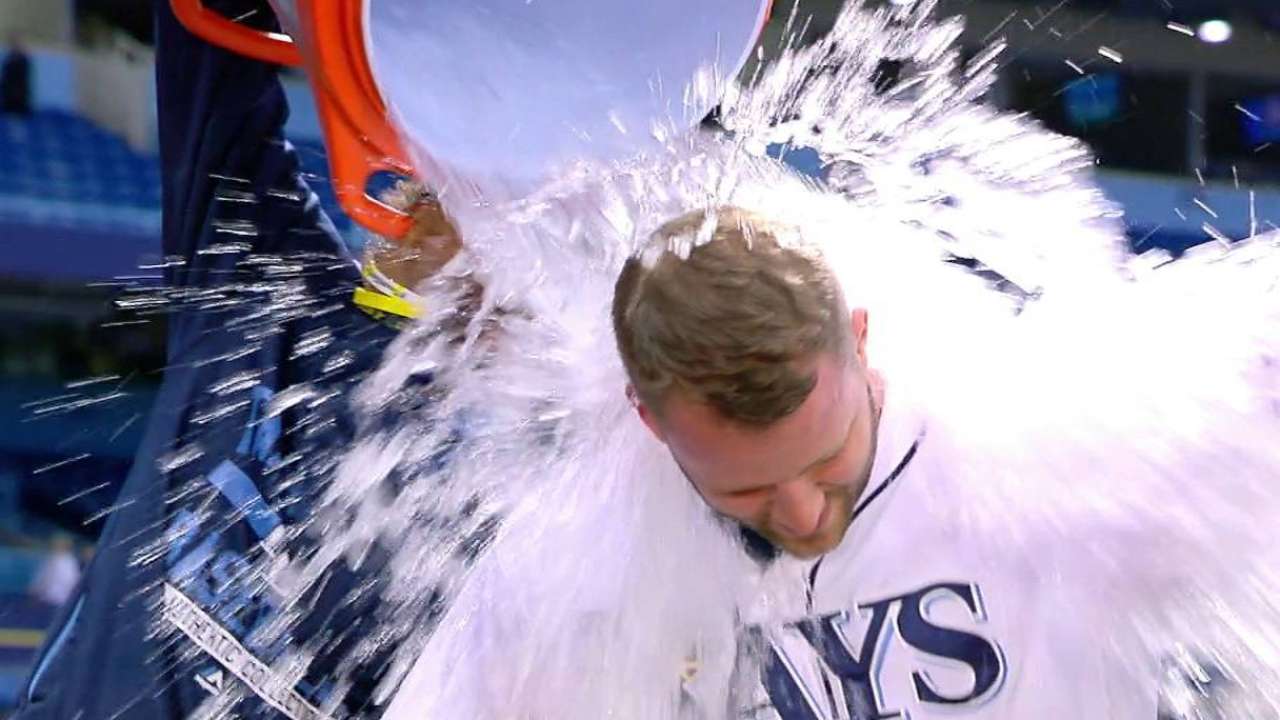 Boxberger will continue to have his detractors, which is reality for any closer, so the 27-year-old right-hander has put 2015 in the rearview mirror. Now he's back home in Mission Viejo, Calif., and just beginning to look ahead to 2016.
"The first month [of the offseason] is just kind of decompressing from the season and kind of seeing what I liked about it, what I didn't," Boxberger said. "What I need to work on for next year. Kind of evaluate what happened, the good and the bad."
When asked to elaborate, Boxberger said the good was the overall results of the entire season, a season that saw him go 4-10 with a 3.71 ERA in 69 appearances and make the AL All-Star team.
"But I need to work on more becoming more consistent overall," Boxberger said. "Being able to limit the bigger innings. And just kind of keep leads where they are, and if it's a tie game, keep those where they are."
Boxberger appeared to tire at the end of the 2014 season, but not as much at the end of '15. He allowed that he felt fresher at the end of last season than the prior one.
"I definitely did," Boxberger said. "Not having to go up and down [from the Minor Leagues to the Major Leagues in 2015], that extra travel. Just having that full big league season the previous year definitely helped this year."
Given the fact that he felt fine at the end of 2015, Boxberger doesn't plan to do too much different in the way of conditioning this offseason.
"Probably the same thing," Boxberger said. "I was ready to go this year. I felt good. Maybe I'll run a little bit more during the season. Try and get outside a little bit more, especially at home because it's hard to run on the turf [at Tropicana Field] every day. Just try and keep the in-season conditioning up."
Like most players of any value, Boxberger's name has been mentioned in trade rumors, though the fact that he is not yet arbitration-eligible and is under control through the 2019 season seemingly makes keeping him the most attractive option for Tampa Bay. The never-rattled Boxberger isn't fazed at all by trade talk. He noted that he and his wife are used to said speculation.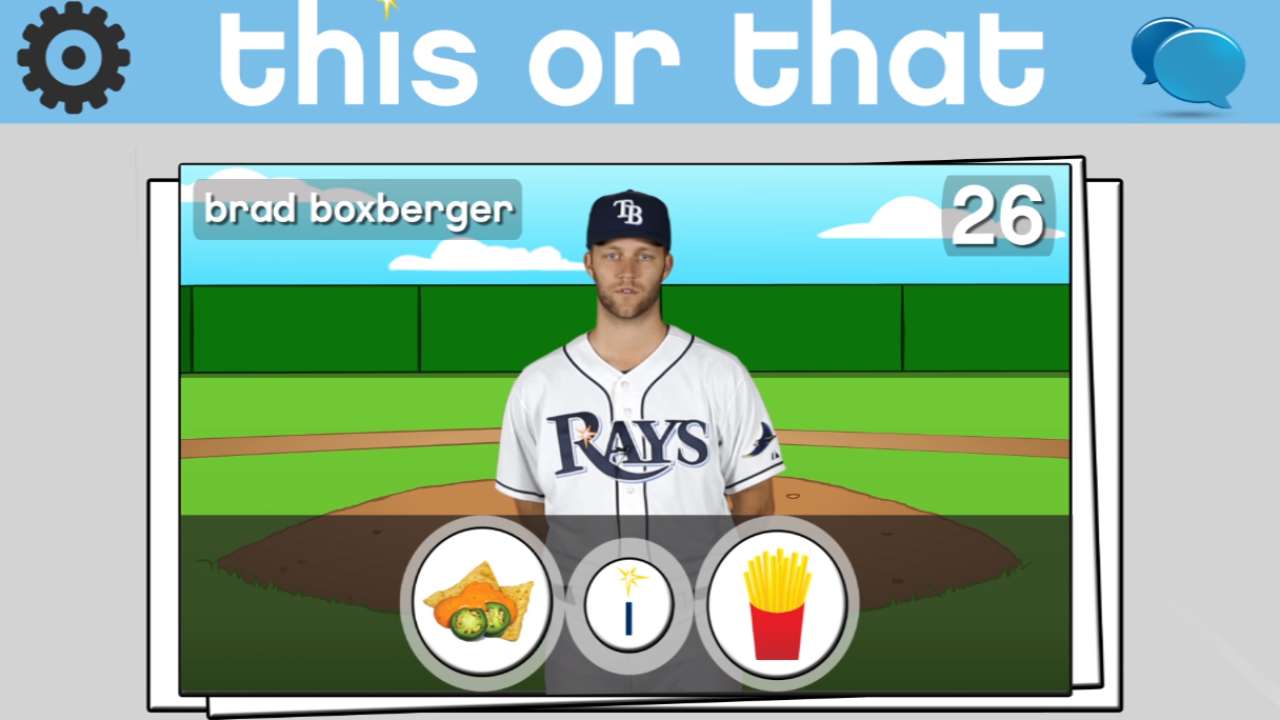 "It's not our first time going through it with all the rumors and everything," Boxberger said. "We all know they're rumors until something gets done. So you can't really worry about it."
One thing is certain: the Rays' 80-win season in the face of countless chapters of adversity in 2015 has Boxberger optimistic about '16.
"Just a couple of minor tweaks here and there with some guys we're losing and a couple of trades that already went down, and we're right there in the playoff hunt in September," Boxberger said.
Boxberger's plan for 2016 is simple: "Get back out there and establish myself as a dominant closer.
"I want to be dominate in any situation that I'm used to help the team keep winning games and make a playoff push next year."
As for Boxberger's status as the reigning AL saves leader ...
"If somebody had told me last offseason [that I'd be the saves leader], I don't know what I would have said, because it would have been so far out of the blue," Boxberger said. "I probably would have told them they're crazy."
Bill Chastain is a reporter for MLB.com. This story was not subject to the approval of Major League Baseball or its clubs.