Back-to-back? The MVP case for Trout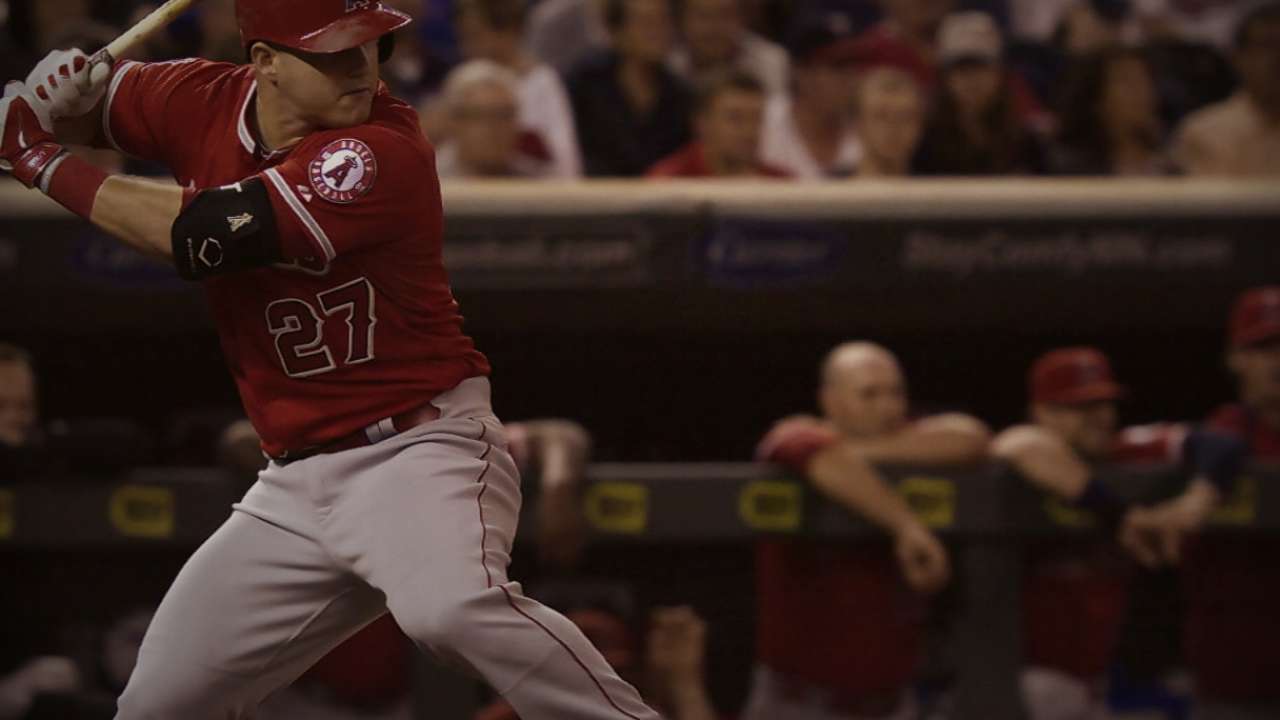 ANAHEIM -- In the stretch run of the 2015 season, with his team fighting to keep its postseason hopes alive and Mike Trout shouldering most of the load, Angels manager Mike Scioscia was asked about the American League Most Valuable Player Award, and he drew a proverbial line in the sand.
"There's nobody in the league who is doing more for a team than Mike Trout is doing for our team," Scioscia declared on Oct. 2, yet another night in which his star center fielder sparked his shorthanded team to victory.
• Complete 2015 awards coverage
Today at 3 p.m. PT on MLB Network, the Baseball Writers' Association of America will reveal whether or not it agrees with Scioscia.
Nats outfielder Bryce Harper is deemed a heavy favorite in the National League, with the other two finalists, Joey Votto of the Reds and Paul Goldschmidt of the D-backs, also residing on non-playoff teams. In the AL, Trout is up against Blue Jays third baseman Josh Donaldson and Royals center fielder Lorenzo Cain, the stars of two clubs that won their respective divisions and met in the AL Championship Series.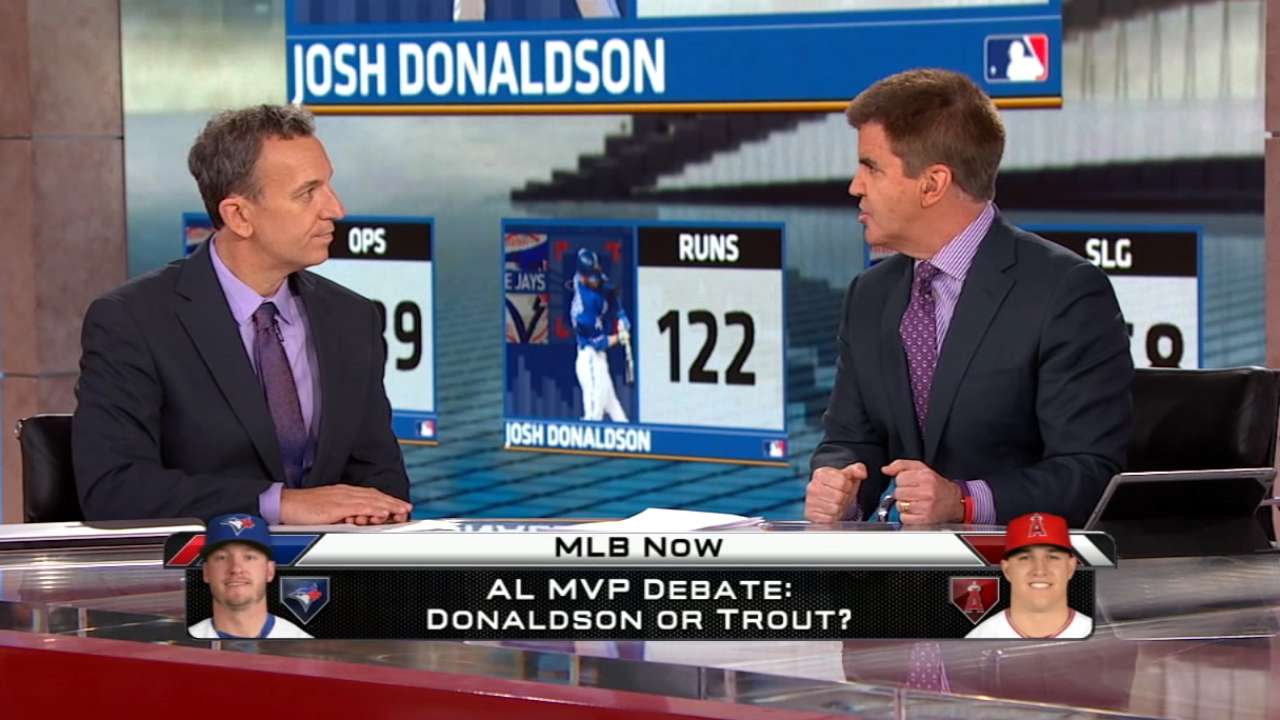 Donaldson is widely expected to capture the award, likely handing Trout -- last year's unanimous AL MVP Award winner -- his third second-place finish in four years. But if you eliminate RBI totals and win-loss records, numbers heavily reliant on one's supporting cast, Trout makes a compelling case.
Trout's .299/.402/.590 slash line was slightly better than that of Donaldson, who batted .297/.371/.568. He tied Donaldson with 41 home runs, even though Angel Stadium in Anaheim plays far less favorably to power hitters than Rogers Centre in Toronto. And Trout edged Donaldson in two key sabermetric stats, Weighted Runs Created Plus (172 to 154) and FanGraphs Wins Above Replacement (9.0 to 8.7).
Donaldson drove in an AL-leading 123 runs, 33 more than Trout -- but one must consider the circumstances.
The Angels' offense struggled all year to maximize Trout's RBI opportunities, ultimately finishing 20th in runs despite his services. Trout posted a Major League-best 1.201 OPS with runners in scoring position, but he only got 126 plate appearances in those situations. Donaldson, nestled in the middle of baseball's best offense, got 50 more chances with runners in scoring position, and he finished with a 1.058 OPS.
That pretty much tells the story of this year's race for the AL MVP Award.
Trout's offensive stats are slightly better, but Donaldson's are also spectacular. And unlike the Miguel Cabrera debates of 2012-13, Donaldson was also a game-changer defensively, his 11 Defensive Runs Saved the third most among AL third basemen and six more than Trout.
Trout helped keep the Angels relevant down the stretch, posting a 1.078 OPS after Sept. 1. But that also followed his poorest statistical month since his first full season in 2012, an August in which his OPS was a mere .689.
That -- and, undoubtedly, the Angels' absence from the postseason -- could mean another runner-up finish for the game's best all-around player.
Alden Gonzalez is a reporter for MLB.com. Follow him on Twitter @Alden_Gonzalez and Facebook, and listen to his podcast. This story was not subject to the approval of Major League Baseball or its clubs.