Yanks' PBP man Kay roasted by fellow announcers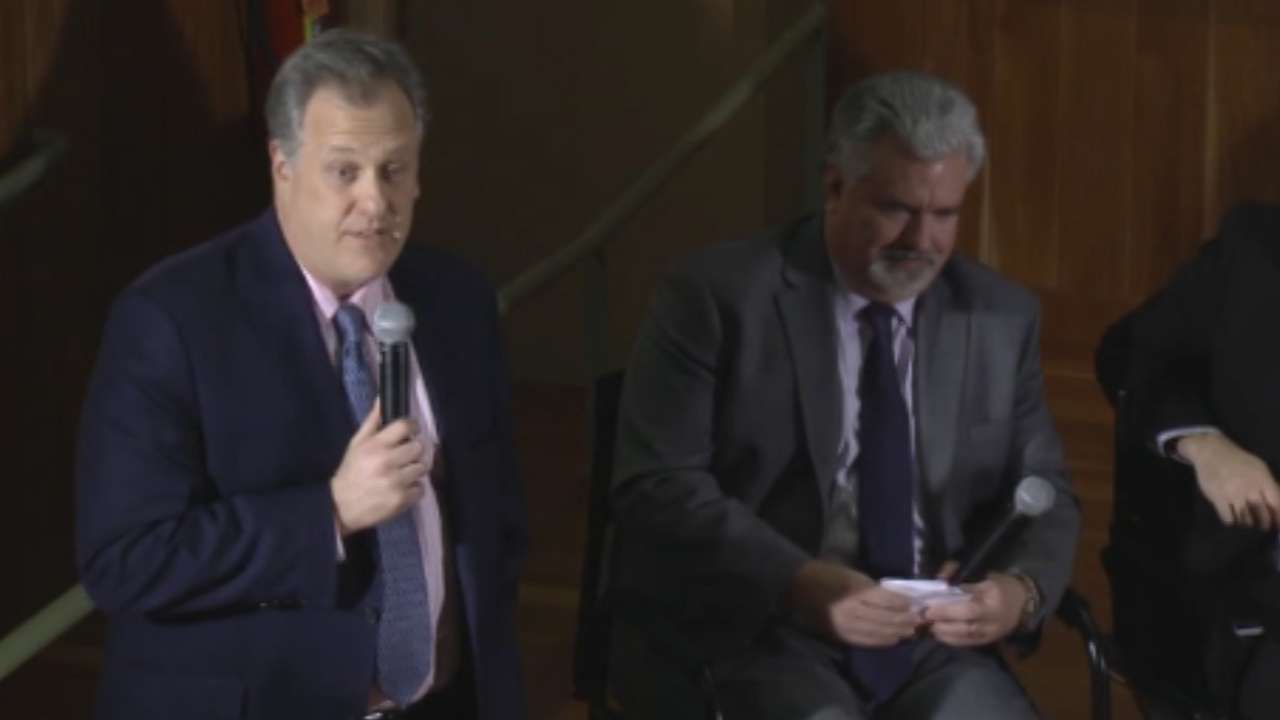 LITTLE FALLS, N.J. -- There were no topics declared off-limits as Michael Kay braced for a roast in his honor held Tuesday at the Yogi Berra Museum & Learning Center, and the Yankees broadcaster said that he could have predicted at least a few of the barbs heading his way.
Kay's quirky eating habits, his oversized noggin and a few insecurities in the broadcast booth all became fair game for a good cause, as several of his broadcast partners gathered on the campus of Montclair State University in support of Berra's favorite building.
"I think his legacy should live on, which it will, but this place was so important to him," Kay said. "It's going to take some work without Yogi being the draw, so that's why all these people showed up. It wasn't for me. It's to keep this place alive for Yogi.
"I think his life is something that should be studied, should be cherished and people should be able to come here for decades and centuries to come, that's how important this is."
David Cone, Jack Curry, John Flaherty, Bob Lorenz and Ken Singleton represented the YES Network in the hour-long program, which was moderated by Kay's ESPN Radio co-host Don La Greca.
Peter Rosenberg of ESPN Radio also participated on the panel, delivering some of the most cutting lines of the evening. Kay Murcer, widow of former Yankee Bobby Murcer, and Kay's wife, Jodi Applegate, also poked some good-natured fun.
"I know I'm very odd," Kay said. "I know I don't eat things. The only one that I was worried about was David. David's mind is kind of like my mind. Other than that, everybody was kind of cool. After the stuff that people say on Twitter, there's no roast that can offend me."
A selection of some of the best lines of the evening:
Flaherty, on how the players viewed Kay: "I actually looked at Moose [Mike Mussina] and I said, 'I know Mr. Steinbrenner owns the Yankees. But that has to be Hank or Hal, because the way he walks in that clubhouse, he's got to be from ownership.' Like a big-time owner, the way he walked in. That is what I thought of Michael Kay, the TV voice of the New York Yankees."
Singleton, on co-existing on the road: "I've worked with Michael coming up on 15 years now. 15 years. It sounds like a prison sentence. ... The thing about working with Michael, every city that we go to when we go out to eat, we know what we're doing already. We're not doing anything different. We're doing what Michael wants to do. It's OK, he's the face of the network. He's almost like Lucy -- on somewhere in the world 24 hours a day."
Cone, on Kay's chatty nature: "I actually see eye-to-eye with Michael just about on everything, down the line, except for one thing. When Joe Torre first became the manager of the Yankees, he and Michael had a little bit of a blowup. Joe Torre referred to Michael Kay as [gossip columnist] Rona Barrett. I could not disagree more. He's more like Joan Rivers."
La Greca, on picky eating: "The list is spectacular as far as the things that you won't eat. He doesn't like eggs. He'll never eat eggs. But eggs are in everything! He eats chocolate cake. Believe me, I've seen him eat chocolate cake. He won't eat eggs, he won't eat bananas, he won't eat soup. No ketchup, no mustard, no mayonnaise. No condiments whatsoever. No fish at all. And he's never seen 'Star Wars.'"
Curry, on playing hurt: "I have played basketball with Michael Kay. In the sports media basketball game that happens about twice a year, Michael was on the DL about 10 times. 'My lumbar! My intercostal muscle!' And let's talk about the shooting form. Michael thinks that the basketball is somewhere between a shotput and a hand grenade."
Lorenz, on life in the booth: "Aside from the barbs, I wanted to talk about his professionalism, working with him, his kindness, his passion for his job. I'm still trying to think of something good to say, but if I do come up with something in the next 10 minutes, I'll grab a mike."
Kay said that he hopes events like this will continue to help make Berra's museum a vibrant destination.
"Really, the reason we all came here tonight is to keep this museum going," Kay said. "I consider it an honor that they would even think that I would draw enough to sell the place out, so that was my big takeaway, that all the seats were filled and the museum did well."
Bryan Hoch is a reporter for MLB.com. This story was not subject to the approval of Major League Baseball or its clubs.