Fisher fuels offense as Glendale tops Surprise
Astros prospect notches two RBIs as Dogs pitchers allow three total hits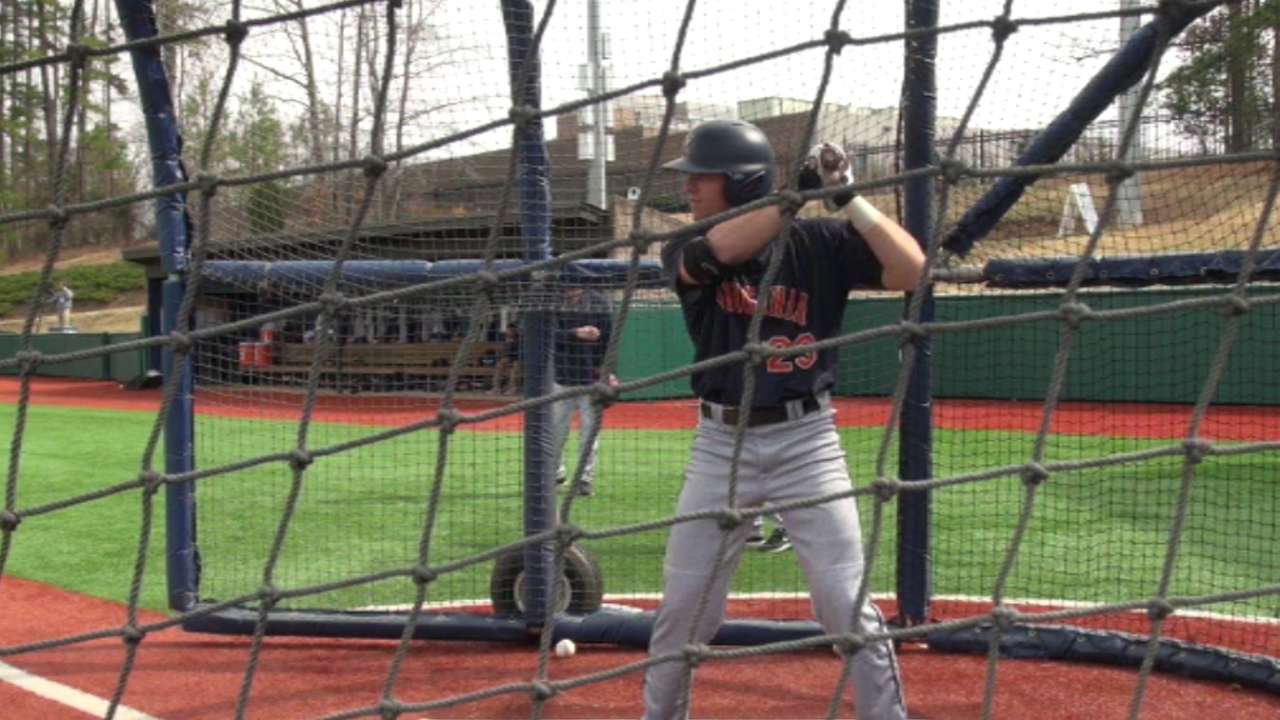 Derek Fisher came through with a few timely hits and let the pitching staff take care of the rest on Tuesday as Glendale defeated Surprise, 4-1, at Camelback Ranch.
The Astros' No. 8 prospect got off to a slow start in the Fall League, batting just .167 through his first 11 games. Since then, however, Fisher has hit safely in six straight games for the Desert Dogs, with a .400 average (8-for-20), one home run and six RBIs in that span.
"It didn't start out the way I wanted it to, but I've been able to stay level-headed and work hard in the cage, and fortunately things have started to go my way," said the 22-year-old outfielder.
"I'm feeling better now, obviously. I'm seeing the ball better and getting in better counts after working in the cages every day," he added.
Surprise (17-11) got on the board in the top of the first inning courtesy of a run-scoring single by Jurickson Profar, who now ranks second in the AFL with 18 RBIs.
Glendale (12-14) responded with runs in the third, fourth and fifth innings to take a 3-1 lead, as left-handed hitters Adam Engel, Drew Stankiewicz and Fisher each delivered RBI singles against southpaw Ian Clarkin.
The score held until the bottom of the eighth inning, when Fisher tallied his third hit and second RBI of the game with a two-out single to right field.
Fisher's recent hot streak has his Fall League average up to .250, and, after driving in a pair of runs Tuesday, he now leads the Desert Dogs with 14 RBIs. Meanwhile, his 13 walks in 16 games have translated to a .391 on-base percentage.
"As long as you're seeing the ball well it doesn't mean you have to be barreling everything up. Making sure I swing at strikes is something I take pride in every day, but that's still obviously a lot easier said than done," Fisher said.
The No. 37 overall Draft pick in 2014, Fisher was one of three players in the Minor Leagues to hit 20 home runs and steal 30 bases this past season, accruing 22 and 31 of each, respectively, in 123 games between Class A Quad Cities and Class A Advanced Lancaster. He also scored 106 runs and tallied 87 RBIs.
While Fisher put up impressive numbers in the hitter-friendly California League, his batting average took a hit as a result of his approach being challenged at the more advanced level.
"Baseball is the same game no matter where you're at, and I think that's something that people tend to lose sight of. I think I did that a little bit this year at Lancaster -- trying to do too much and going out there thinking the game is different," he said.
But with his late-season success in the Fall League, Fisher believes he'll be in a good place heading into the offseason.
"It's about finding something that works and sticking with it, and I've been able to do that better this fall. If things start to go downhill then you have to address those issues; but you have to keep things simple, because baseball is already hard enough."
Other Top Performers
• Glendale shortstop Stankiewicz, a product of the Phillies' system, had a perfect day at the plate, going 3-for-3 with a walk, an RBI and a run scored. The 2014 11th-rounder has performed well in the Fall League despite limited playing time, hitting .480 (12-for-25) in seven games.
• White Sox No. 17 prospect Adam Engel celebrated his recent AFL Hitter of the Week award by going 2-for-4 with an RBI and a run scored. The 23-year-old has recorded multiple hits in eight of his last 10 games for Glendale, and he leads the Fall League with a .403 average
• Starting pitcher Steven Brault and the Desert Dogs' bullpen combined to allow one hit over the final eight innings. The lone knock was recorded by Yankees farmhand Tyler Austin with two outs in the bottom of the ninth.
• Clarkin's start Tuesday for Surprise was arguably his best in six turns in the Fall League. The Yankees' No. 7 prospect allowed three earned runs on eight hits over 4 1/3 innings but showed a better feel for pounding the zone, issuing one walk while striking out a season-best five batters. The 20-year-old left-hander -- who had 49 of his 78 pitches go for strikes -- induced 10 swinging strikes and threw first-pitch strikes to 16 of the 22 batters he faced in the game.
Mike Rosenbaum is a reporter for MLB.com. Follow him on Twitter at @GoldenSombrero. This story was not subject to the approval of Major League Baseball or its clubs.