Bostick drives in 2 as Rafters stay in race
Nationals prospect doubles and homers in first two at-bats against Mesa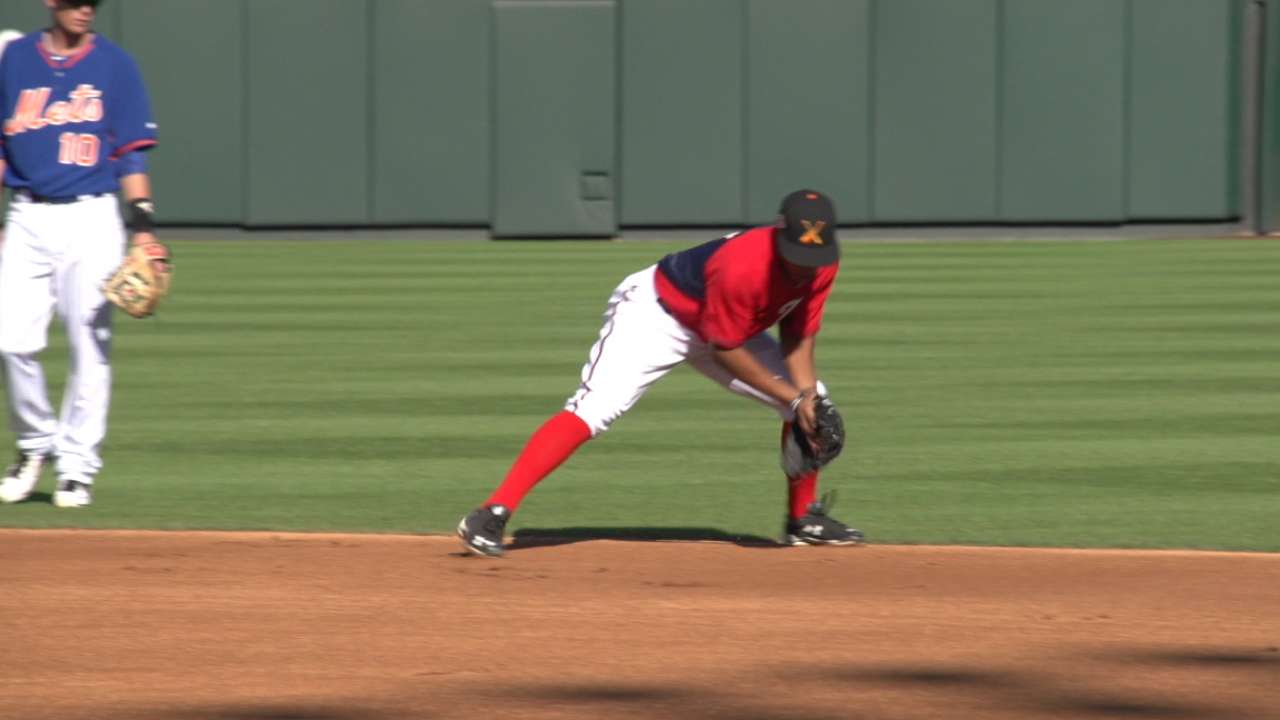 SCOTTSDALE, Ariz. -- Even in the Arizona Fall League, the prospects watch the scoreboard. Chris Bostick, the No. 23 prospect in Washington's organization according to MLB Pipeline, had a big game in Salt River's 4-2 victory over Mesa on Tuesday, but he was more concerned with the playoff race.
Bostick, who doubled, homered and scored on a sacrifice fly, helped keep Salt River alive at least one more day. The Rafters trail Scottsdale by 1.5 games with two days left in the AFL season, and Bostick and his teammates want to do everything they can to work into position for the league's title game.
"We've kind of got our backs to the wall here a little bit," said Bostick. "We're in it together, and we're trying to rally together to get a couple wins here and see if we can make it to the championship. It's just doing what you've got to do to help the team. That's what everybody's trying to do here."
Bostick, a second baseman, has already exceeded expectations. The 22-year-old was selected in the 44th round of the 2011 MLB Draft, and he's been traded in each of the last two offseasons to a new organization. This year, though, Bostick is settling in with the Washington Nationals.
The Rochester, N.Y. native played in 137 games this season and made his Double-A debut before coming out to Arizona, and he's finishing his year on a strong note. Bostick batted .258 combined between two stops this year, but he's hitting .275 with four home runs in his first 19 games in the Fall League.
"It's certainly a long year, but this is why we do it," he said. "For some guys, it might be taxing on the body, and you might be tired and want to go home. But you've got to remember that a lot of other people don't get this opportunity. Especially for me, it's kind of been a long road. I'm taking advantage of it and I'm enjoying everything I get to do. I'd be lying to you if I said I'm not tired, but it's great to be here."
When Bostick speaks about his long road, he means the circuitous path he's taken to Washington. First, he was drafted by Oakland, but then he was sent to Texas in December of 2013 as part of a deal for Craig Gentry. And last winter, he was traded to Washington as part of the return for Ross Detwiler.
Bostick said he's working on his hitting approach in the AFL, and he's not trying to see more pitches as much as he's trying to stop swinging at the bad ones. The youngster freely admits that the Fall League talent represents the best pitching he's seen yet, and he's thrilled to still be competing.
"I wasn't necessarily the highest drafted player in the world, and I've understood I've had to earn everything I get. I enjoy it that way," said Bostick of his path to the AFL. "Nothing's given to me, but nothing's given to anybody. I take that and I keep it with me in the back of my mind for those days when you're thinking, 'Ah, I miss home a little bit.' Then you remember everything you've gone through. It's important to remember how far you've come instead of looking at how far you've still got to go."
Spencer Fordin is a reporter for MLB.com. This story was not subject to the approval of Major League Baseball or its clubs.