Arroyo playing beyond his age in Arizona
Giants' No. 2 prospect continues Class A Advanced success in fall ball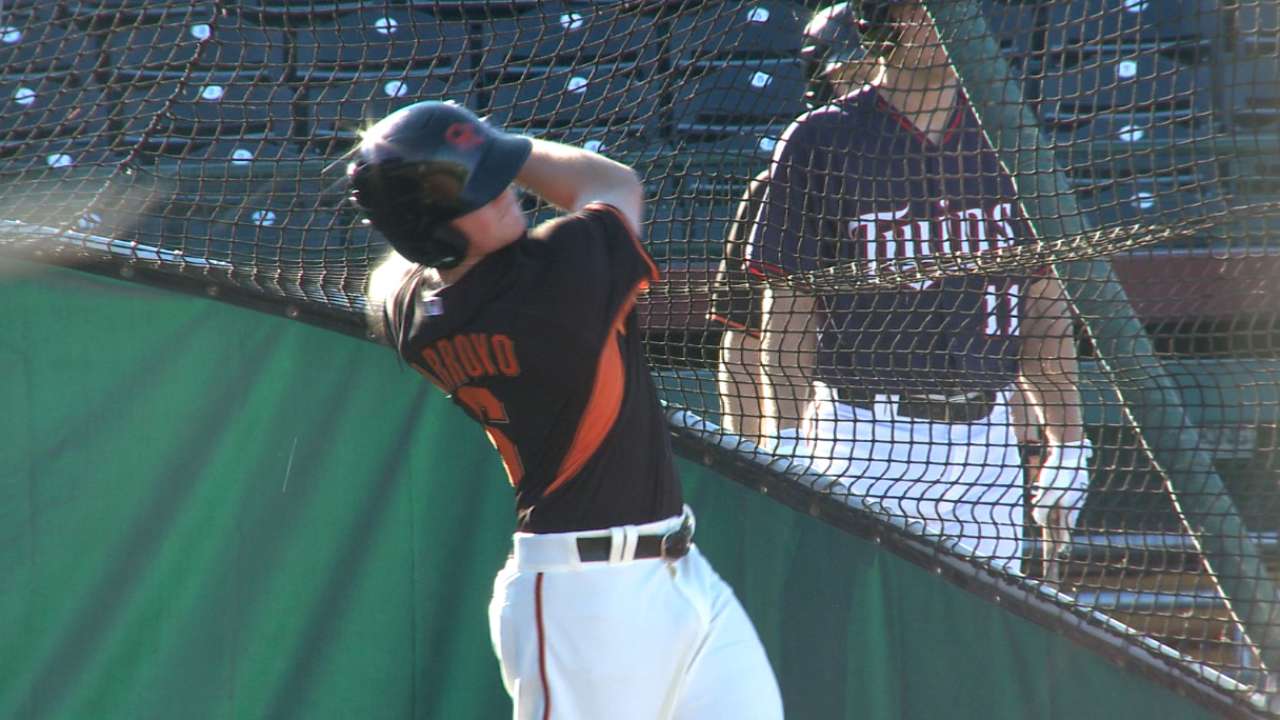 SCOTTSDALE, Ariz. -- Christian Arroyo's hobbies may be those of an average 20-year-old, but his life certainly isn't.
"It's definitely a lot different," Arroyo said. "As soon as I get home, sometimes I'll hop on my PS4 and try to play some FIFA with [my high school friends] and they'll text me back, 'Hey man, I got homework' or 'I'm at work.' … They have a different time while they're at school. They have a summer and I'm playing baseball. It's different, but I keep my relationships with my friends very strong, and we still talk all the time."
Being a professional ballplayer isn't the only thing that separates Arroyo from the typical 20-year-old -- there's also his maturity.
The No. 2 prospect in the Giants' organization began the season as the youngest player in Major League Spring Training at age 19 and is finishing the season as one of the youngest players in the Arizona Fall League.
Arroyo's skill set has afforded him the opportunity to constantly play with those older than him, and in turn, the shortstop acts beyond his age.
"I could barely handle my own laundry at 20 years old," said fellow Giants prospect Ray Black, 25. "His maturity level over the last two years has significantly improved. … He keeps a level head on his shoulders, and if he has a bad at-bat, he goes out on the field the next inning and makes a diving play for the pitcher."
Arroyo also acknowledges the progress he's made since the Giants selected him in the first round, 25th overall, in the 2013 Draft.
"I've definitely grown a lot," Arroyo said. "When I first got drafted I was just going through the motions, playing in the same spot on defense whether it was a lefty or a righty, a slap hitter or a pull hitter. On the offensive side, I was just trying to see the ball and hit it, not really worried about approach."
Arroyo's on-field growth was evident in 2015 as he hit .304 in 90 games with Class A Advanced San Jose, parlaying that success into a strong AFL campaign.
In 18 AFL contests, Arroyo is hitting .311 with three homers and 13 RBIs.
While Arroyo is finishing up the 2015 season as a member of the Scottsdale Scorpions, his success this year can be traced to lessons he learned in this same clubhouse months ago.
"I learned more than I could ever imagine -- offensively, defensively [and] the mental side of the game," Arroyo said of his stint with the big league club in Spring Training. "I talked to everyone, [bench coach] Ron Wotus, Buster Posey with the hitting aspect, Hunter Pence with the mental side and [Brandon] Crawford with the defensive side."
Though Arroyo gleaned a lot of information in the clubhouse, it might be the conversations he had with Joe Panik and Matt Duffy that he will recall in the near future. Arroyo talked to Panik and Duffy about making an early Major League debut and living life as one of the youngest players on the team -- an experience that could await Arroyo before long.
William Boor is a reporter for MLB.com. Follow him on Twitter at @wboor. This story was not subject to the approval of Major League Baseball or its clubs.