Asuaje hits first homer as Scorps stop skid
Recently traded to San Diego, prospect goes deep against teammates in unique situation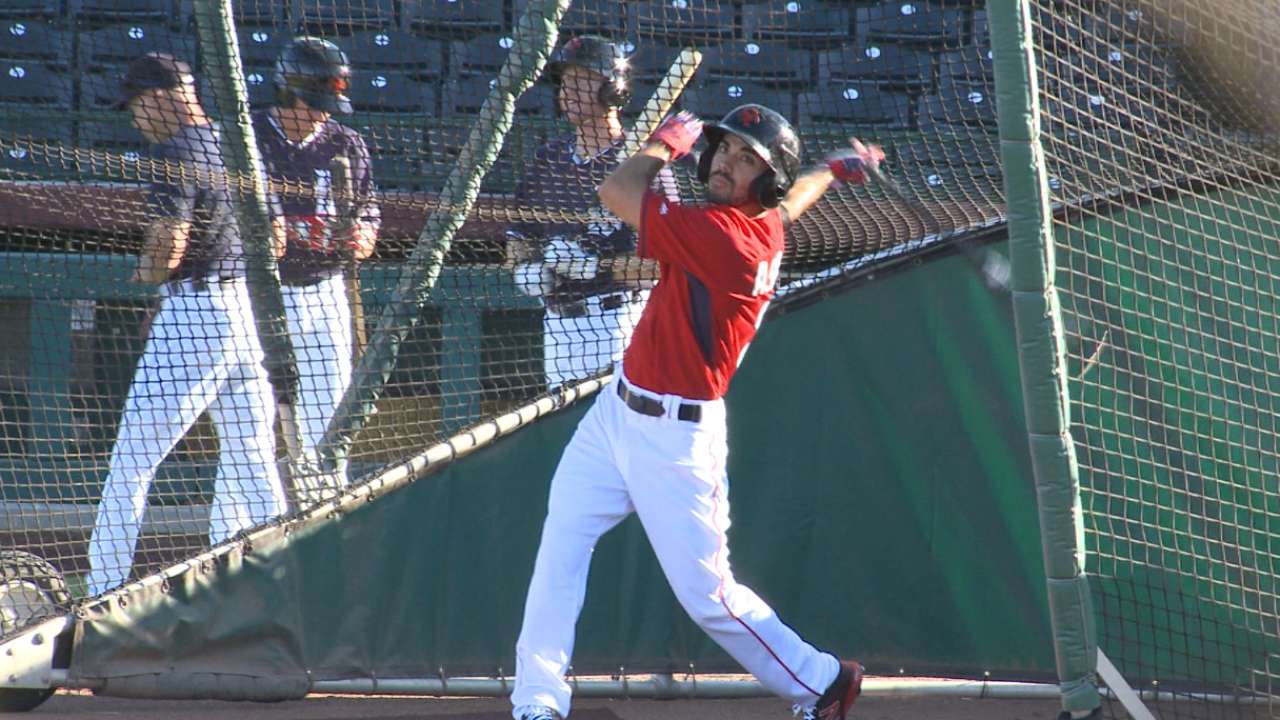 PEORIA, Ariz. -- Carlos Asuaje has yet to formally meet any of his new teammates, but he used his bat to introduce himself on Tuesday.
Asuaje was traded from the Red Sox to the Padres on Friday, but since the Arizona Fall League is winding down he remained on the Scottsdale Scorpions, rather than moving over to the Peoria Javelinas.
So on Tuesday, at the Spring Training home of the Padres, Asuaje faced off against fellow members of the San Diego organization.
"I don't know any of those guys yet," Asuaje said. "Seeing the same colors over there is definitely odd, it felt like Spring Training, live BP, but it's good. Good experience, obviously."
Asuaje went 1-for-4 with a solo homer as he helped the Scottsdale Scorpions beat the Peoria Javelinas, 8-2.
The game was just Asuaje's second in a Padres uniform, and while he admitted it was a bit of a strange sight to see the new jersey hanging in his locker, the infielder is excited for the new opportunity.
"It's definitely a change of atmosphere, change of emotions, but definitely getting used to it after a couple days," Asuaje said.
The homer was Asuaje's first, but his bat has been hot throughout the AFL, as he's in the midst of a nine-game hitting streak and has a .308 batting average.
"It's been such a great experience here in Arizona," Asuaje said. "I really think I'm blessed to get an opportunity from another team. The Red Sox gave me the opportunity first and it was a great three years, but I think this is another door opening for me."
Asuaje, an 11th round selection from the 2013 MLB draft, hit .251 with eight homers in 131 games with Double-A Portland this season, but he is looking forward to the future and showing his new organization what type of player he can become.
"What I bring to the table is what you see day in and day out here," Asuaje said. "Competitive at-bats, solid defense and a team player. Whatever they're asking me to do, I'm more than willing to do that."
After striking out in his first at-bat, Asuaje came to the plate in the fourth inning with a specific approach.
"I went up there looking fastball in and I got it and just tried to put a good swing on it," Asuaje said.
The 19th-ranked prospect in the Padres organization got the inside fastball he was looking for and didn't miss it, hitting a line drive over the right-field wall.
While Asuaje's homer was simply an insurance run in a game that Scottsdale broke open with a three-run ninth, it was a big win for the club as it snapped a four-game losing streak.
"It was such a relief," Asuaje said of the win. "We've been playing so hot all year, kind of hit a rough patch there, lost four straight. This was definitely getting back on the bike and getting that monkey off our back."
William Boor is a reporter for MLB.com. Follow him on Twitter at @wboor. This story was not subject to the approval of Major League Baseball or its clubs.