Collins finishes 3rd for NL Manager of the Year
Mets skipper falls short in voting behind winner Maddon, runner-up Matheny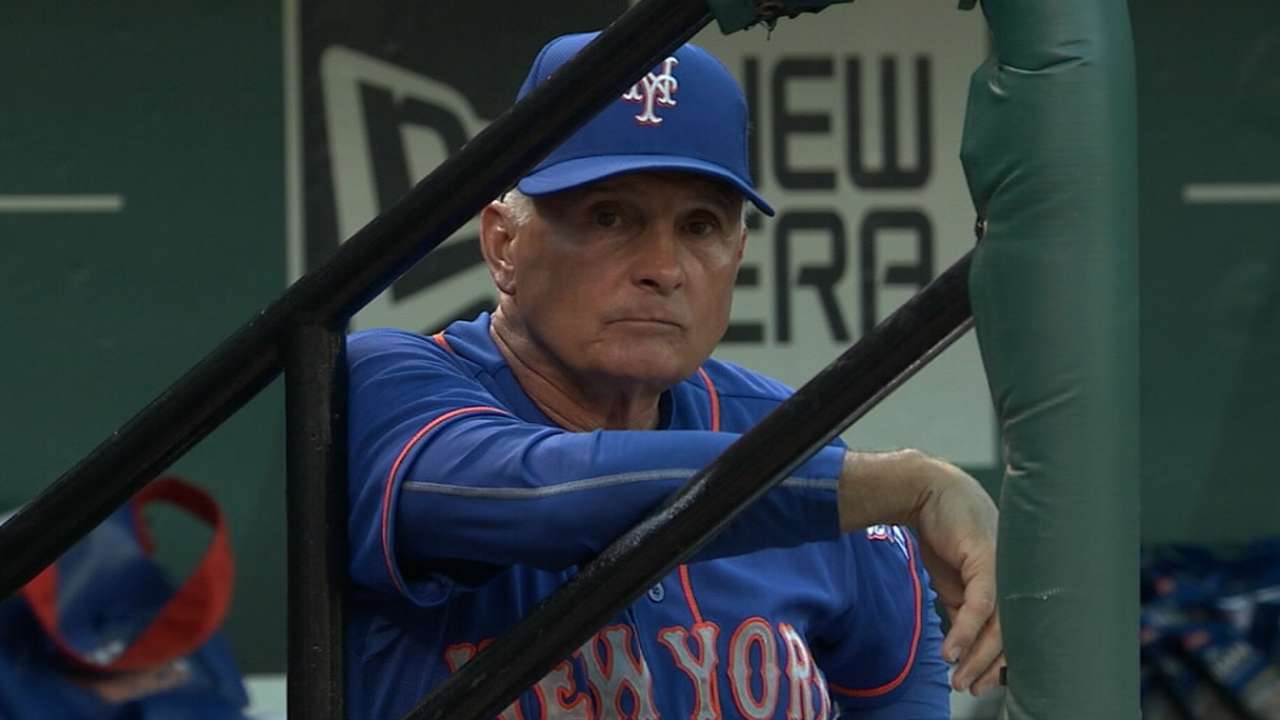 NEW YORK -- Terry Collins may not have won the Baseball Writers' Association of America's National League Manager of the Year Award on Tuesday, finishing third behind Chicago's Joe Maddon and St. Louis' Mike Matheny, but his mere presence on the ballot spoke volumes about what he and the Mets accomplished in 2015.
In his fifth year as manager, Collins led the Mets to the first winning record of his tenure, finishing 90-72 en route to the NL East title. The rest, as he put it, was "gravy" -- upending the Dodgers and Cubs to win the pennant, before bowing out to the Royals in five games in the World Series.
After the season, the Mets awarded Collins with a two-year contract extension that could make him the longest-tenured manager in franchise history.
• Vote Collins for Best Manager in the Esurance MLB Awards
Collins speaks often about how much he has changed since his days managing the Astros and Angels in the 1990s, leaning on his experiences throughout 45 years in professional baseball. But the BBWAA's Manager of the Year Award is based solely on regular-season performance, which is a large reason why Maddon -- whose 97-win Cubs outpaced the Mets over the bulk of the summer -- took home the hardware instead of Collins. Maddon received 18 of a possible 30 first-place votes, while Matheny received nine and Collins garnered three. In total, Collins was named on 23 of 30 ballots.
NL MANAGER OF THE YEAR VOTING
| Manager, Club | 1st | 2nd | 3rd | Points |
| --- | --- | --- | --- | --- |
| Joe Maddon, CHC | 18 | 11 | 1 | 124 |
| Mike Matheny, STL | 9 | 12 | 6 | 87 |
| Terry Collins, NYM | 3 | 7 | 13 | 49 |
| Clint Hurdle, PIT | | | 8 | 8 |
| Bruce Bochy, SF | | | 1 | 1 |
| Don Mattingly, LAD | | | 1 | 1 |
"It feels very special to know people think you did a good job," Collins said in a text message Tuesday night.
Among Collins' challenges in 2015 were managing the innings of young pitchers Matt Harvey, Jacob deGrom and Noah Syndergaard, juggling a lineup decimated by injuries throughout the first half and ultimately upending a Nationals team that was heavily favored to win the division. Though there were bumps along the way, the Mets' 90-win season represented one of the widest gaps in baseball between preseason expectations and final standings.
Once it ended, the Mets rewarded Collins with the contract extension to keep him around amid heightened expectations -- the fun part, for Collins, at age 66. Coming aboard before the 2011 season, Collins drew upon his background as a Minor League field coordinator with both the Dodgers and Mets to help lead what became a four-year rebuilding effort. Along the way, he spoke often about the lessons he learned during his four-plus decades as a Minor League player and manager, a big league coach under Jim Leyland and a manager in Houston, Anaheim and Japan.
Consider: There was a time in Collins' career when he thought he might never have an opportunity to manage again. On Tuesday, such thoughts seemed far in the past, as Collins drew accolades as one of the three best managers in the NL.
Anthony DiComo is a reporter for MLB.com. Follow him on Twitter @AnthonyDiComo and Facebook, and listen to his podcast. This story was not subject to the approval of Major League Baseball or its clubs.