Tigers to be prudent in filling hole in left
Free-agent acquisition, platoon among club's options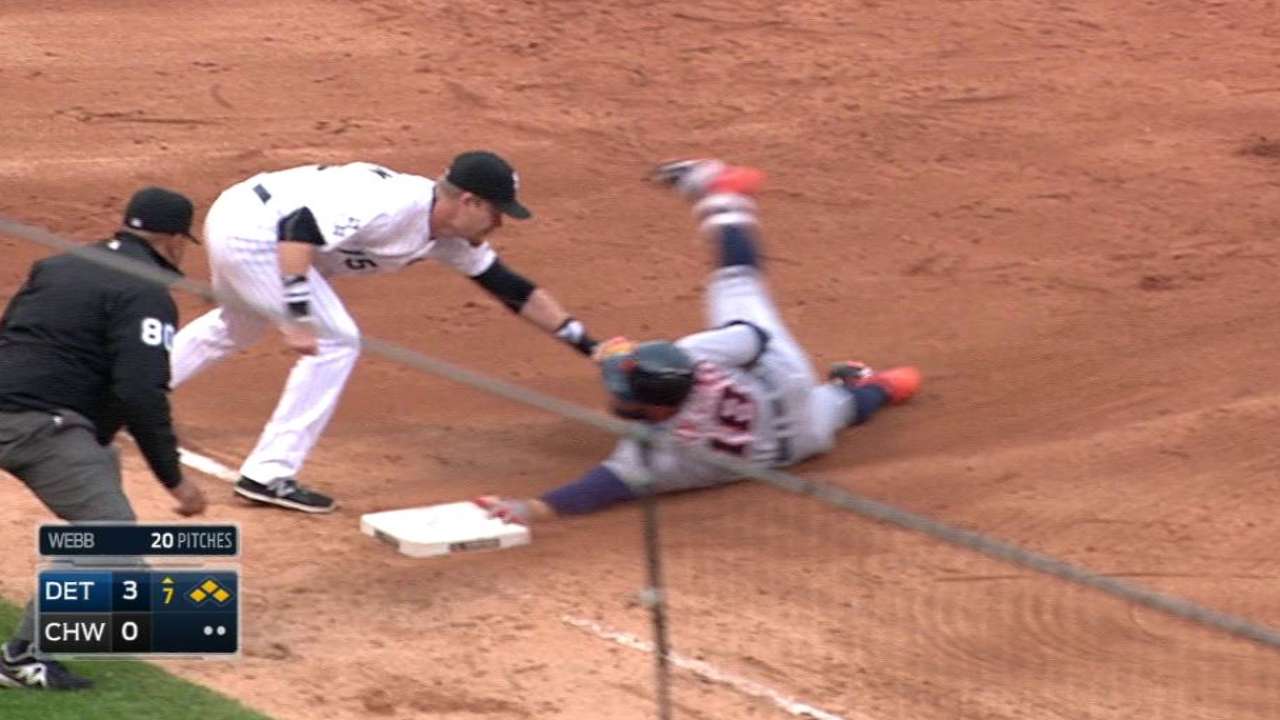 DETROIT -- The Tigers have made it clear that their offseason focus is pitching, both starters and relievers. But the biggest void in their lineup won't catch new general manager Al Avila out of left field.
A year ago, left field was Detroit's biggest upgrade of the offseason, and the Tigers made two moves to pull it off, trading Rick Porcello for Yoenis Cespedes and then trading for Alfredo Simon to fill Porcello's rotation spot. By season's end, the retooled Tigers had Tyler Collins and Rajai Davis in left, and headed into the offseason in much the same spot as a year ago.
With so much to do on the pitching side, however, the Tigers might have to get more creative than last offseason. It could involve a right-handed hitter to platoon with Collins. It could involve another everyday player.
"We're happy with the way Collins ended up the year," Avila said at last week's General Managers Meetings in Boca Raton, Fla. "He actually played very well for us. If it was the right fit, it could work -- if it was the right fit. …
"Obviously, an everyday guy would be preferable. I just don't know if we can be able to do it. Or maybe not a straight platoon. There's a lot of different ways of making it happen. I can't tell you right now if it's going to be a platoon, a straight platoon, if there's going to be one guy playing more than the other guy, or are we able to wing it where we have a full-time guy. Sitting here right now, I can't tell you, because we're not there yet."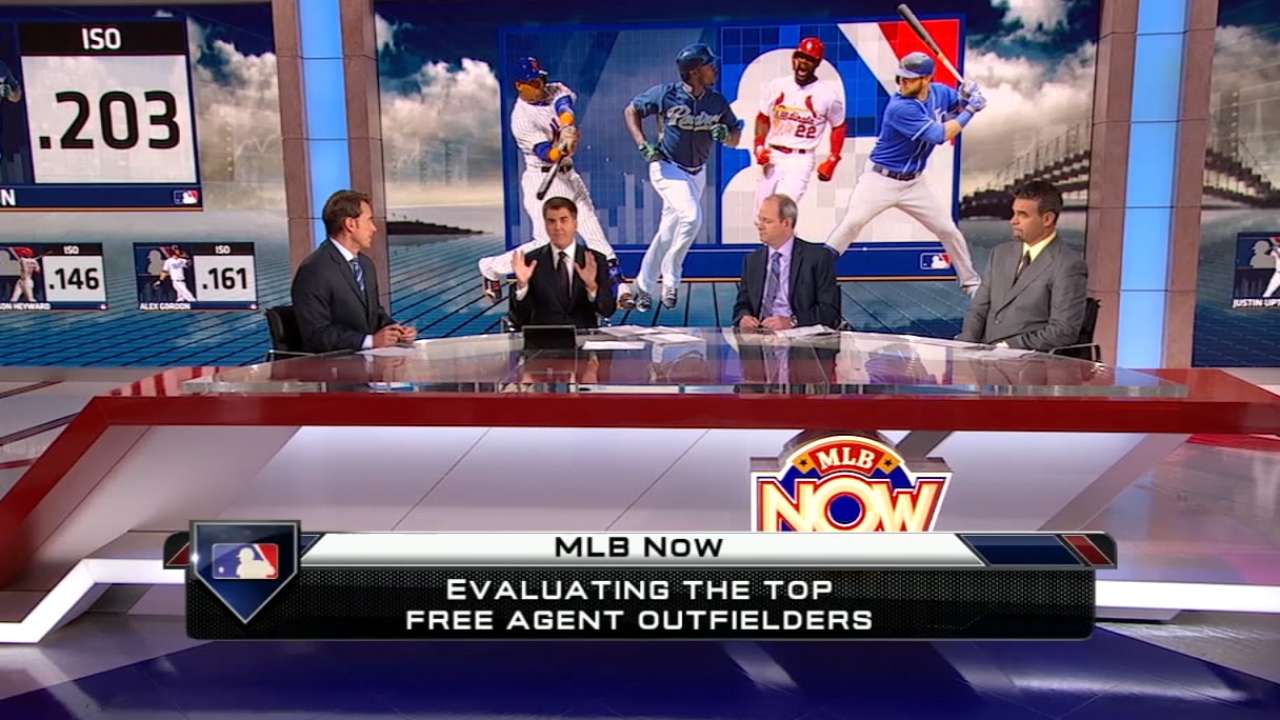 The free-agent market has some depth in corner outfielders, with Jason Heyward, Cespedes, longtime Royals nemesis Alex Gordon and National League slugger Justin Upton. Much as Tigers fans might dream of Heyward sending home runs into the right-field seats at Comerica Park, he's all but certain to be out of their reach. And much as speculation centered on a Cespedes reunion with Detroit on his way out at the July 31 non-waiver Trade Deadline, his stellar stretch run with Mets likely earned him a bigger contract than the Tigers can fit into their payroll. Either Cespedes or Upton would have to linger on the market for the Tigers to likely get involved, and Cespedes' status without Draft compensation likely expands his market too much for that.
Get past that top tier, and the Tigers have to weigh whether an everyday left fielder -- such as Gerardo Parra or Nori Aoki -- is a big enough gain to warrant a deal, or if they might as well platoon with Collins.
Collins fits in the Tigers' picture much the way Andy Dirks did in 2012, an all-around player serving as a complementary hitter rather than a catalyst. He hit .293 (22-for-75) with nine extra-base hits, an .856 OPS and 13 RBIs from Sept. 1 on, but it came after a miserable August.
Collins is the only homegrown product the Tigers have available to put in left, with slugging Steven Moya in line for more seasoning at Triple-A Toledo. With a limited trade market for outfielders aimed more on the higher-priced end, Collins is Detroit's best hope for getting production without a big salary in 2016.
If the Tigers decide to pair a right-handed hitter with the lefty-hitting Collins, they have options. The Yankees' trade for Aaron Hicks likely leaves free agent Chris Young -- not to be confused with the Royals' pitcher -- headed elsewhere. The 32-year-old posted a .972 OPS against left-landed pitching this past season. Former Tiger Ryan Raburn, who maintained his reputation as a lefty nemesis with a .949 OPS against southpaws, is also a free agent. Shane Victorino historically hits lefties hard when he's healthy, which hasn't been the case the last couple years as he nears age 35.
Then, of course, there's Davis, who lost his regular role in 2015 but hit well down the stretch in Detroit with a .323 average, 4 home runs and 12 RBIs after Sept. 1. He turned 35 last month, but his legs keep him a threat on the basepaths.
Asked last week about possibly re-signing Davis, Avila said, "I don't really want to get into that right now, because there's a lot of different options we're looking at. Whatever the best option is, we'll pursue it."
Once the Tigers figure out their pitching, that pursuit is likely to pick up.
Jason Beck is a reporter for MLB.com. Read Beck's Blog, follow him on Twitter @beckjason and listen to his podcast. This story was not subject to the approval of Major League Baseball or its clubs.