Marshall writing comeback tale after a scary moment
RHP's life was in jeopardy after he was struck in the head by a liner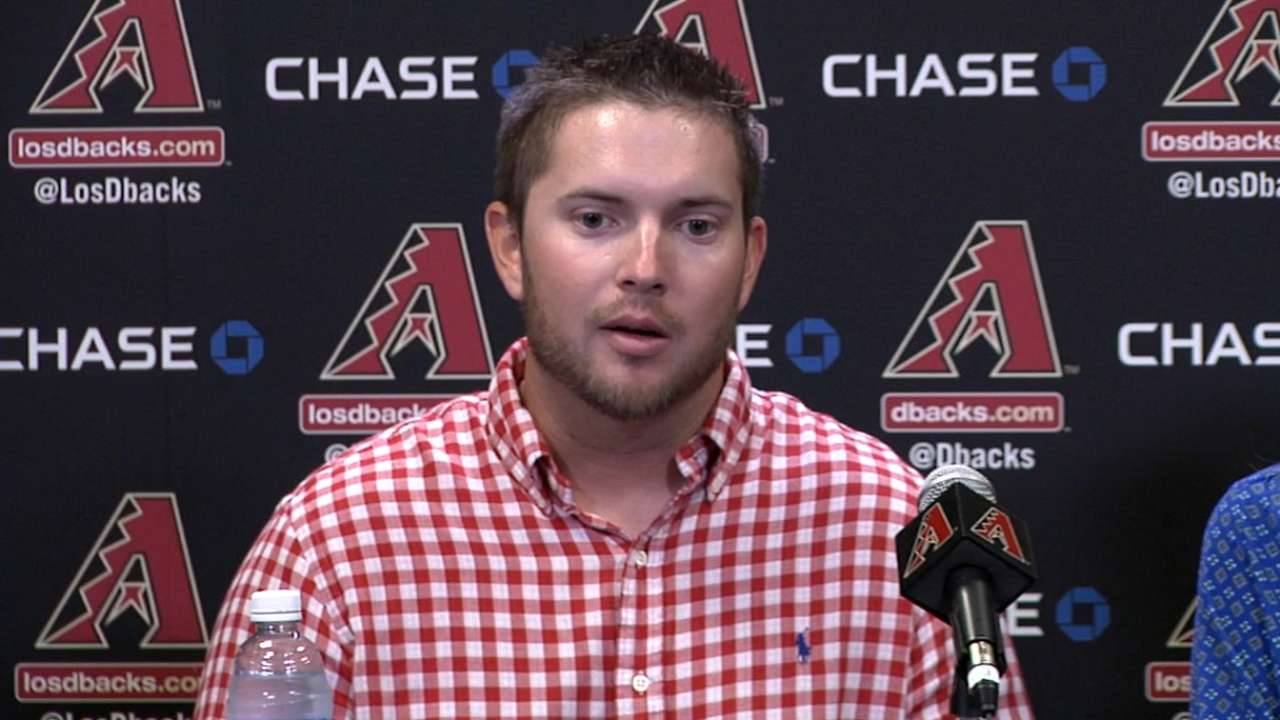 PHOENIX -- When Thanksgiving rolls around next week, you can be sure there will be lots to be thankful for in the home of Evan and Allie Marshall.
Marshall, a right-hander for the D-backs, is on the road back to the big leagues after a nearly fatal incident on Aug. 3, when he was struck in the head by a line drive while pitching for Triple-A Reno in El Paso.
The injury caused swelling in his brain, and not only was his future on the mound in jeopardy, but his very life was as well.
"They didn't know if he was going to make it through the night," Allie Marshall said a few weeks after the line drive. "The doctors in El Paso and the staff for the Aces -- they saved my husband's life. I was terrified, I was absolutely terrified. We're going on two years of marriage, and I've known this kid for six years, and suddenly you're told that you may lose your spouse."
After a week in the hospital, Marshall was transferred to Barrow Neurological Institute in Phoenix, where he continued his rehab.
Not long after the regular season ended, so too did Marshall's work at Barrow.
"Simply put, at this point, I'm completely past the brain injury," Marshall said. "I'm now just building up for next year. Basically I'm getting into the best shape I've been in and getting as strong as I've ever been."
Marshall, 25, has been working out at the team's Spring Training facility at Salt River Fields, running and lifting as he prepares for next season.
The only part of his training that is in some way related to his injury are the pitchers' fielding practice drills, which involve fielding balls hit back up the middle.
Initially the coaches hit the ball softly to him, but eventually they graduated to hitting hard smashes with rag balls.
"At first they were taking it easy because they didn't want me to see a baseball coming and have a seizure or freak out," Marshall said, flashing his trademark humor. "But all those fears were gone pretty quickly. There have been no side effects or backlash from being hit."
In fact, Marshall finally watched the play on video in October.
"It honestly wasn't that bad," Marshall said of viewing the play. "It's not a fun memory, but I almost got my glove to it. I followed through and then I tried to duck behind my shoulder and get my glove up and it missed my shoulder, missed my glove and hit me in the head."
Marshall's focus now is on winning a spot in the Arizona bullpen in Spring Training. He expects to be a full-go from the very first day of camp with no restrictions.
"It's going to be a fun story when I get back out there," he said.
Steve Gilbert is a reporter for MLB.com. Read his blog, Inside the D-backs, and follow him on Twitter @SteveGilbertMLB. This story was not subject to the approval of Major League Baseball or its clubs.