MLB.com Columnist
Bill Ladson
After historic '15, Harper worthy of NL MVP Award
Nationals star produced eye-popping numbers at plate, excelled defensively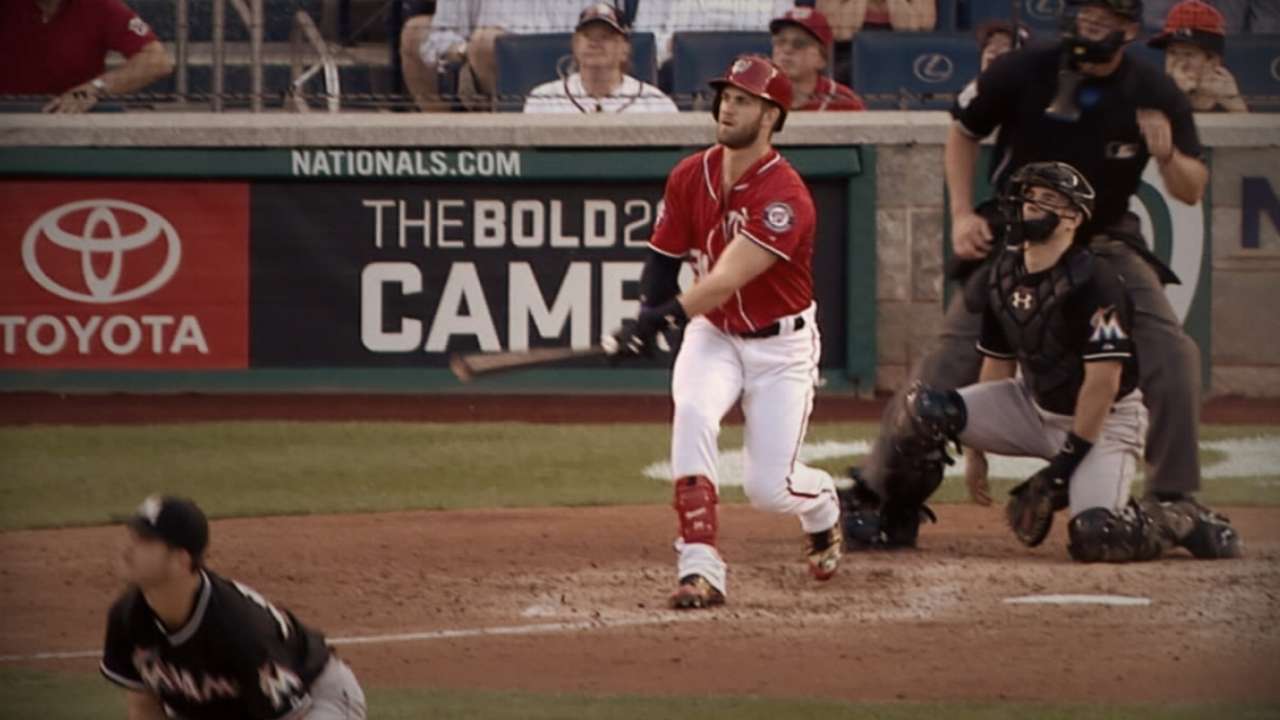 WASHINGTON -- It was Spring Training 2015. Nationals outfielder Bryce Harper vowed to stay healthy for the first time since his rookie year in 2012 and post the type of numbers expected of him since he was the first overall pick in the 2010 MLB Draft.
Harper did just that. The 2015 season turned out to be his finest, and it's not hard to see why he is a finalist for the BBWAA National League Most Valuable Player Award, and the winner will be announced tonight at 6 ET on MLB Network. Harper produced numbers that elevated his stature among the game's great players.
• Complete 2015 Awards coverage
"Staying healthy puts good numbers up," Harper said. "If you stay healthy and try to do the things that you can to win ballgames and do what you can for your team, that's all that matters."
Harper acted like he was "The Natural" even though he didn't have much protection. He hit .330, led the NL in home runs (42, tied with Colorado's Nolan Arenado), runs scored (118), on-base percentage (.460) and slugging percentage (.649).
Harper is the only player in Major League Baseball history with at least 42 home runs, 124 walks and 118 runs scored at age 22 or younger, and he is the youngest player in MLB history with at least 42 home runs and 124 walks in a season. The previous youngest was Babe Ruth, who hit 54 home runs and had 150 walks in 1920 at the age of 25.
Harper's 42 homers are the second most most by any left-handed hitter age 22 or younger, trailing Eddie Mathews (47, 1953). According to the Elias Sports Bureau, Harper (22 years, 335 days) became the sixth-youngest player in MLB history to hit 40 home runs in a season.
"It was a combination of things as to why Harper had a great year," Washington hitting coach Rick Schu said. "The No. 1 thing is that he stayed healthy. This past season, he was able to get comfortable with his hands. He was able to take the pitch that was given him. He was going line to line. I think his confidence really helped him with everything -- pitch selection and taking his walk. He really slowed things down."
Harper had a lot of great games in 2015, but the game that best showed Harper's greatness occurred May 6 against the Marlins. Harper became "The Natural" after slugging three home runs in a 7-5 victory. He became fourth Nats player -- Alfonso Soriano, Adam Dunn and Ryan Zimmerman are the others -- to hit three homers in a game.
In the second inning off right-hander Tom Koehler, Harper drove the ball 393 feet, with an exit velocity of 101.5 mph, as measured by Statcast™, to left-center field. He then smashed Koehler's 0-1 offering in the third into the second deck in right-center field at Nationals Park. That ball was tracked by Statcast™ to have traveled 442 feet, with an exit velocity of 104.7 mph.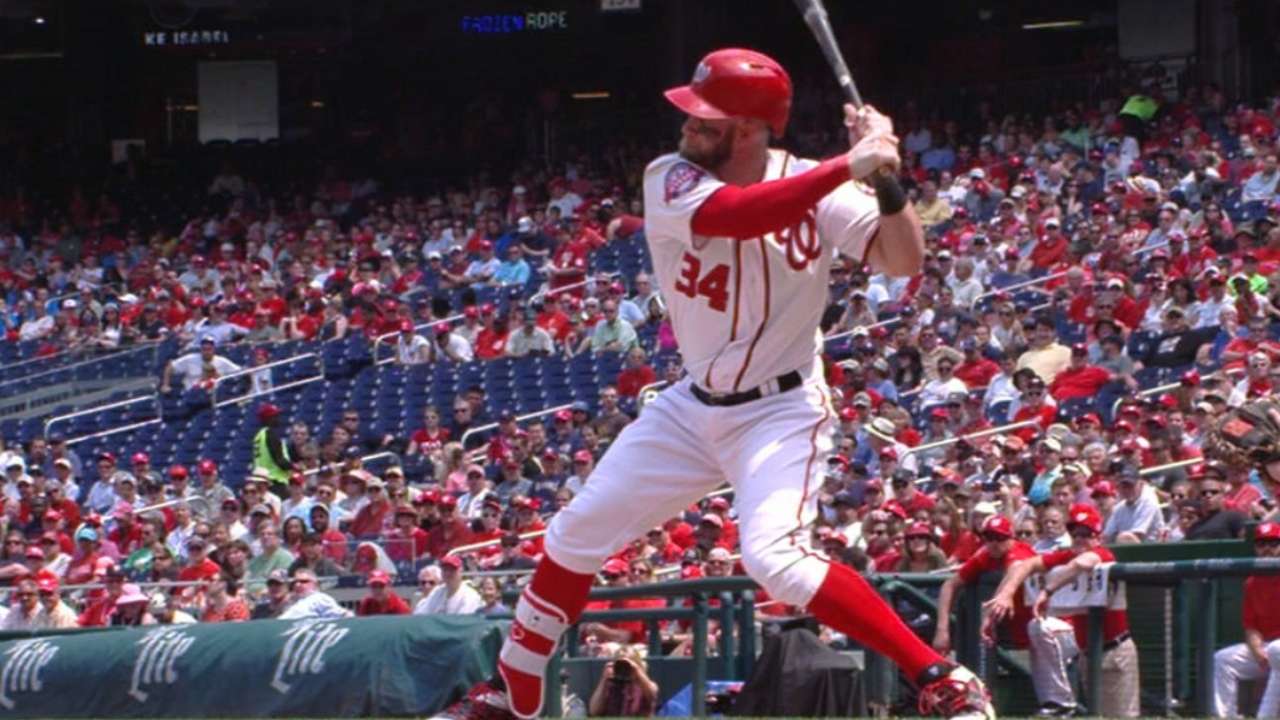 The third homer, in the fifth, traveled even further, measured by Statcast™ at 445 feet into the second deck in right-center, with an exit velocity of 108.6 mph, and gave Washington a 5-2 lead.
"I was trying to get some good ABs," Harper said after the game. "[Koehler] is a good pitcher. He has a curveball, slider and has a good changeup. We were trying to put some runs on the board."
Hitting isn't the only reason that Harper is a finalist for the NL MVP Award. Baserunners didn't dare try to take an extra base against him. If they did, Harper nailed them.
One of Harper's best defensive games came May 24 against the Phillies. In the seventh, after Odubel Herrera singled, Cameron Rupp blooped what looked like a single to right field, but Harper grabbed the ball on a hop and threw out Herrera for the force at second.
"If I'm not hitting, I don't want them to get a hit, either," Harper said then. "It's the little things that I keep in my head that keeps me going out there, keep me in the game. I want to make some plays and help this team win."
Bill Ladson is a reporter for MLB.com and writes an MLBlog, All Nats All theTime. He also can be found on Twitter @WashingNats. This story was not subject to the approval of Major League Baseball or its clubs.