Banister wins AL Manager of the Year Award
First-year skipper led Rangers to AL West title season after club finished in last place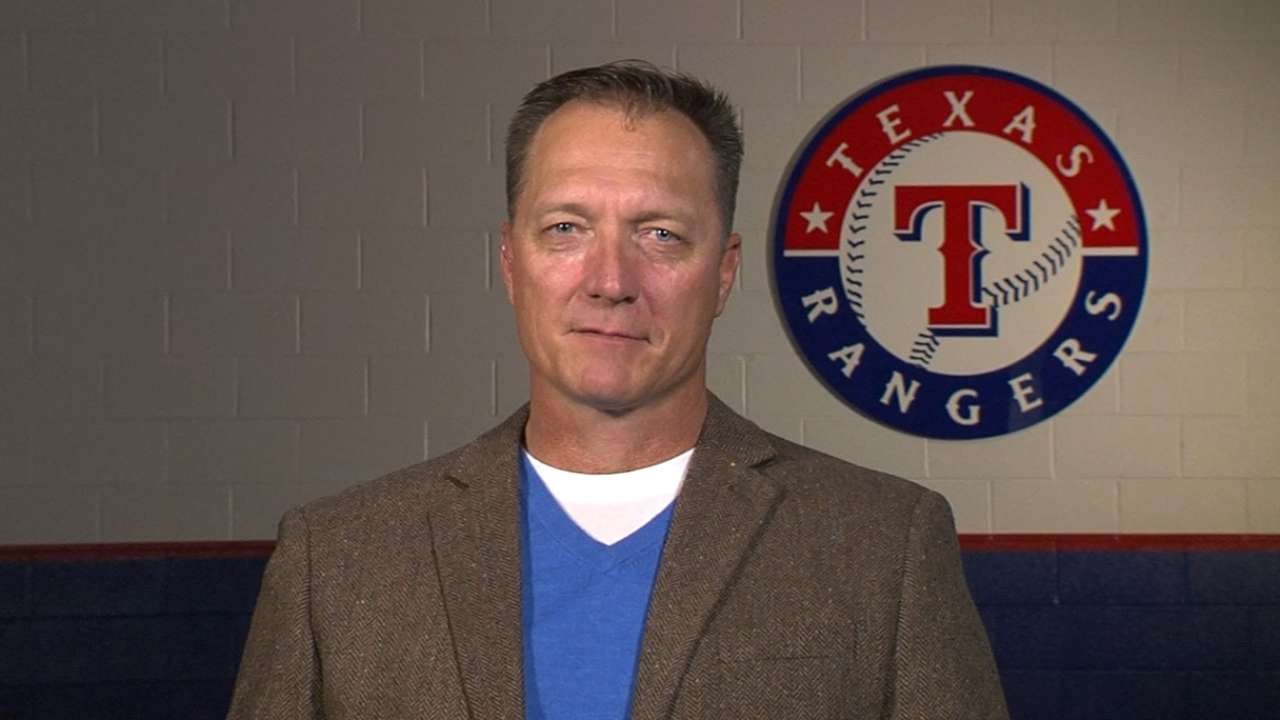 ARLINGTON -- Rangers manager Jeff Banister's day did not start out well on Tuesday. He was caught speeding on his way to work from his suburban home in Keller, Texas.
"Yeah, I was a little anxious to get here," Banister said. "I've got to remember there are speed limits, so I was reminded to slow down."
Banister can be forgiven for his eagerness, and his day eventually turned out to be rewarding when he found out he had been named the American League Manager of the Year by the Baseball Writers' Association of America. Banister won the award after leading the Rangers to a 21-game turnaround and an AL West title in 2015 in his first year as a Major League manager.
AL MANAGER OF THE YEAR VOTING
| Manager, Club | 1st | 2nd | 3rd | Points |
| --- | --- | --- | --- | --- |
| Jeff Banister, TEX | 17 | 8 | 3 | 112 |
| A.J. Hinch, HOU | 8 | 13 | 3 | 82 |
| Paul Molitor, MIN | 2 | 3 | 14 | 33 |
| John Gibbons, TOR | 1 | 5 | 2 | 22 |
| Joe Girardi, NYY | 2 | | 2 | 12 |
| Ned Yost, KC | | 1 | 5 | 8 |
| Mike Scioscia, LAA | | | 1 | 1 |
"For me it goes deeper than what it means to me," Banister said. "It's what it means to the coaching staff, the players and the organization. It's an award for me, I'm the one who accepts it, but it's one we all share in. To be able to have this in Year 1 … tremendous.
"It means a group of players showed up every day, beat some odds, were resilient, showed some grit, learned to play together and for each other on a nightly basis. I was most proud of that."
Banister beat out A.J. Hinch of the Astros and Paul Molitor of the Twins to become the Rangers' first Manager of the Year since Buck Showalter in 2004. He is the first AL manager to win the award in his first season. Joe Maddon of the Cubs won the National League Manager of the Year Award.
• Did you know Banister batted 1.000 during his playing career?
"You go back to the first conversation I had with [general manager Jon Daniels]," Banister said. "We talked about what vision of the Texas Rangers I had in my mind. That was the first question asked of me.
"I believe this, if you can't think about or talk about winning, you're probably not going to win. If you don't believe that you're going to be successful, then your chances of being successful are very minimal. I believe when you're capable of surrounding yourself with winning people that have similar mindsets in the sense that they're willing to go out and be relentless at getting better then you have a great chance of being successful."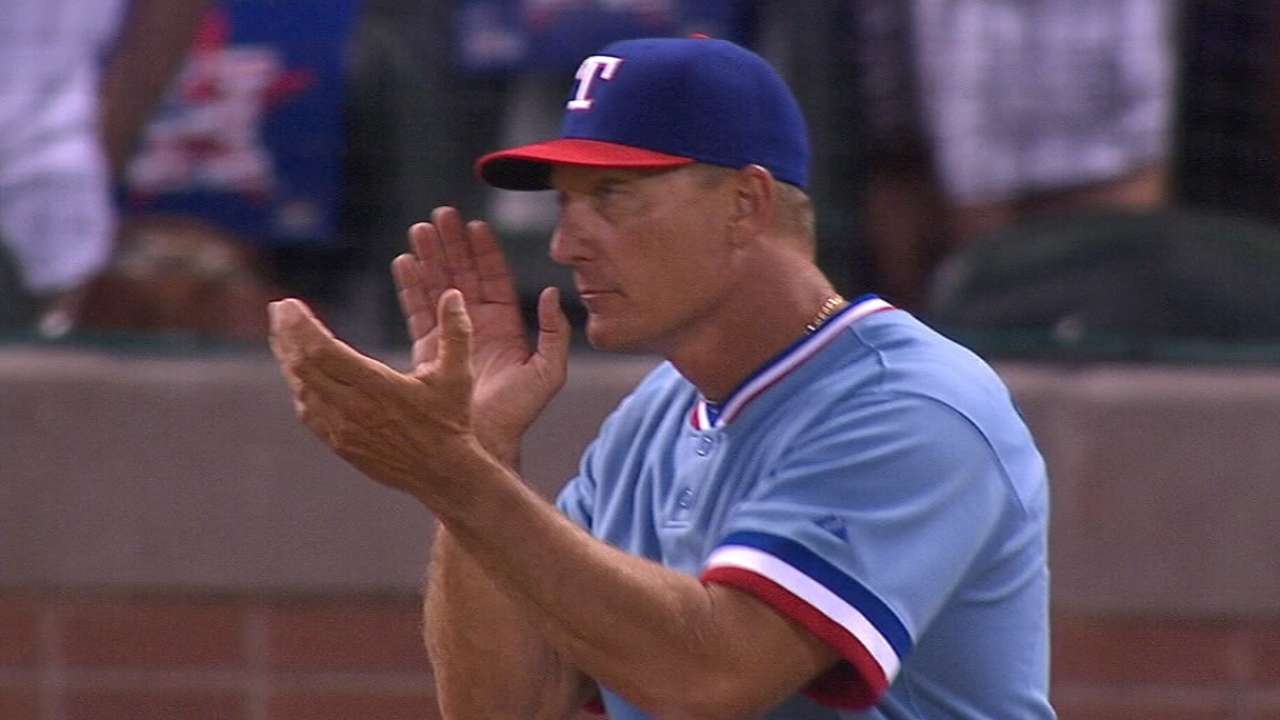 Banister was picked first on 17 of 30 votes submitted. Hinch finished second and Molitor third. John Gibbons of the Blue Jays and Joe Girardi of the Yankees also received first-place votes.
"If you look at this year, we had a very successful season, and he led us down the path," Daniels said. "There is a lot of confidence going forward that we have the right leader and the right people directing our players."
The Rangers went from 67-95 in 2014, finishing in last place in the AL West, to 88-74 and won the division title on the last day. They lost in the AL Division Series to the Blue Jays in five games.
In winning the division title, the Rangers were the fifth team to reach the postseason after having a league-worst record the previous season. The others were the 1991 Braves, 1998 Cubs, 2007 Cubs and 2008 Rays.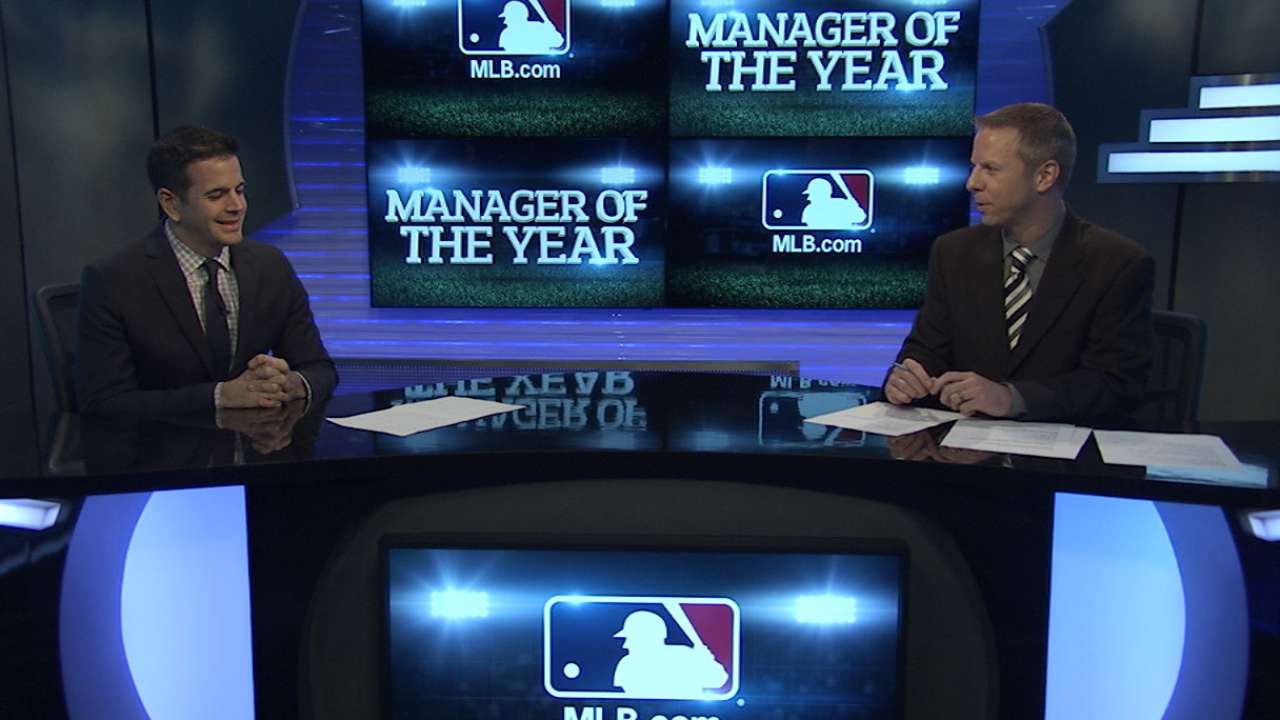 The Rangers reached the postseason with a tremendous second half. They were 42-46 at the All-Star break -- six games out of first place -- and seemed more likely to have the worst record again than they were to win the division title.
Daniels said one of Banister's biggest attributes was being able to keep the Rangers together through the first half of the season.
"If we had another bad season, then 2014 isn't a fluke," Daniels said. "Now it's a pattern, it's a direction and we've got issues. But we didn't deviate from what we are trying to do."
By the numbers for @Bannyrooster28's AL Manager of the Year Award. #ALMOY pic.twitter.com/8DvWaaJpsL

— Texas Rangers (@Rangers) November 17, 2015
It only got worse before getting better. The Rangers were nine games out on July 22 and eight games out on Aug. 2. But from that point forward, Texas won 37 of its last 58 games and ended up being only the sixth team since division play began in 1969 to finish in first after trailing by as many as eight games in August.
"It could have been very easy to jump off the message and start changing course," Banister said. "I'm probably most proud of our coaching staff and our players when no one else -- no one else -- outside of our clubhouse believed what we were saying because we weren't putting the W's on the board. We weren't finishing games off, we weren't playing well, we weren't hitting the baseball, we weren't driving in runs, the defense had holes.
"But yet we continued to have the same message and talked the same talk about what we felt we could do. I don't think if we didn't stay strong in and relentless in that thought process we don't play the way we did down the stretch."
Banister is the third Rangers manager to win the award given by the BBWAA. Johnny Oates shared the award with Joe Torre of the Yankees in 1996.
T.R. Sullivan is a reporter for MLB.com. Read his blog, Postcards from Elysian Fields, follow him on Twitter @Sullivan_Ranger and listen to his podcast. This story was not subject to the approval of Major League Baseball or its clubs.