Orioles targeting second-tier starters
Duquette says club's priority is filling out rotation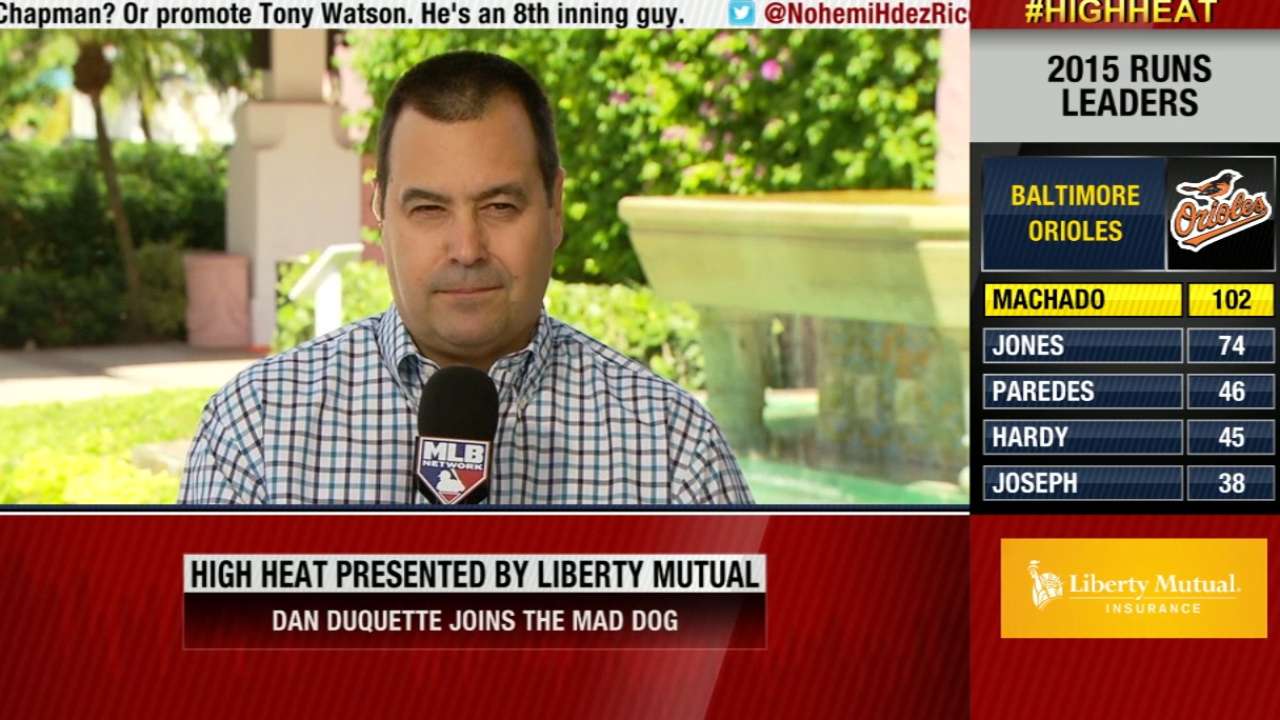 BALTIMORE -- If the Orioles have enough payroll flexibility to re-sign Chris Davis and add a top-of-the-rotation starter, as executive vice president of baseball operations Dan Duquette said over the weekend, who might be in play?
Duquette told MLB Network Radio the O's priority is filling out a rotation by obtaining a No. 1, 2 or 3 starter, adding that there's not "that many No. 1 starters, but there's some twos and threes in there that we could be very competitive on."
That means that David Price, the crown jewel of this year's free-agent class, and Zack Greinke -- projected to get a deal north of $150 million -- are off the table. But it's a deep group of available pitchers this year and, with a weak 2016 free-agent pitching class, competition should be high.
Two names to watch among the No. 2's are Jeff Samardzija and Scott Kazmir, both considered the top of the second tier of available pitching options. Samardzija rejected a one-year, $15.8 million qualifying offer from the White Sox on Friday. Kazmir did not receive a qualifying offer from the Astros.
Those guys, particularly Samardzija, would command more than Ubaldo Jimenez, meaning Duquette would have to persuade ownership to make another sizable investment in a free-agent arm. Jimenez signed a record deal for an Orioles pitcher the winter prior to 2014 at four years, $50 million. He has been inconsistent in the first two seasons (18-19, 4.39 ERA), though last year was much more encouraging.
Kazmir, 31, owns a 3.96 career ERA in 11 Major League seasons and would give the O's a lefty starting option now that Wei-Yin Chen is a free agent.
Chen is among that second-tier group of free-agent starters, though he's not expected to re-sign with the Orioles. Chen's agent Scott Boras mentioned that the lefty was unhappy about being sent to the Minor Leagues for roster management and it's viewed within the O's organization as a slim possibility that the sides would be able to work on a deal to bring Chen back.
Ian Kennedy is another name that could make sense for Baltimore, and one that has been linked to the Orioles before. While the 30-year-old right-hander has averaged 9.3 strikeouts over nine innings the past two years, he's also prone to giving up home runs and would be pitching in a very hitter-friendly Camden Yards. Kennedy declined a $15.8 million qualifying offer from the Padres.
Brittany Ghiroli is a reporter for MLB.com. Read her blog, Britt's Bird Watch, follow her on Facebook and Twitter @britt_ghiroli, and listen to her podcast. This story was not subject to the approval of Major League Baseball or its clubs.