AFL batting leader Engel rounds out his game
White Sox prospect stole 65 bases in 2015 but had to improve at plate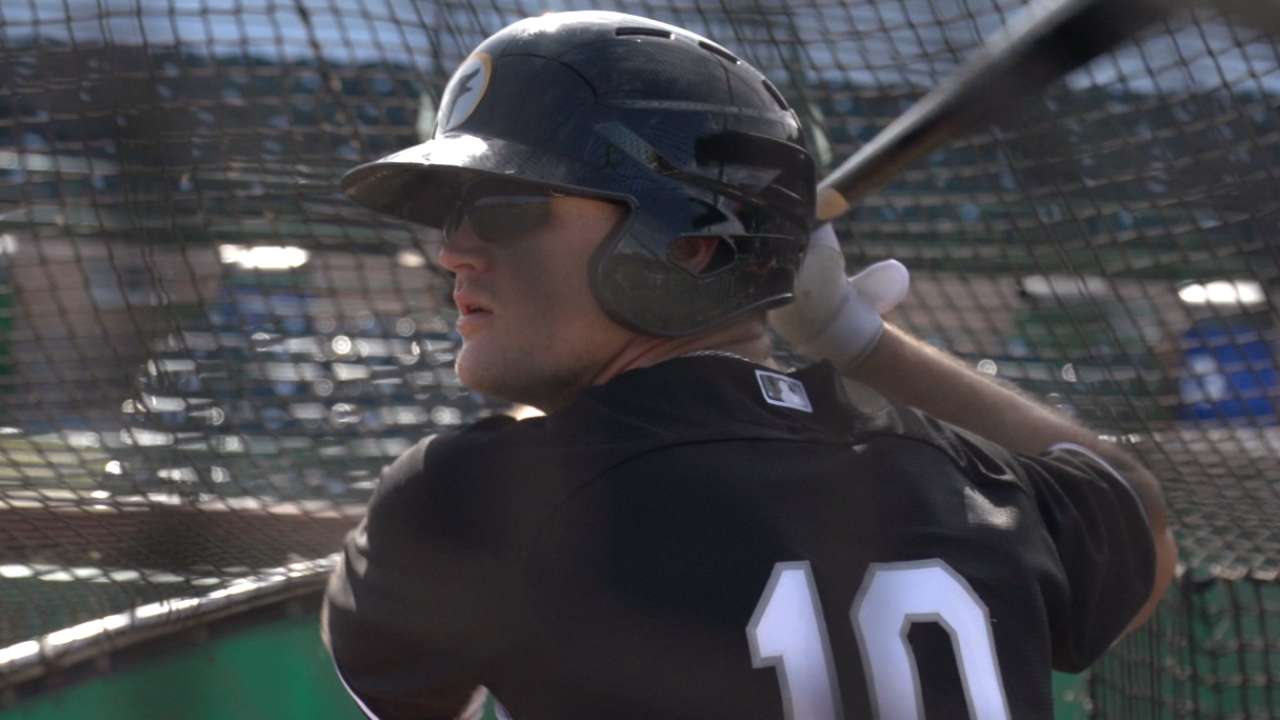 CHICAGO -- When Adam Engel eventually reaches the Major Leagues, the White Sox certainly don't expect the leadoff man to hit .400.
But his .397 average entering Tuesday with the Glendale Desert Dogs, ranking No. 1 against Arizona Fall League pitching, well above the level of competition he's seen at Class A Advanced in the Carolina League, certainly gives the 23-year-old great confidence that he's moving in the right direction toward that ultimate baseball mark. That was validated when Engel was named the Fall League Hitter of the Week.
"I've heard multiple people say that [if] you can hit at Double-A, you have a good chance to hit anywhere," said Engel, the team's No. 17 prospect per MLB.com, during a Tuesday afternoon conference call. "Me, coming from High A, I've never been to Double-A, so I don't know exactly what the pitching looks like up there.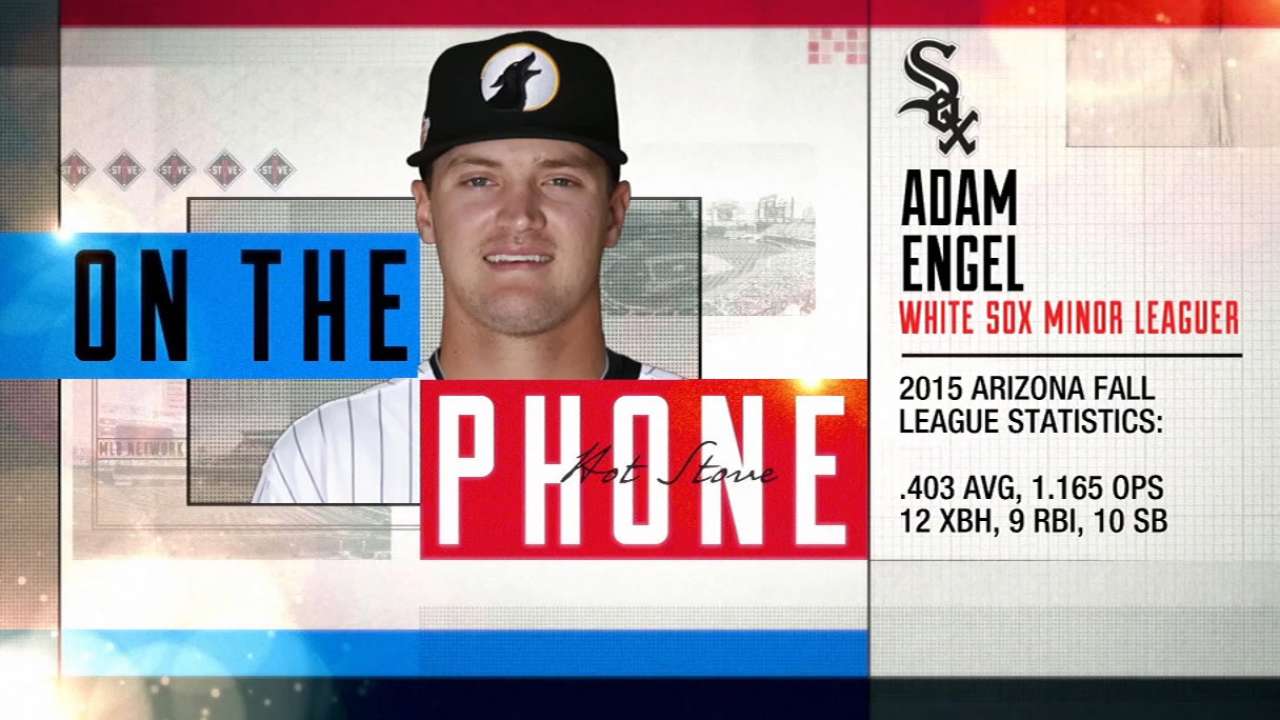 "Coming up here and being able to see these guys and see their stuff, having the ability to compete and have quality at-bats, it's definitely been a big confidence boost. That's probably the biggest takeaway from this time."
• Engel named Arizona Fall League Hitter of the Week
The right-handed hitting and throwing Engel, who was a 19th-round selection in the 2013 Draft, also had nine doubles, two triples, eight RBIs and 15 runs scored over 63 at-bats in 18 Fall League contests entering Tuesday. Not surprisingly, the individual who swiped 65 for Winston-Salem during the '15 season has stolen 10 bases in Arizona.
Engel's slugging percentage sat at .651, albeit in a limited sample size. Engel's on-base percentage checked in at a robust .524, with 16 walks and 10 strikeouts. That basic plan espoused by White Sox hitting coach Todd Steverson, of being ready and swinging at strikes without expanding the zone, seems to be taking root at the lower levels as well.
"Since I've been out here, I've really, really tried to address that and maximize what that actually means from an at-bat to an at-bat," Engel said. "What do I need to do to swing at strikes? What am I thinking going into the box to make sure I swing at a good pitch?
"It's advanced even to the point where I don't want to just swing at strikes. I want to swing at pitches I can drive. If that means I have to take a pitch early in the at-bat and maybe fall behind a little bit to give myself a chance to see a mistake the pitcher might make later in the at-bat, then that's what I've got to do."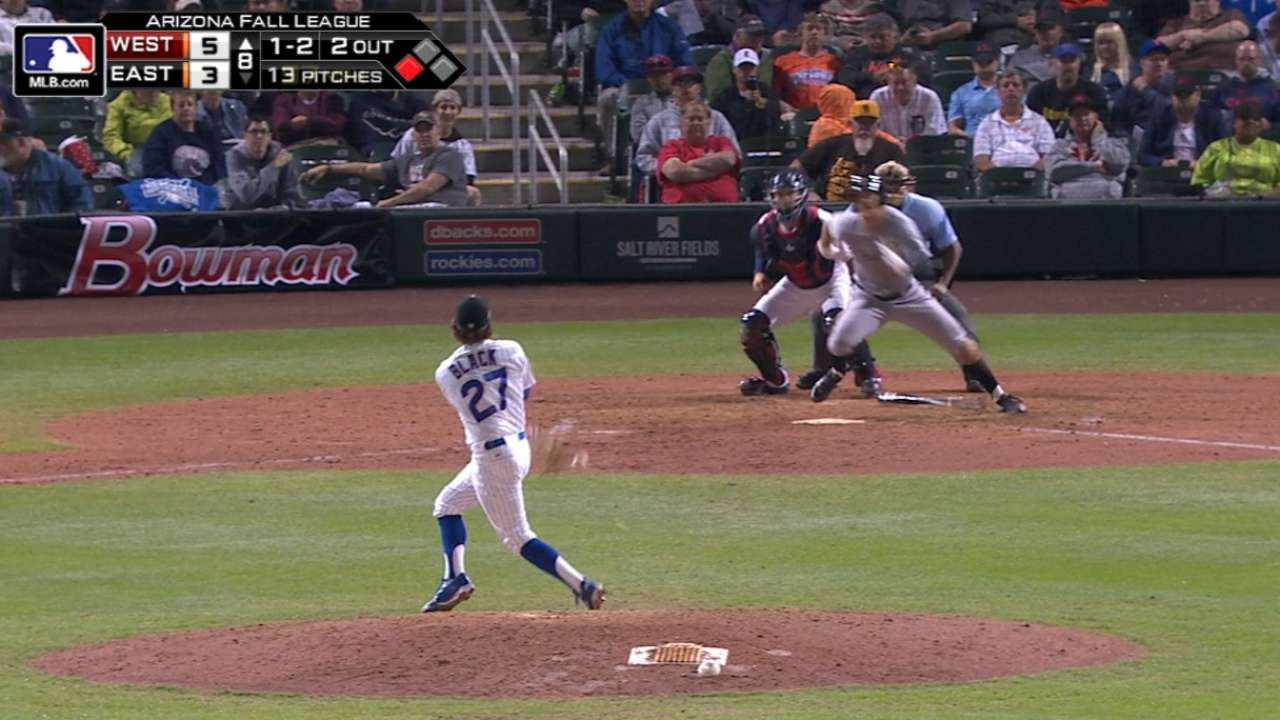 Double-A Birmingham stands as Engel's next stop in 2016. He has made a few minor adjustments offensively, focusing more on the consistency of his pregame routine to prepare for each day, but this Fall League success shows his offense is starting to catch up to his high-end defense evident upon arrival.
"He's loosened up here in the last couple of years, got a little bit of rhythm that enables him to get something started," said White Sox director of player development Nick Capra of Engel's offensive improvement. "And he's kind of run with it."
"I'm a big believer that if you get the right information from the people around you, and you really work at it, you give yourself a chance to have success," Engel said. "It's been good to see that success while I've been out here."
Scott Merkin is a reporter for MLB.com. Read his blog, Merk's Works, follow him on Twitter @scottmerkin and listen to his podcast. This story was not subject to the approval of Major League Baseball or its clubs.