Determined to improve, Odorizzi got results
Rays righty vowed to pitch deeper into games in '15, looks to continue growth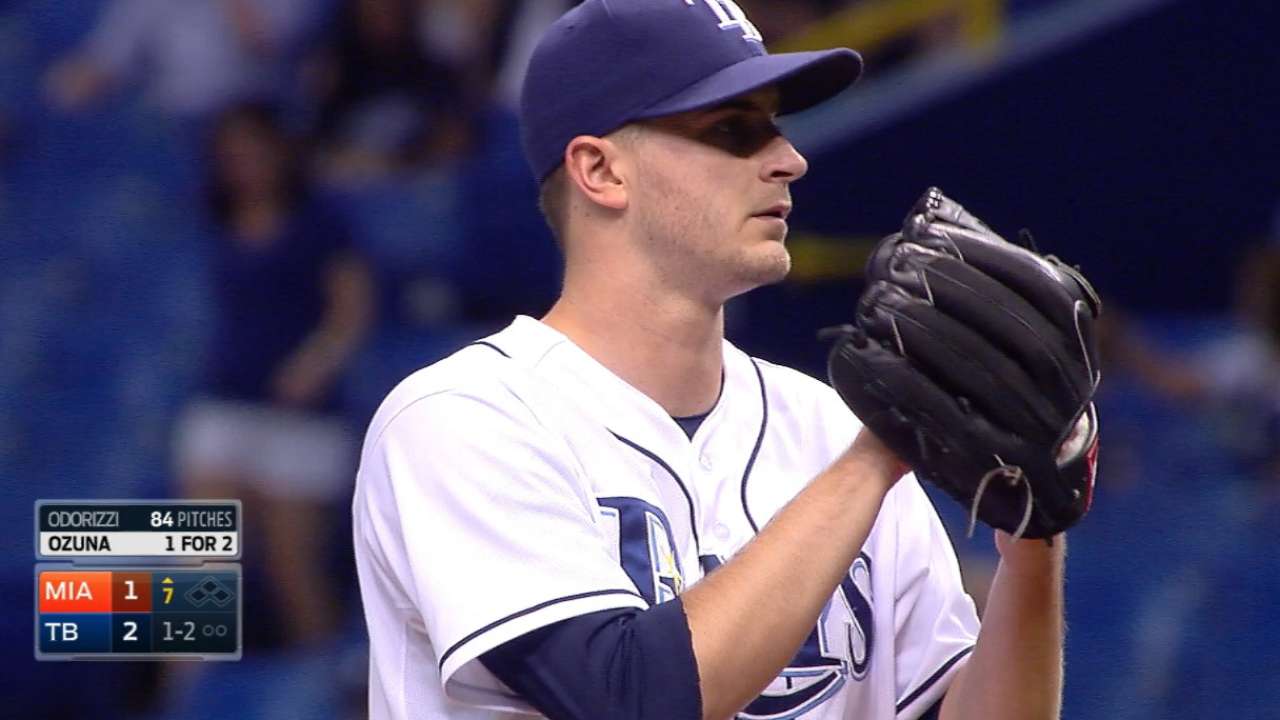 ST. PETERSBURG -- Growth is always good and all the more impressive when accomplished at the Major League level.
Jake Odorizzi wasn't happy with where he found himself at the end of the 2014 season, so he got busy doing the needed offseason work to put himself in a better position to get where he wanted to be.
The right-hander's 2015 results tell the story of an accomplished goal. Odorizzi didn't pitch badly in 2014 -- he just felt like he could have pitched better. In particular, he wasn't going as deep into the game as he would have liked. Thus, Odorizzi set an offseason goal of gaining weight and strength.
The 17 pounds Odorizzi gained went mostly to his core and legs. His upper body got stronger, too, but he didn't want to bulk up there. Odorizzi wanted to remain flexible and throw without any impingements.
Odorizzi went 11-13 with a 4.13 ERA in 31 starts in 2014. Fast forward to '15 to see a dramatic improvement.
Odorizzi pitched seven innings against the Marlins in his final start of the season to pick up his ninth win. Of his 28 starts, in 15 he went at least seven innings -- something he did just eight times in 2014. Odorizzi also missed five weeks due to a strained oblique. Included in his 2015 body of work were wins over Detroit's David Price, Houston's Dallas Keuchel and Miami's Jose Fernandez, an accomplished group that went a combined 44-11 in their other starts.
Odorizzi's 169 1/3 innings passed his 2014 total (168) in three fewer starts, and his 3.35 ERA showed a 78-point improvement. At Tropicana Field, he pitched particularly well, posting a 2.79 ERA in 13 starts, compared to a 3.86 ERA in 15 road starts. Those numbers would support a much better record than 9-9, but win totals can be misleading. Consider that Odorizzi had 24 starts over the past two seasons in which he allowed one run or fewer, and in 10 of those, he didn't earn a win.
"I know starting pitchers, they want to win as much as we want them to get wins by their names," Rays manager Kevin Cash said. "But sometimes those are out of your control. I know Odo, there was a long stretch there where it seemed like he'd go seven innings, giving up two runs and not getting a loss, but also not getting a win. That's kind of the nature of the game and the nature of the kind of games that we play. But we don't put too much emphasis on the win-loss record. He's given us a chance to win way more times than not."
Odorizzi call a pitcher's record "tricky" when asked about being .500 despite his glowing numbers.
"There was a point early in the year where I think I hadn't won a game in a while and I gave up four or five runs to Baltimore and I got a win for it," Odorizzi said. "So it was the worst I'd pitched the last couple of times, and I got a win. And the other times, I either got a walk or a no-decision. So it's kind of irrelevant, to be honest."
Odorizzi pointed to one thing that brought the biggest change in 2015.
"I think just the mindset, the attacking mindset," Odorizzi said. "[In 2014] I was kind of pitching away from contact, and this year, I was pitching to contact. And to do that, you have to throw strikes. The main thing is just throwing strikes.
"It was an overall better year than last year. So as long as I can keep improving from a year-to-year basis, I think that shows I'm growing as a pitcher."
Bill Chastain is a reporter for MLB.com. This story was not subject to the approval of Major League Baseball or its clubs.