A's Manaea named AFL Pitcher of the Week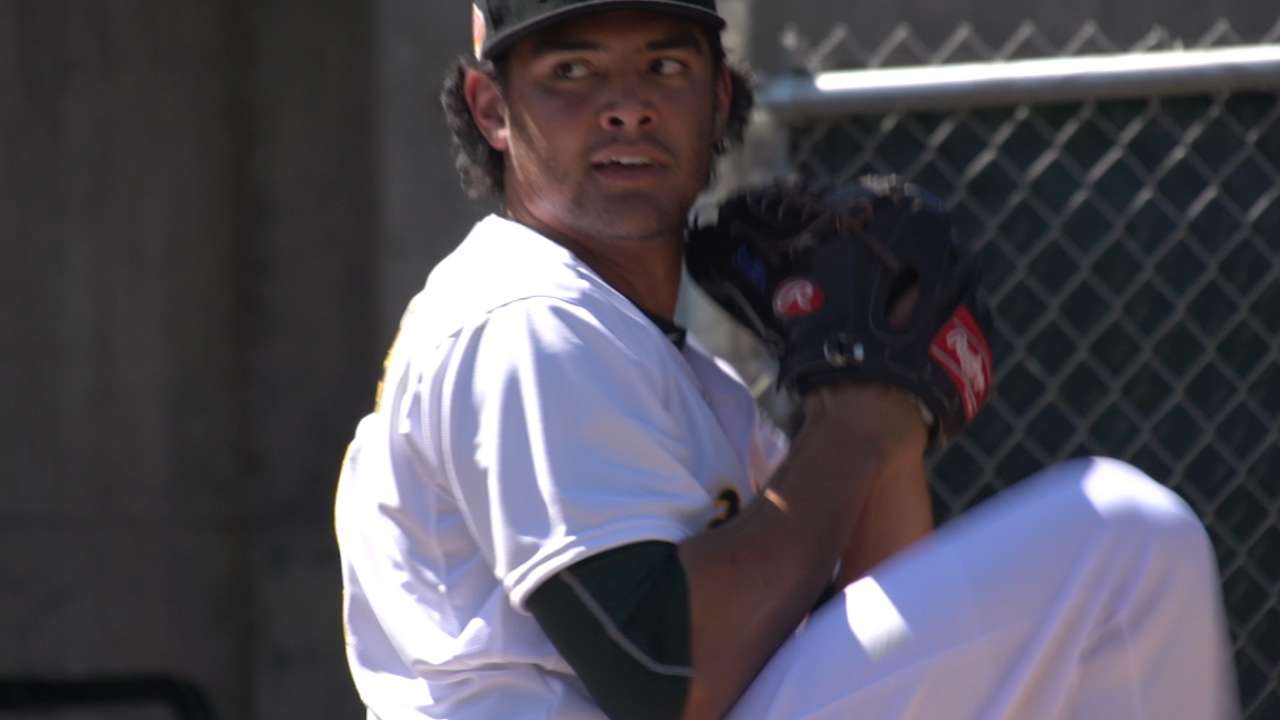 MESA, Ariz. -- Mesa Solar Sox left-hander Sean Manaea of the Oakland Athletics was named Arizona Fall League Pitcher of the Week following his standout performance in his start against the Scottsdale Scorpions on Friday. In what was his longest appearance of the AFLthus far, Manaea struck out nine batters in five innings while allowing just two hits.
"A lot of big-name guys have come through this league, and just being able to play here is a huge honor," Manaea said. "Being named Pitcher of the Week is even bigger, so I'm really excited about that."
• Engel named AFL Hitter of the Week
A 6-foot-5, 235-pound left-handed pitcher with a fastball that sits in the mid-to-upper 90s, Manaea checks in at No. 3 on MLB Pipeline's list of top prospects in the Oakland Athletics organization.
But he'll be the first to tell you that he struggled in his early AFL appearances -- specifically with his slider.
In his first four starts in the desert, Manaea allowed 10 earned runs on 17 hits through 16 innings. In those four appearances, he struck out 17 and walked four.
"The first couple outings, I struggled. I didn't really know what I was doing. I was kind of figuring out again how to throw it," Manaea said. "Eventually, I kind of figured out in my head what I was supposed to be doing. That's something that I've been working on throughout this entire season, especially here -- just improving on my changeup and slider."
• Scouting profile: Sean Manaea
It was during his start in the Fall Stars Game that Manaea said he felt like all of his pitches were working for him again.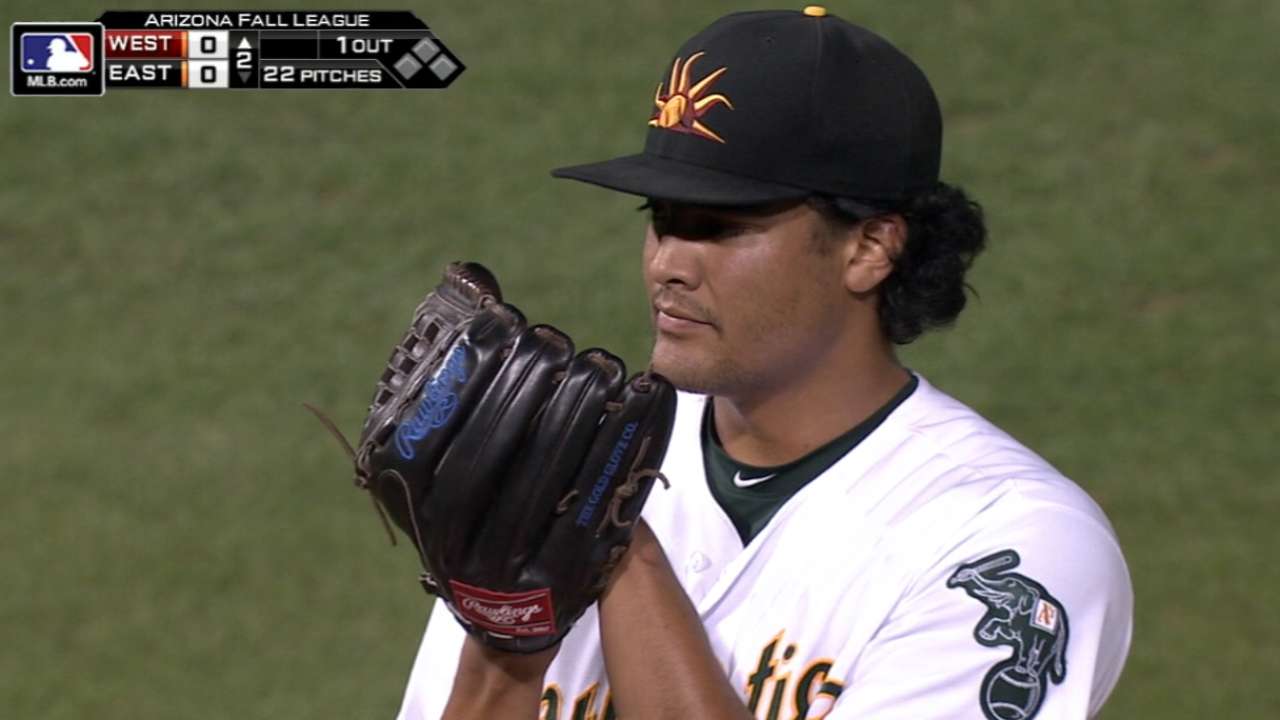 "My mentality and all that stuff was on point," Manaea said. "I was just locked in, and especially [with] my slider and changeup, I finally started clicking in my head what I was supposed to be doing with how I hold it, how I release it and all that stuff
In his two innings pitched, Manaea struck out four and didn't allow a hit.
"I was finally able to throw a slider for a strike, and having it do what I wanted. And my changeup -- I finally got it to do what I wanted it to do," Manaea said. "It was just a turning point for me, the Fall Stars Game."
Manaea said that the AFL has been the ideal place to work on those pitches because of the high level of competition that he faces each outing. His most recent appearance is further evidence of that.
In his start against Scottsdale, he faced a Scorpions lineup that leads the AFL with a combined .279 average. Against Manaea, they managed just two hits through five innings for a .118 average.
"It gives me a really different perspective of how I size up against these guys," Manaea said. "If I can get outs here, then I can get outs pretty much anywhere."
Ginger Poulson is is a journalism student at Arizona State University. This story is part of a partnership between MLB.com and ASU's Walter Cronkite School of Journalism and Mass Communication. This story was not subject to the approval of Major League Baseball or its clubs.