Estrada happy to stay put with Blue Jays
Right-hander accepts 'extremely fair offer' to help Toronto build on 2015 success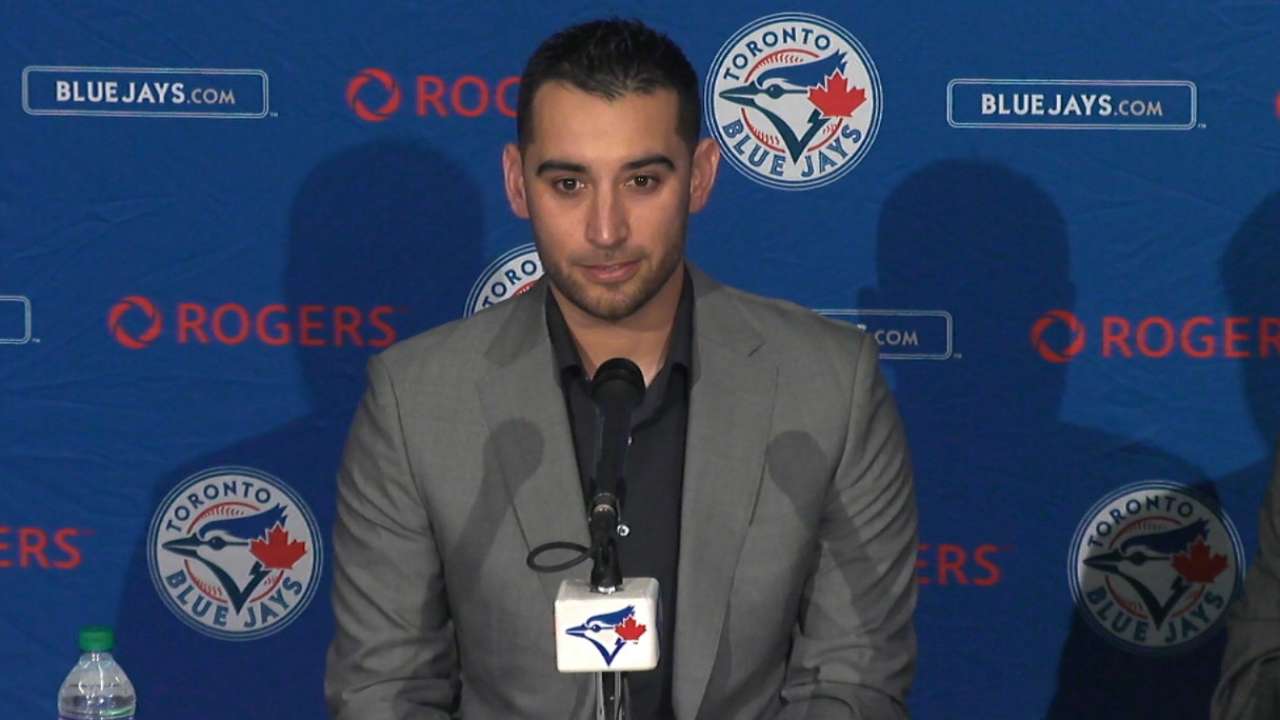 TORONTO -- Marco Estrada had no shortage of options following his breakout season for the Blue Jays. But when push came to shove, what he wanted more than anything else was some long-term security in Toronto.
Estrada ended his brief flirtation with free agency on Friday, when he signed a two-year deal worth $26 million while facing a deadline to accept the Blue Jays' $15.8 million qualifying offer for 2016 or taking his chances on the open market. The contract, though shorter than some expected, ensures he'll be part of the team looking to defend the 2015 American League East title.
"I feel like it's an extremely fair offer," Estrada said during a news conference to officially announce the deal Tuesday morning. "I know I'm happy about it. My family's happy about it. You think about the qualifying offer, how much money it is -- but I wanted to be here for a few years, and I'm just glad they offered the two-year [deal] with that.
"Could I have gotten more years on the open market? Maybe. But I wanted to come back here. It was the No. 1 team I wanted to be with."
Estrada hit free agency after a breakout season in which he went 13-8 with a 3.13 ERA over 181 innings. He limited the opposition to an AL-low .203 batting average and set personal highs in wins, innings, WHIP (1.044) and hits per nine innings (6.7).
The only thing working against Estrada was the qualifying offer, which meant other teams would have been required to forfeit a top Draft pick to sign him. That often has a negative impact on a player's value. While Estrada's agent did have a week to test the open market, in the end, both sides opted for a reunion.
The decision helps provide some stability to the Blue Jays' pitching staff. Toronto has a projected rotation of Marcus Stroman, Estrada, R.A. Dickey, Drew Hutchison and possibly Aaron Sanchez or Roberto Osuna, but the club continues to explore free agency and trades for upgrades.
With Estrada in the fold, it allows interim general manager Tony LaCava to be more patient in his search.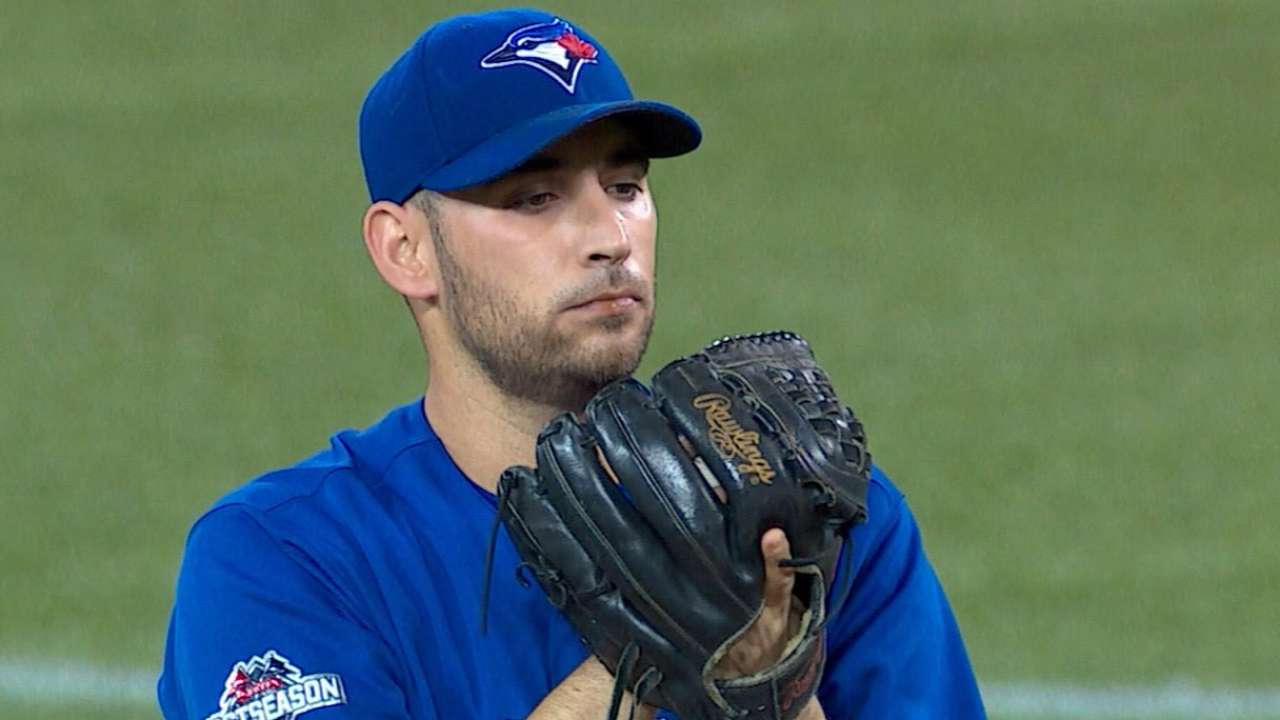 "Bringing Marco back was huge," LaCava said. "We felt that was still our biggest need that we wanted to address. And without being specific to any one guy, we're engaged in a number of free agents and we're talking to a number of teams [about trades] as well."
Estrada has come a long way since he arrived at Spring Training in 2015 without a defined role. He began the year in the bullpen and didn't get his chance to start until left-hander Daniel Norris was optioned to the Minor Leagues at the end of April.
Once Estrada received the opportunity to join the rotation, he never looked back. The native of California posted a 3.28 ERA in 28 starts. In a lot of ways, Estrada was an unsung hero on a division-winning team that was filled with big-name talent. His success continued in the postseason, as he went 2-1 with a 2.33 ERA, including a masterful performance in Game 5 of the AL Championship Series against the Royals.
None of this was expected from a pitcher who had a 4.36 ERA in 39 games for the Brewers in 2014. Estrada attributed a lot of his success to the addition of a cutter to his arsenal, which helped his home run rate drop from 1.7 to 1.2 per nine innings.
"I think I just changed my mentality," Estrada said. "Not that I stopped caring, but I just stopped worrying about giving up home runs. It was all people ever talked about. I never cared until it was put into my head, 'You give up a lot of home runs.'
"I just kept telling myself, 'If you give up a home run and it's a one-run homer, who cares? Just keep them off the base. If that's all you do, then it's a pretty good game.'"
Gregor Chisholm is a reporter for MLB.com. Read his blog, North of the Border, follow him on Twitter @gregorMLB and Facebook, and listen to his podcast. This story was not subject to the approval of Major League Baseball or its clubs.