Arrieta has built strong case for NL Cy Young Award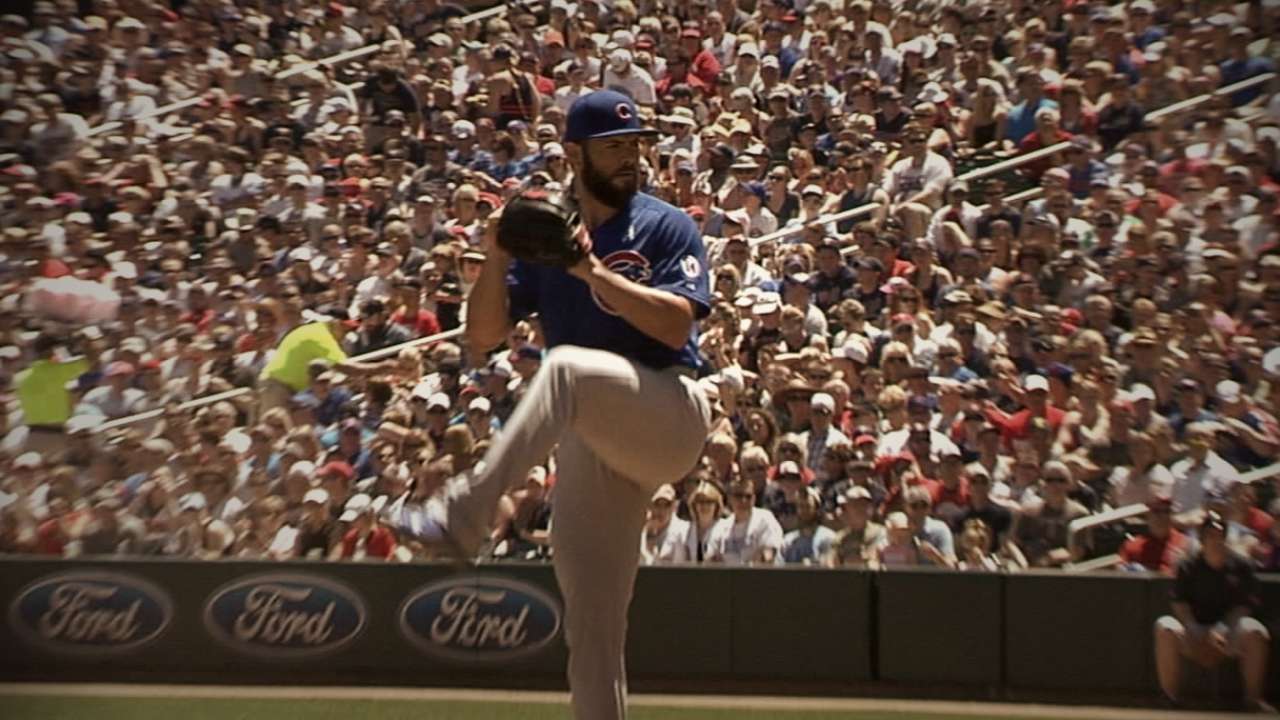 CHICAGO -- Jake Arrieta had the most dominant second half of any Major League pitcher, as it included a no-hitter, 20 consecutive quality starts, two of his four complete games, two shutouts and a mustache-patterned onesie.
The Cubs right-hander -- whose first half was pretty impressive, too -- will find out at 5 p.m. CT today on MLB Network whether his stellar season was good enough to win the Baseball Writers' Association of America National League Cy Young Award. Arrieta's competition is what Cubs manager Joe Maddon likes to call the Dodgers' two-headed monster of Clayton Kershaw and Zack Greinke.
Kershaw is a three-time NL Cy Young Award winner (2011, '13, '14), while Greinke won the '09 American League Cy Young Award with the Royals. Other Cubs pitchers to win the award include Fergie Jenkins (1971), Bruce Sutter ('79), Rick Sutcliffe ('84) and Greg Maddux ('92).
• Complete 2015 awards coverage
If you favor wins, Arrieta would get the nod after leading the Major Leagues with 22. Greinke was tops in ERA (1.66), while Arrieta was a close second (1.77). Arrieta had three shutouts, while Greinke didn't have any. Kershaw led the NL in strikeouts (301), while posting a 16-7 record with a 2.13 ERA.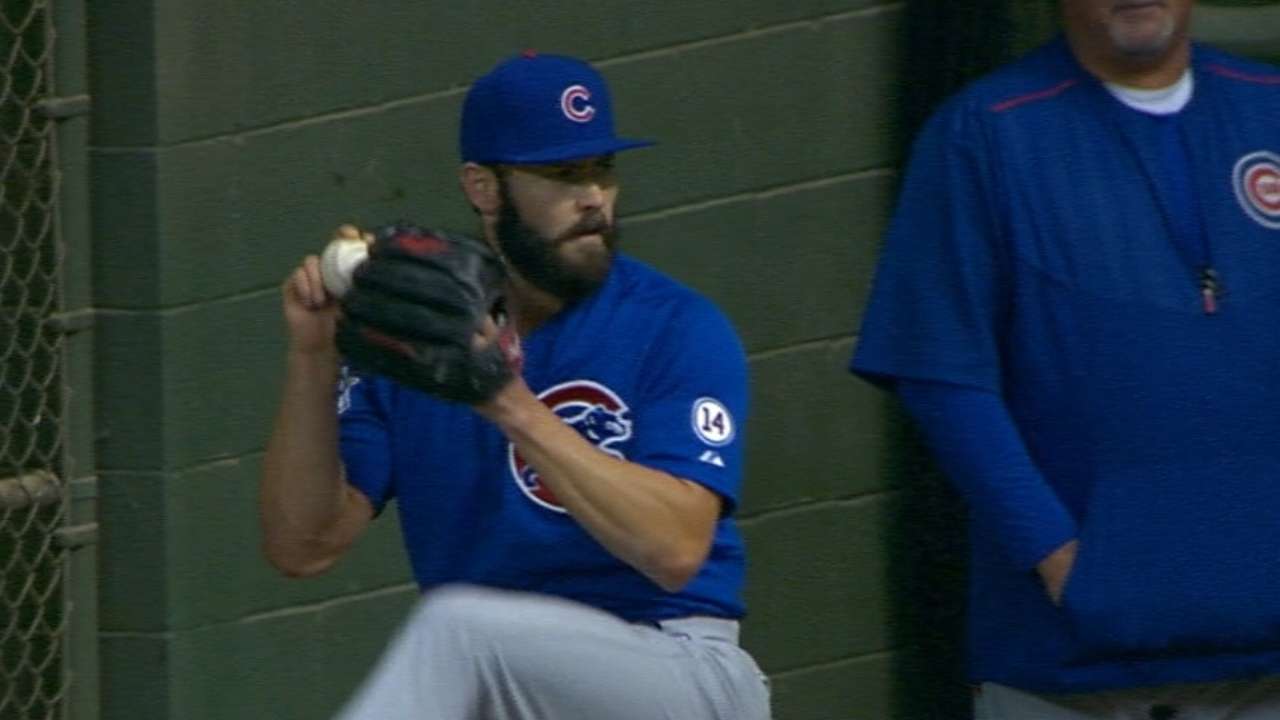 "I pick [Arrieta]," Cubs catcher Miguel Montero said. "I know right now, wins doesn't really matter -- that's what people say. I think it does matter.
"Every time he pitches, he gives us a chance to win," Montero said. "It should matter a lot more than what people think. It's not like he just wins and gives up a lot of runs. That's not the case. I don't want to take anything away from Kershaw and Greinke. I think they're unbelievably good as well. I just go with my guy."
Arrieta did outduel the Dodgers on Aug. 30 at Dodger Stadium, throwing his first no-hitter in a 2-0 Cubs victory. The right-hander completed the game by striking out the side in order in the ninth. He was the first pitcher to do that since Sandy Koufax fanned the last six Cubs he faced in his perfect game in 1965.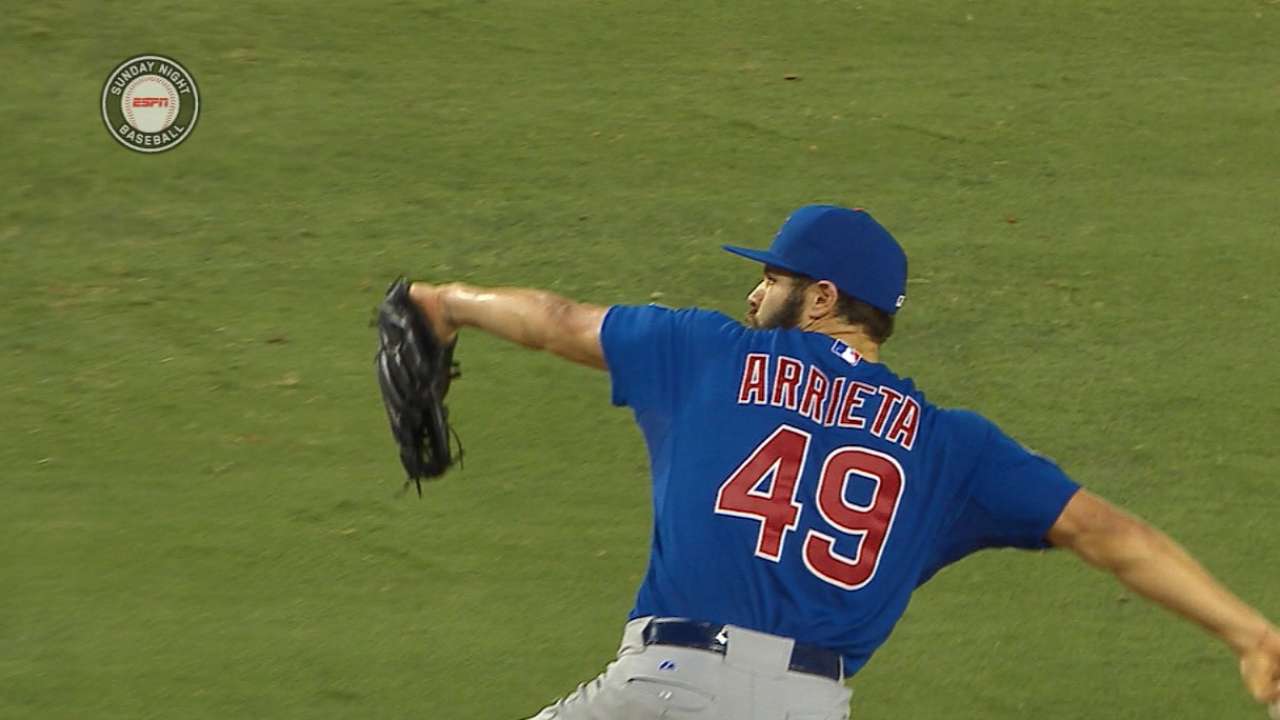 "He's unbelievable," Chicago's Anthony Rizzo said of Arrieta. "You get guys on base all the time and they say they've never seen anything like it. It's a credit to him."
How did Arrieta transform himself? Maddon saw the right-hander in the AL when he pitched for the Orioles, and his explanation is that Arrieta simply has better fastball command. Montero saw it firsthand.
"Every pitch he has is plus, nasty," Montero said. "He's just really unpredictable, too. You don't know what he's thinking. As a catcher, he's been hard to know what he's thinking. I can't imagine it as a hitter."
How good was Arrieta?
• Arrieta is the fifth pitcher with at least 22 wins and no more than six losses and an ERA under 2.00 since the ERA became an official stat in 1912 in the NL. The others include Koufax (1963), Denny McLain ('68), Ron Guidry ('78) and Dwight Gooden ('85).
• From Aug. 4 to the end of the season, Arrieta compiled a 0.41 ERA, giving up four earned runs over 88 1/3 innings, and was 11-0 in 12 starts. It's the lowest ERA for any pitcher from Aug. 1 to the end of the season since ERA became an official stat.
• Arrieta posted a 0.75 ERA and went 12-1 with two complete-game shutouts in 15 starts in the second half. It's the lowest second-half ERA since the All-Star Game was instituted in 1933. And Arrieta finished the first half with a complete game two-hitter against the White Sox on July 12.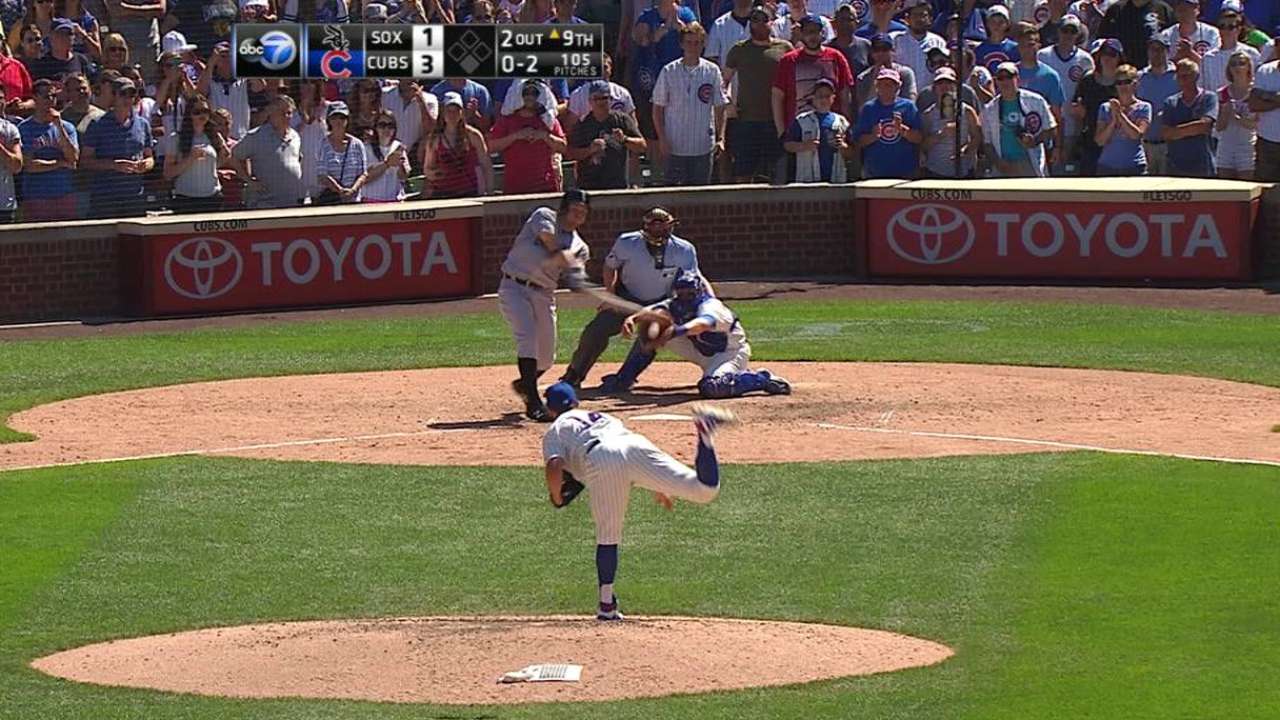 • Arrieta is the first Major League pitcher to finish the season with 20 consecutive quality starts. He held opponents to a .150 average in that stretch. Arrieta helped himself by hitting as many home runs (two) as he served up.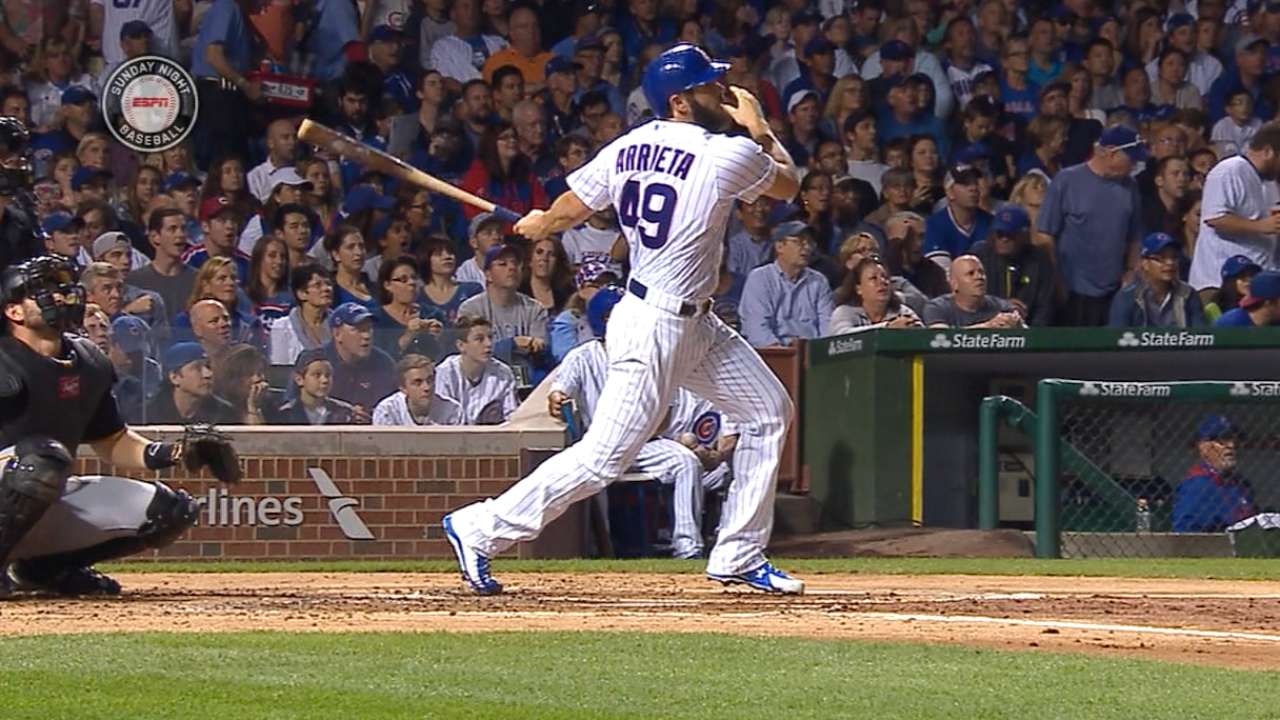 • It isn't as if Arrieta picked up his wins at Wrigley Field with the wind blowing in. He was 13-1 with a 1.60 ERA in 18 road starts, and his .929 road winning percentage is the best single-season mark in franchise history.
Arrieta showed up for his post no-hitter news conference at Dodger Stadium wearing a onesie, part of Maddon's planned pajama party on the flight home. It seemed fitting. So did his performance that night. The Cubs had dubbed the last week of August as "Cy Young Week" because they had to face Corey Kluber, Jake Peavy and Kershaw, as well as 2014 World Series MVP Award winner Madison Bumgarner. Arrieta's name has to be included in any discussion about who wins the award this year.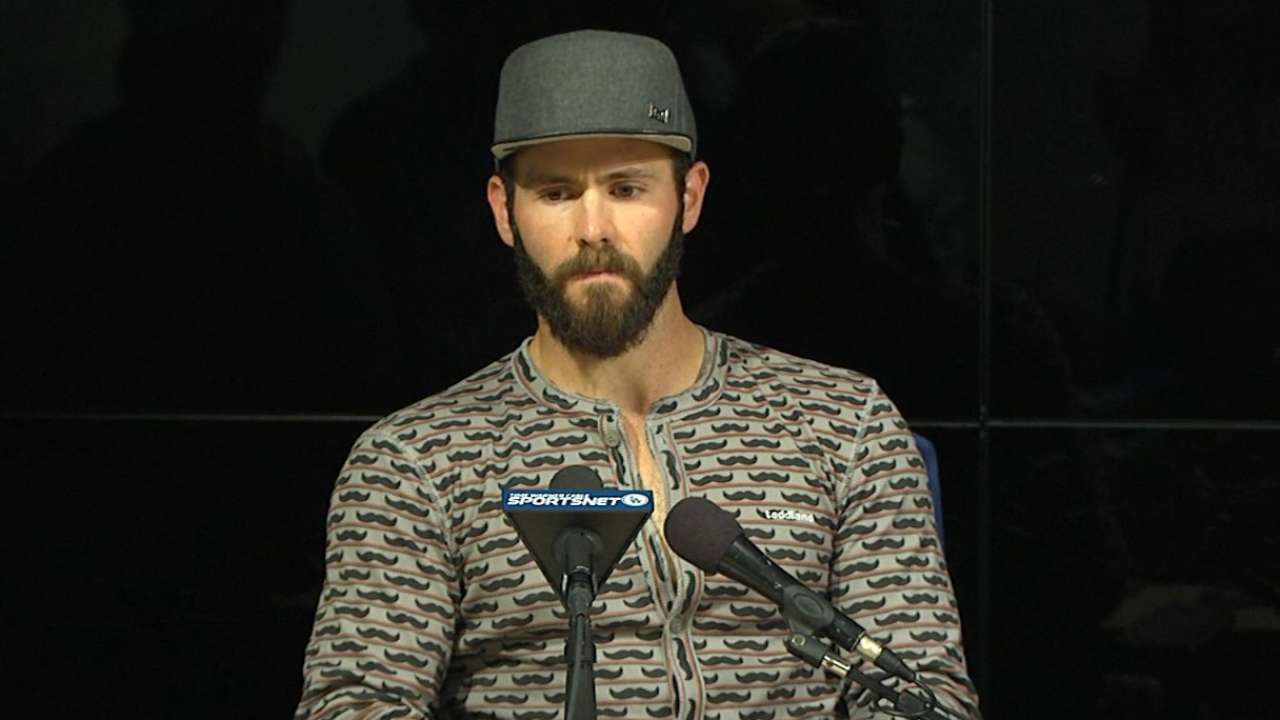 "Why not?" Maddon said. "Why not have him conclude [Cy Young week]? Maybe it's a harbinger."
Arrieta will find out on Wednesday.
Carrie Muskat is a reporter for MLB.com. She writes a blog, Muskat Ramblings. You can follow her on Twitter @CarrieMuskat and listen to her podcast. This story was not subject to the approval of Major League Baseball or its clubs.