Flying start: 2015 rookie class best ever
This year's crop outproduces sensational group from '06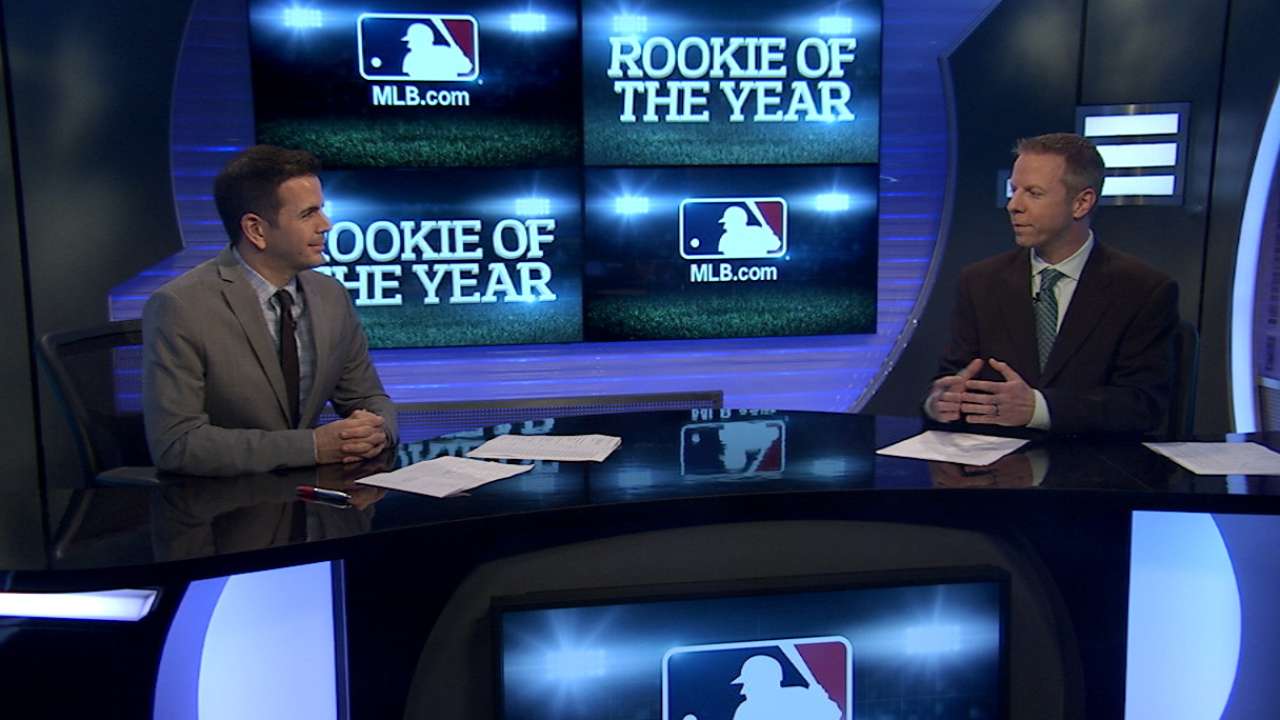 The Cubs' Kris Bryant took home the Baseball Writers' Association of America's National League Rookie of the Year Award on Monday night, and Carlos Correa followed suit by winning American League honors. They're outstanding talents who will continue to wow the baseball world for years to come.
But as far as young talent is concerned, the 2015 season was about more than just the top two players. In fact, the '15 season was one of the best ever by rookies, across the board.
In total, the 603 rookies to see action in 2015 combined to post an fWAR of 133.9, easily the highest total for a rookie class. The 363 first-year position players posted an 84.7 WAR -- an absurd mark, considering rookie position players had never before exceeded 50 WAR.
For the past decade or so, the 2006 rookie class -- which included Justin Verlander, Hanley Ramirez, Ryan Zimmerman, Prince Fielder, Jered Weaver and Ian Kinsler -- had set the standard for excellence. That class posted a 119.8 fWAR, now the second highest in history.
The 2015 rookie class overtook the '06 group as the greatest, statistically, of all time. Take a look at this year's rookie WAR leaders:
1. Bryant, CHC: 6.5 WAR
2. Matt Duffy, SF: 4.9 WAR
3. Francisco Lindor, CLE: 4.6 WAR
4. Jung Ho Kang, PIT: 3.9 WAR
5. Odubel Herrera, PHI: 3.9 WAR
6. Correa, HOU: 3.3 WAR
7. Anthony DeSclafani, CIN: 3.2 WAR
8. Randal Grichuk, STL: 3.1 WAR
9. Noah Syndergaard, NYM: 3.1 WAR
10. Addison Russell, CHC: 2.9 WAR
That's an impressive list. And it doesn't even include Miguel Sano, Lance McCullers, Joc Pederson and Kyle Schwarber -- all of whom would probably have received serious Rookie of the Year consideration in most seasons. This year marked the first time nine rookies were worth at least three wins.
The numbers back the notion that this is probably the best crop of rookie position players ever. The 714 home runs were easily the most of all time, outpacing the 1999 class that hit 618. (Bryant and Pederson led the way with 26 apiece.)
The .698 combined OPS was the highest by a rookie class since 2007, and the 6,416 total hits were the most since '99.
Of course, we're also seeing a trend in the Major Leagues. Teams are far more willing to hand the reins to rookies than ever before. The roughly 29,000 rookie plate appearances this season were the most in 101 years.
There's a reason teams seem more willing to throw youngsters right into the fire: Those youngsters have proven quite clearly that they can play.
The rookies were pretty good in 2015. Need proof? Here's MLB's total rookie fWAR by season. '15 easily the highest pic.twitter.com/r1lLrg1VJ8

— AJ Cassavell (@AJCassavell) November 16, 2015
Best ever seasons for rookies:
• 2015: 133.9 WAR; Top rookies: Bryant, Duffy, Lindor, Kang, Herrera, Correa
• 2006: 119.8 WAR; Top rookies: Ramirez, Dan Uggla, Zimmerman, Matt Cain, Francisco Liriano, Takashi Saito
• 2012: 114.2 WAR; Top rookies: Mike Trout, Bryce Harper, Yu Darvish, Wade Miley, Jarrod Parker, Yoenis Cespedes
• 2009: 101.4 WAR; Top rookies: Brett Anderson, Andrew McCutchen, Elvis Andrus, Randy Wells, Jeff Niemann, Seth Smith
Each of the top four seasons for combined rookie WAR has taken place in the past 10 years, as have six of the top seven overall. Clearly, the last decade has seen rookies make a bigger impact than ever before -- but even by those standards, 2015 was an outlier.
On Monday, the Year of the Rookie was capped with two very deserving Rookies of the Year. But it's the overall depth of the 2015 class that will put Major League Baseball in good hands for years to come.
AJ Cassavell is a reporter for MLB.com. Follow him on Twitter @ajcassavell. This story was not subject to the approval of Major League Baseball or its clubs.