Frazier draws heat in Hot Stove trade rumors
All-Star third baseman, closer Chapman could be potential targets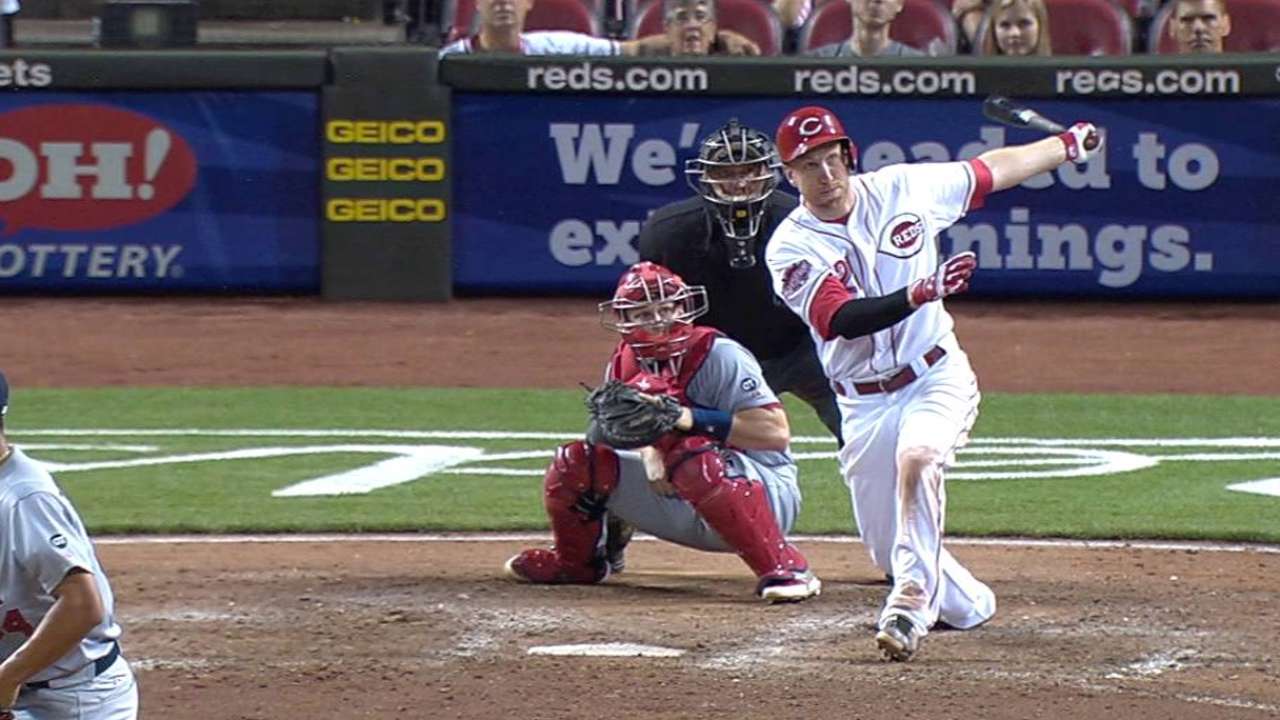 CINCINNATI -- Now that the heads of the Reds baseball operations department have made it clear that they would listen to trade proposals for any player on their roster, rumors have been spinning various names around like autumn's ubiquitous leaf blower.
On Monday, ESPN's Jayson Stark tweeted that a Major League team executive who spoke with the Reds said he was convinced that third baseman Todd Frazier "is legitimately out there" to be traded for -- with a big return required.
However, just one day earlier, Buster Olney -- also of ESPN -- found the opposite scenario. Olney wrote that the Reds are less interested in moving their All-Star.
"They aren't pushing Frazier at all," an evaluator with a National League team said in Olney's report.
Yes indeed, it's Hot Stove season.
Trading Frazier, who turns 30 in February, would make sense in a variety of ways for Cincinnati. Entering the second year of his two-year contract, he will be eligible for arbitration after 2016 and could be a free agent after the 2017 season. Unless the Reds pull off a turbo-fast rebuild, it would be difficult to expect Frazier to still be around when the club is ready to contend again.
Following a big season where Frazier set career marks with 35 home runs and 89 RBIs, his value is likely high enough to warrant a big return.
On the other hand, Frazier's $7.5 million salary makes him a relative bargain for the Reds (although another reason they can ask for a lot in return). He's also one of the club's biggest marketing draws during down times, especially after he won the 2015 Gillette Home Run Derby on home soil at Great American Ball Park. Not only is he popular with fans, but he's also become a team leader inside the clubhouse.
Other moves pending, the Reds currently lack a primary third baseman who could replace Frazier. The in-house options would be moving shortstop Eugenio Suarez to the corner spot or a utility player like Ivan De Jesus Jr.
Reds president of baseball operations Walt Jocketty and general manager Dick Williams, who stacked up on young pitching with the summer trades of Johnny Cueto, Mike Leake and Marlon Byrd, are still looking to trim payroll with a younger roster. Jocketty and Williams are seeking Major League-ready talent with zero-to-three years of service time that can be under club control for a longer period.
Based on the current situation, the Reds have a hole in left field and could use help at the leadoff spot -- if center fielder Billy Hamilton doesn't make the desired hitting improvements this winter.
Other rumors have sprouted since the General Managers Meetings last week in Boca Raton, Fla. One said there were talks with the D-backs about sending second baseman Brandon Phillips to Arizona for veteran second baseman Aaron Hill. It seemed unlikely that such a move would happen.
Phillips is owed $27 million over the next two seasons and has full no-trade protection. If the Reds were to get his approval and move the four-time Gold Glove Award winner, it would likely be to enable Suarez to play second base next to shortstop Zack Cozart.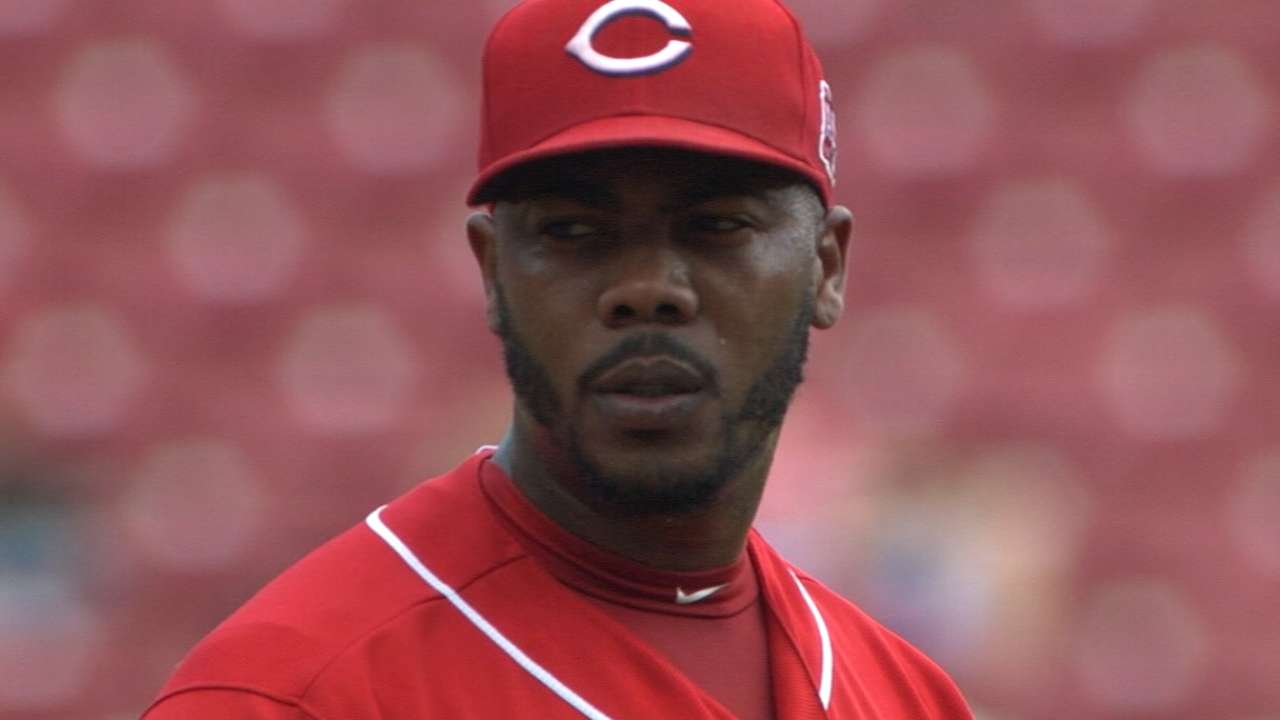 On Thursday, there was a report that four people "insisted" that closer Aroldis Chapman would "be moved by the end of the weekend."
As of Monday night, Chapman remained with the Reds -- albeit a highly available player.
The Reds do not comment on specific trade discussions and rarely discuss openly players on the move. But Williams did tell MLB.com on Saturday that there was still a strong trade market for Chapman, even after the deal of fellow closer Craig Kimbrel from the Padres to Red Sox for four prospects.
It's still early in the Hot Stove calendar. Things could accelerate more as the annual Winter Meetings in Nashville approach on Dec. 7.
Mark Sheldon is a reporter for MLB.com. Read his blog, Mark My Word, follow him on Twitter @m_sheldon and Facebook and listen to his podcast. This story was not subject to the approval of Major League Baseball or its clubs.