Health a big factor in Anderson's decision to return
Lefty hopes to turn strong season into even bigger deal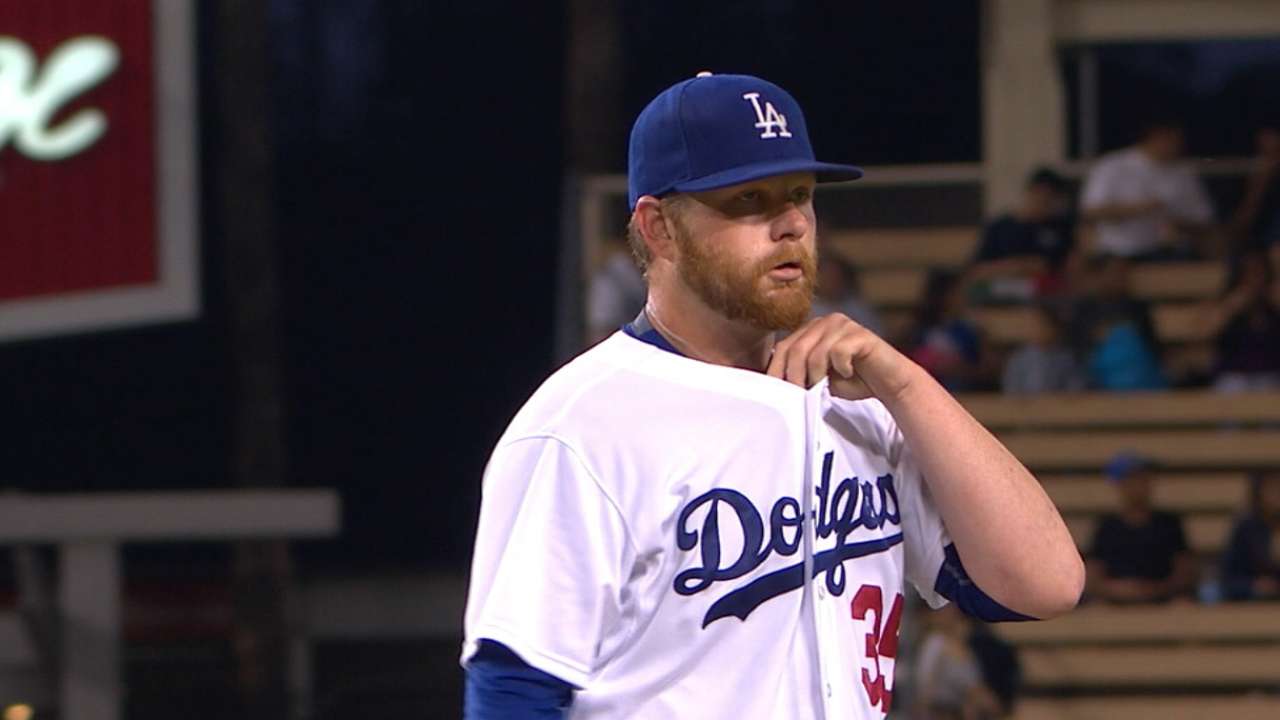 LOS ANGELES -- Brett Anderson said he turned down the chance for a multiyear contract to accept the Dodgers' qualifying offer on Friday and "bet on myself."
Anderson became a free agent after completing his healthiest and most productive season since 2009, shaking off an injury-prone label to pitch 180 1/3 innings in 31 starts. He went 10-9 with a 3.69 ERA and earned $12.5 million in salary and bonuses. He'll make $15.8 million in 2016, and hopes he can parlay an even better season into even more riches.
"My situation is a little unique," said the 27-year-old. "I'm younger than most guys with qualifying offers and have a track record of [poor] health. There were some multiyear offers, but I wanted to bet on myself. I like my L.A. teammates, I like everything but the ending to the season. I took the one-year deal and hoped to get the stigma of the health record off my back, and now go into the next year and see what happens."
• Anderson accepts Dodgers' qualifying offer
Anderson said he spoke to the Dodgers about a multiyear deal, and the two sides could revisit that later. He said he didn't want to take a long-term deal "just for the money" and regret it, preferring to return to a team with whom he enjoyed success.
He also said the depth of starting pitching in this year's free-agent market, compared to an anticipated shortage next offseason, was another factor in his decision to take the one-year deal, joining Matt Wieters and Colby Rasmus as the only players to accept a qualifying offer.
Anderson's medical record before joining the Dodgers included a fractured left index finger, surgery for a herniated disk in his back, a fractured foot and Tommy John elbow reconstruction.
Anderson conceded that he's lost velocity off an electric fastball he possessed before the injury spate. But not having to rehab from injury this winter, he will spend more time this offseason strengthening.
"My innings jump [from 43 1/3 to 180 1/3] was significant," he said. "Toward the end of the regular season, not the game in San Francisco, but the two before, I felt a little tired. The biggest thing in the offseason is to get more strength and stay strong rather than just get my body through the 30 starts. I hope it makes a difference next year.
"I do think in this pseudo-normal offseason, to build strength could translate to more velocity. Not where I was in 2009 and 2010 in the mid-to-upper 90s, but if it adds more power to my slider and I can sneak a fastball by people, obviously I'll take that."
Anderson said he was "a little" surprised at manager Don Mattingly's resignation, but understood that "a new front office wants to try and get their guy." He said he wasn't concerned about leadership uncertainty without a manager or coaching staff because "we have some smart people at the top and I feel they'll make the right decision."
Anderson said teammate-turned-free agent Zack Greinke told him he had the third-most range of any pitcher this year.
"So I can put that on my grave headstone," Anderson said.
Ken Gurnick is a reporter for MLB.com. This story was not subject to the approval of Major League Baseball or its clubs.