Inbox: What's next for Angels' Eppler?
Beat reporter Alden Gonzalez fields questions from fans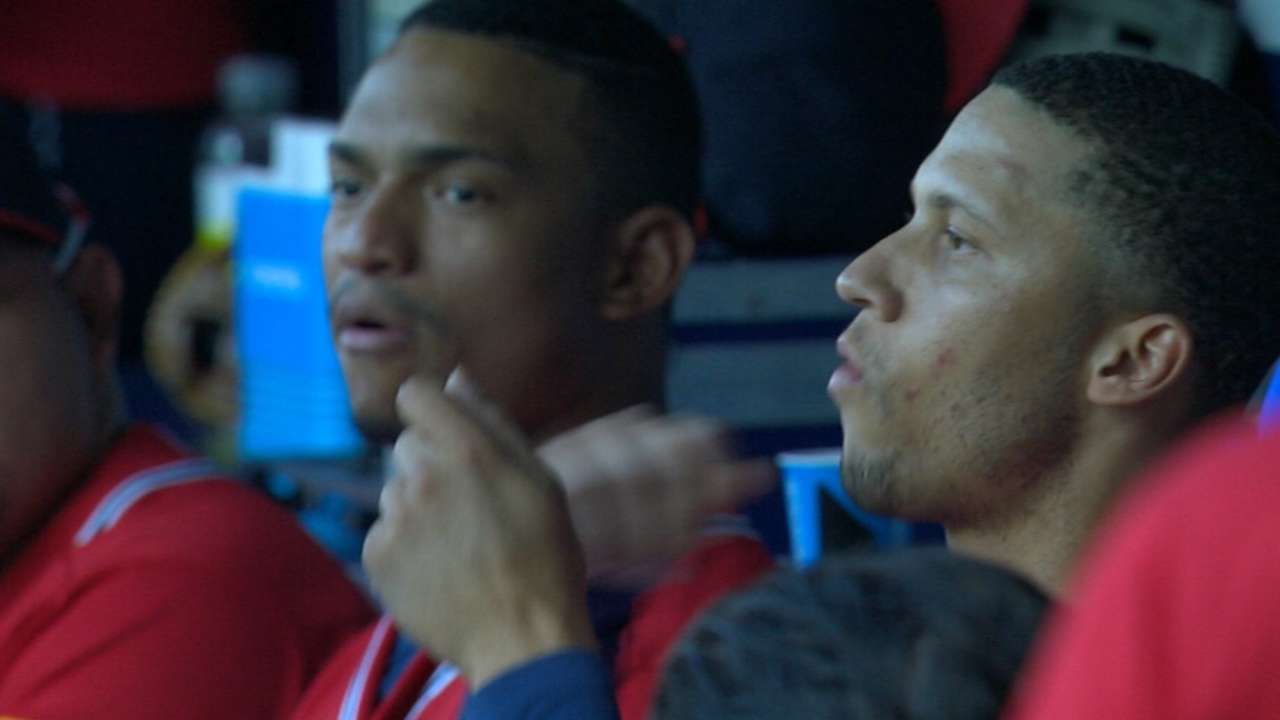 It didn't take long for Billy Eppler to place his imprint on the Angels. Eleven days into the offseason, he used his two best prospects (starters Sean Newcomb and Chris Ellis) and one of the franchise's cornerstone players (shortstop Erick Aybar) to acquire the game's premier defensive shortstop in Andrelton Simmons. Eppler's first major move as a general manager is one that could ultimately define his legacy with the Angels, good or bad.
But there's still so much ahead of him. Simmons locks shortstop down for the next five seasons, but his addition doesn't address any of the Angels' immediate holes. They still need a left fielder, and they could still upgrade at up to five other areas of their Major League roster. Eppler's work has just begun. With that in mind, I answered some lingering questions below.
What's next?
-- @aaronburkart
This seems like a good place to start. Eppler downplayed it on the conference call to introduce Simmons, but it's easy to see that the Angels are going to have to rely heavily on the free-agent market to address their remaining holes. That's a dangerous position for any franchise to find itself in, but it's actually pretty good timing for the Angels.
This year's free-agent class is exceptionally talented, deep and eclectic when it comes to starting pitchers and corner outfielders. Signing a corner outfielder would address the Angels' greatest need. Signing a starting pitcher would give Eppler more freedom to trade Major League starting-pitching depth, the organization's greatest strength, for offense.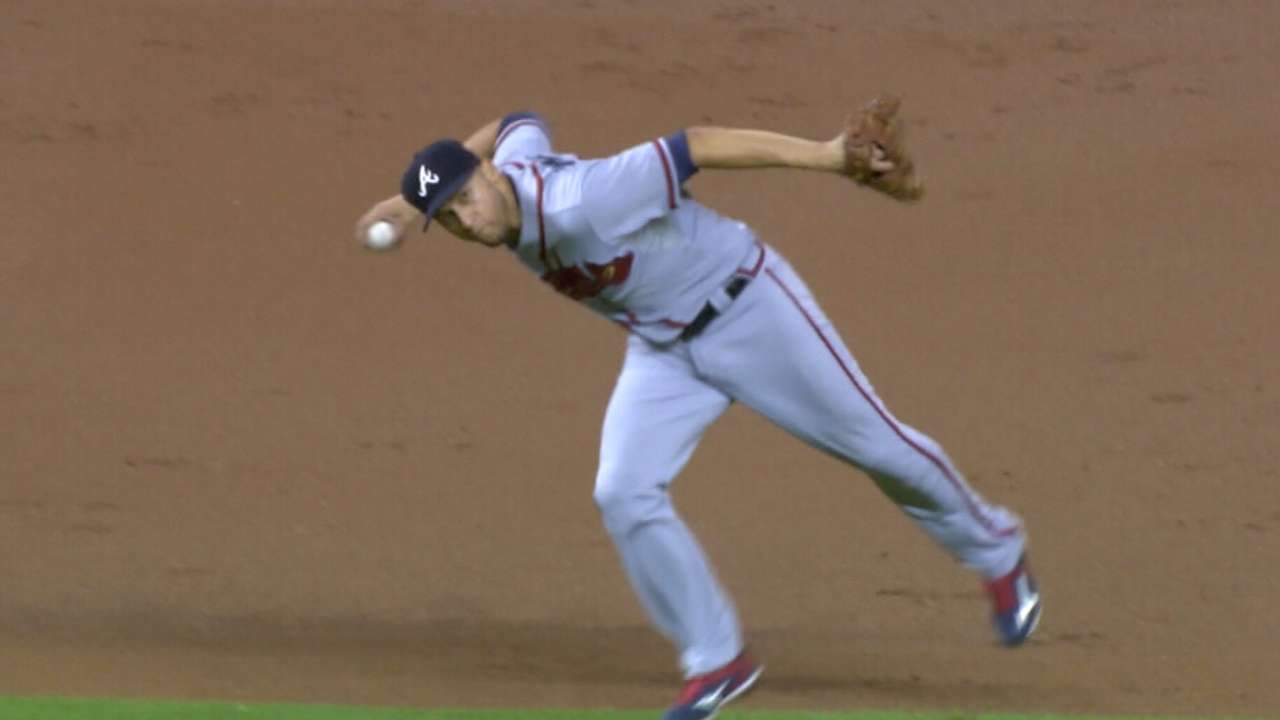 What is more likely for the Angels in the free-agent market -- top offensive player or top pitching? Both would be nice.
-- @JJordanB
An offensive player is still the priority, but I can see Eppler going either way due to the aforementioned reasons. It's the "both" scenario that is fascinating, because it all depends on the budget set forth by Angels owner Arte Moreno. The luxury-tax threshold has acted as something of a spending limit over the last few years, but Moreno has indicated publicly that he's willing to exceed it for the right player in the right scenario.
This could be the time for that. The free-agent class is flush with talent this offseason, not so much next offseason. And with Jered Weaver and C.J. Wilson coming off the books at the end of 2016, the Angels would be set up to only pay the tax once and therefore avoid the escalating penalties. They enter the offseason roughly $25 million below the threshold, so exceeding it may be their only means of attaining both a top-tier bat and arm.
Is resigning David Freese a priority, or is there a level of comfort with Kyle Kubitza or Kaleb Cowart taking third?
-- @BByakker
It isn't a priority -- if it were, Eppler would've offered Freese that $15.8 million qualifying offer -- but it's near the forefront. The Angels have no idea what to expect from Kubitza or Cowart in what would be their rookie seasons next year, and the free-agent market is devoid of third-base options outside of Freese. Eppler wants to bring Freese back and has remained in touch with his agent, but there's a good chance he prices himself out of the Angels' plans.
If that's the case, I expect the Angels to at least acquire a veteran right-handed bat who can platoon at third base with Kubitza (left-handed hitter) or Cowart (switch-hitter). Juan Uribe, the next-best available third baseman, could be a fit. Trevor Plouffe of the Twins and Todd Frazier of the Reds are very intriguing trade options, but the Angels probably can't access them without plucking from their Major League starting-pitching depth.
Now that the Angels' farm system took another hit, are they more likely to sign a free agent without the qualifying offer?
-- @Halofan25
Eppler, speaking a couple of days before acquiring Simmons, called Draft-pick compensation "just another factor of value. You apply it like you would any analysis in the value of the player." Giving up a first-round Draft pick isn't a major factor when considering star free agents like Jason Heyward, Justin Upton, Alex Gordon, Jordan Zimmermann or Zack Greinke. And I don't expect that to be the case even though the Angels' top two prospects are gone.
(Keep in mind, though, that two of the best free agents, David Price and Yoenis Cespedes, won't cost a Draft pick because they switched teams midseason.)
It does, however, become rather prominent when considering the middle-tier free agents. And that's why -- given their other holes, and given the amount of talent available for the outfield and the rotation -- it's hard to see the Angels give up a high-round Draft pick for somebody like Howie Kendrick or Daniel Murphy, regardless of their desire to upgrade at second base. And that brings us to our next question …
Will Johnny Giavotella be the second baseman on Opening Day?
-- Christopher P., Corona, Calif.
I'll say no, but I'm not confident in that, because Giavotella did impress last season and because it's hard to come up with alternative options outside of Kendrick and Murphy. Ben Zobrist, who would not cost a Draft pick, is definitely intriguing. But almost every team is interested in him in some capacity. Neil Walker of the Pirates, heading into his final season before free agency, could be available in a trade. But he'll probably cost more than $10 million in 2016.
Giavotella finished the season with a .694 OPS, significantly higher than the Major League average for a No. 9 hitter (.556). If the Angels' lineup is set up properly, Giavotella -- out of options and making the Major League minimum -- provides a nice spark and some surprising punch at the bottom. The problem is his defense. His ultimate zone rating was second-worst among Major League second basemen last season, and he cost the Angels 12 runs, tied with Kendrick for the most at his position.
Do you see any of the main roster pitchers being traded to restore farm depth or someone to the main roster?
-- @jreyesdude288
I expect at least one starting pitcher to be traded, and it could be more if the Angels sign a free agent. Wilson would seem to be the most likely, since he's owed $20 million in his walk year and is coming off elbow surgery. That means Wilson won't fetch much in return. But the Angels could save some money from his contract, and potential suitors could be swayed by the prospect of giving him a qualifying offer at the end of the season for potential Draft compensation.
Hector Santiago, two years from free agency and coming off an All-Star selection, could also be dangled. So could Nick Tropeano and Matt Shoemaker, though the Angels would be selling low on the latter. The Angels' biggest return would come from trading Garrett Richards or Andrew Heaney, but I don't expect either of them to be dealt unless they're bringing somebody in from the outside.
Has C.J. Cron done enough to keep the DH/1B platoon next year?
-- @7_RLewis
In a word, yes. Cron won't wow you with his defense, but he was just fine while playing first base every day in September. And his .835 OPS since the start of July ranked 26th in the American League. That's pretty good. The Angels have far more pressing needs than first base and DH, regardless of Albert Pujols' recent foot surgery. Cron may not be the prefect player, but he provides legitimate power, is under club control for five more years and will make the Major League minimum for at least one more season. Those are the type of guys they need to hold on to.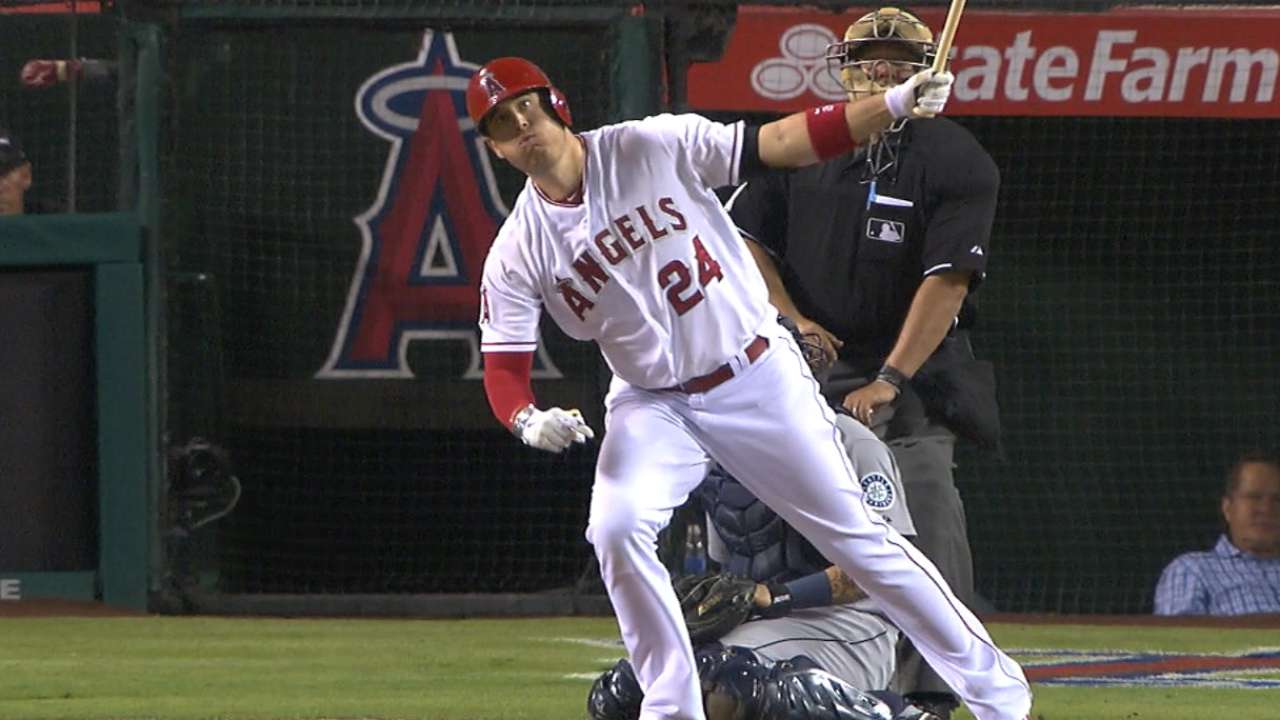 Alden Gonzalez is a reporter for MLB.com. Follow him on Twitter @Alden_Gonzalez and Facebook , and listen to his podcast. This story was not subject to the approval of Major League Baseball or its clubs.