Tigers open negotiations with closer Soria
Talks may not heat up until after offseason trades for relievers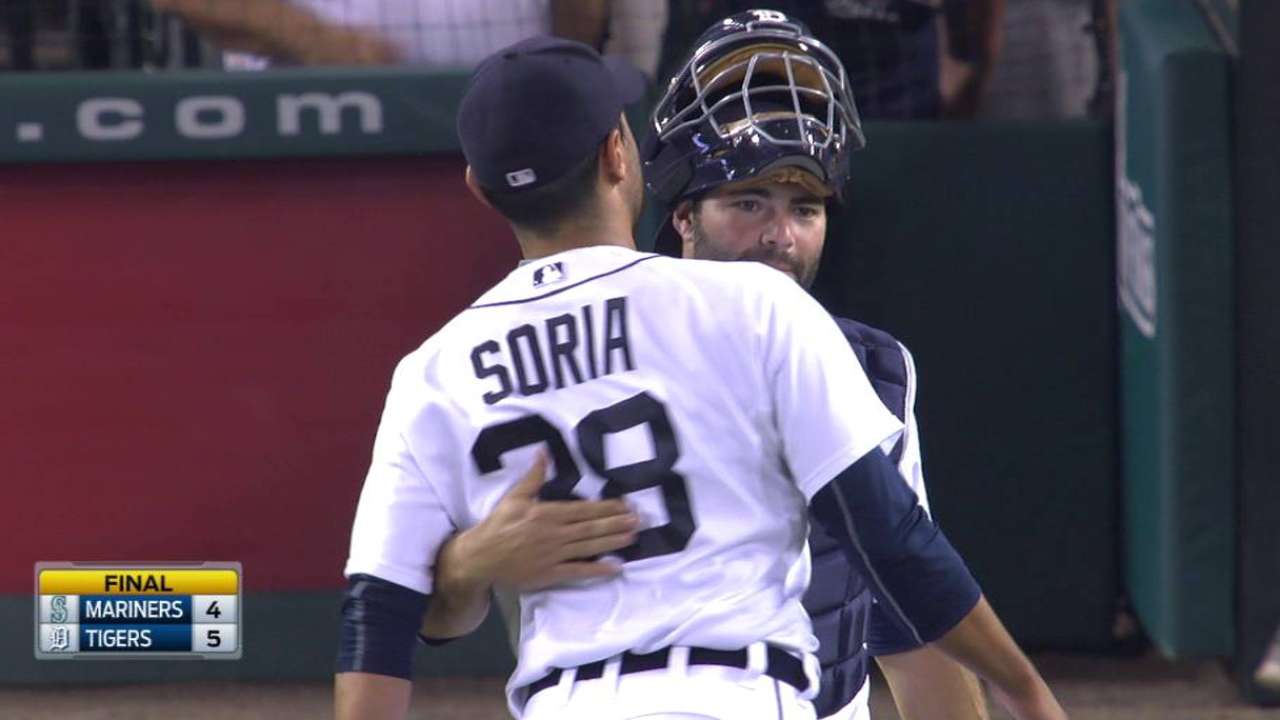 DETROIT -- The Tigers' search for a closer might well be in the middle innings at this point. With teams gauging interest for their late-inning relievers on the trade market as a shallower free-agent market lingers, the same could be said of many clubs.
The Tigers have picked up negotiations with Joakim Soria's agent, but they have yet to present an offer, an industry source told MLB.com. That could come later this week.
While interest is strong in the 31-year-old right-hander, who racked up 24 saves between Detroit and Pittsburgh this past season, the market has been slow to move, save for an early offer from an unnamed club. One perception among some industry observers is that trade chatter involving late-inning relievers, even after Craig Kimbrel's trade to Boston for prospects, is having an impact on what was a relatively quick-moving relief market last offseason.
That market could include Rays right-hander Brad Boxberger and left-hander Jake McGee if the return is big enough. The Tigers are among the teams that expressed interest, according to the Tampa Bay Times.
Unlike Reds All-Star closer Aroldis Chapman, another reliever Detroit has checked in on, Boxberger and McGee both have multiple years before they're eligible for free agency -- two years away for McGee, four for Boxberger. Chapman can hit the free-agent market next winter. With Cincinnati believed to be seeking a hefty return, the value for a club could hinge on winning now and/or signing Chapman long term.
Other closers rumored to be up for trade discussion include Pittsburgh's Mark Melancon, Texas' Shawn Tolleson, Philadelphia's Ken Giles, Washington's tandem of Jonathan Papelbon and Drew Storen, and the Yankees' Andrew Miller, though New York would reportedly have to be overwhelmed by an offer with young pitching to part with Miller with three years left on his contract.
Part of the problem the Tigers encounter on the trade market is their competition. Other clubs seeking closers, such as the Astros, have deeper farm systems that can shed a prospect or two without much long-term impact. The Red Sox are out of the market after trading for Kimbrel, but they gave up enough of a package to influence expectations for other clubs on what they could get for their closer. Detroit, meanwhile, is in the midst of rebuilding the farm system and needs a good share of the young Major League-ready pitching it has.
Meanwhile, Soria appears to be in position to let trade talks play out and wait for the market to come to him. The same could be said of fellow free-agent reliever Darren O'Day, who has not been a full-time closer but is seen by many as closer potential after six saves this past season and 12 over the past three years. The combination could leave the Tigers in a holding pattern to fill what was expected to be the first task on new general manager Al Avila's to-do list.
Jason Beck is a reporter for MLB.com. Read Beck's Blog, follow him on Twitter @beckjason and listen to his podcast. This story was not subject to the approval of Major League Baseball or its clubs.