Lindor 2nd in AL ROY vote after stellar season
Tribe shortstop thrilled for countryman Correa, who wins by 15 points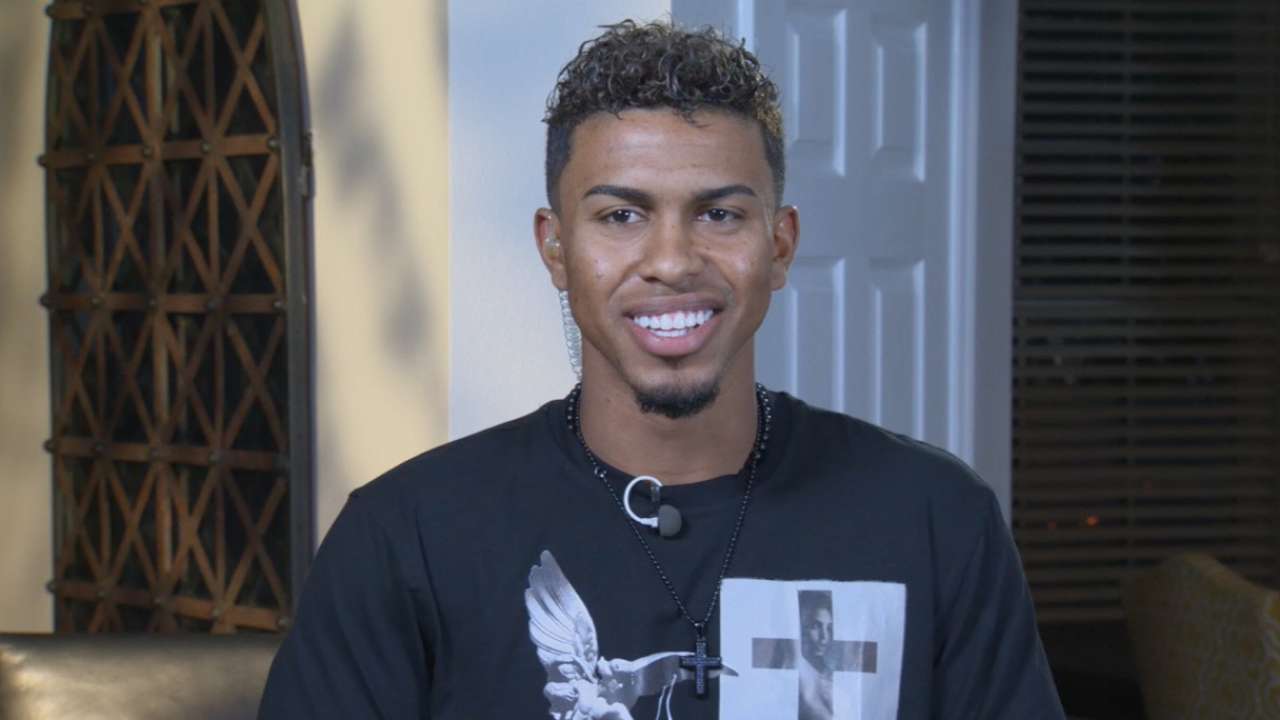 CLEVELAND -- It began with a tumble. Francisco Lindor ripped a pitch into the right-field corner at Comerica Park for his first Major League hit, but then the Indians' rookie shortstop slipped on first base, fell to the ground and laughed as he quickly recovered and retreated to the bag.
Lindor's season ended with a surge. After that humorous introduction to the Major Leagues, the shortstop thrived in what developed into one of the greatest rookie seasons in Indians history. His remarkable showing culminated in a runner-up finish to Houston's Carlos Correa for the American League Rookie of the Year Award in voting by the Baseball Writers' Association of America on Monday.
"I'm not disappointed," Lindor said. "I'm here with my family, my agent and people I love. That's what means a lot. You build memories and those stick with you for the rest of your life. I'm just enjoying the ride and I'm blessed to play the game, and I'm honored and blessed to even be mentioned as a finalist."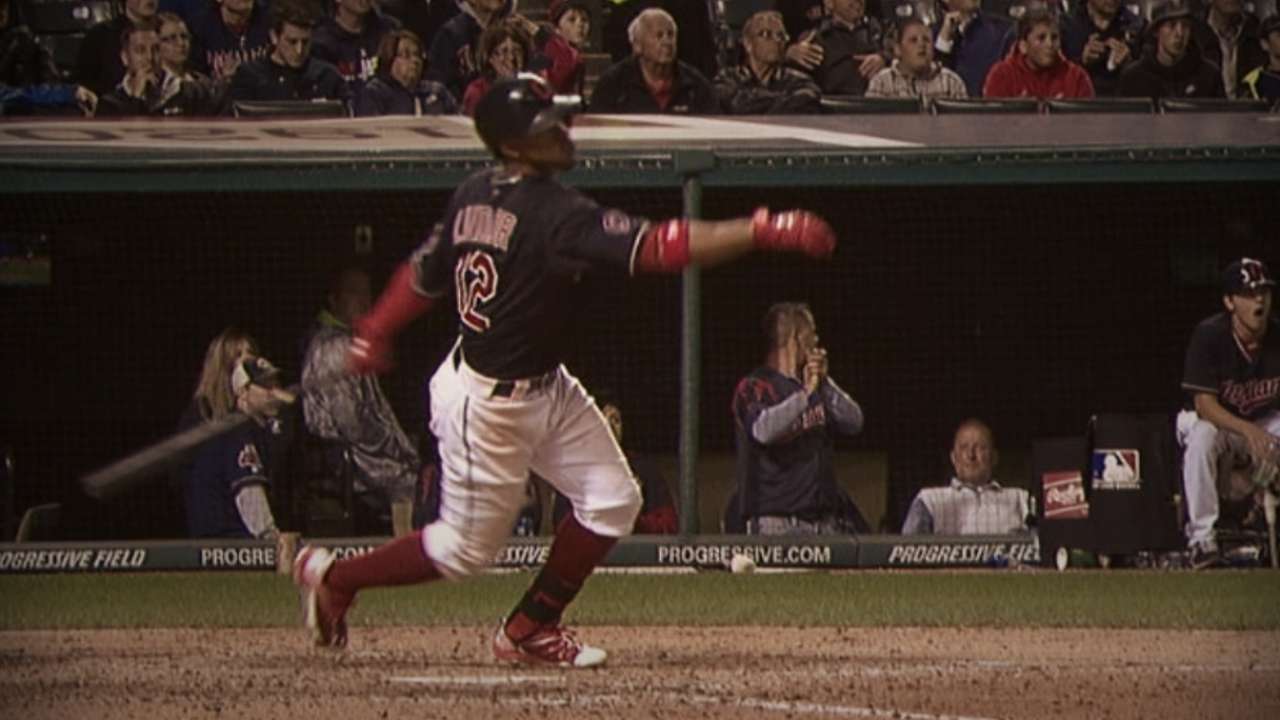 While Lindor came up short for the annual honor, there is no denying that Correa -- a catalyst for an Astros team that reached the postseason -- was deserving of the accolade. Correa finished with 17 first-place votes and a total of 124 points, while Lindor ended with 13 first-place votes and 109 points in a close race. Twins slugger Miguel Sano finished third in the voting with 20 points.
AL ROOKIE OF THE YEAR VOTING
Lindor was thrilled for Correa, a fellow Puerto Rican native.
"I'm happy for him," Lindor said. "He had a great season and I'm glad the award is staying in Puerto Rico. He deserved it. He had a great season and hopefully he'll have a lot more seasons to come like that."
There should be no shame in finishing second for Lindor. Cleveland's list of Rookie of the Year runners-up in team history includes the likes of CC Sabathia, Manny Ramirez, Kenny Lofton and Rocky Colavito. The Indians' last winner of the AL's top rookie honor was catcher Sandy Alomar Jr., who took home the hardware in 1990.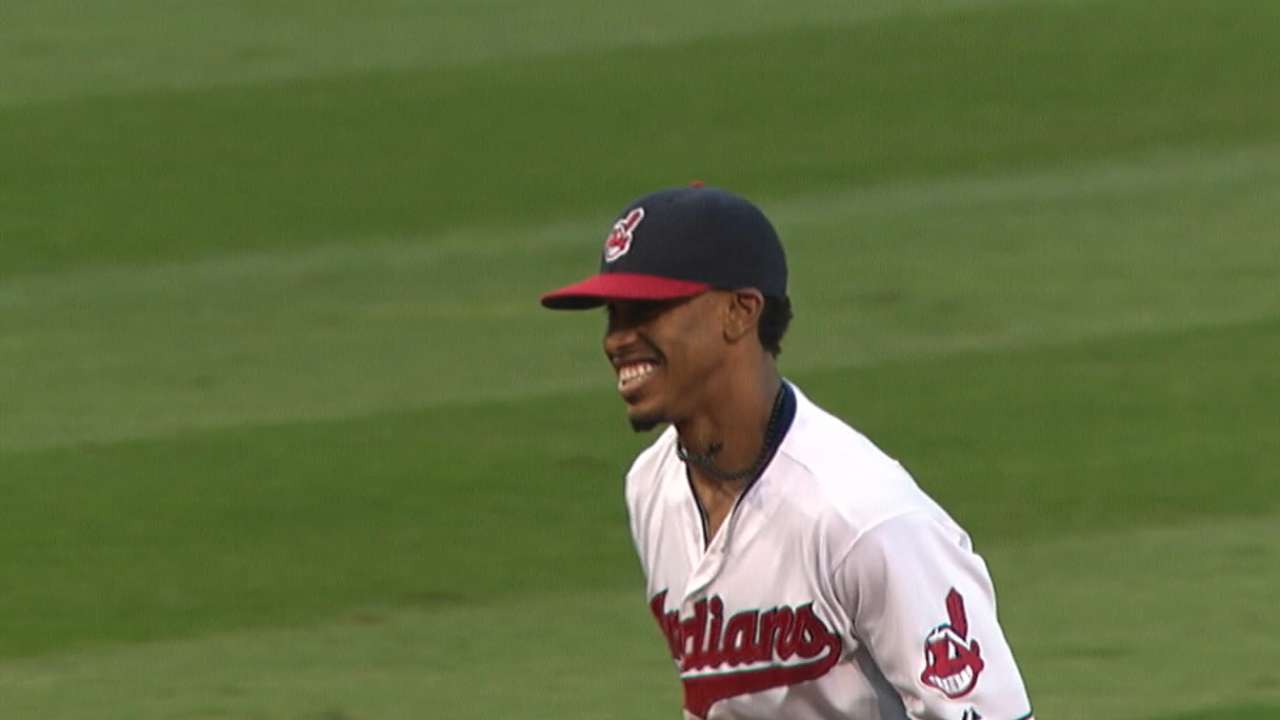 "Correa is a special, young player. And, you know what? So is Lindor," Indians manager Terry Francona said. "This doesn't change one iota of this kid's future. It was a vote and he lost out to a really special player, but that takes away nothing from how we feel about this kid, or how we view his future."
Alomar, Joe Charboneau ('80), Chris Chambliss ('71) and Herb Score ('55) are the only Rookie of the Year recipients for the Indians.
The case for Lindor was strong, considering the way he strengthened the defense, ignited the offense and injected the dugout and clubhouse with his infectious, youthful energy. When the Indians called the 22-year-old up from Triple-A on June 14, the club was reeling. His electric second half helped pull the Indians back into contention until the final week.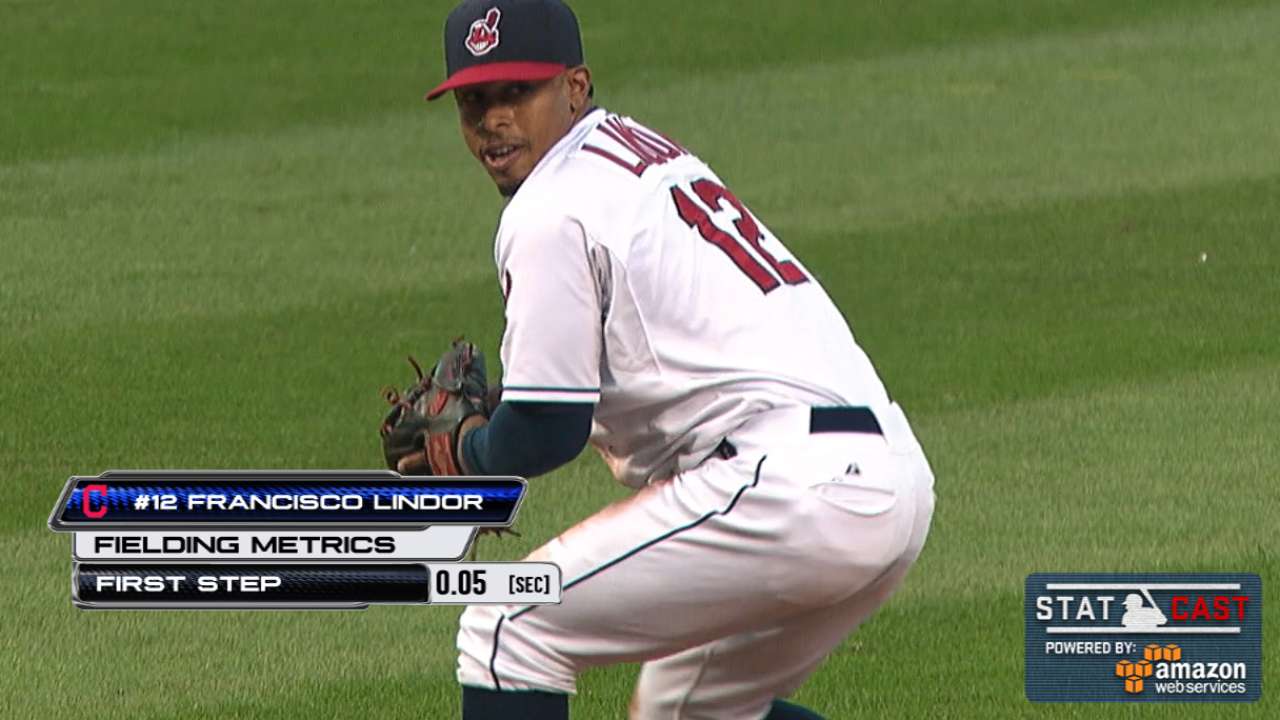 In his first game on the day of his promotion, Lindor gave fans a glimpse of both his ability and personality. In his second career at-bat, he yanked an offering from Detroit's Joakim Soria into right field for what should have been a double. After his trip and retreat on his first career hit, Lindor pointed to Tigers first baseman Miguel Cabrera, jokingly accusing him of tripping him.
Asked if he was happy that things got better from there, Lindor laughed.
"I'm very happy," he replied. "Very, very, very happy."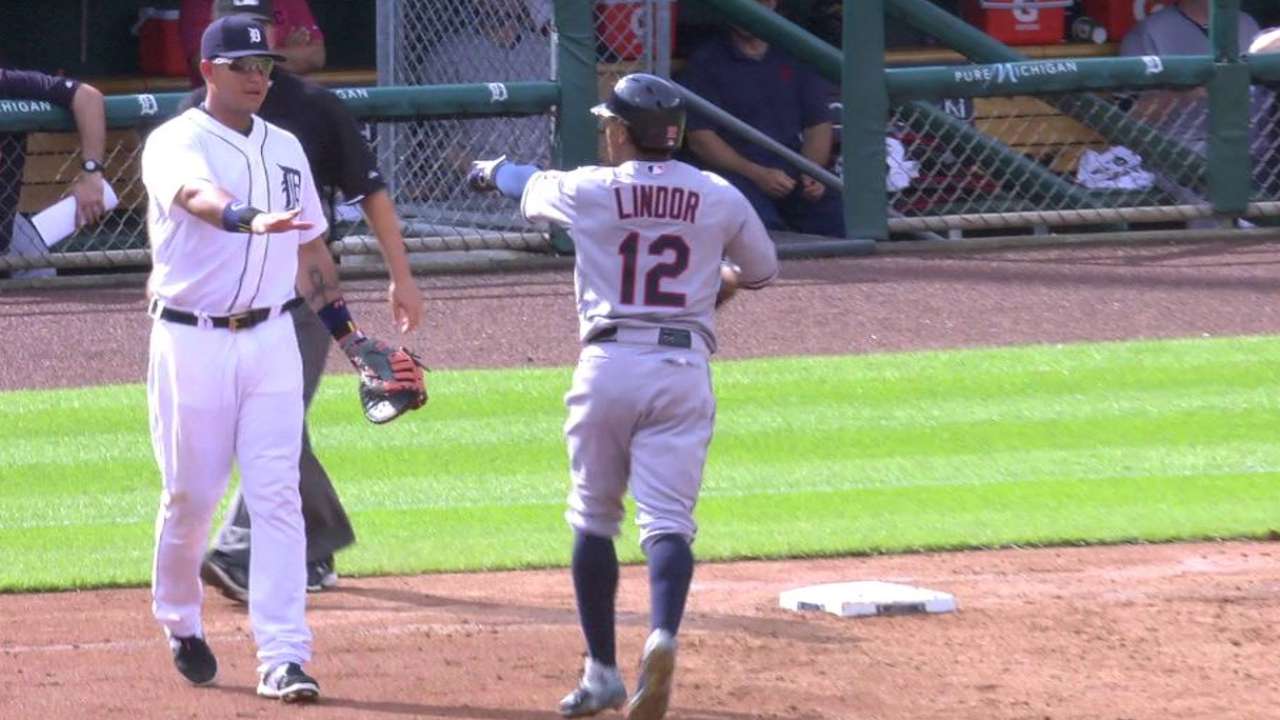 That smile was constant for the rest of the summer, one in which Lindor soared under the spotlight.
Lindor's defense was seemingly a part of Cleveland's daily highlights down the stretch. One example came Aug. 15, when he ranged to his right, dove and snared a sharply-hit grounder hit by Minnesota's Trevor Plouffe. Lindor swiftly regained his footing and fired to second base, initiating one of the more incredible double plays of the year for the Indians.
Lindor's offense exceeded expectations. He was an all-around threat in the batter's box, but displayed some surprising power, too. Perhaps his best at-bat came Aug. 23, when Lindor pulled a pitch from Yankees setup man Dellin Betances into a sea of bleacher creatures in the Bronx for an eighth-inning, game-deciding home run.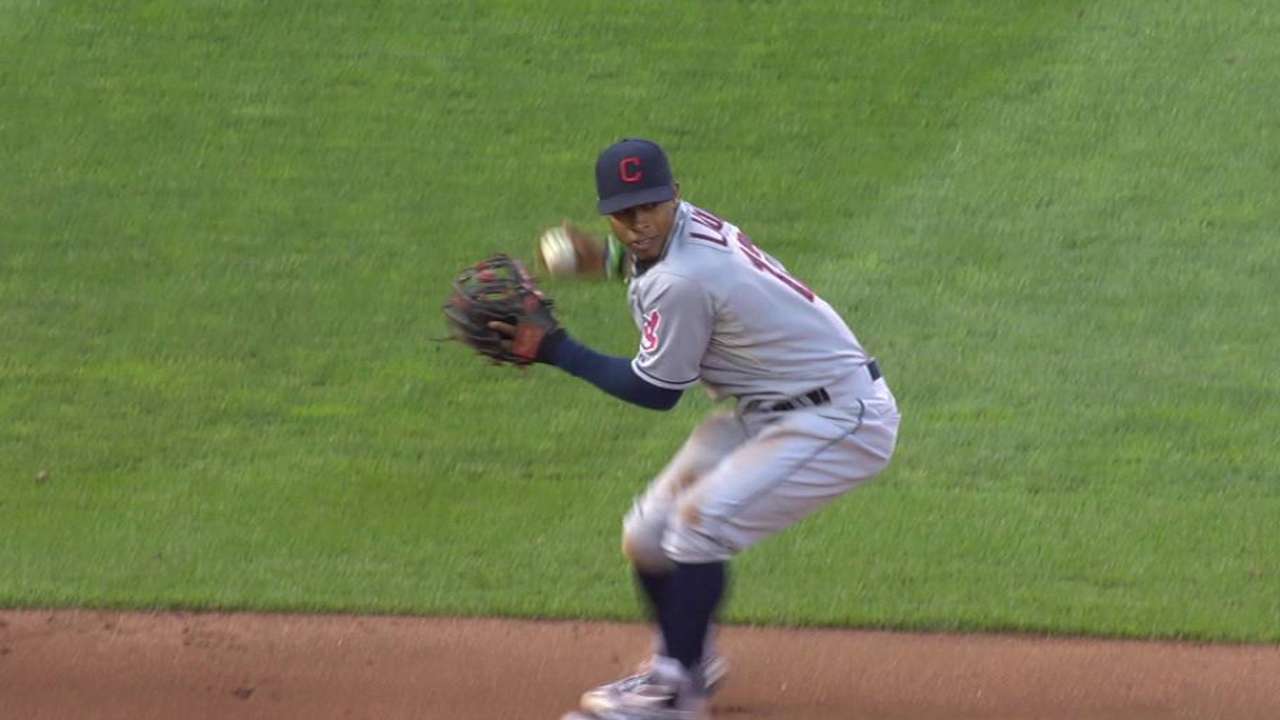 "The home run off Betances certainly kind of grabbed your attention," Francona said.
Added Lindor: "It was big, because that day I helped the Indians win. If we would've lost, that at-bat would have meant nothing. We won and that's why it sticks out to me."
At times, Lindor seemed to defy physics. Consider what happened Sept. 1 in Toronto. Lindor sent a sure single to left field, but the shortstop wanted more. He sprinted to second base and arrived at the same time as the relay throw. As Blue Jays second baseman Ryan Goins went to apply the tag, Lindor slid in head-first, rolling onto his left side while escaping the infielder's reach. Lindor then slapped the ground, shouted and pumped his arms in celebration of his jaw-dropping double.
Lindor finished with the highest average among AL rookies, hitting at a .313 clip with an AL-leading .345 average in the second half. He compiled 12 home runs, 22 doubles, four triples, 27 walks, 50 runs scored and 51 RBIs in 99 games for Cleveland. The shortstop stole 12 bases in 14 attempts and finished with a .353 on-base percentage and .482 slugging percentage.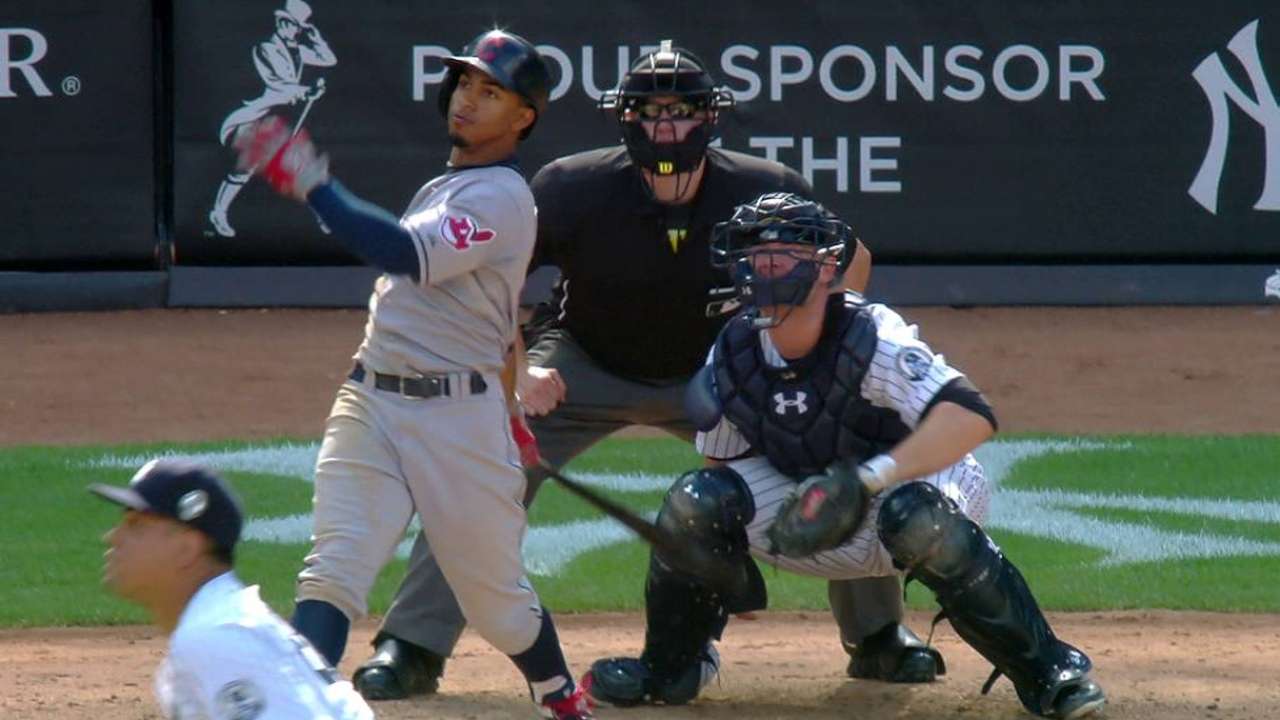 In the field, Lindor accumulated 10 Defensive Runs Saved, representing the most among all AL shortstops and the most in a season by a Cleveland shortstop since 2003 (Omar Vizquel). Lindor's performance on the left side played an integral role in transforming the Tribe defense from baseball's worst a year ago to one of the best groups in the AL by the end of this season.
"There was a lot of factors in our defense," Francona said. "But I would say Lindor was the primary one, just because of the position he plays and the way he played it."
Lindor's was a season worthy of recognition.
In the end, much like his first career hit, the shortstop simply fell a bit short.
Jordan Bastian is a reporter for MLB.com. Read his blog, Major League Bastian, follow him on Twitter @MLBastian and listen to his podcast. This story was not subject to the approval of Major League Baseball or its clubs.