Kang finishes 3rd on NL Rookie of Year ballot
Pirates infielder received 4 second-place votes, total of 28 points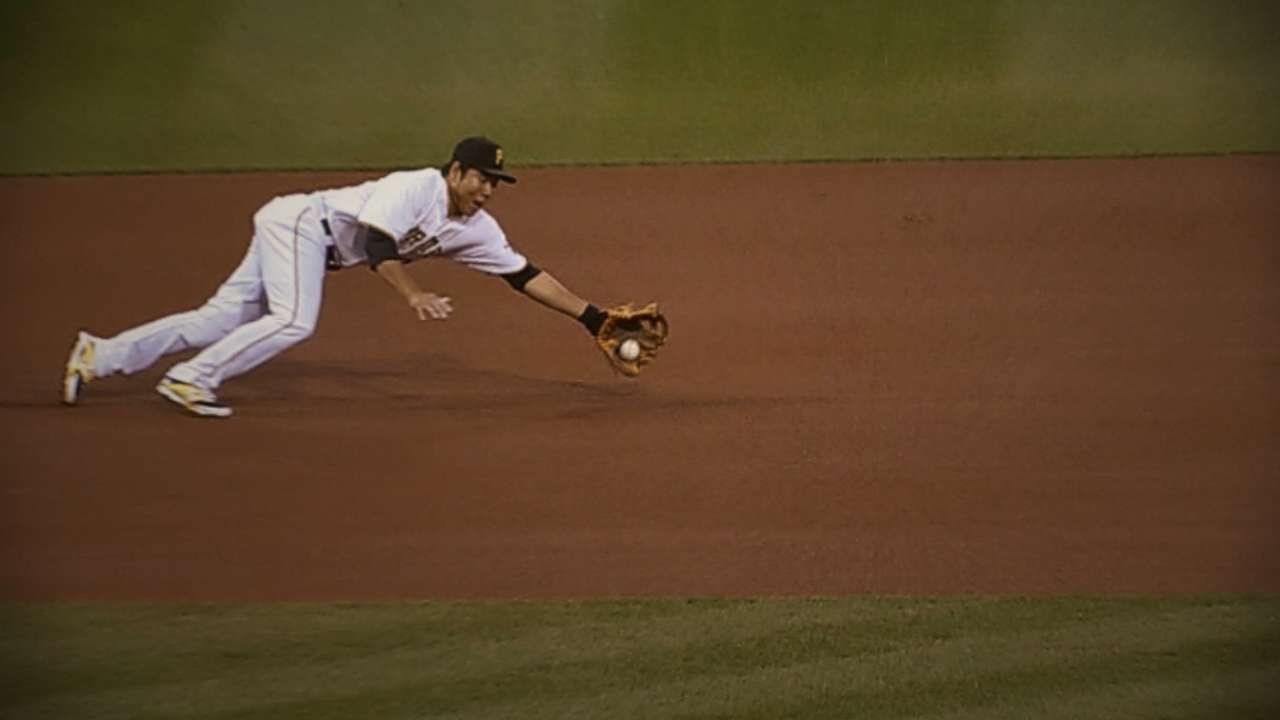 PITTSBURGH -- Jung Ho Kang didn't necessarily know what to expect when he left South Korea last winter and headed to Pittsburgh. Nobody did, really. He was attempting to leap straight from the Korean Baseball Organization into the Major Leagues, a transition no position player had ever made.
Kang surpassed even the loftiest expectations in his Major League debut, capping his first campaign with a third-place finish in the National League Rookie of the Year Award race. Cubs third baseman Kris Bryant was the unanimous winner, and Giants third baseman Matt Duffy finished second in the voting announced by the Baseball Writers' Association of America on Monday night.
• Complete 2015 awards coverage
Kang received four second-place votes and 16 third-place votes, finishing with a total of 28 points, behind Bryant (15) and Duffy (70) and just ahead of Mets right-hander Noah Syndergaard (16).
NL ROOKIE OF THE YEAR VOTING
| Player, Club | 1st | 2nd | 3rd | Points |
| --- | --- | --- | --- | --- |
| Kris Bryant, CHC | 30 | | | 150 |
| Matt Duffy, SF | | 22 | 4 | 70 |
| Jung Ho Kang, PIT | | 4 | 16 | 28 |
| Noah Syndergaard, NYM | | 3 | 7 | 16 |
| Justin Bour, MIA | | 1 | 1 | 4 |
| Joc Pederson, LAD | | | 1 | 1 |
| Stephen Piscotty, STL | | | 1 | 1 |
As the Pirates returned to the postseason for the third straight year, Kang was worth 4.0 Wins Above Replacement, the fourth-highest total on the team behind Starling Marte, Andrew McCutchen and Gerrit Cole. Pittsburgh carefully handled Kang's introduction to life in the Majors early in the season, but he eventually took off and played a key role for the Bucs before left leg injuries ended his season on Sept. 17.
Kang, 28, often made the KBO-to-MLB transition look easier than it actually may have been. He hit .287/.355/.461 with 15 home runs and 58 RBIs while playing solid defense at third base and shortstop, and fitting in naturally inside the Pirates' clubhouse.
Bryant led all Major League rookies with 5.9 WAR. Duffy finished second, with 4.8 WAR. Kang (4.0) was fifth in the Majors behind Bryant, Duffy, Francisco Lindor and American League Rookie of the Year Award winner Carlos Correa.
Kang played in 25 fewer games than Bryant and made 183 fewer plate appearances, the result of his gradual introduction to the Majors and his season-ending injuries.
Kang was named NL Rookie of the Month in July, batting .379 with a 1.064 OPS. He was at his best in the second half, hitting .310 with a .913 OPS.
A shortstop in the KBO, Kang turned out to be an above-average third baseman in the Majors. He also performed well at shortstop, filling in for extended stretches while Jordy Mercer was sidelined due to injury.
Adam Berry is a reporter for MLB.com. Follow him on Twitter at @adamdberry. This story was not subject to the approval of Major League Baseball or its clubs.