Presidential Medal of Freedom for Yogi, Mays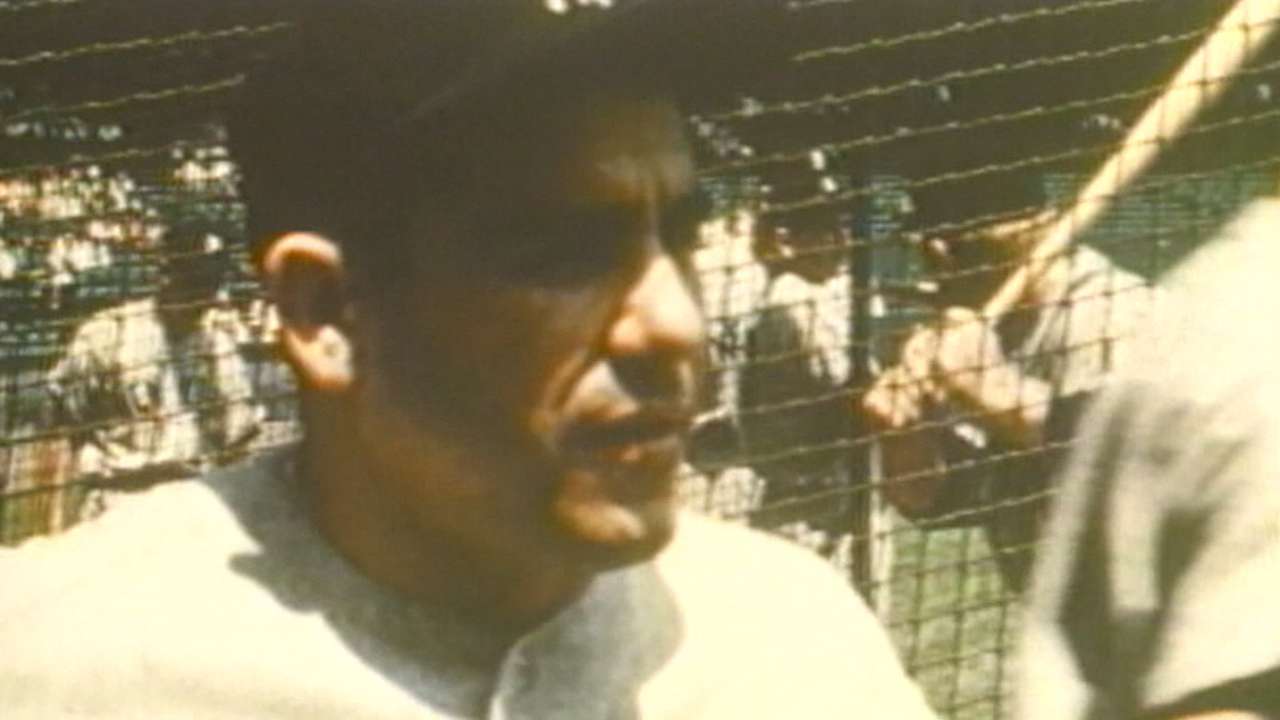 A pair of Hall of Famers and two of the all-time greats in baseball will be honored by the White House when Willie Mays and the late Yogi Berra are awarded the Presidential Medal of Freedom, the nation's highest civilian honor.
Berra and Mays were among the 17 recipients of the Presidential Medal of Freedom named by President Barack Obama on Monday. The award is "presented to individuals who have made especially meritorious contributions to the security or national interests of the United States, to world peace, or to cultural or other significant public or private endeavors," according to the White House website.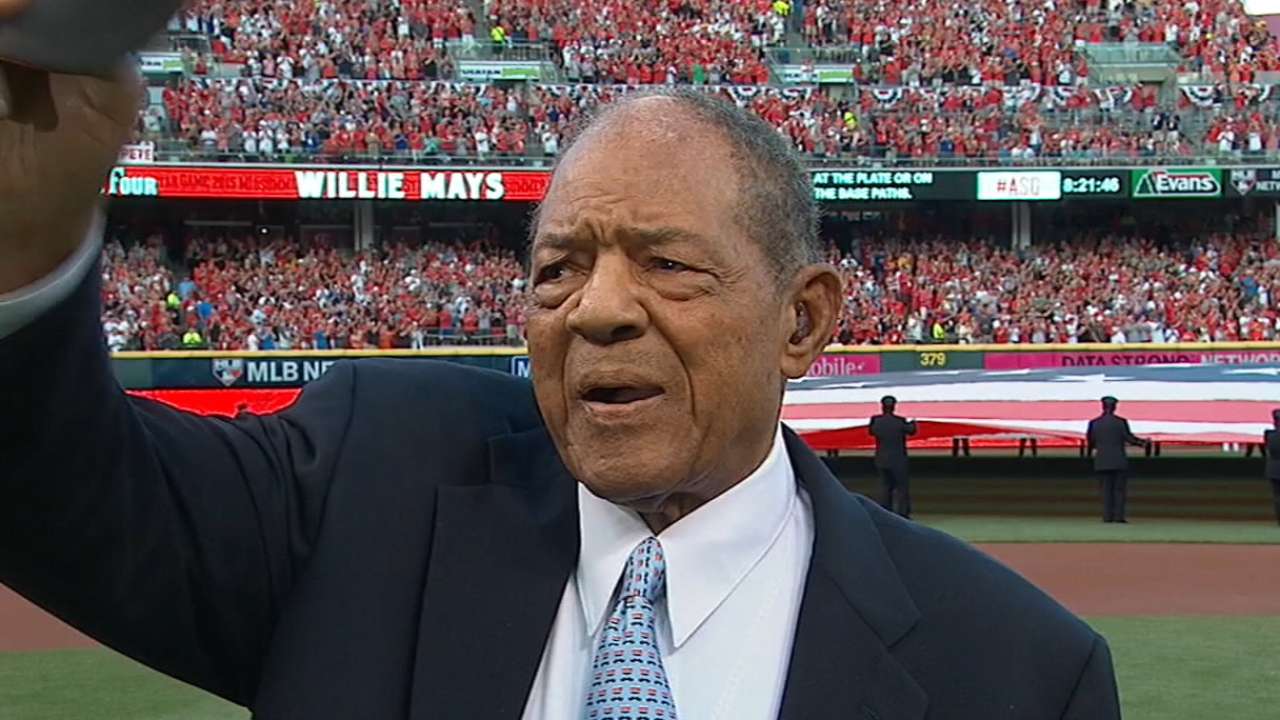 The ceremony will take place Nov. 24 at the White House, where Berra and Mays will be honored along with the likes of Steven Spielberg, Barbara Streisand and Stephen Sondheim.
Thank you to the @POTUS and @WhiteHouse for selecting Yogi as a recipient for this year's Medal of Freedom! pic.twitter.com/uwJsNKQfgY

— Yogi Berra Museum (@Yogi_Museum) November 16, 2015
"I look forward to presenting these 17 distinguished Americans with our nation's highest civilian honor," President Obama wrote in a statement. "From public servants who helped us meet defining challenges of our time to artists who expanded our imaginations, from leaders who have made our union more perfect to athletes who have inspired millions of fans, these men and women have enriched our lives and helped define our shared experience as Americans."
Berra and Mays will join fellow Hall of Famers Ernie Banks and Stan Musial as baseball players who have been awarded the Medal of Freedom.
Berra, who passed away Sept. 22, played 19 years in the Majors, including 18 with the Yankees, winning three American League MVP Awards and 10 World Series rings. Before his playing career, he enlisted in the U.S. Navy during World War II and served during the invasion of Normandy on D-Day. After retirement, Berra continued to support the armed forces and was an ambassador for Athlete Ally, which promotes LGBT rights in sports.
"On behalf of the entire Yankees organization, we congratulate the family of Yogi Berra for his inclusion among upcoming recipients of the Presidential Medal of Freedom," Hal Steinbrenner, the Yankees' managing general partner and co-chairperson, said in a statement. "This honor is a fitting tribute to a man who not only represented the sport of baseball with unequaled dignity and humor, but exemplified the best virtues of our country through his military service and compassion for others. His life was truly the embodiment of the American dream."
During the summer, the Yogi Berra Museum started a petition seeking the award for Berra, citing his military service, civil rights and educational activism. The petition received more than 100,000 signatures, prompting a response from the White House, which noted that the award could only be given out at the discretion of the president.
"This posthumous honor to our namesake is a fitting tribute to a noble and humble life well lived," the museum wrote in a tweet. "We join with all of his fans and friends in congratulating his family, and in thanking President Obama for this award."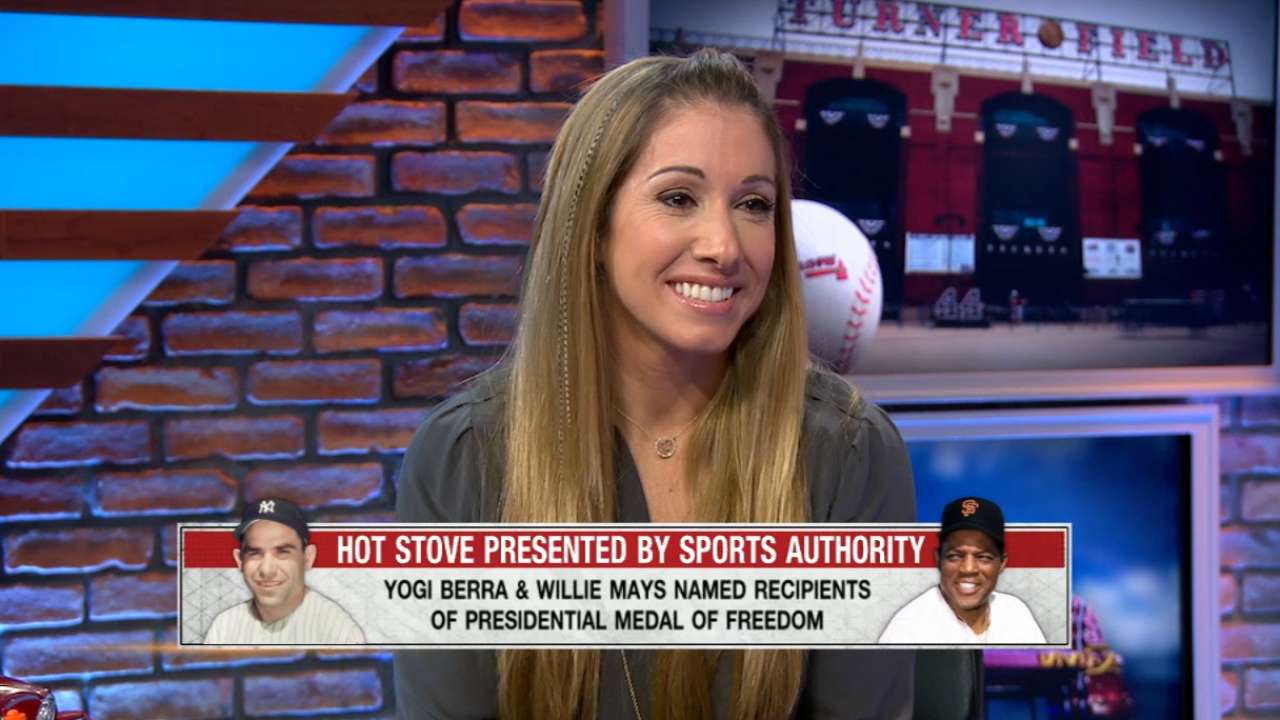 Mays spent 22 years in the Majors and 21 with the Giants, including six in New York and almost 15 in San Francisco, finishing his career with 660 home runs, which is now fifth on the all-time list. He was one of the first African-American players in baseball.
Mays was drafted by the U.S. Army in 1952 during the Korean War. When he returned to the Majors in 1954, not only did he win the National League Most Valuable Player Award, but he also helped lead the Giants to a victory in the World Series. When the 2014 World Series champion Giants visited the White House earlier this year, Mays was the first person to be introduced.
"On behalf of the entire Giants organization and our fans, we congratulate Willie Mays on being recognized for the Presidential Medal of Freedom, which honors his accomplishments, values and military service," Giants president and CEO Larry Baer wrote in a statement. "As everyone knows, Willie is a national treasure and one of the greatest players in the history of baseball. I cannot think of a more fitting tribute to recognize Willie for his endless contributions to our national pastime."
Jamal Collier is a reporter for MLB.com. Follow him on Twitter at @jamalcollier. This story was not subject to the approval of Major League Baseball or its clubs.