Charitable Biggio brings 'Sunshine' to Minute Maid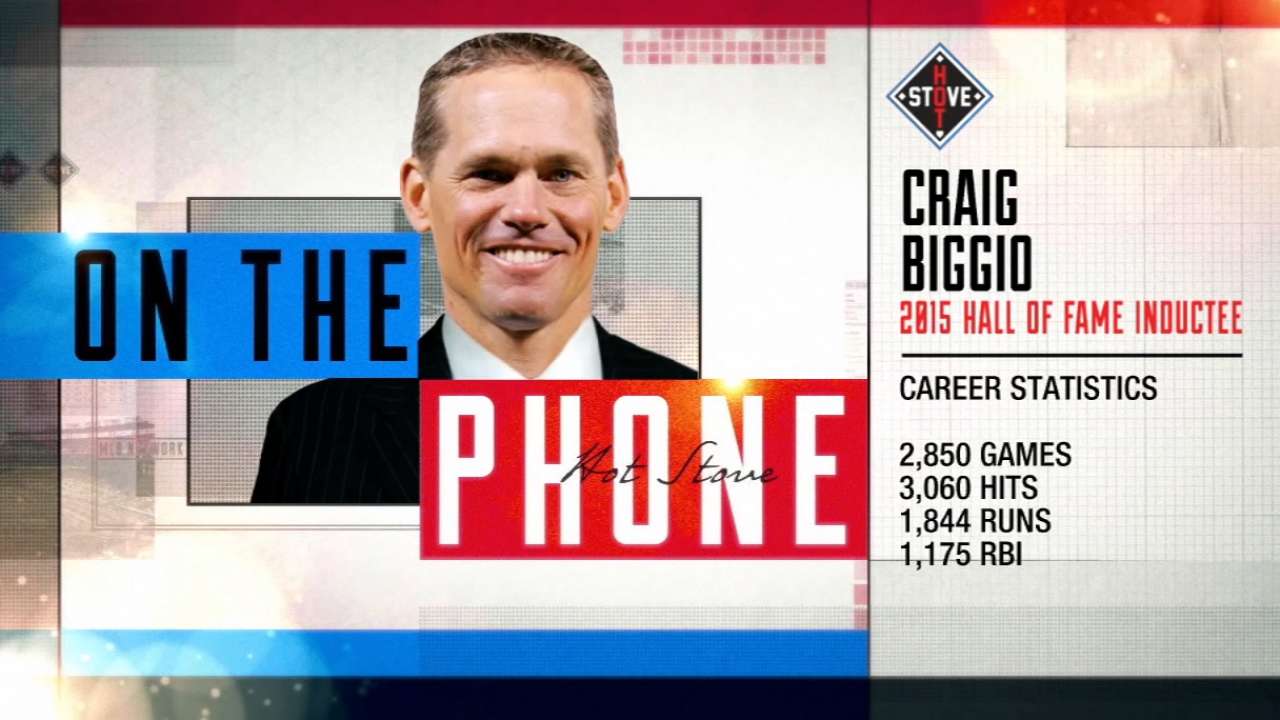 HOUSTON -- The smiles of the young faces were enough to brighten anyone's day. Hall of Fame second baseman Craig Biggio might have had the biggest smile of all Monday morning when he played host to dozens of kids at his annual Sunshine Kids party on the field at Minute Maid Park.
Biggio and his wife, Patty, invited dozens of kids and their parents to the party, in which kids ran the bases and roamed around the field before being treated to lunch, an autograph session and an Astros goodie bag. Biggio is the national spokesman for the non-profit Sunshine Kids, an organization that assists children with cancer and their families.
"We've been doing it for 25 years or whatever, and it was a fun event," he said. "We had a lot of familiar faces and a lot of new faces and the kids had a good time and they had a lot of smiles, a lot of laughs, and that's what it's all about."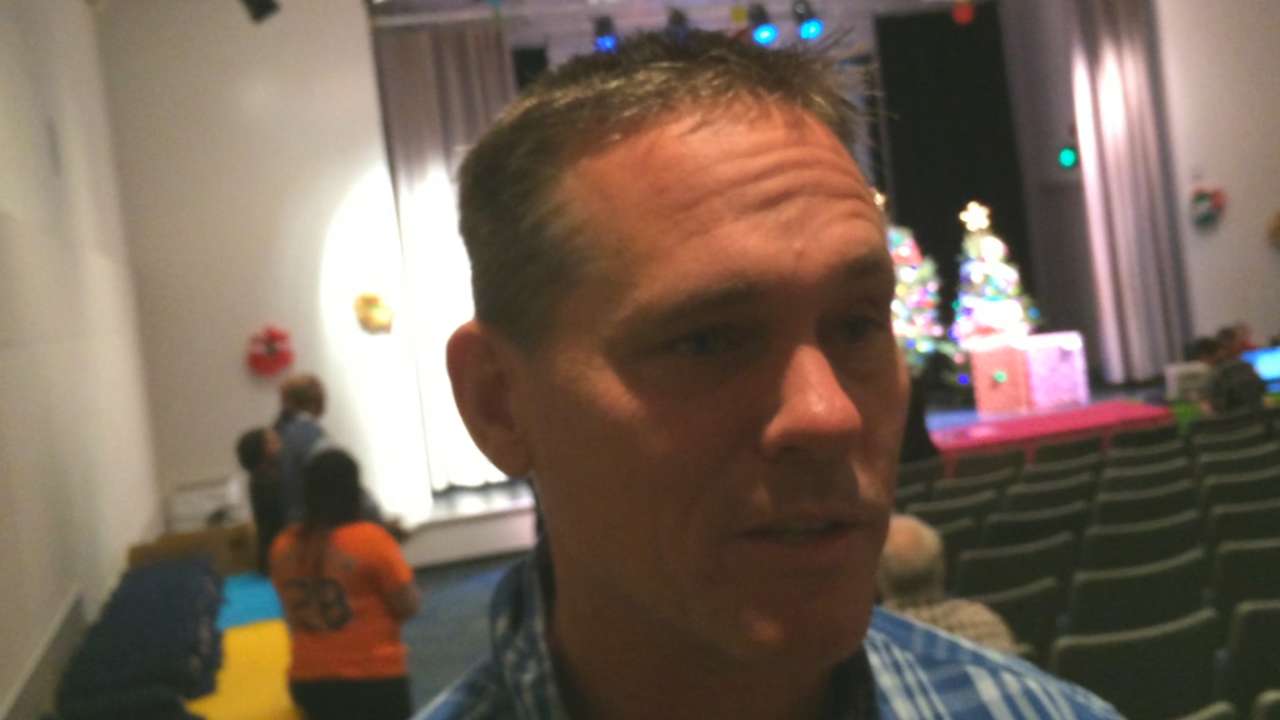 Throughout his playing career with the Astros, Biggio wore the organization's sunshine pin on his cap during Spring Training games and regular-season batting practice, and he has been treating the kids to a party for 25 years. The Biggios have raised millions of dollars for the organization.
"Twenty-five years ago, we just did it at any high-school field we could get, and then we moved it into the Astrodome and had some great times, and now we have some great times over at Minute Maid," Biggio said. "The kids look forward to it so much. They love to come out to this event, and I enjoy it. And I think as I get older, I enjoy it more and more. That's for sure."
Many of the kids who attend the event have been doing so for years, and Biggio said he saw several new faces on Monday.
"That's good, because we want to get more kids involved and more kids have an opportunity to come out," he said. "You look at a baseball field, and it's not like we take it for granted, but that's like some special ground you have an opportunity to get on. To be able to bring these kids out here and run around, it was awesome."
How much do the Sunshine Kids mean to Biggio?
When he was inducted into the National Baseball Hall of Fame in July, Biggio brought along with him four adults who had overcome cancer as kids and had befriended Biggio during his work with the Sunshine Kids. The Astros placed a large replica of the sunshine pin next to his retired No. 7 number high above Minute Maid Park last summer.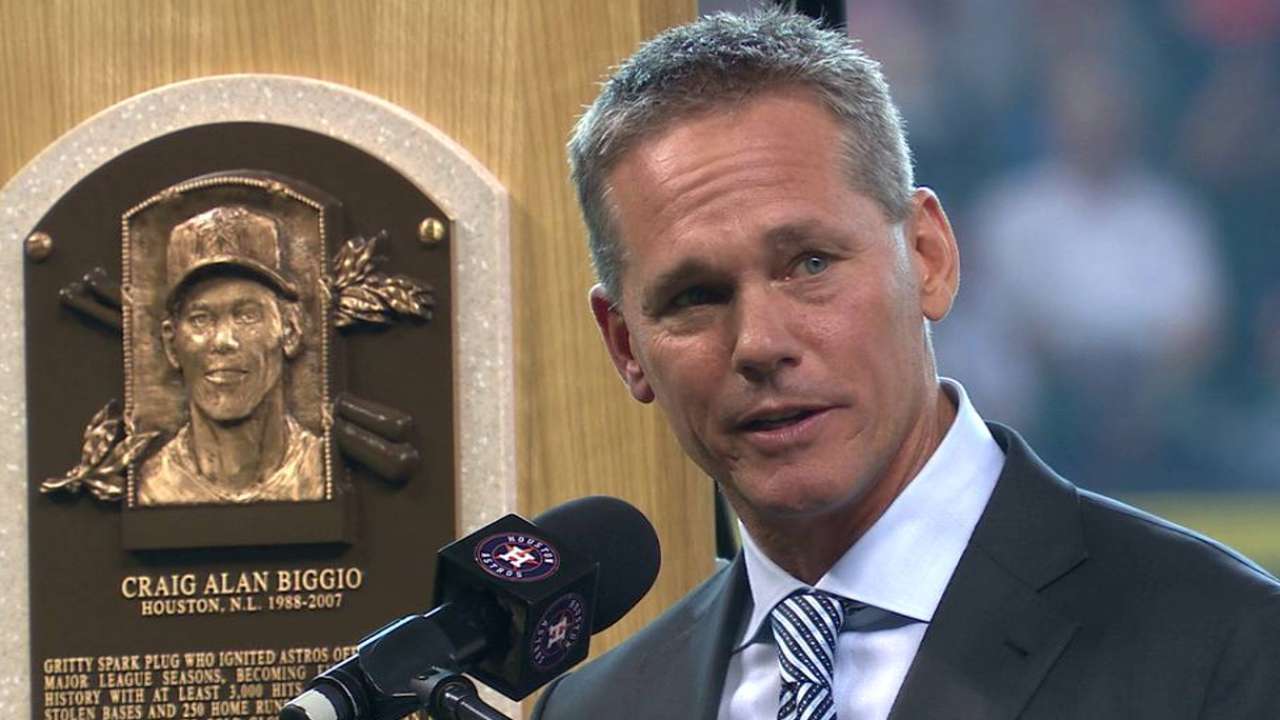 Biggio said it was former Astros reliever Larry Andersen who brought his attention to the Sunshine Kids when he broke into the Major Leagues in 1988. When he was in high school, Biggio befriended a young neighbor who was dying of leukemia and made a vow to do charitable work one day for kids with cancer if he was in the position to do so.
Brian McTaggart is a reporter for MLB.com and writes an MLBlog, Tag's Lines. Follow @brianmctaggart on Twitter and listen to his podcast. This story was not subject to the approval of Major League Baseball or its clubs.