Gold Glove Award lifts Escobar into elite level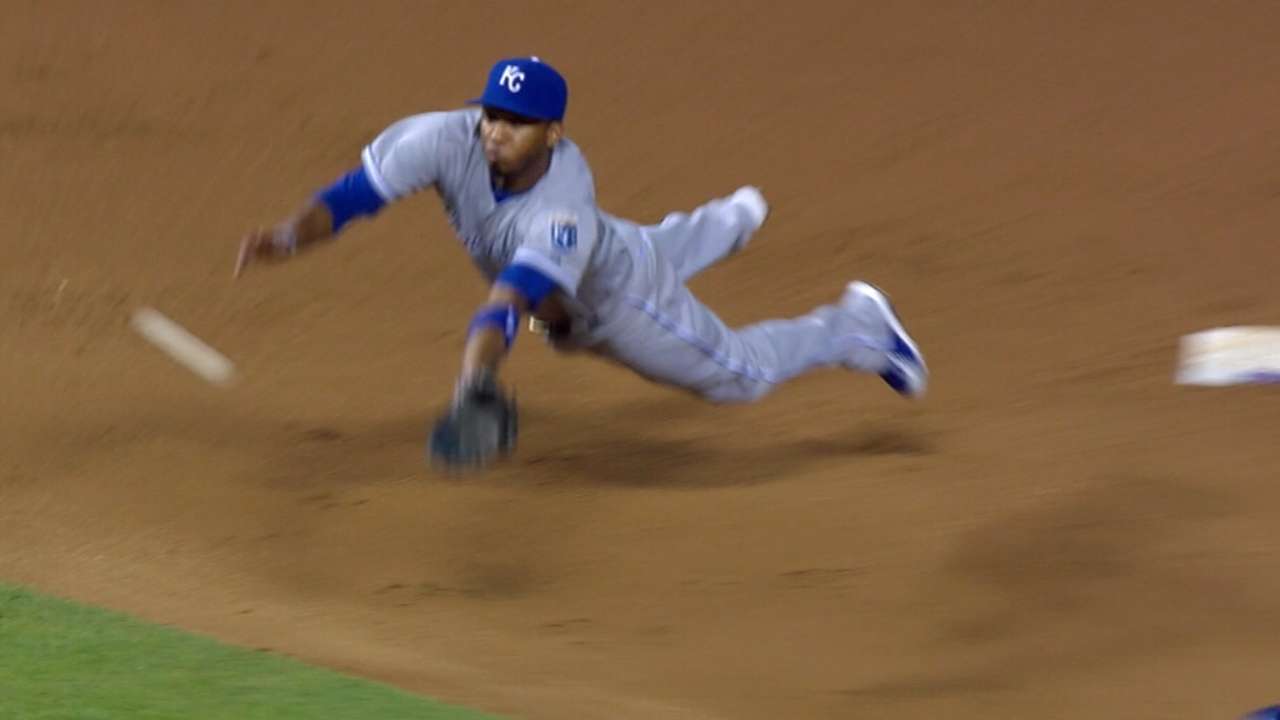 KANSAS CITY -- For years, Royals manager Ned Yost has been proclaiming that shortstop Alcides Escobar is one of the game's top defenders, and deserving of his first Gold Glove Award.
Last week, that proclamation finally came to fruition. Escobar joined teammates and past winners Eric Hosmer and Salvador Perez with the honor.
"[Escobar] was extremely deserving," Yost said in a conference call. "This caps off a great year for him. He had a tremendous regular season, a tremendous postseason, made the All-Star team and now, finally to be recognized with a Gold Glove, it's just special.
"I thought last year and the year before, there should have been a little more consideration for him with the Gold Glove, but I'm just happy that he won it this year."
Escobar was honored at the Gold Glove Awards dinner in New York over the weekend.
"I'm just so happy to be here," Escobar said. "This team has a lot of great defensive players."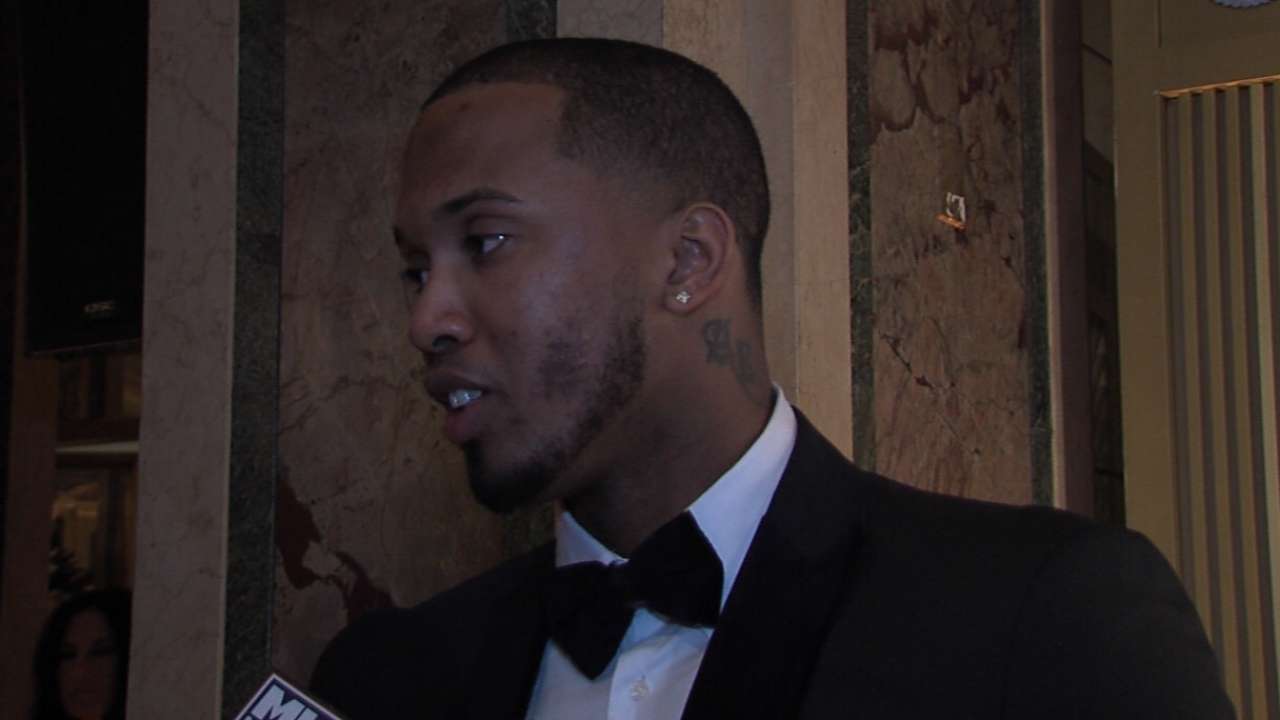 Though scouts, teammates and opponents have raved about Escobar's ability to make the seemingly impossible play for years, his defensive metrics -- albeit a highly subjective measurement -- have done little to support his case for a Gold Glove.
This season, for example, Escobar's defensive runs saved was minus-one, according to FanGraphs, and that was only fifth best in the league. He was behind Oakland's Marcus Semien, who made 35 errors in 2015 but was plus-four in that metric.
"It's not that we're against analytics," one Royals scout said, "it's just that the data being entered has to be out of whack for Esky to be below guys like that. Your eyes tell you that. It's obvious."
Kansas City first baseman Eric Hosmer feels the same. He has witnessed Escobar's range for years and doesn't see many other shortstops in his class.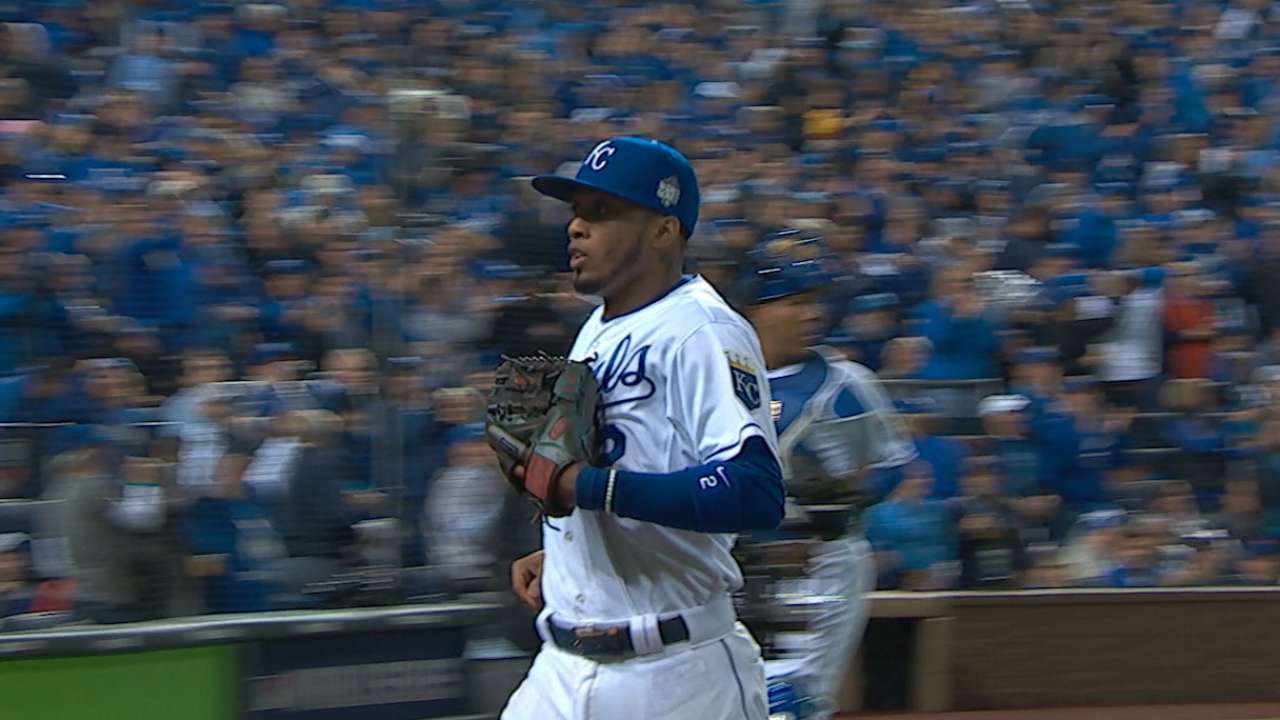 "Oh, man. It's something that year in and year out we see," Hosmer said. "... We all feel he should be winning them every year with us. Especially with me being a first baseman, you just see how many good plays he makes, and the plays that he makes that you realize not many shortstops, if any shortstops, can really relate to in terms of the range that he has throughout the league.
"You think that in years past, the errors he had he was getting because of balls that other shortstops couldn't even come close to getting to. Just being his first baseman and getting to see him each and every day and him finally winning one and being an All-Star this year and being an MVP in the postseason, I just think he really broke out to being a superstar."
Escobar patterns his game after fellow Venezuelan Omar Vizquel, who won 11 Gold Gloves at shortstop.
"That's my favorite player," Escobar said. "That's my hero."
Jeffrey Flanagan is a reporter for MLB.com. Follow him on Twitter at @FlannyMLB. This story was not subject to the approval of Major League Baseball or its clubs.