MLB.com Columnist
Bernie Pleskoff
Scouting profile: Sean Manaea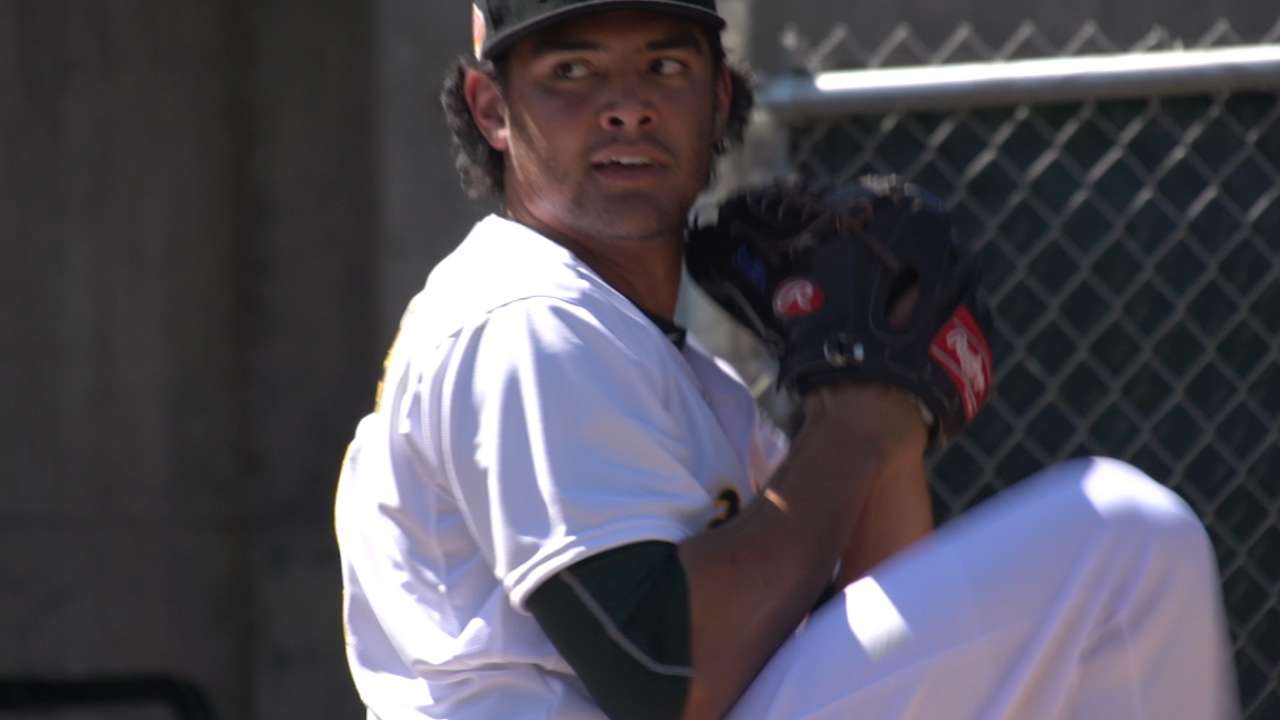 Background
After beginning at South Central Junior-Senior High School in Union Mills, Indiana, big, strong 6-foot-5, 235-pound Sean Manaea moved to Andrean High School in Merrillville, Ind. He also played high school football.
No. 3 on the Athletics Top 30 Prospects list, the Kansas City Royals selected Manaea in the first round of the 2013 Draft. While he was really good in high school and college, Manaea may have solidified his value by being named the Cape Cod League's Best Pitching Prospect in 2012. He set a record for strikeouts in the league with 85.
Manaea was highly regarded in college. In fact, he was projected to be a very high Draft selection heading into his junior year at Indiana State. A torn labrum in his hip caused his stock to drop, but his 1.47 ERA in 13 starts helped him become a supplemental selection at No. 34.
Along with pitcher Aaron Brooks, he was traded to Oakland on July 28 this year for Ben Zobrist.
Repertoire
Manaea is pitching in the Arizona Fall League to help make up for some innings he missed during the season due to an abdominal strain. He didn't start pitching this year until the third week of June.
After a bit of a shaky and inconsistent start in this year's Fall League, Manaea got the start in the Fall Stars Game played on Nov. 7. He had an outstanding performance, throwing his fastball from 94-97 mph with late life and great movement. He induced swings and misses from a 79-81 mph sweeping slider. In that game, Manaea also flashed a cutter and sparingly used his changeup to help deceive hitters and change their balance and eye levels.
Mechanics
Manaea delivers the ball from a three-quarters release point. He uses his large, strong frame to pitch directly downhill to hitters, making his multiple-pitch repertoire difficult to hit. It's tough to see the ball out of his hand, and his great extension makes it seem like the pitch is on top of the hitter instantly, which in most instances it is.
Manaea can be dominant in short spurts. A rhythm pitcher, he can become wild when he gets of out sync with his release point. If he gets the ball up in the zone, it spells trouble for him.
Strengths
When he repeats his delivery and doesn't try to overthrow his fastball, Manaea is very tough to hit. He induces swings and misses by changing speeds and mixing in his secondary pitches. When all is said and done, it is the velocity range on his fastball that wins the day. He can simply overpower the hitter.
As was evident in the two innings he pitched in the Fall Stars Game, Manaea can get in a groove and rely solely on his fastball to hunt for outs. When his fastball works, it may be all he needs.
Weaknesses
Manaea has been either very good or very mediocre. When he gets out of sync he loses control of all his pitches, not just the fastball. When he controls his pitches, he looks the part of a confident, take-charge pitcher. When his control leaves him, he has difficulty re-grouping and working out of trouble.
Manaea will be 24 in February. Due to injuries he has only thrown 196 Minor League innings.
I find this interesting
Manaea has played for the Royals' Rookie League team, the Royals' Class A Advanced Wilmington team, the Royals' Double-A Northwest Arkansas team, the Athletics' Double-A Midland team and the Royals' Fall League Mesa entry all this season. Five teams.
The future for Manaea
If the big lefty can find consistency in his delivery and harness his control, there is no limit to his potential. He can become a dominant starter or can even be used in relief. It all depends upon his fastball control and his ability to spot his secondary pitches for strikes. Is he the mediocre Manaea from his first Fall League starts or the dominant Manaea from the Fall Stars game?
Manaea in a word
Dazzling
Bernie Pleskoff has served as a professional scout for the Houston Astros and Seattle Mariners. Follow @BerniePleskoff on Twitter. This story was not subject to the approval of Major League Baseball or its clubs.