Inbox: Why is Gardner in trade rumors?
Beat reporter Bryan Hoch answers Yankees fans' questions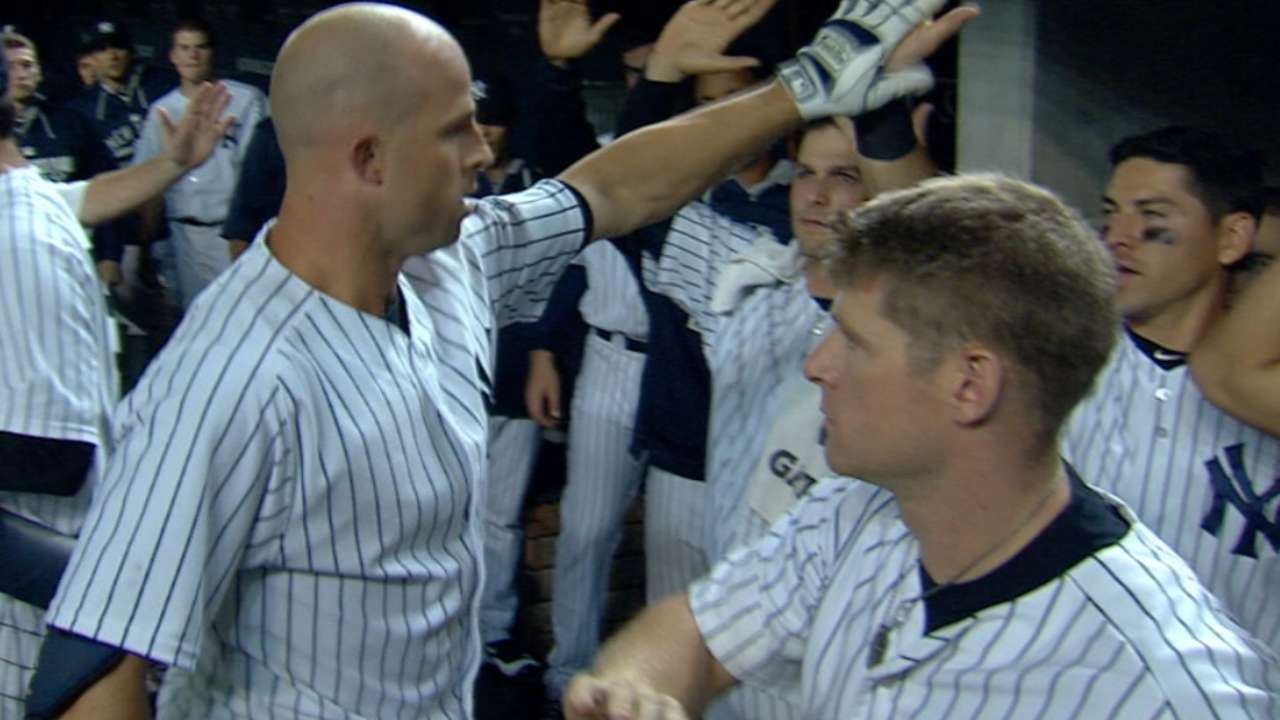 There have been many rumors about Brett Gardner, especially with the addition of Aaron Hicks. Can you shed some light on the reasons why the Yankees would want to trade Gardner?
-- J.T., Clinton, N.J.
This could be a good opportunity to clear up some misconceptions. If you told the Yankees that they had to start the season with Gardner in left field tomorrow, they'd be fine with that. He has developed into an above-average performer on both sides of the ball, a team leader in the clubhouse and, as a bonus, he's a homegrown Yankee. That's part of what makes Gardner appealing on the market -- in fact, he's one of the Yanks' few veterans with legitimate trade value.
General manager Brian Cashman said last week that he has been asked about Gardner repeatedly over the years, yet Gardner's still in pinstripes, and so there's no reason to think that he will be an "easy get" for an opposing club this offseason. This isn't so much about Gardner's second-half slide, which the club thinks can be attributed to lingering injury issues. It's more about the idea that -- since they are so locked in at most of the other positions -- dealing Gardner is one of the few ways that the Yankees can create flexibility to address other needs.
At a time when the Yankees are trying to dig out from some of their long-term commitments to veteran players, Gardner is 32 and has $39.5 million remaining on his tab over the next three seasons. If the Yanks uncover a way that they could swap Gardner for a second baseman or a starting pitcher -- or possibly both -- they'd have to entertain it.
"I am open to anything that anybody wants to talk about, whether it's a full no-trade contract, a limited no-trade, no no-trade, a prospect, a low-level, mid-level or high-level player," Cashman said. "I'm just open to anything. It's business as usual."
What are the chances that CC Sabathia is moved to the bullpen?
-- Gary B., New York
This came up at times during the season, and manager Joe Girardi was reluctant to entertain it -- partially because he wanted to believe that Sabathia would or could turn his season around, but also because there's no way to know if Sabathia would even be effective out of the bullpen. In theory, he wouldn't be the first pitcher to adapt to a long-relief and spot-starter role. But are we really identifying Sabathia as this year's Chris Capuano?
Even putting aside the substantial difference in their contracts, the Sabathia we saw at the end of 2015 seemed to have figured some things out with the help of his knee brace, which helped him get full extension over the rubber and finish his pitches. The Yankees may not be guaranteeing Sabathia anything as far as a rotation spot next season, but at this juncture of the offseason, the safe bet is that he'll somehow be in their starting five.
Can you give us a name that nobody is talking about that the Yankees might go after via trade?
-- Ryan G., Easton, Pa.
Sure, I'll throw some stuff at the wall. Recently, a few of the MLB.com beat reporters were going over team needs and trying to cross-reference them. Here's a selection of the second basemen that are considered to be available via trade as the Yankees look to improve over Dustin Ackley and Rob Refsnyder: Aaron Hill of the D-backs, Brandon Phillips of the Reds and Neil Walker of the Pirates.
Here are a few suggestions of the starting pitchers who might be traded this offseason: Andrew Cashner (Padres), Jesse Chavez (Athletics), Matt Garza (Brewers), Derek Holland (Rangers), Ricky Nolasco (Twins), Jose Quintana (White Sox), Tyson Ross (Padres), C.J. Wilson (Angels). Not all of those pitchers make sense for the Yanks, of course, but it's a fun Hot Stove exercise.
Do you think if outfielder Aaron Judge has a good spring, he will break camp and head to New York in April?
-- Micheal R., Dallas, Ga.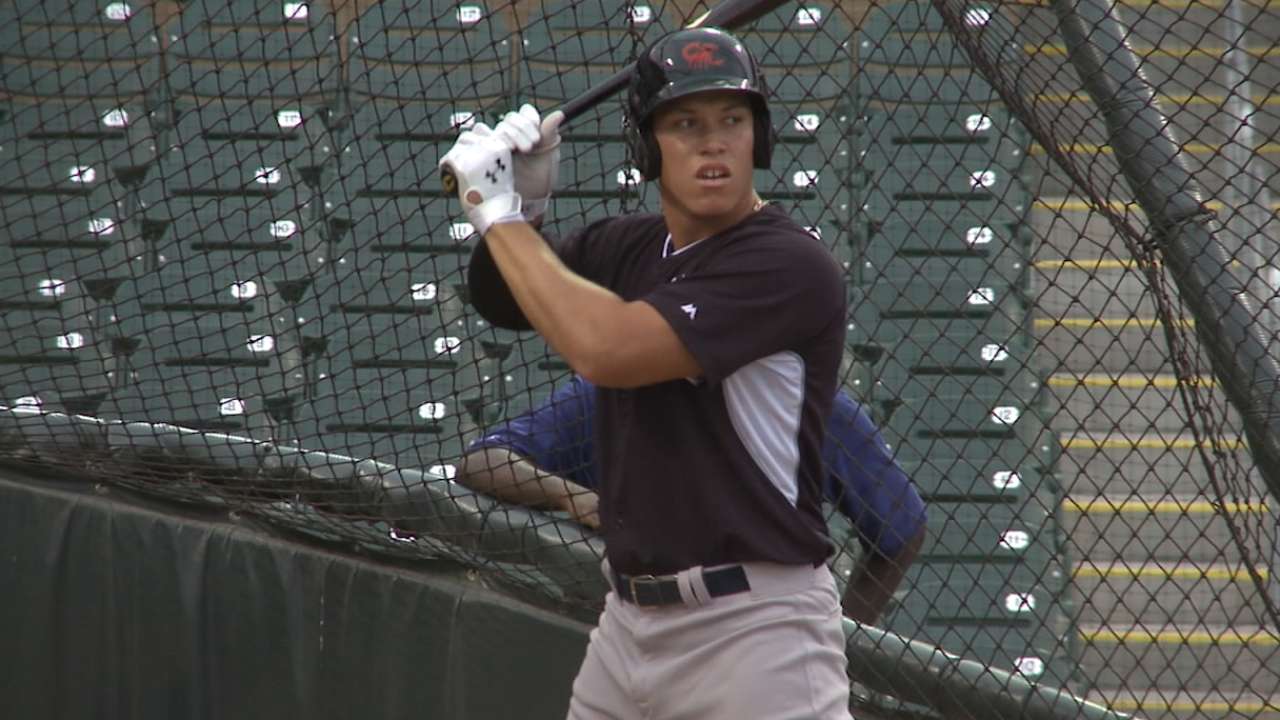 Cashman said that he doesn't expect Judge, the Yankees' No. 1 prospect, according to MLBPipeline.com, to be ready at the beginning of 2016, but he thinks that Judge will be part of the Yanks' roster at some point during the season. I still wouldn't rule out the possibility of Judge coming into camp and tearing up the Grapefruit League. He only batted .224/.308/.373 in 228 Triple-A bats, which is a good reason to season him more in the Minors, but crazy things can happen. The Yankees might need him more in the big league lineup.
Is Gary Sanchez locked in for the backup catching job, now that John Ryan Murphy has been traded?
-- Mauricio M., Lancaster, Pa.
I wouldn't say locked in, but he has a good chance. Cashman said that he could go either way. If Sanchez, the Yankees' No. 5 prospect, is the big league club's backup catcher in 2016, Cashman would be fine with that. If someone else comes along and Sanchez has more time to develop, that's OK, too. Remember, the Yanks were already talking about scaling back Brian McCann's catching duties to keep him fresh (he caught 126 games in '15), and so the Yankees believe Sanchez can learn on the job even if he's not playing on an everyday basis.
"There's a transition and a growth," Cashman said. "We did it with [Jorge] Posada, we've done it with [Francisco] Cervelli, we've done it with John Ryan Murphy. If that's what we're going to wind up doing with Sanchez, so be it."
Did Greg Bird and Luis Severino use up their "rookie status," or can they still be rookies for next year?
-- Michael D., Madawaska, Maine
Sorry, but we can rule them both out for the 2016 American League Rookie of the Year Award race. Bird (157 at-bats) and Severino (61 1/3 innings pitched) both exceeded their rookie limits this past season, which are 130 at-bats or 50 innings pitched in the Major Leagues.
Bryan Hoch is a reporter for MLB.com. Follow him on Twitter @bryanhoch, on Facebook and read his MLBlog, Bombers Beat. This story was not subject to the approval of Major League Baseball or its clubs.