MLB.com Columnist
Bill Ladson
Baker brings back Schu as Nats' hitting coach
WASHINGTON -- Rick Schu will return as the Nationals' hitting coach, news which was first revealed by Dusty Baker on SiriusXM's MLB Network Radio last week.
On Oct. 5, the day Washington dismissed Matt Williams as manager, the Nats decided not to renew the contracts of the entire coaching staff. But since Baker was hired on Nov. 3, he has decided to bring Schu back into the fold.
Schu said he is looking forward to working with Baker. In fact, both men attended Del Campo High School in Fair Oaks, Calif., but a few years apart.
"He is like an idol. Sacramento is Dusty's town," Schu said via telephone. "Baker is a superstar from Sacramento. Sacramento guys are always blue collar. They play the game the right way. They play the game hard. We have a big legacy of guys who came through Sacramento.
"I always looked up to Dusty. You wanted to pattern your career after him because of the way he was on and off the field. He is an icon in Sacramento. He is a man I have a lot of respect for."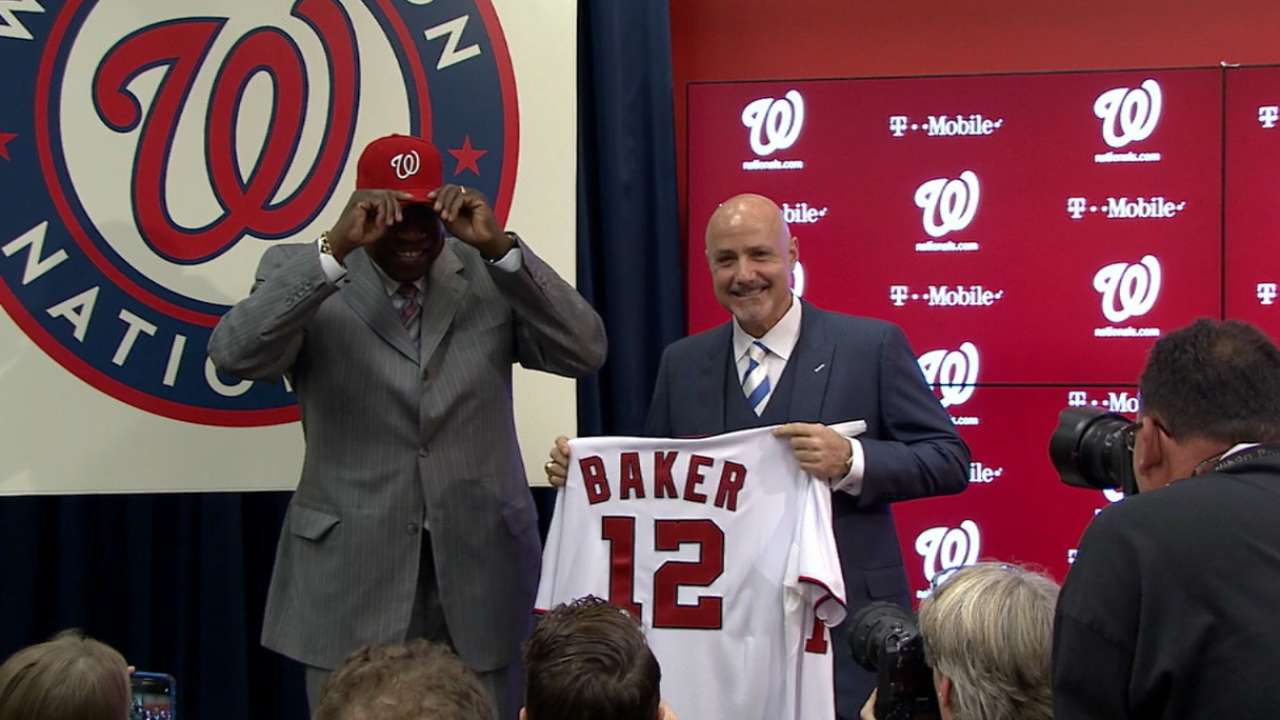 In 2015, the Nationals ranked 16th in MLB in batting average and 10th in runs scored, even though players such as Jayson Werth, Denard Span and Anthony Rendon missed a lot of time because of injuries.
"We pretty much missed Span and Rendon most of the year," Schu said. "Tony came back, but he was still trying to get caught up. Denard was the straw that stirred the drink. To do what we did without them, we still had guys who stepped up and kept us in the hunt until the end of the year. I was proud of the guys for the way they battled. It was a tough year with injuries."
Schu worked with arguably the best player in the National League in 2015. Outfielder and NL MVP Award finalist Bryce Harper led the NL in home runs (42, tied with Colorado's Nolan Arenado), runs scored (118), on-base percentage (.460) and slugging percentage (.649).
"It was a combination of things as to why Harper had a [big] year," Schu said. "The No. 1 thing is that he stayed healthy. This past season, he was able to get comfortable with his hands. He was able to take the pitch that was given him. He was going line to line. I think his confidence really helped him with everything -- pitch selection and taking his walk. He really slowed things down."
With Schu officially back, the Nats are now expected to hire an assistant hitting coach.
Bill Ladson is a reporter for MLB.com and writes an MLBlog, All Nats All theTime. He can be found on Twitter @WashingNats. This story was not subject to the approval of Major League Baseball or its clubs.