Rumor roundup: Braves shopping Freeman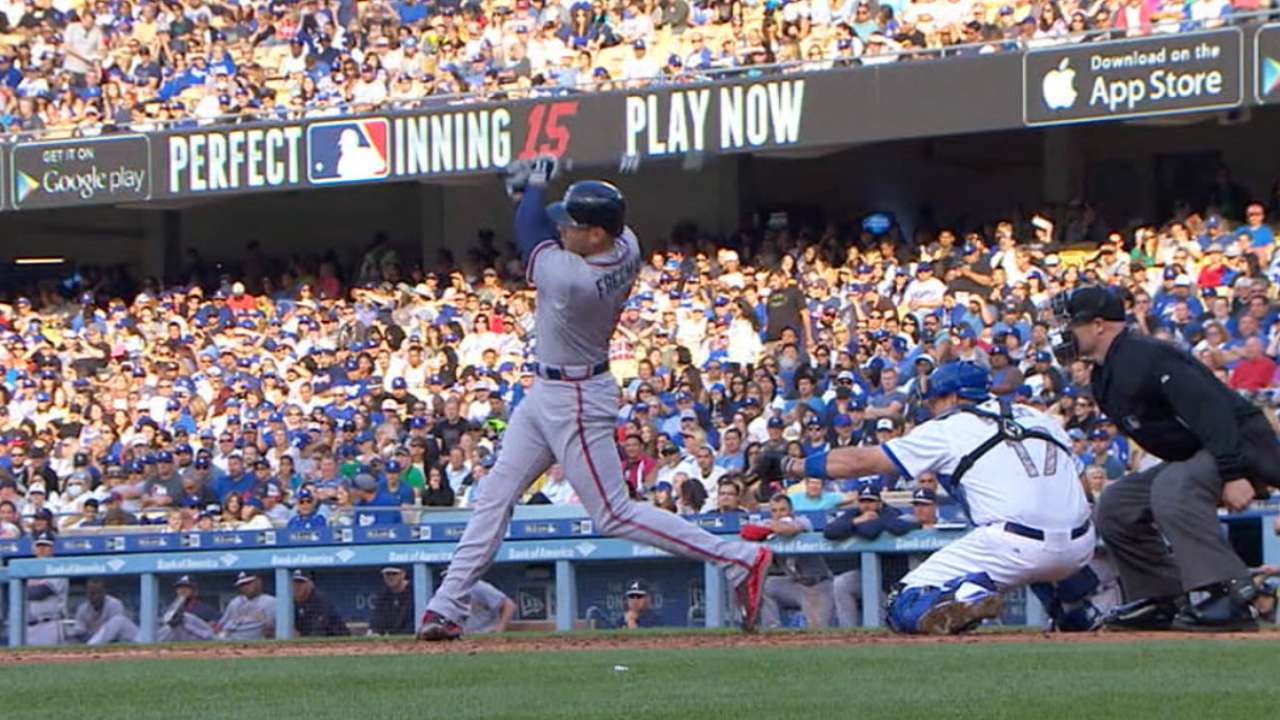 The Braves may not yet be done trading centerpiece-type players, according to FOXSports.com.
FOXSports.com cited sources from three clubs as saying that Atlanta has been shopping first baseman Freddie Freeman, with one noting that the discussions were "the talk of the [Arizona] Fall League" this month.
• Inbox: Will Atlanta deal Freeman next?
Freeman, 26, is a two-time All-Star who finished second in the National League Rookie of the Year Award voting in 2011 and fifth in the NL Most Valuable Player Award voting in '13.
In 118 games last year, Freeman hit .276 with 18 homers and 66 RBIs. The career .285 career hitter is signed through 2021 and is owed a $118.5 million over those six seasons.
Last week, Atlanta dealt star shortstop Andrelton Simmons to the Angels for shortstop Erick Aybar and pitching prospects Chris Ellis and Sean Newcomb.
FOXSports.com also reports that the Braves are also considering dealing righty Julio Teheran, right fielder Nick Markakis and center fielder Cameron Maybin as they seek to rebuild.
• There is some chatter that the Reds are exploring the possibility of trading third baseman Todd Frazier or closer Aroldis Chapman, according to ESPN's Jayson Stark.
Stark says that Frazier is "legitimately out there" but that Cincinnati would require a "big return" and/or "big league-ready young players in any package" for the two All-Stars.
@jaysonst Other teams say Reds are targeting big-league ready young players in any package they get back for Frazier or Aroldis Chapman

— Jayson Stark (@jaysonst) November 16, 2015
• After spending just a half-season away from Detroit, Joakim Soria could soon be back in a Tigers uniform. MLB.com's Jason Beck reported Monday that the Tigers have begun negotiations with Soria's agent and a contract offer could come later in the week.
The Tigers dealt Soria to the Bucs at the non-waiver Trade Deadline this season, but their search for a closer this offseason could bring the 31-year-old right-hander back into the fold. Soria made 29 appearances with Detroit and Pittsburgh last season, posting a 2.03 ERA and totaling 24 saves.
The Tigers are also reportedly among the clubs interested in Rays relievers Brad Boxberger and Jake McGee, according to the Tampa Bay Times.
• After getting a firsthand look at utility man Ben Zobrist in the World Series, the Mets are expected to be one of his top suitors this offseason.
The New York Post reported that the Mets have already formally reached out to Zobrist's agent with the expectation that second baseman Daniel Murphy will not be in Mets pinstripes next season.
Zobrist, 34, has made a living as one of the most versatile players in baseball over the past decade. The two-time All-Star split time between the A's and Royals last season, and he has significant experience at second base and shortstop, as well as all three outfield spots.
For the record, the report indicates that the Yankees will not be one of the multiple teams expected to pursue Zobrist on the free-agent market this offseason.
• The Rays are open to dealing pitching talent both from the bullpen and the starting rotation, according to a report from the Tampa Bay Times.
Mark Topkin writes that Tampa Bay has drawn significant interest on relievers Brad Boxberger and Jake McGee, with the Tigers and Astros among those most interested.
Beyond that, the Rays could move another starting pitcher after already trading Nathan Karns to the Mariners. Topkin writes that left-hander Drew Smyly is the most likely candidate to be traded, with Matt Moore serving as another possibility.
Joey Nowak is a reporter for MLB.com. Follow him on Twitter at @joeynowak. This story was not subject to the approval of Major League Baseball or its clubs.