MLB.com Columnist
Mike Bauman
Hot Stove being shaped by Royals' blueprint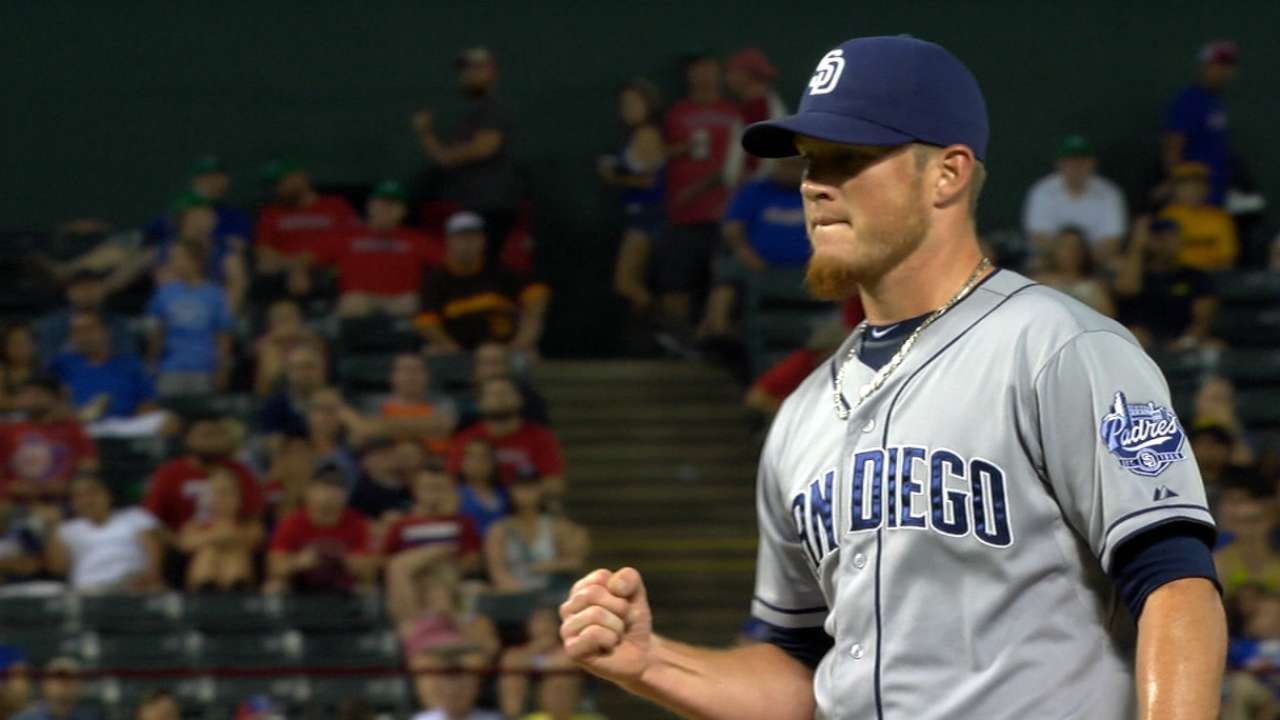 Imitation is still the sincerest form of flattery. This offseason, the World Series champion Kansas City Royals are going to be consistently flattered.
Maybe it was mere coincidence that, with the Royals being built around a dominant bullpen and a terrific defense, the first two big deals of the Hot Stove season included an elite closer and a defensive whiz at shortstop. But maybe it wasn't.
Two teams in win-now mode made these trades. They didn't have to be consciously imitating the Royals for the flattery to count.
The Red Sox, who encored from a 2013 World Series championship with two last-place finishes in the American League East, scored a bullpen coup by trading with San Diego for closer Craig Kimbrel.
Over the past five years with the Braves and the Padres, Kimbrel has been the top closer in the National League. His 1.63 career ERA and 14.55 K/9 rate are the stuff of legend. And Kimbrel's career save percentage of 90.72 is higher than that of all-time saves leader and future Hall of Famer Mariano Rivera.
Dave Dombrowski, Boston's new president of baseball operations, knows perhaps too well the value of bullpen excellence. Dombrowski put together a series of excellent clubs in Detroit, but the Achilles' heel in recent seasons was the Tigers' bullpen.
• Red Sox strike deal with Padres for Kimbrel
Dombrowski did what almost everyone agreed was the reasonable thing two seasons ago, signing proven closer Joe Nathan to a two-year deal. Nathan was coming off one of the best seasons of his notable career with the Rangers, but his effectiveness diminished with Detroit. He eventually required elbow surgery and was lost for the 2015 season.
But Nathan was 39 when the Tigers signed him. Kimbrel is 27 and appears in every aspect to be in the prime of his career.
So Dombrowski and the Red Sox were willing to pay a premium price for Kimbrel. In this case, that price was four Minor Leaguers, two of whom now rank Nos. 1 and 3 among the Padres' Top 30 Prospects. It was a heavy price to pay, but Boston has the kind of organizational depth that can withstand this sort of trade.
• Padres restock farm system with Kimbrel trade
And now, the Red Sox also have a top-of-the-line closer, giving them a bullpen improved in both quality and quantity. Former closer Koji Uehara, 40, can now take over the eighth inning, and Junichi Tazawa can handle the seventh. This still isn't Kansas City's bullpen, but it has the role of top-shelf ninth-inning man covered for the foreseeable future.
On the other side of the continent, the Angels were also following the Royals' winning formula when they traded with the Braves for a brilliant defender at a crucial position, 26-year-old shortstop Andrelton Simmons.
Again, a steep price had to be paid, in this case, two legitimate starting-pitching prospects and veteran shortstop Erick Aybar, who had been an Angels mainstay.
But Simmons in the field is special. He is the reigning Wilson Defensive Player of the Year, and he led the National League in defensive Wins Above Replacement (dWAR) in each of his three full seasons in the Majors.
• Angels land Simmons in deal with Braves
"Andrelton provides us up-the-middle foundation at a premium position for years to come," Angels general manager Billy Eppler said. "To know we have a player with Andrelton's talents, drive and competitiveness at such a young age signed through 2020 is a vital step in adding to our core group."
Simmons' offensive production has been uneven. His best season offensively was 2013, but he is so good with the glove that he only needs to be adequate with the bat to be a huge plus.
So what you have here are two major moves in the direction of the Kansas City Royals, which is also the most recent winning direction in baseball.
We're not saying that Dombrowski and Eppler sat down and said: "What would Dayton Moore do in a situation like this?" But the Royals' winning formula is there for anybody to see.
Make sure your bullpen is fireproof. Make your defense as good as possible. Next up: Find some guys who swing at a lot of pitches, but almost never strike out.
Mike Bauman is a national columnist for MLB.com. This story was not subject to the approval of Major League Baseball or its clubs.