Unconventional Maddon makes case for MOY
Skipper leads Cubs to postseason in his first year with club, 'pays attention to the mental side'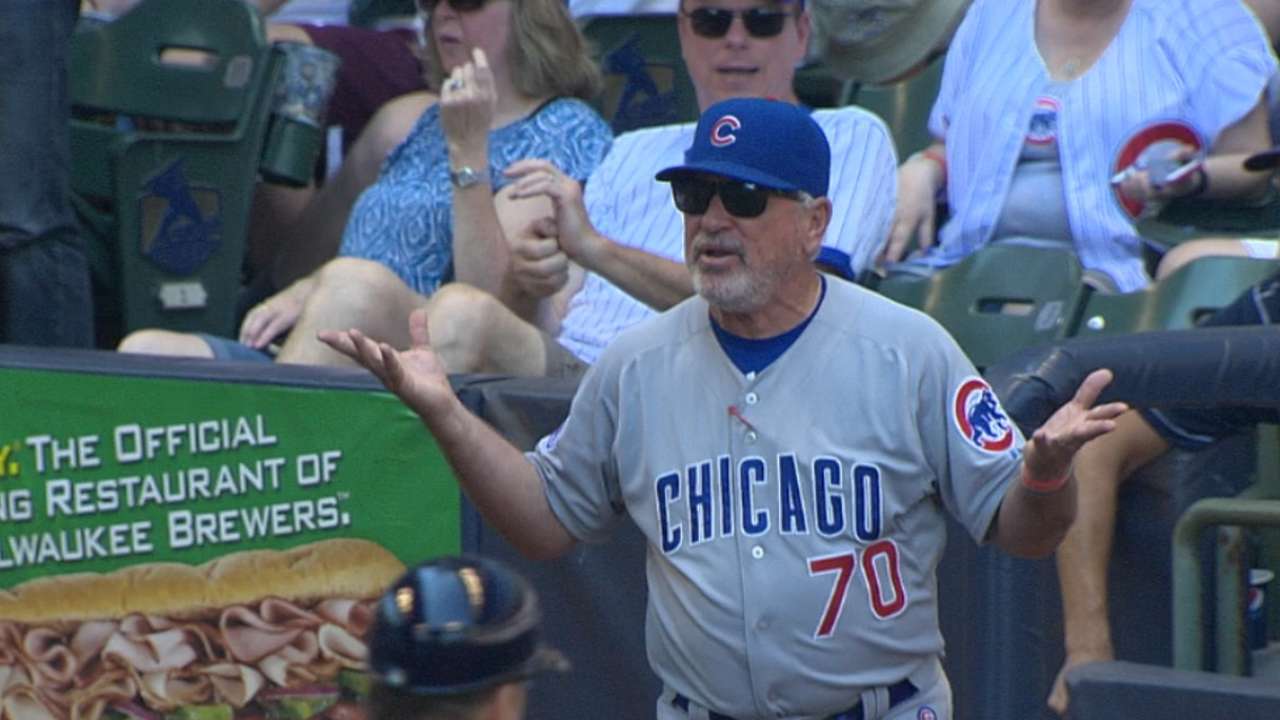 CHICAGO -- It was a smooth transition for Joe Maddon from the American League with Tampa Bay to the National League with Chicago. When he arrived in Mesa, Ariz., for Spring Training as the Cubs' new manager, Maddon made it clear he expected to get to the postseason, which is his goal every year at the helm. And he did it.
In his first year with the Cubs, the old-school/new-age silver-haired skipper guided Chicago to a 97-win season and the team's first postseason berth since 2008, and he is a finalist for the Baseball Writers' Association of America NL Manager of the Year Award. The other candidates include the Cardinals' Mike Matheny and the Mets' Terry Collins, who is Maddon's buddy from their Angels days together. The winner will be announced today at 5 p.m. CT on MLB Network.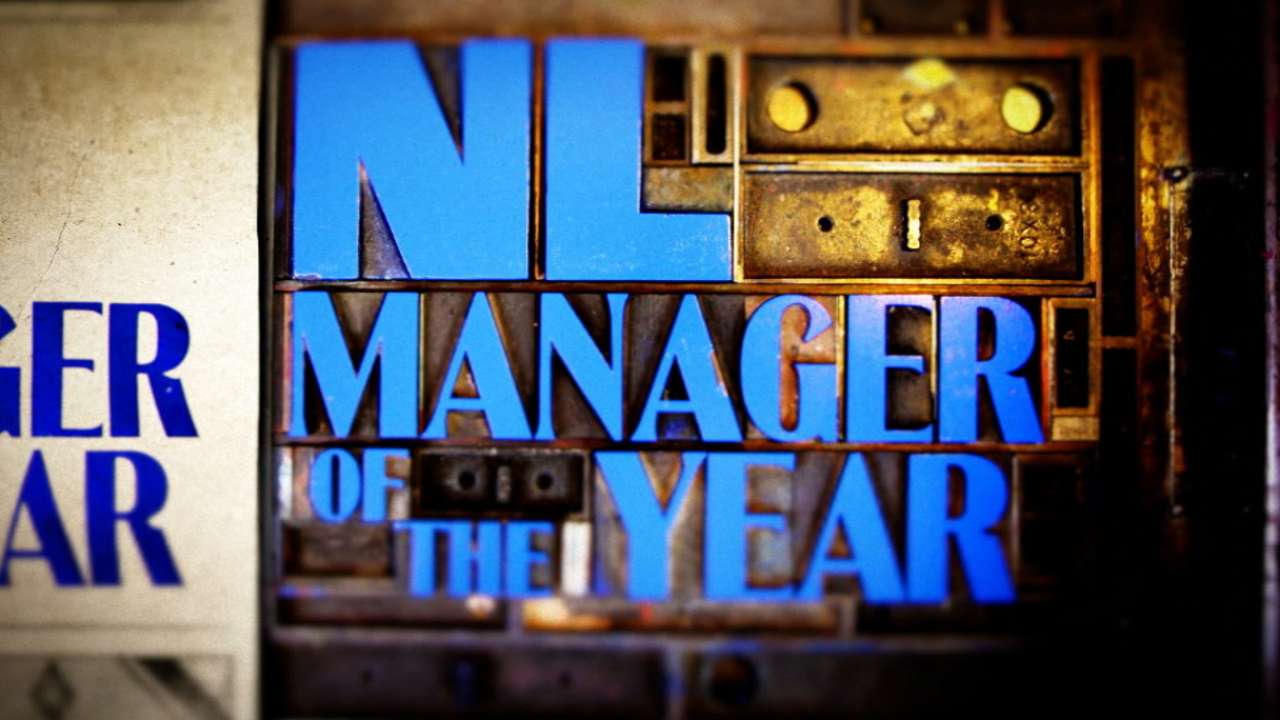 Maddon has won the AL award twice (2008 and '11) with the Rays, and if he captured the award this year, he'd be the first since Bob Melvin to do so in both leagues. Melvin took top manager honors in '07 with the D-backs and again in '12 with the A's.
The Cubs have had three managers win the award: Jim Frey in 1984, Don Zimmer in '89 and Lou Piniella in '08. Maddon set the franchise record for most wins in his first year with the Cubs, topping Frey, who won 96 in '84.
While Zimmer was creative and Piniella entertaining, neither was as unpredictable as Maddon. He lived in his recreational vehicle, the Cousin Eddie, in Spring Training. His campaign for the season was "Respect 90," and he kicked it off in Spring Training with a "Respect Bald" fundraiser, encouraging players, coaches and the front office to shave their heads.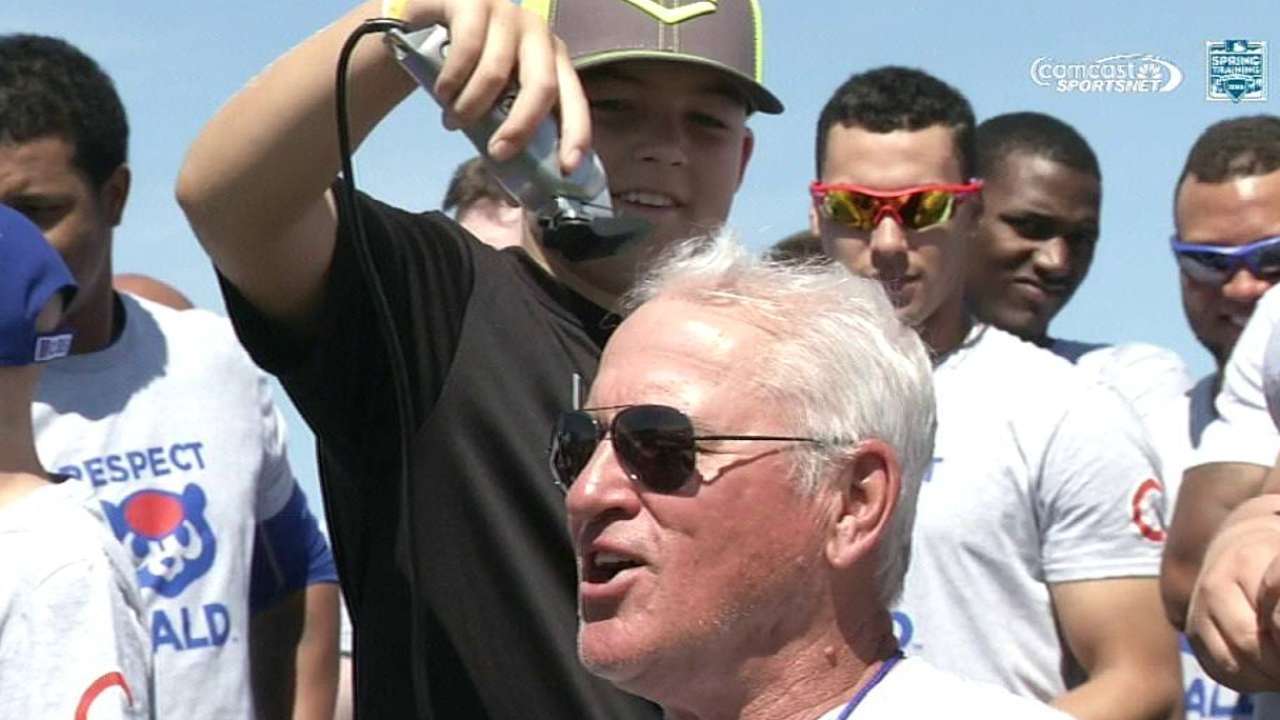 The "Respect 90" logo was added everywhere on the spring fields. If a player runs hard 90 feet to first base, that will affect the rest of his game. Derek Jeter is one example, Maddon said. So is Andrew McCutchen. So were the young Cubs.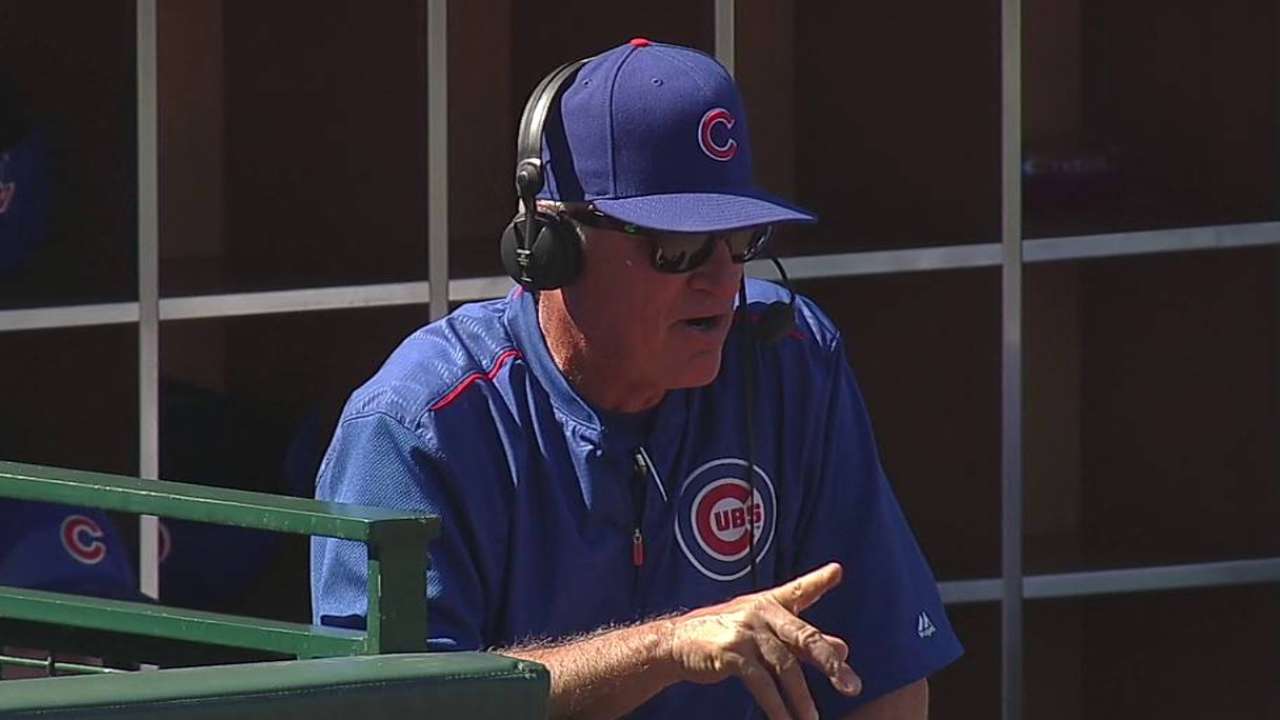 And they were young. The Cubs relied on rookies Kris Bryant, Addison Russell, Kyle Schwarber and Jorge Soler. The infield for the majority of the season was 25 years old and under -- until Anthony Rizzo turned 26 on Aug. 8. All were considered talented, but no one knew what to expect. Maddon let them play.
"He's a great communicator," Cubs catcher David Ross said of Maddon. "He's a non-emotional thinker. He has a way with words to be able to communicate in a simple form what he's thinking or what he sees in baseball terms, which is good with a young group. He believes in the young guys and lets them be themselves and lets them play freely without a whole lot of judgment or extra thinking that could hinder their ability."
There were teaching moments and times when Maddon had to be tough. In early August, he benched Starlin Castro in favor of Russell at shortstop. Castro rebounded to rank among the leaders in the NL in batting in September and to become the regular at second base in the playoffs.
The Cubs developed confidence with each late-inning win. They went 13-5 in extra-inning games, won 23 games in their last at-bat and had 35 come-from-behind wins. The Cubs' success was aided by strong pitching -- they finished third in the NL with a 3.36 team ERA, led by Jake Arrieta's 1.77 ERA.
Leading the way was Maddon. He invited a disc jockey to Spring Training to perform during warmups. There was the pajama party flight home from Los Angeles, which was perfectly timed as players were able to relax in their onesies and celebrate Arrieta's no-hitter on Aug. 30. The zoo animals arrived at Wrigley Field in late September and included a penguin, snow leopard, cheetah and a flamingo named Warren.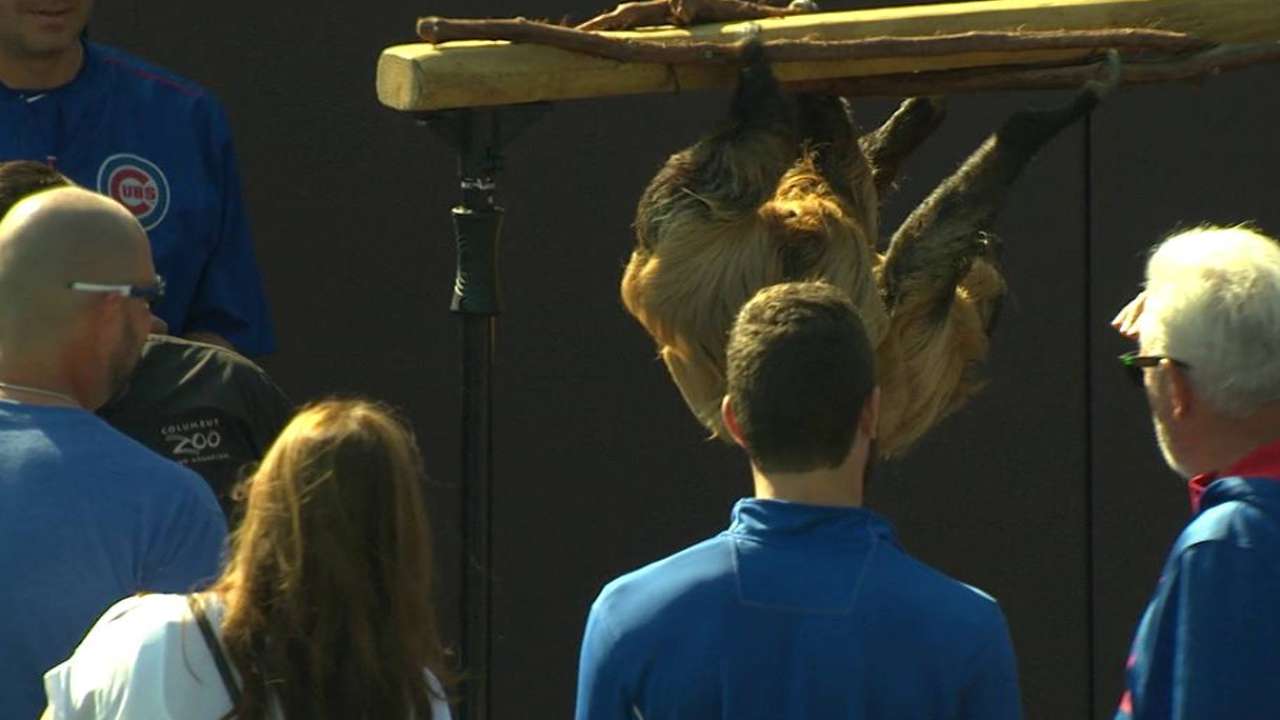 "He pays attention to the mental side," Ross said of Maddon. "The distractions at the right time are good. There couldn't have been a better time for that magician in New York after we lost five in a row. There couldn't have been a better time for 'American Legion week' when it's the dog days of August and you're fixing to go on a West Coast trip."
Maddon isn't a big proponent of batting practice, so he canceled it during American Legion week. It gave players a chance to sleep in and spend time with their families. Even Cubs president of baseball operations Theo Epstein thanked Maddon for improving his quality of life.
"He does things differently and isn't afraid to go outside the box," pitcher Jason Hammel said. "He's got an idea of what he's doing. He knows how to create an environment that promotes winning. Guys just want to have fun here. It's not like he's reinventing the wheel. He's still managing baseball like a manager, but it's the culture inside the clubhouse with the group of guys we have and the character and the accountability that he expects. Guys get that. Other than that, we're allowed to be ourselves. It makes for a very interesting environment."
Carrie Muskat is a reporter for MLB.com. She writes a blog, Muskat Ramblings. You can follow her on Twitter @CarrieMuskat and listen to her podcast. This story was not subject to the approval of Major League Baseball or its clubs.