Sano deserves his place among top AL rookies
Twins' BBWAA award finalist crushed 18 home runs in 80 games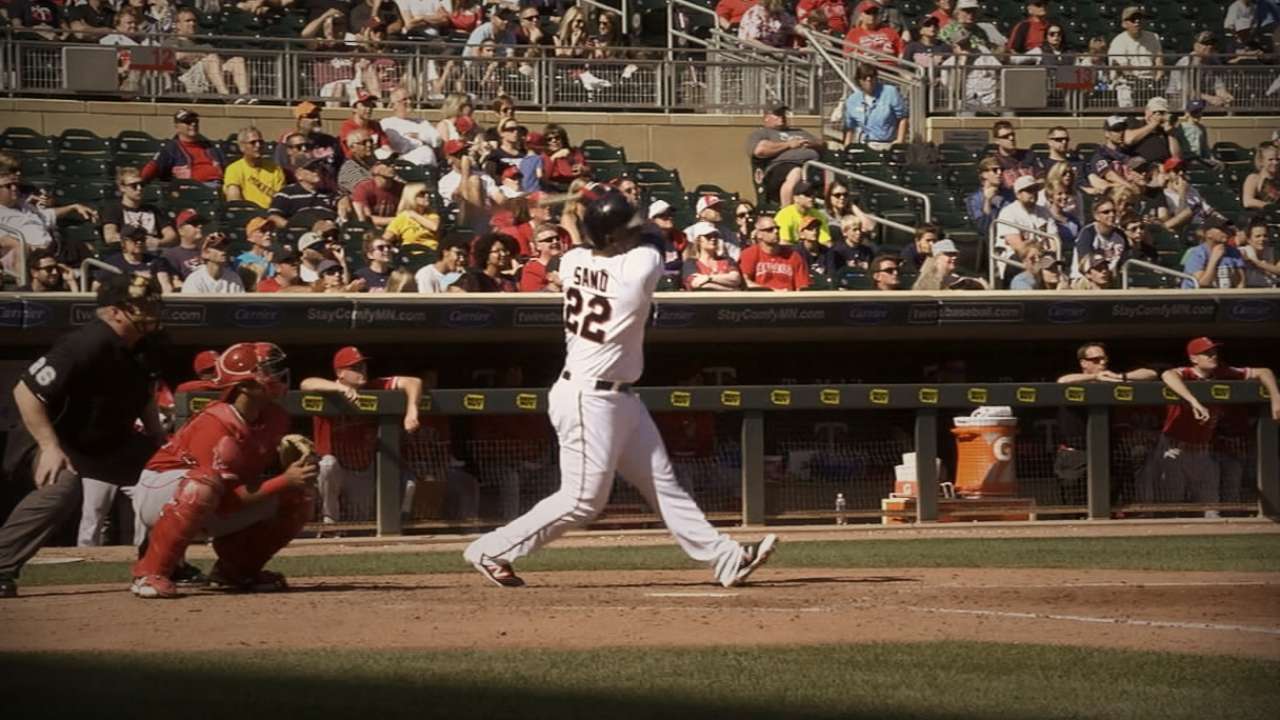 MINNEAPOLIS -- When Miguel Sano was called up to the Majors for the first time in his career on July 2, he immediately became the Twins' best hitter.
The young slugger made an instant impact and emerged as one of the best rookies in the big leagues, batting .269/.385/.530 with 18 homers, 17 doubles and 52 RBIs in 80 games. His on-base percentage and slugging percentage led all American League rookies, while his 18 homers ranked second to Houston's Carlos Correa, who had 22, but played in 19 more games.
Sano, 22, helped lead the Twins to their first winning record since 2010, and was named one of three finalists for the AL Rookie of the Year Award, joining Cleveland's Francisco Lindor and Correa, as voted on by the Baseball Writers' Association of America. The winner will be announced today at 5 p.m. CT on MLB Network, with additional coverage on MLB.com.
"I think it's nice for people in our organization to have a young player come up and kind of gather the attention that he has both here locally and in the national media, and rightfully so," Twins manager Paul Molitor said.
Despite primarily serving as the club's designated hitter, with Trevor Plouffe serving as the everyday third baseman, Sano made the jump from Double-A Chattanooga seamlessly. The Dominican Republic native, who was signed by the Twins for $3.15 million in 2009, showed both power and patience at the plate, as he led all AL rookies in isolated power (slugging percentage minus batting average) and walks.
"He understands hitting better than most 22-year-olds do as far as how he can give himself the best chance at-bat in and at-bat out," Molitor said. "Whether it's understanding how he's being pitched or what a guy has or what's working for that guy that day. And then understanding how to execute his swing to give himself a chance. He's the one guy who will keep his hands inside and on line almost every swing."
Before Sano arrived, the Twins averaged 4.22 runs per game, but once he joined Minnesota on July 2, the mark jumped to 4.37 runs per game the rest of the way. The Twins weren't eliminated from the postseason until the second-to-last day of the regular season, with Sano providing several big moments, as 10 of his 18 homers either gave them the lead or tied the game.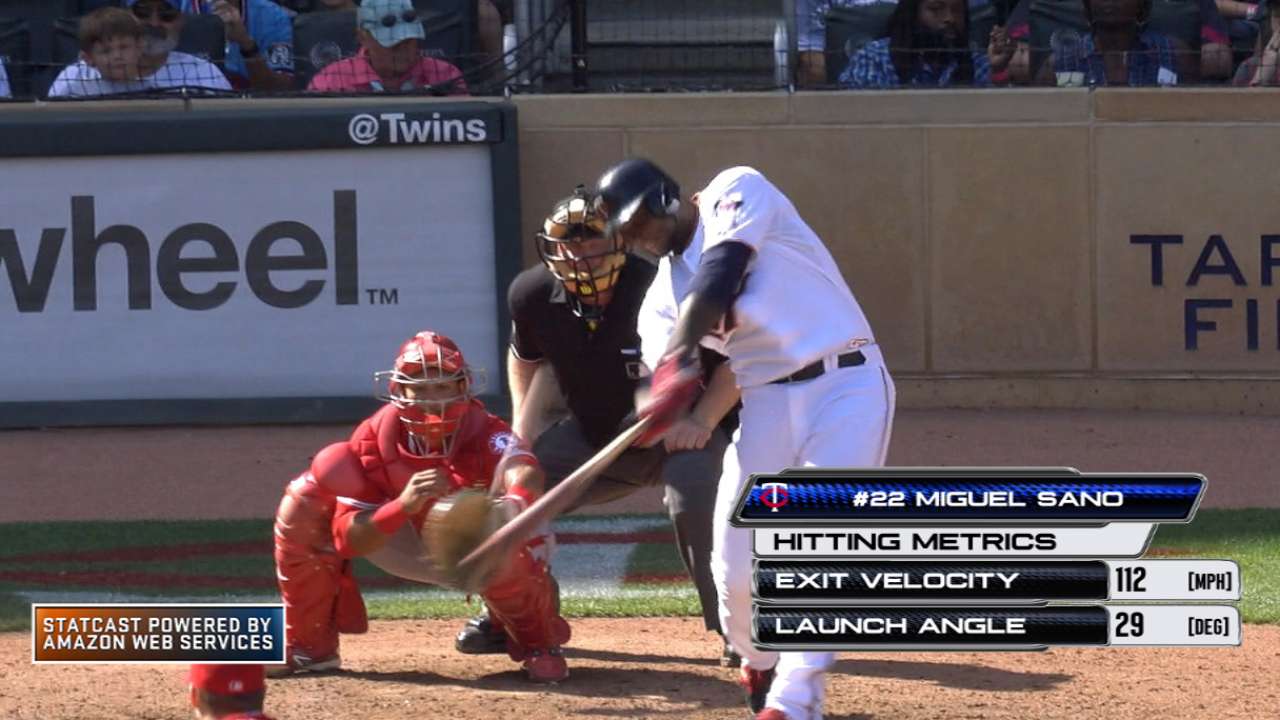 "The power is off the charts," veteran right-hander Mike Pelfrey said late in the season. "He's only going to get better. The Twins are lucky to have him. It's pretty fun to watch."
Sano, who dealt with a strained hamstring over the final month of the season and missed the prior year after undergoing Tommy John surgery on his throwing elbow, didn't get much of a chance to make an impact on defense. He saw action at third base nine times and at first base twice, but the Twins believe he's a capable third baseman and are experimenting with putting him in the outfield next year to keep him from being an everyday DH at such a young age.
But the Twins liked what they saw from Sano as a rookie in 2015, and are expecting big things from him going forward. Veteran outfielder Torii Hunter, who retired after the season, was particularly impressed by Sano, who reminded him of a young Miguel Cabrera.
"He's a different animal," Hunter said. "As far as hitting, he's pretty mature. He has a great idea and has great at-bats. He waits for his pitch. He takes pitches I'd never take. He's very polished, and that's probably why he's going to be one of the best hitters the Twins have ever seen."
Rhett Bollinger is a reporter for MLB.com. Read his blog, Bollinger Beat, follow him on Twitter @RhettBollinger and listen to his podcast. This story was not subject to the approval of Major League Baseball or its clubs.