Bryant's big 2015 offers strong case for ROY
Finalist for NL BBWAA Award led all rookies in several categories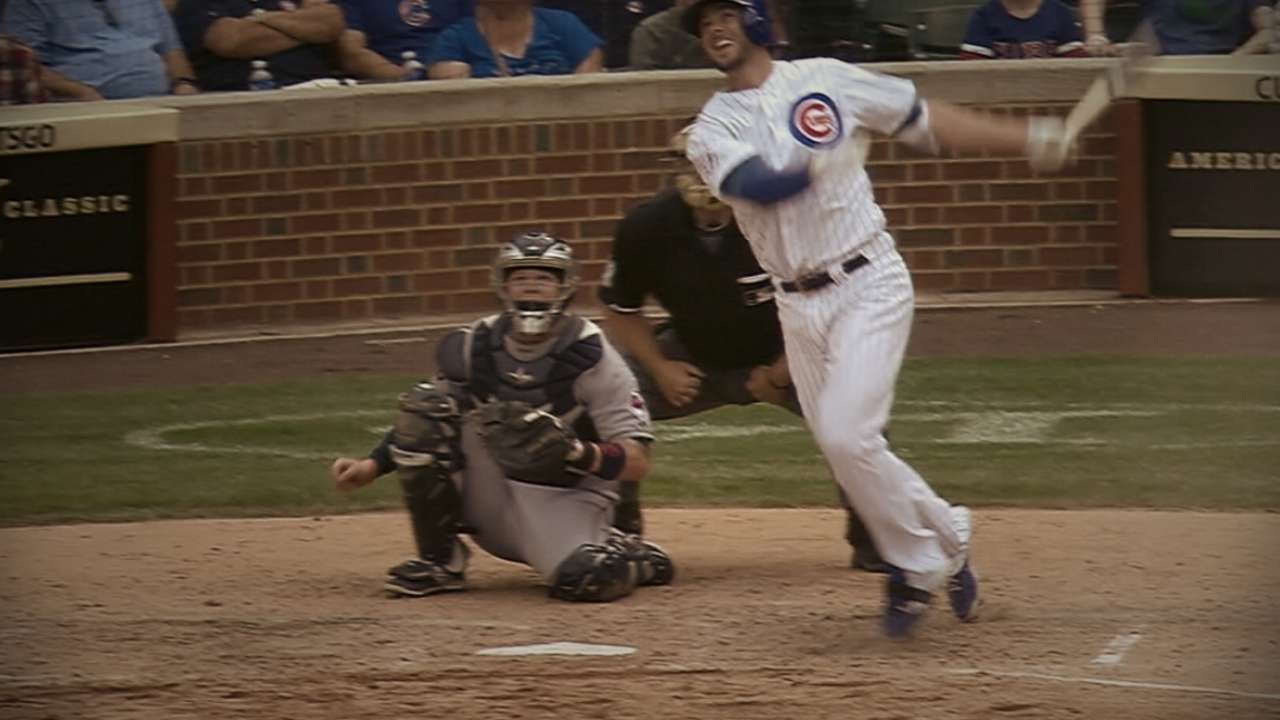 CHICAGO -- He made a good first impression on manager Joe Maddon, and an even better one in his first full season in the big leagues. Is that enough for the Cubs' Kris Bryant to win National League Rookie of the Year?
Bryant, 23, will find out today at 5 p.m. CT when the Baseball Writers' Association of America releases the results of the NL Rookie of the Year balloting live on MLB Network. The other finalists for the award are the Giants' Matt Duffy and the Pirates' Jung Ho Kang. Duffy totaled 77 RBIs and 77 runs and had the most hits of any rookie (169), while Kang was batting .287 with 15 homers, 24 doubles and 58 RBIs before a leg injury ended his season. Geovany Soto was the last Cubs player to win top rookie honors, doing so in 2008.
Bryant was the rookie to watch even before he got to the big leagues. He met Maddon briefly during the 2014 Winter Meetings, when Bryant was honored as top Minor League player, but it wasn't until Spring Training this year that the two got to know each other. Maddon's impression of the young third baseman?
"That he gets it," Maddon said in February. "Of course, he's talented, great body, great power, wonderful arm, good third baseman, good outfield. He's a lot of good things, and he gets it. I think he understands the work involved necessary to be great. He's rather humble for me. He's not outgoing in a sense in a negative way. He knows he's good. There's also a humility about him, too."
After leading the Major Leagues in home runs in Spring Training, Bryant's Major League debut was delayed until the Cubs promoted him to replace injured Mike Olt on April 17. Bryant never looked back. He led all rookies in RBIs (99), doubles (31) and runs (87), and he was second in walks (77) while batting .275. The only other player in Major League history to reach 26 homers, 99 RBIs, 31 doubles, 87 runs and 77 walks in his rookie season was Boston's Ted Williams in 1939.
Bryant had a less-than-stellar debut against the Padres at Wrigley Field, striking out in three of his four at-bats on April 17. He didn't hit his first big league home run until May 9 at Miller Park, and he was greeted by an empty dugout as his teammates gave the rookie silent treatement. The Cubs did celebrate later, and he christened the left-field bleachers at Wrigley Field with his second homer on May 11.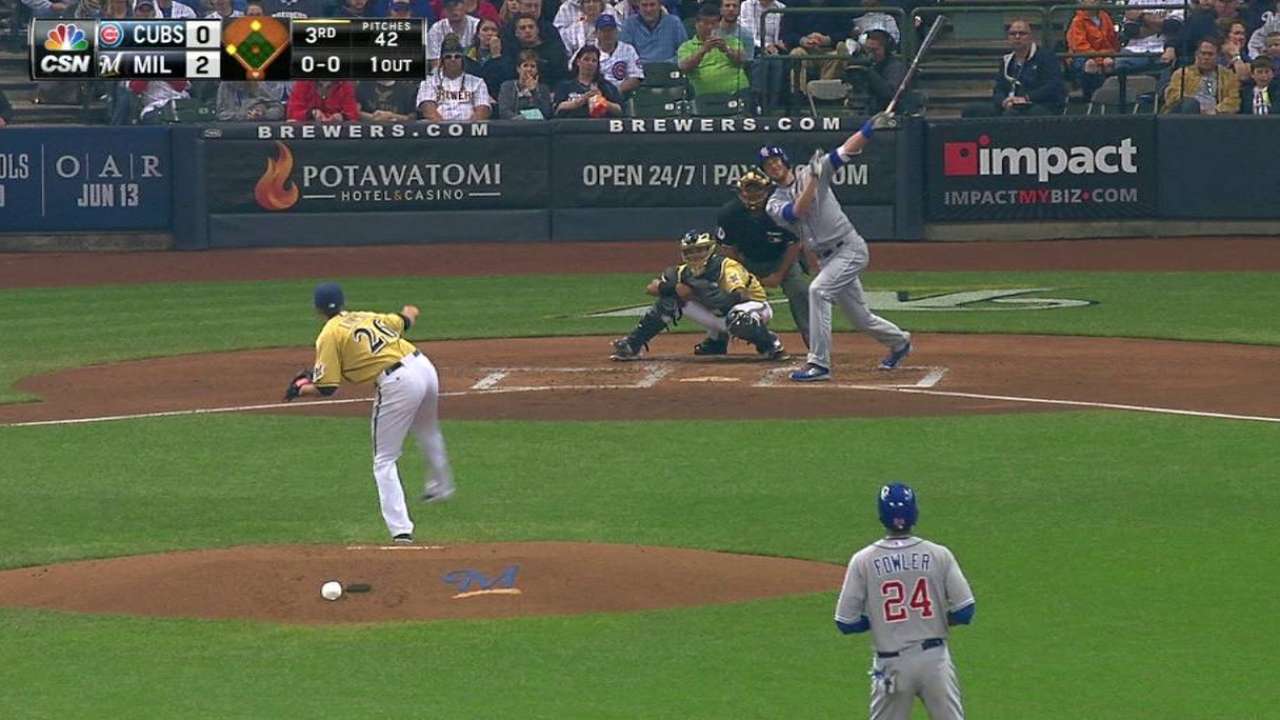 Bryant batted .308 with runners on, and he belted two walk-off blasts -- a two-run shot with two outs in the ninth on July 27 against the Rockies, and a solo homer with two outs in the ninth Aug. 24 against the Indians.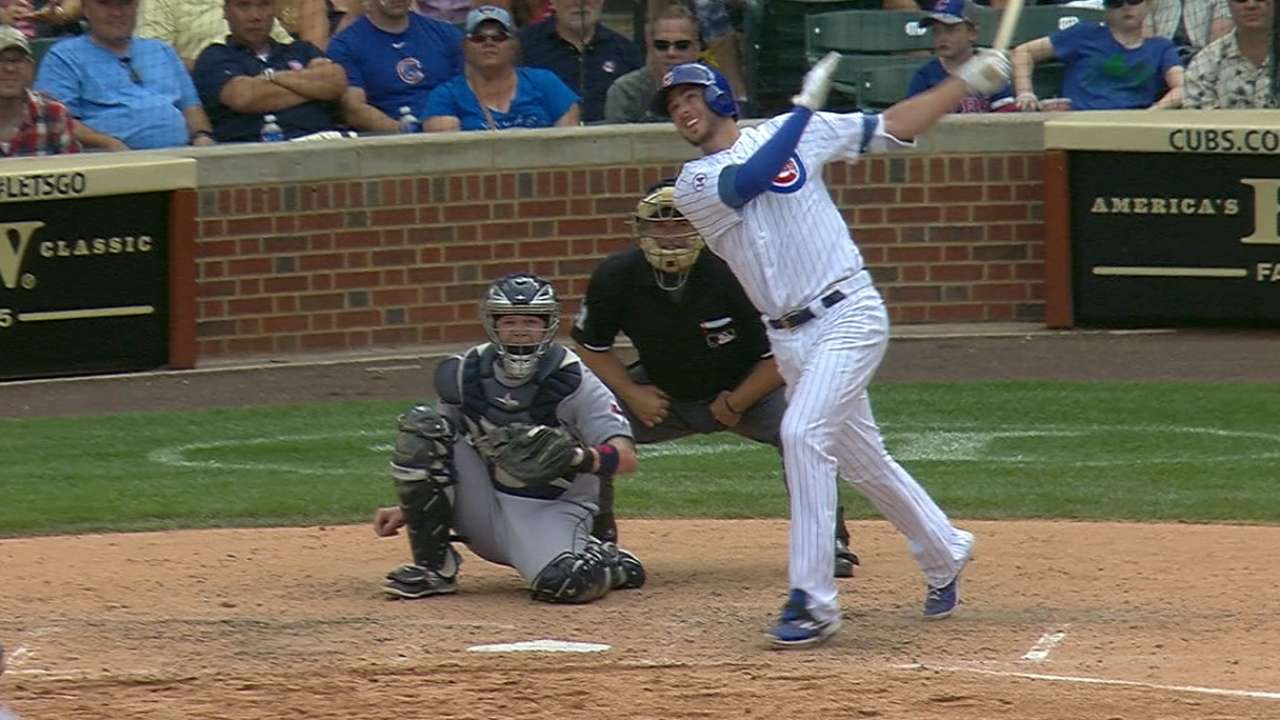 What the BBWAA voters may not know about the rookie is that he's very generous. This spring, Bryant donated two sets of uniforms and cleats to Bonanza High School in Las Vegas, where he played. He's also treated the Cubs' athletic trainers and staff to new shoes.
Making the postseason in his first year in the big leagues was impressive, but the moment the Bryants will likely talk about the most this offseason came in July at the All-Star Game. Bryant was named to the NL squad and competed in the Home Run Derby. His pitcher was his father, Mike, an outfielder in the Red Sox system long ago who never made it to the big leagues.
"This is just frosting on the cake that he's in the Home Run Derby and I'm able to pitch to him," Mike Bryant said in July. "I'll take the chocolate, with the cake being that Kris made the All-Star team."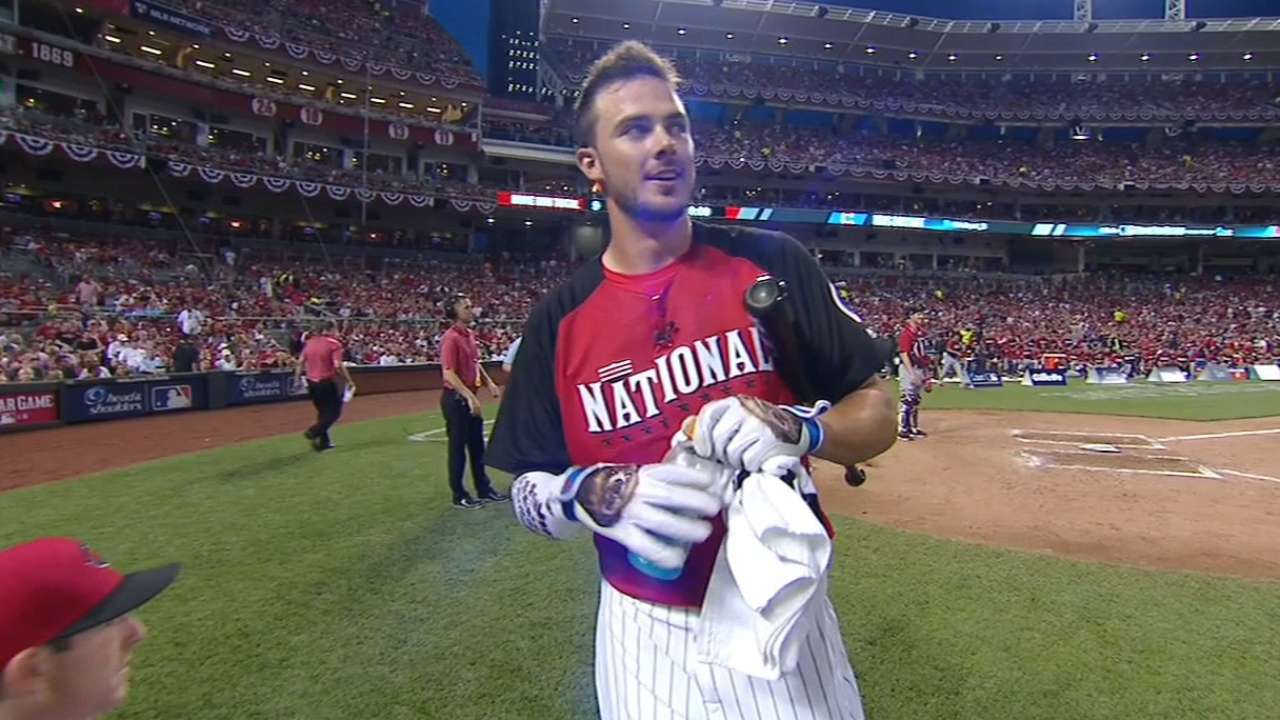 Other 2015 Bryant highlights:
• He's the first Cubs rookie to hit two grand slams in a season since Hall of Famer Billy Williams did so in 1961. The only other Cubs rookie with two in one year was Howard Earl in 1890. Bryant is the first Cubs player since Derrek Lee in 2009 with two grand slams in a single season.
• Bryant now holds the Cubs' single-season franchise rookie marks in home runs, RBIs, extra base hits (62) and total bases (273). Bryant's 99 RBIs are the most by any NL rookie since the Nationals' Ryan Zimmerman had 110 in 2006.
• Bryant delivered 17 game-winning RBIs. Since the turn of the century, only two rookies reached that number: Albert Pujols (21 in 2001) and Hideki Matsui (17 in '03).
Maddon talked often about Bryant's skill not just at the plate, but also on the basepaths, at third base, and in the outfield.
"He's a good baseball player," Maddon said of Bryant. "He's one of the better young baseball players I've had. Period."
Carrie Muskat is a reporter for MLB.com. She writes a blog, Muskat Ramblings. You can follow her on Twitter @CarrieMuskat and listen to her podcast. This story was not subject to the approval of Major League Baseball or its clubs.