All-around threat Lindor has strong ROY case
Finalist for BBWAA Award put up impressive numbers 'across the board,' Francona says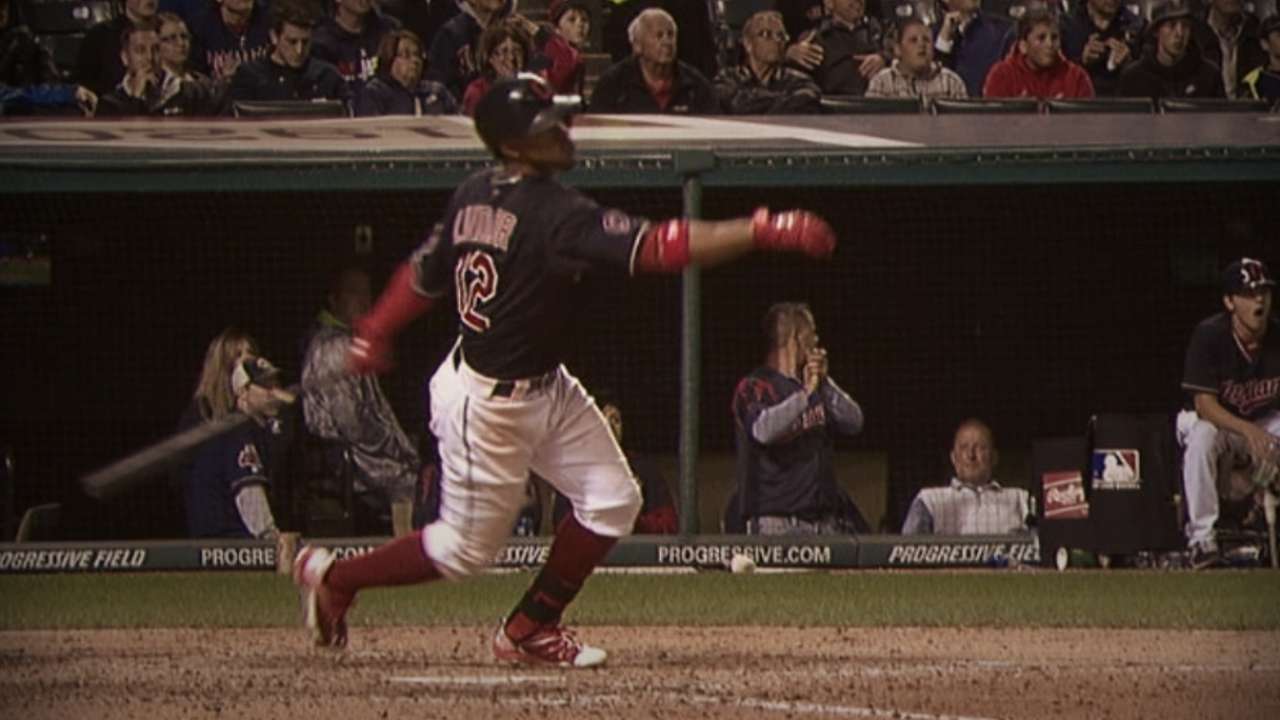 CLEVELAND -- This is a question that lacks an incorrect answer. When analyzing whether Indians shortstop Francisco Lindor or Carlos Correa should win the American League Rookie of the Year Award, the reality is that both are deserving of the annual honor.
Tonight, the Baseball Writers' Association of America's pick for this year's top rookie will be unveiled at 6 p.m. ET on MLB Network, providing the answer to this trick question. Twins slugger Miguel Sano is also a finalist for the honor, but the overwhelming consensus is that the annual accolade will wind up in the hands of one of the two budding shortstop stars.
"I know the kid Correa's been really good," Indians manager Terry Francona said near the end of last season. "But Frankie's been across the board: defensively, offensively, on the bases, power. He's done it all."
That sums up Lindor's case for becoming Cleveland's first Rookie of the Year recipient since 1990, when catcher Sandy Alomar Jr. took home the award. In Lindor, who turned just 22 years old on Saturday, the Indians had an all-around threat. Rookie status aside, he was one of the game's elite defenders at shortstop. In the batter's box, he helped energize the top of the Tribe's lineup.
Lindor and Correa were born 10 months apart in Puerto Rico. Their birth cities -- Caguas and Ponce, respectively -- are roughly 60 miles apart. They were drafted in the first round one year apart (Lindor in 2011 and Correa in '12). They reached the Majors six days apart (June 8 for Correa and June 14 for Lindor). And now, they could also be in for a close finish in voting for the AL Rookie of the Year.
Here is a look at Lindor's case for the award:
Defensive impact
Whether by traditional or newer metrics, the Indians were the worst defensive team in baseball in 2014. Things did not improve much over the first two months of this past season, which played a large role in sinking Cleveland to the bottom of the AL Central for most of May.
The Indians were dedicated to their development plan for Lindor, choosing to ride out the storm rather than potentially pulling the trigger too fast on the shortstop's promotion to the Majors. After calling Lindor to the big leagues, though, Cleveland's defense began to steadily improve, helped along by a handful of other roster changes as well.
Consider that on May 20, Cleveland had minus-25 Defensive Runs Saved as a team. After installing Lindor at shortstop, promoting Giovanny Urshela to play third base, acquiring Abraham Almonte to man center field and transitioning Lonnie Chisenhall to right field, the Indians improved dramatically in the field and ended 2015 with 18 DRS, which ranked third overall in the AL.
Lindor had 10 Defensive Runs Saved at shortstop, marking the most among all AL shortstops. It also marked the most in a season by an Indians shortstop since Omar Vizquel had 10 for Cleveland in 2003. Among the 18 AL shortstops with at least 400 innings, Lindor's 18.9 UZR/150 ranked first. Jose Ramirez, who opened the year as the Tribe's shortstop, had minus-2DRS and a minus 24.7 UZR/150.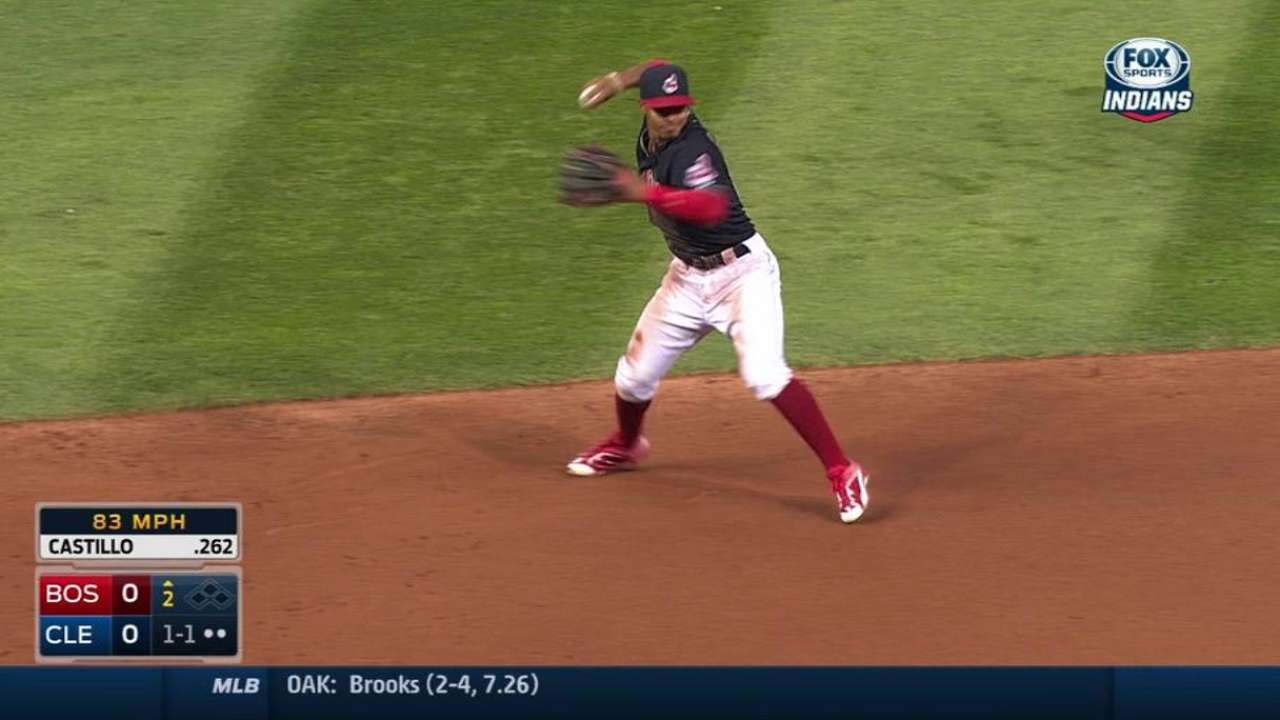 There was a shift in the approach of Cleveland's pitching staff, too.
Prior to Lindor taking over at shortstop, Indians pitchers allowed a .321 batting average on balls in play, averaged 9.6 strikeouts per nine innings and had a 44.4 percent ground-ball rate with 0.69 double-play groundouts per nine innings. After Lindor assumed the reins at short, the BABIP dipped to .271, the strikeout rate dropped to 8.4 and the ground-ball percentage (45.8) and double-play grounder rate (0.78) each rose.
Historic showing
Lindor's defense was hardly his only calling card. In the batter's box, the young switch-hitter got over a slow start, eventually thriving in the second spot of the order to the point where he became one of the AL's top hitters in the second half.
Following the All-Star break, Lindor hit at an AL-best .345 clip and churned out the third-most hits (99) in the league. Lindor's 156 total bases in the second half were tied with Edwin Encarnacion for fourth in the league, trailing only Chris Davis, David Ortiz, Josh Donaldson.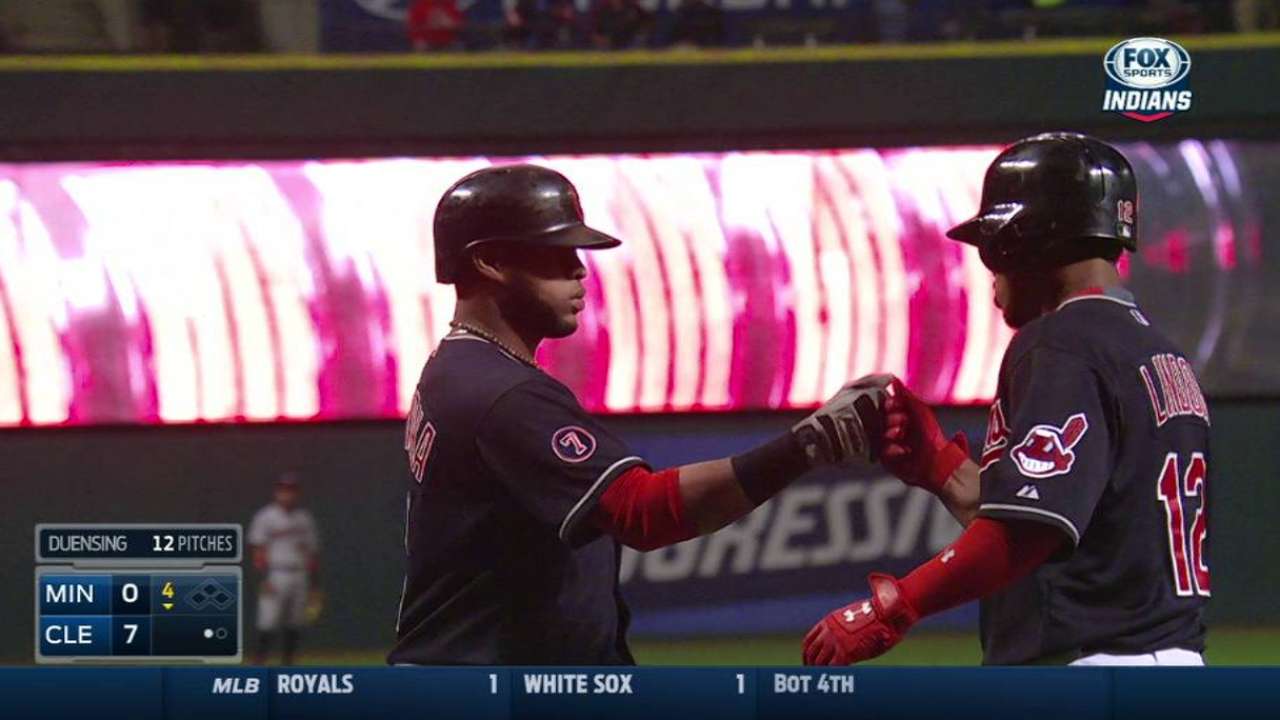 While Lindor was hardly alone, his presence in the lineup helped turn Cleveland's season around. The Indians were one of the better teams in the second half, pulling within earshot of the AL's second Wild Card before being eliminated in the season's final week.
When it was all said and done, Lindor had fashioned a 4.6 WAR, according to Fangraphs. Dating back to 1950, that is tied with Cal Ripken (1982) for the fifth-highest mark by a rookie shortstop. Others on that short list include Nomar Garciaparra (6.4 in '97), Billy Grabarkewitz (6.1 in '70), Bobby Grich (5.4 in '72) and Troy Tulowitzki (5.2 in '07). Lindor is the only one in that group to do so in fewer than 100 games.
Lindor was the sixth-fastest player to reach 100 career hits in Indians history and only the second rookie in team history (joining Earl Averill in 1929) to have at least 10 steals, 10 homers, 100 hits and a .300 average. In AL history, those plateaus have only been achieved 16 times by a rookie. Since '90, the others to do so include Mike Trout ('12), Chris Singleton ('99), Garciaparra ('97) and Derek Jeter ('96).
Compared to Correa
Correa hit in the middle of the order for an Astros team that earned a spot in the postseason. That alone will surely be enough to sway some voters, considering that Cleveland was not a playoff team this year. When comparing the numbers of the shortstops, though, the vote could simply come down to statistical preference.
Lindor's slash line was .313/.353/.482, compared to .279/.345/.512 for Correa. Both shortstops played 99 games and had nearly the same number of plate appearances (438 for Lindor and 432 for Correa). Houston's shortstop ended with more home runs (22 to 12) and RBIs (68 to 51), while Lindor had the edge in hits (122 to 108). Correa (14-for-18 on stolen bases) and Lindor (12-for-16) had similar success on the bases.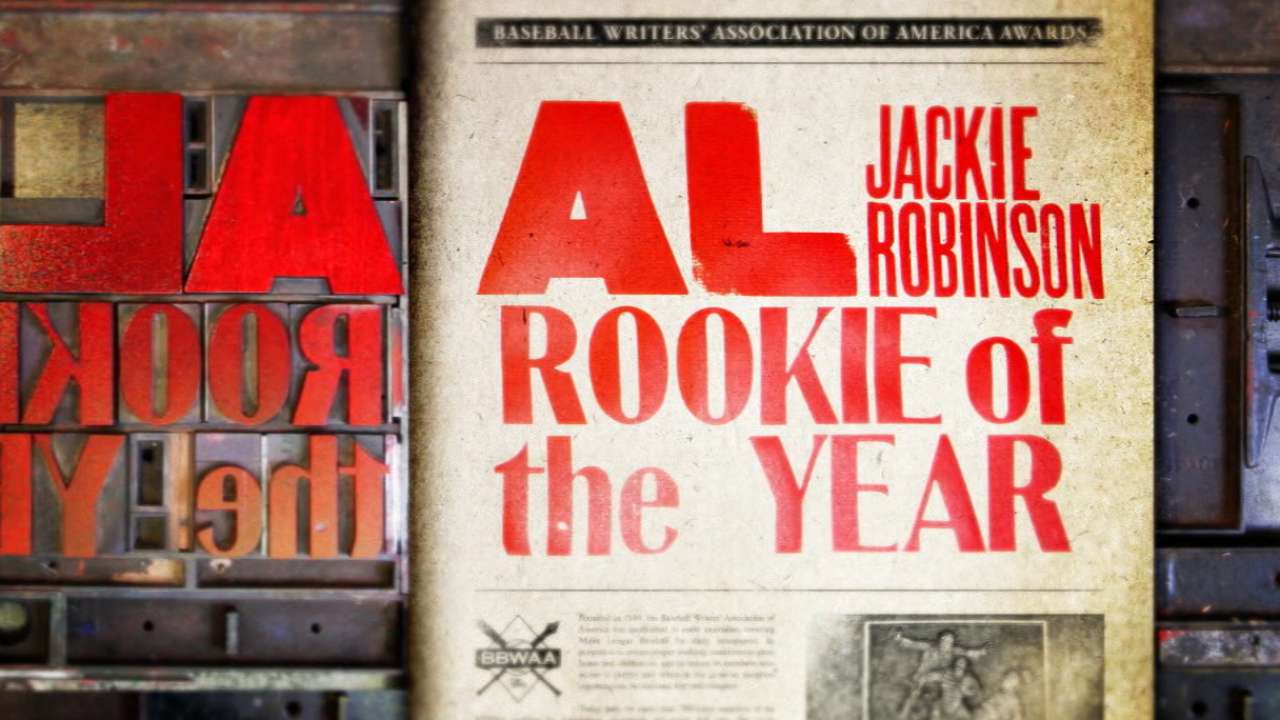 In terms of advanced metrics, Correa's weighted runs created plus was 133, indicating that he was 33 percent league average as a hitter. Lindor registered an impressive mark of 128, and had the advantage in WAR (4.6 to 3.3), thanks in part to his defensive skills.
Where Lindor was clearly ahead of Correa was in the field. While the Indians' shortstop rated as one of the league's best at his position on defense, Houston's shortstop had zero Defensive Runs Saved and a minus-13.7 UZR/150 rating. In roughly the same sample of innings (870 2/3 for Correa and 865 1/3 for Lindor), Cleveland's shortstop had 10 errors and Correa had 13.
If all-around performance is most important to the vote, Lindor should be the clear choice. If a voter prefers a player with more power, or is influenced by the fact that one of the teams got to the postseason while the other did not, than Correa would be the appropriate choice.
This may simply be a case where there is no right or wrong answer.
Jordan Bastian is a reporter for MLB.com. Read his blog, Major League Bastian, follow him on Twitter @MLBastian and listen to his podcast. This story was not subject to the approval of Major League Baseball or its clubs.