Wilson: KC Royal-ty in store for '15 champs
Former star outfielder believes Kansas City is still the place to be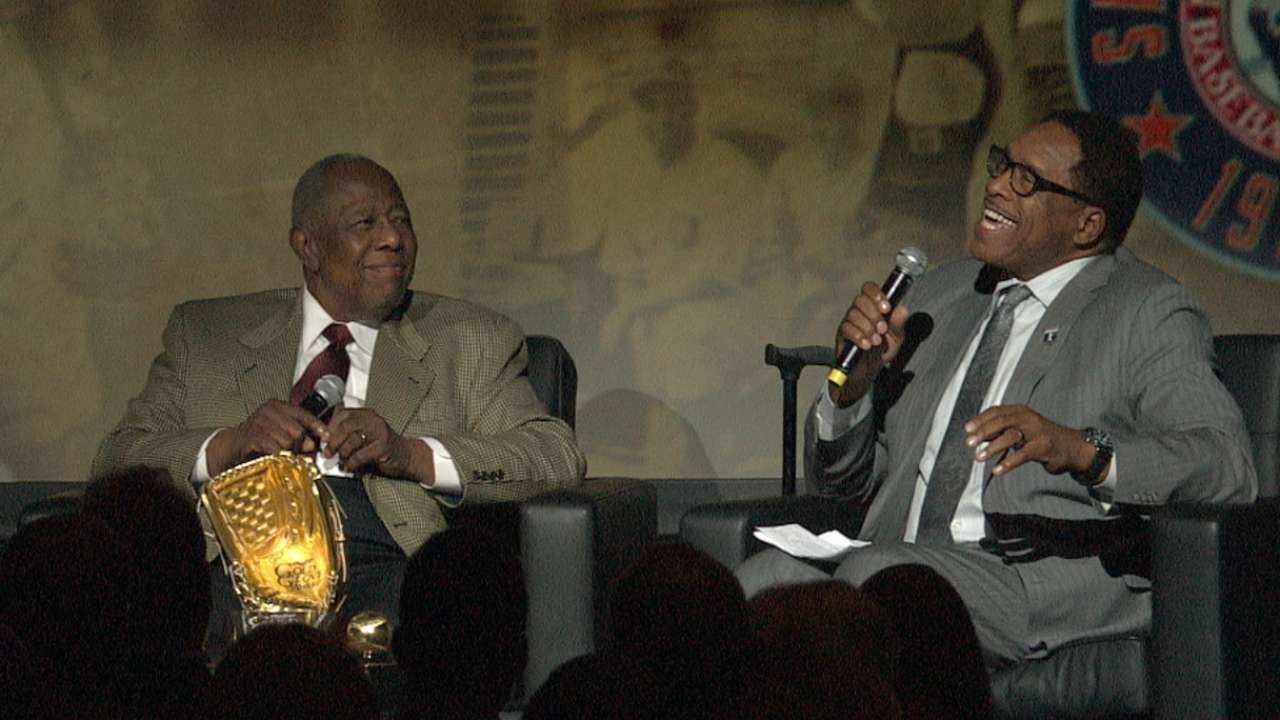 KANSAS CITY -- The joy that Willie Wilson experienced as an outfielder on the Royals' 1985 World Series-winning club has translated into a busy but joyous life as a local legend.
When Wilson isn't golfing, he works locally for Time Warner Cable on a baseball show called "The Blue Zone," and does autograph shows and celebrity appearances. Wilson was asked on Saturday if he would turn the lights on for a civic Christmas celebration in St. Joseph, Mo.
For 30 years, Wilson and many of the stars from 1985 stayed around. They received jobs and celebrity status. They provided fond memories, which were sorely needed during the franchise's struggles. But the Royals made the World Series last year and this year broke the title drought.
• NLBM gala headliner Aaron recalls early strife
While appearing Saturday night at the Negro Leagues Baseball Museum's 25th annual gala, Wilson, 60, said the same spoils are in store for the 2015 Royals, if they'll accept them. And there is plenty of room for more Royals legends.
"I hope so," Wilson said. "They would get a chance to experience what we've been experiencing for 30 years as a World Series champion. If they do stay around, they'll really notice the benefits of being an ex-champion. They'll also know how lovingly the people are toward us. They'll be the same way toward them.
"It's great what these guys have brought back. I've had a lot of people say that to me, 'I got to see you guys 30 years ago. Now my child is the same age and they get to see it.'"
Will the 2015 Royals place deep roots in the community the way standouts such as Wilson and stars such as Hall of Famer George Brett and Frank White have? Check back in 30 years.
There are some similarities. Players today make far more money, but those Royals were one of the original large-market franchises. Late owner Ewing Kauffman, who has been honored by having the stadium renamed for him, signed many stars to contracts considered astronomical at the time.
But there are key differences. The current Royals have a Latin American flavor, with players loyal to their home countries. And as has been the case throughout baseball, Spring Training facilities such as the Royals' in Surprise, Ariz., are so complete that players often live in those areas to do offseason work in dependable weather.
Wilson also said back then ownership made local roots a priority. It was in keeping with tradition. The Chiefs who won Super Bowl IV in January 1970 are still a presence. Football Hall of Famers Bobby Bell and Willie Lanier heard about the NLBM gala and took time out from football-related functions to greet baseball Hall of Famers such as Hank Aaron, Dave Winfield and Ferguson Jenkins.
"I don't know if they understand today what it means because these guys make so much money that staying in the community is not in the forefront," Wilson said. "Mr. K had us stay here -- that was part of our contract to stay here.
"The thing is, I like it here. It's a great place to raise a family. The housing is not too expensive. You get land with your house. It's just an easy place to travel. It's right in the center."
The current Royals have made Kansas City the place to be for a ballplayer. They have the '85 club as proof that it can also be the place to stay.
Thomas Harding is a reporter for MLB.com. Follow him on Twitter @harding_at_mlb, and like his Facebook page. This story was not subject to the approval of Major League Baseball or its clubs.