Aaron recalls Negro Leagues at gala in KC
Hall of Famer's career began in Negro Leagues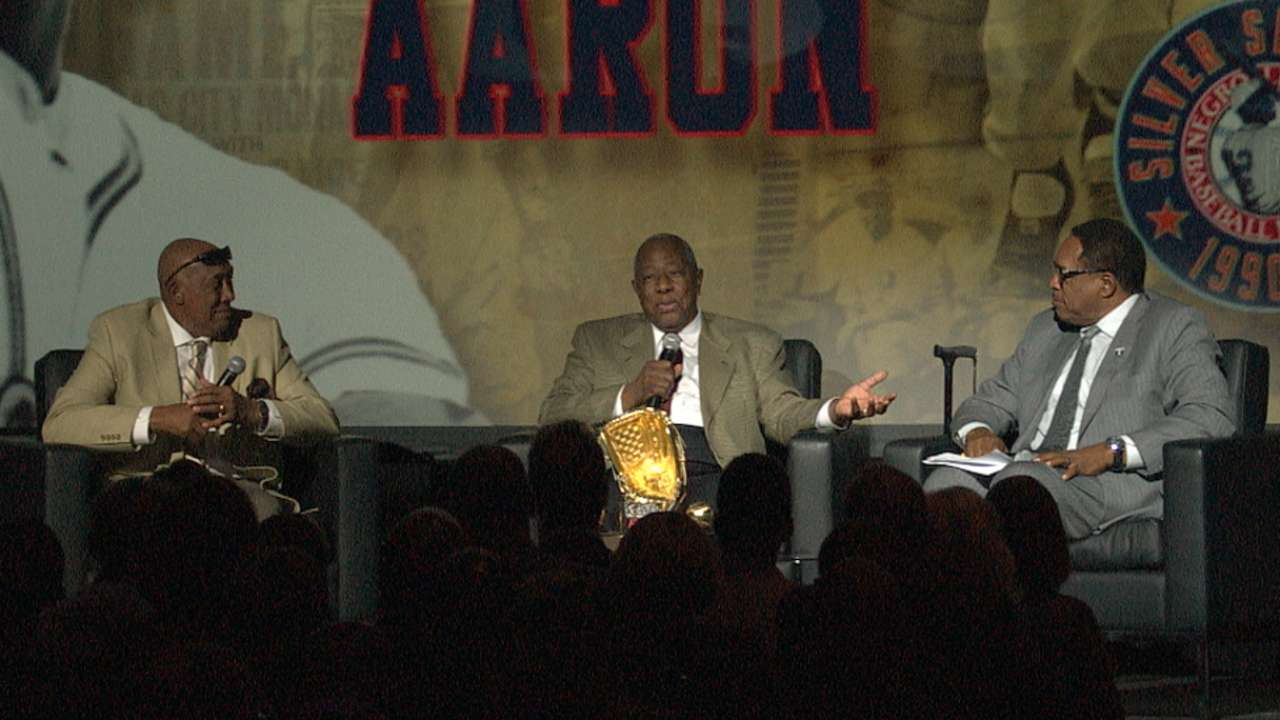 KANSAS CITY -- He is "Mr. Aaron" to almost everybody. But when his dreams take him way back, he sees himself as "Little Brother."
Praise for Aaron flowed Saturday night at the Bartle Hall Grand Ballroom, where the legend headlined the Negro Leagues Baseball Museum's 25th Anniversary Gala -- praise from fellow Hall of Famer Dave Winfield, from former player and current MLB Players Association executive director Tony Clark, and from Jeffrey Hammonds, MLBPA's special assistant for player program development.
Fellow Hall of Famer Ferguson Jenkins has earned the right to call the slugger Hank -- after all, he faced Aaron for 11 years. But his first word in reference to his old adversary was "respect." When Jenkins broke in with the Cubs in the 1960s, the late Hall of Famer Ernie Banks would regale him with stories of Aaron's greatness.
Willie Wilson, an outfielder on the Royals' 1985 World Series championship team, who has a local level of enduring respect in a city still celebrating its first title since then, admitted he is still nervous in Aaron's presence.
• Wilson says KC Royal-ty in store for '15 champs
But Aaron, 81, smiles at his recurring dream of the days when he was Little Brother -- and years from being called mister. In 1952 he was an 18-year-old shortstop, who had $2.50 in his pocket when he signed with the Negro Leagues' Indianapolis Clowns. He battled homesickness and has said in the past that a phone call from his brother, Herbert, convinced him to persevere.
It was a hard time, but the strife and the years melted away when Aaron recalled a teammate who helped him directly.
"I think about a young man, who I call my seatmate when I was there. His name skipped my mind," Aaron said. "We only stayed in a hotel on Saturday nights. Sunday, Monday and the rest of the week, we traveled. I just remember some of the things that he taught me as a young man. He was much older than I was.
"We used to take $2 between the two of us and we would buy a big jar of peanut butter. This was real peanut butter. This wasn't the kind that had the oil on the top. It was the kind that when it got right here [in the throat], it stayed there for a while. It kind of choked you for a while.
"I would think about all of those times he would pat me on the back and say, 'Just hang in there, Little Brother.' That's what he called me. 'Things are going to get better. You're a hell of a ballplayer. Pretty soon you're going to get out of this and you're going to play Major League Baseball.' I recall that so well. I recall him so well. Every time I put on a uniform, I just went out there to do the best I could do."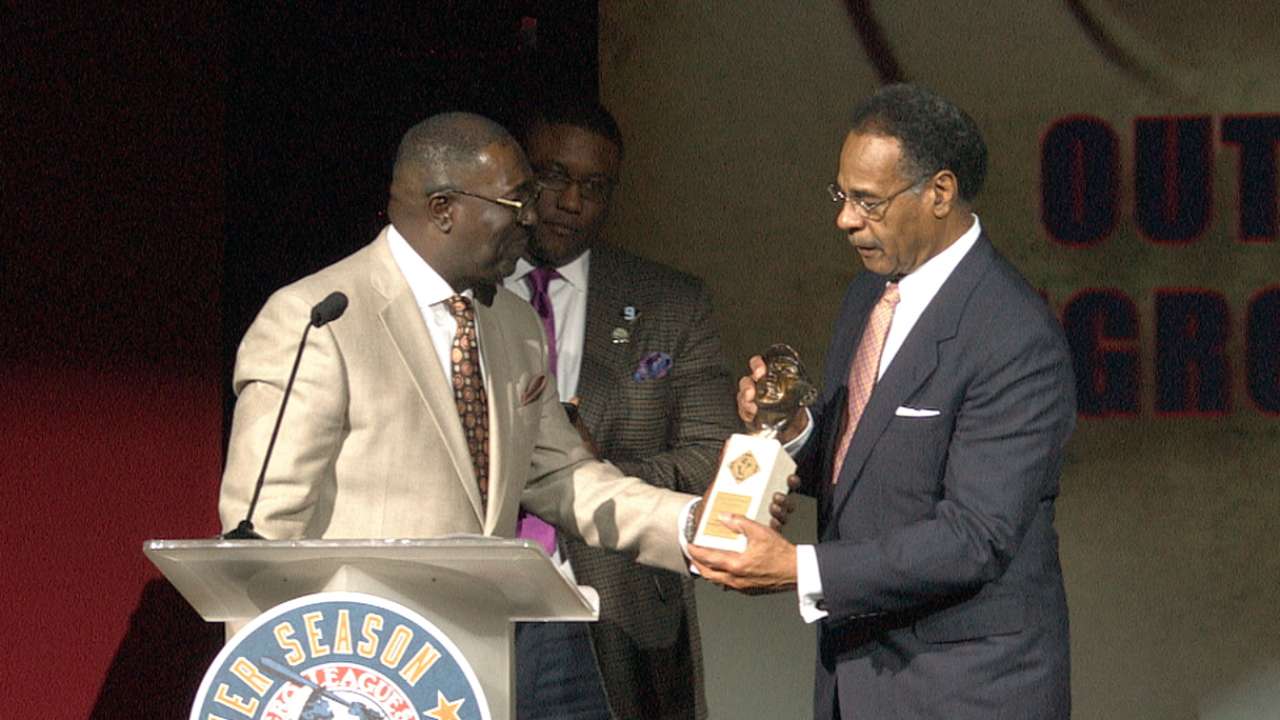 Such stories of maintaining a dream during a time when African Americans were either excluded, or in the case of Aaron -- five years after Jackie Robinson broke in with the Dodgers -- were barely included, are what the NLBM aims to preserve. Proceeds from Saturday's event will benefit the NLBM and the Buck O'Neil Research Center, which could open as soon as next spring in Kansas City.
Aaron didn't endure essentially living on a bus and playing a brutal schedule for long. The Boston Braves signed him after three months, and by 1954 he was beginning a legendary career with the franchise that had moved to Milwaukee. Of course, Aaron dealt with a different strife, angry letters and death threats, as he approached and shattered Babe Ruth's home run record in 1974.
Aaron experienced the Negro Leagues' struggle -- he, Willie Mays and Monte Irvin are the last living Negro Leaguers who went on to be enshrined in the National Baseball Hall of Fame. He also endured hatred from dark corners of America when he was, in many ways, baseball's brightest star. All this makes Aaron a figure who is real, but borders on unreal in the minds of those who followed.
"Honestly, I never imagined changing places," Hammond said. "I never imagined being the first. I've always recognized the achievements of the frontiersmen. They made it possible for me to dream, the Jackie Robinsons, the Hank Aarons, the Frank Robinsons, the Willie Mayses. Without them and their accomplishments … With Hank being here, he still gets me nervous. In no way, shape or form can I compare any of the other greats' accomplishments to his accomplishments -- the 755 home runs, the stories of what he had to endure.
"I live in Huntsville, Ala., now so his name still lives, as does Willie Mays'. The older gentlemen saw him. I heard the stories, at the barber shop, on the sideline of a game, at a fish fry. They don't talk about our contemporaries. They talk about what it was."
At the NLBM is a picture taken long before Aaron grew to be bigger than life. Aaron is wearing a long-sleeve button-up shirt and creased pants, and standing alongside railroad tracks in Mobile, Ala., waiting to embark on his Negro Leagues adventure.
"That picture … My mother, before she passed away, always reminded me that no matter how high you go, it can be tough when you start coming down," Aaron said. "In my pocket, I think I had $2.50 and no change of clothes. I had a little bag she gave me. That was it. I started with that.
"You have to start somewhere."
Aaron ascended from the Negro Leagues and never fell. But he never forgot.
Thomas Harding is a reporter for MLB.com. Follow him on Twitter @harding_at_mlb, and like his Facebook page. This story was not subject to the approval of Major League Baseball or its clubs.