Farmer leads Desert Dogs to narrow victory
Dodgers prospect follows three-run homer with RBI single in big game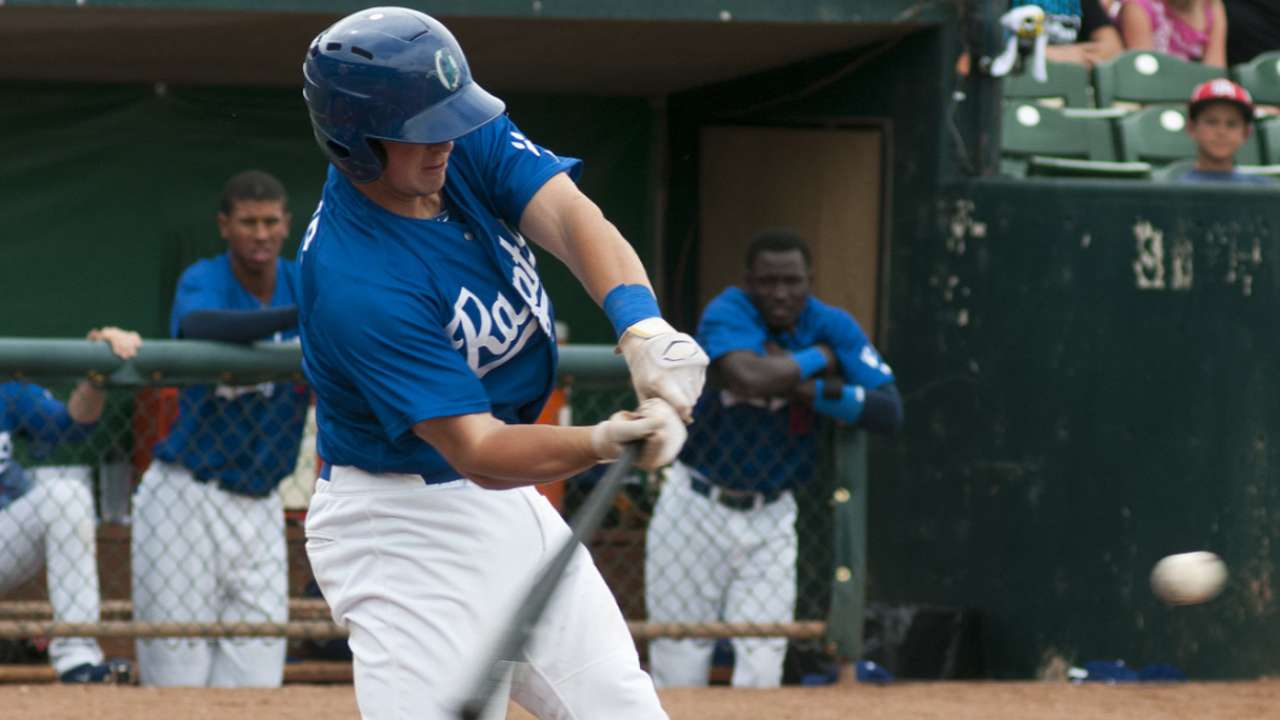 Kyle Farmer knows he should be exhausted, but he keeps finding another gear. Farmer, a catcher and third baseman in the Dodgers' organization, is thriving during his first run in the Arizona Fall League, and he made an impression with a home run and four RBIs in Glendale's 7-6 victory over Mesa Friday.
Farmer, ranked as the No. 24 prospect in the Dodgers' farm system by MLB Pipeline, delivered a three-run home run in the first inning and later rapped an RBI single in the fourth. Farmer played in 120 games between two levels this season, but he said he's relishing the chance to keep playing.
"I love being the last professional baseball players playing in all the professional world," said Farmer of playing through November in the Arizona Fall League. "It's a good feeling. I thought I'd be tired by now, but I'm not. I want to make it to the championship game and bring back a ring to the Desert Dogs."
Farmer played shortstop in college, and he left the University of Georgia with the highest fielding percentage (.968) of any shortstop in the program's history. He's thrown out 35 percent of attempted basestealers as a professional catcher, but he also played in 27 games at third base this year.
Farmer credited his manager with Glendale, former big league catcher Bill Haselman, for allowing him to show off that part of his game. Haselman also managed Farmer for Class A Rancho Cucamonga last year, when the 25-year-old batted .337 in 44 games before a promotion to Double-A Tulsa.
Now, Farmer is playing for Haselman again and getting work in at both of his positions.
"I'm playing some third base," he said. "I've played two games at third base and the rest I've caught. I love playing third base, being a college infielder, so it gets me back to my glory days, I guess you can say. It's a lot of fun, and it takes a toll off my body too. I guess playing third base is kind of my day off. But I don't like too many days off. Wherever I am on the lineup card, that's where I'll play."
Farmer, an eighth-round selection in the 2013 MLB Draft, batted .272 after his promotion to Tulsa, and he said he's learning a lot by facing upper-level arms in the Arizona Fall League. Farmer, a career .300 hitter in 254 Minor League games, said he couldn't help but notice a jump in the caliber of competition.
"The pitching was definitely a step up going from High-A to Double-A," said Farmer of his two stops this season. "The pitchers have a better idea of what to do. The scouting reports are a bit better on hitters, and they know where your holes are. ... The competition is just definitely better up there, and the guys are a step or two away from the big leagues. But the pitching out here in the Fall League is also-top notch. Guys are one call away from the big leagues, and some have pitched in the big leagues."
Farmer is hitting .306 in Fall League play, and he has two homers after combining to hit just three between Rancho Cucamonga and Tulsa. Farmer, a native of Atlanta, is having a great time matching his skills against the best prospects in baseball, and he feels his big league debut could be drawing closer.
"It gives you a spark of energy," he said. "You kind of see the light at the end of the tunnel, but you also have to keep working really, really hard to reach that. It kind of re-energizes you, and it helps you to believe you can actually do this. If you don't believe in yourself, then you can't play this game. You have to play hard every day and play to win every day. That's what the Dodgers have taught me."
Spencer Fordin is a reporter for MLB.com. This story was not subject to the approval of Major League Baseball or its clubs.