CarGo sees a bright future for Rockies
Veteran outfielder would like to see club add pitching in offseason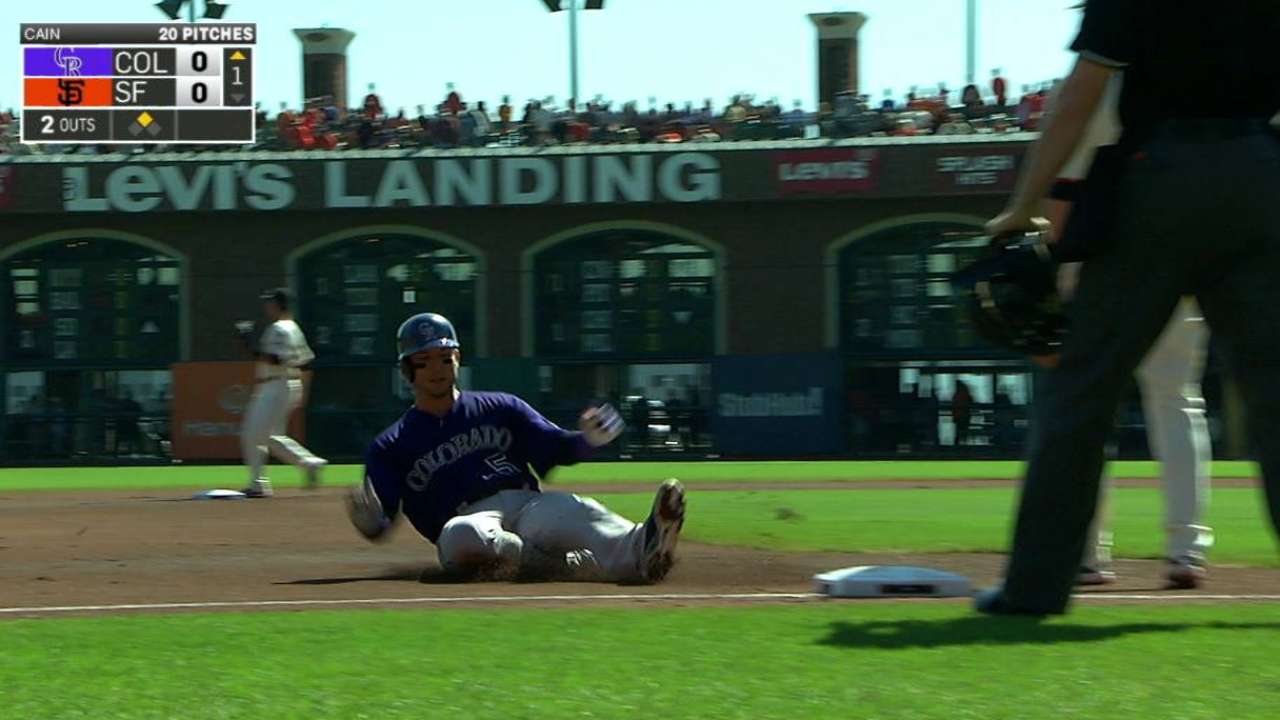 DENVER -- From the balletic bat-drops that accompany his home runs to the glove he insisted on designing to his style-conscious movements in right field, it's clear the Rockies' Carlos Gonzalez likes being seen.
But he also likes to watch and observe. And if his findings are correct, he and the Rockies are in for better days. Of course, that's provided the team improves its pitching and he's not dealt to get it.
The trade of shortstop Troy Tulowitzki to the Blue Jays left Gonzalez the second-longest tenured player on the roster, behind pitcher Jorge De La Rosa. He helped the club to the playoffs in 2009 and won the National League batting title in 2010. Since then, sometimes in uniform and often from the disabled list, he has witnessed five straight losing seasons.
After shedding years of hand and knee injuries, and a slow first month, he hit .271 and finished third in the NL in home runs with 40 and seventh in RBIs with 97. Gonzalez sees a team that could make a similar turnaround. That's despite the scant evidence that 2015's 68-94 record provides.
The 2016 season will be the fourth season as a regular for third baseman Nolan Arenado and second baseman DJ LeMahieu, and the third for center fielder Charlie Blackmon. Left fielder Corey Dickerson has gained experience the last two years. Areas of improvement do not include simple professionalism.
"When you first get called up, the first thing that goes through your mind is 'I don't want to go back to the Minor Leagues. What do I do to avoid it?'" Gonzalez said. "Even when your team is winning, you strike out and you get mad and start throwing things. All you think about is, 'Things are going bad for me.'
"I'm one of the oldest guys on the team, and I don't feel pressure to go after guys, tell them, 'You should do this' or 'You should not do that.' They're not trying to hit .300 to avoid a demotion to Triple-A. All they need to do is contribute."
If the Rockies make a major stride soon, Gonzalez said folks shouldn't forget Tulowitzki's contributions. Gonzalez's comments about the emotional energy Tulowitzki expended on the Rockies shed light into why the deal shook Tulowitzki emotionally.
"If you think about Derek Jeter, he never had any situation to say anything to any other player, because he had some professional players around him," Gonzalez said. "It was more stressful for Tulo because the guys were so young. But the losing wasn't Tulo's fault.
"He always said it in the newspaper and he said it to our faces. All he wanted to do was win games."
Gonzalez is in the camp that the Rockies need pitching "to compete with Clayton Kershaw, Zack Greinke or Madison Bumgarner." He allows that he could be the price for pitching, as Tulowitzki was. But Gonzalez has his heart invested in the Rockies.
"That's why Tulo never forced any trades or I didn't force any trades," Gonzalez said. "We've been around some good people here, some good players.
"I promise you, if it was a different atmosphere or a different situation, we'd have been like, 'I don't want to be here. It's not going to get any better.' I believe in this team."
Thomas Harding is a reporter for MLB.com. Follow him on Twitter @harding_at_mlb, and like his Facebook page. This story was not subject to the approval of Major League Baseball or its clubs.