Pitching tops Cubs' offseason wish list
GM Hoyer says club will be in contact with free agents as soon as possible
CHICAGO -- At 11 p.m. CT on Friday, the exclusive signing period ends and Major League teams are able to talk to any free agent on the market. The Cubs aren't going to waste any time pursuing the players they've targeted this offseason.
"We feel that you want people to know right away that you're interested," general manager Jed Hoyer said Friday. "There's a human, emotional connection, that, 'Hey, these guys want us.' We definitely look to contact guys who we're interested in once we're allowed to do that."
Hoyer and Cubs president of baseball operations Theo Epstein don't plan on waking anyone up at 11:02 p.m. with a call, but it won't be too long after that when they reach out. The Cubs want to add more pitching this offseason to complement the core of young position players on the roster. There are plenty of arms available in a deep free-agent market.
"Our focus will be on adding pitching," Hoyer said. "I think we'll certainly look to add multiple starting pitchers at various levels of the organization. We could add a couple guys at the Major League level, but what we hope to add is to our 40-man roster -- we'll look to add considerable depth."
• Rogers: 5 moves to improve Cubs for 2016
The Cubs' rotation was relatively healthy in 2015 en route to a 97-win season and postseason berth, with Jason Hammel the only starter to miss extended time. But the club wants more depth. Heading into the General Managers Meetings, which start Monday in Boca Raton, Fla., the Cubs do have a better idea of what the 2016 payroll will be. They did get a bump from the postseason run, but Hoyer cautioned that doesn't mean they'll sign free agents David Price, Zack Greinke and Jeff Samardzija.
"We're going to try to improve our team," said Hoyer, who had a $120 million payroll in 2015. "We have some financial flexibility. ... I think some of the rumors about us are a little bit extreme."
Samardzija, 30, who was drafted by the Cubs in 2006, could be an interesting addition. He pitched for the team from 2008 until he was dealt to the Athletics in July 2014, then went 11-13 with a 4.96 ERA in 32 starts with the White Sox this year. If Samardzija returns to the North Side, he could be slotted into the third or fourth spot in the rotation.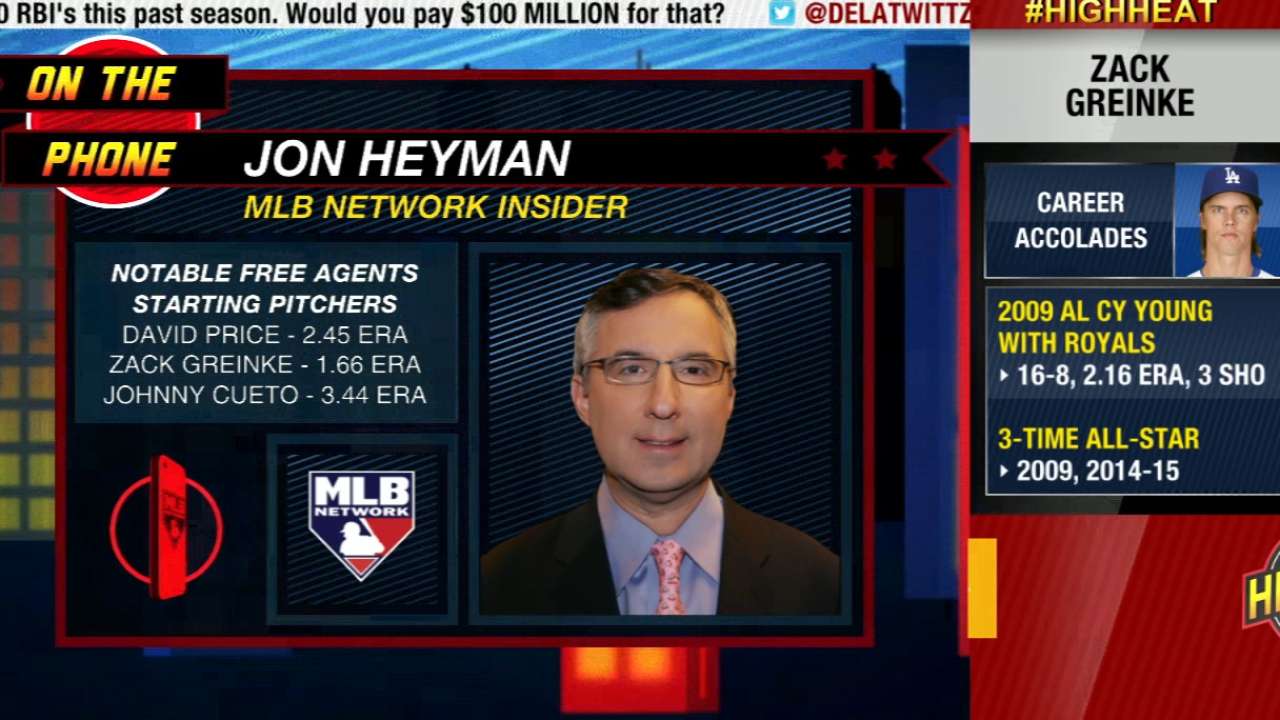 The Cubs do want to retain some of their free agents, and it's most likely they'll target relievers such as Clayton Richard and Trevor Cahill, who helped in the stretch run. The Cubs also will look at the free agents who were given qualifying offers by other teams, even though it would cost them a Draft pick if they sign one.
"We have a really good core of young players," Hoyer said. "I think we're clearly a team that's poised to win and that's the most important factor that we'll consider in free agency, is how does this player affect our ability to win in the near future? The Draft pick is important, and we built this team through the Draft, in large part, and trades, but when you're in that kind of winning window, I do think you have to look at that consideration differently than when you're building."
The Cubs did make a one-year, $15.8 million qualifying offer to center fielder Dexter Fowler, and he has until Nov. 13 to accept it. If Fowler does not return, the Cubs will need another center fielder and leadoff man. Although he played some outfield, Kris Bryant is not considered an everyday option in center. Who knows? Maybe Javier Baez could play center if Fowler doesn't return.
The Mariners and Rays got a head start with a six-player deal on Thursday. It could be a fast-moving trade market. So far, Hoyer and Epstein have had exploratory talks with all of the other teams. Would the Cubs part with some of their talented young position players?
"You can never say 'never,'" Hoyer said. "If something makes sense where we would trade out some surplus on the position player side for some pitching depth, I think that's something we have to explore."
Carrie Muskat is a reporter for MLB.com. She writes a blog, Muskat Ramblings. You can follow her on Twitter @CarrieMuskat and listen to her podcast. This story was not subject to the approval of Major League Baseball or its clubs.