Shaw sees versatility as key to playing for Sox
Playing third in winter ball, first baseman making himself more valuable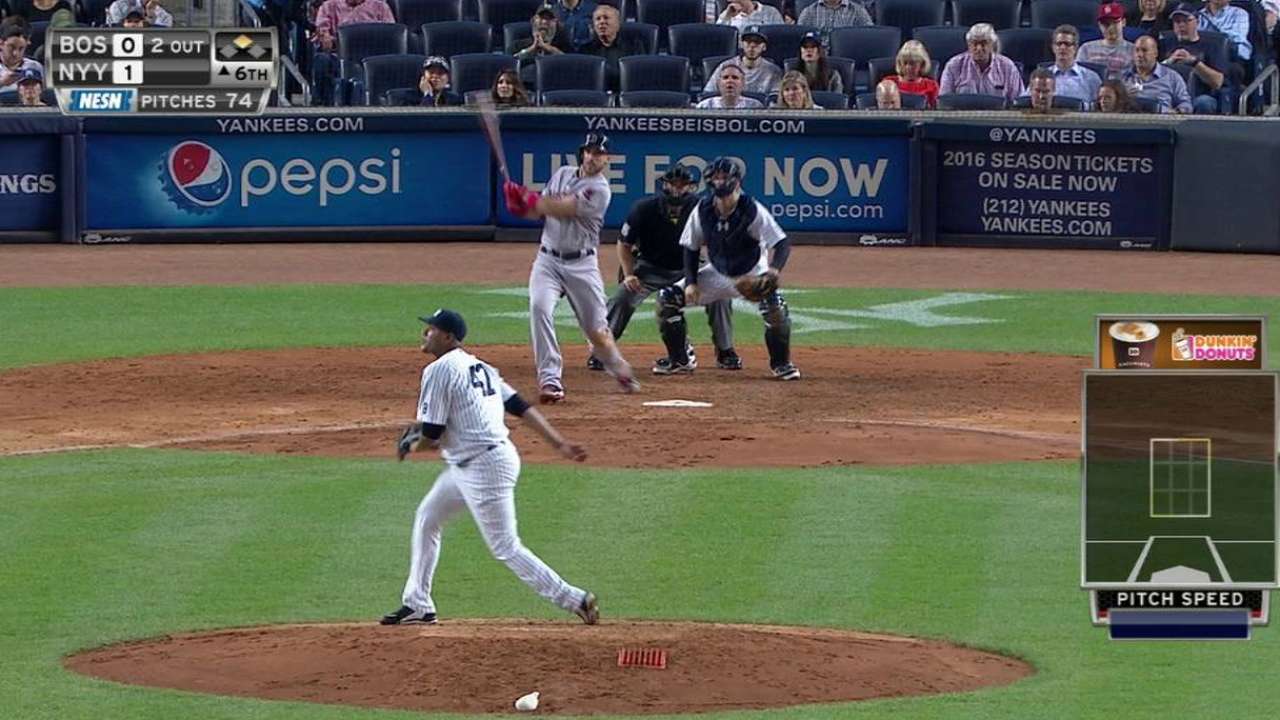 BOSTON -- If Travis Shaw doesn't have a clear spot on the Red Sox heading into 2016, he hopes to create regular at-bats with his versatility. This is why Shaw enthusiastically flew to Puerto Rico a couple of weeks ago to play third base in winter ball until Thanksgiving.
Shaw's power from the left side -- which he displayed down the stretch in 2015 -- is a valuable commodity for the Red Sox.
A first baseman by trade, Shaw has some experience at third, and he would like to gain more comfort there. He also has no problem getting more looks in the outfield after playing three games there for Triple-A Pawtucket.
Brock Holt, Boston's lone All-Star in 2015, was living proof of the value of being able to play multiple positions. While Holt took it to an extreme, playing no fewer than seven, Shaw could be plenty valuable to the Red Sox by just being able to play the two corner-infield spots and left field while giving David Ortiz a day off at times at DH.
At this stage of his career, Shaw buys into the value of being able to wear a few different gloves.
"Yep, I do," said Shaw. "This year, my first couple of opportunities were because I started playing more third base. Being versatile, it opens up many different options and helps you find different ways in the lineup."
After belting 13 homers for the Red Sox in his first 248 Major League plate appearances, Shaw has plenty of confidence.
At least in the immediate future, it's unclear if there is a place for Shaw regularly. Hanley Ramirez will get every opportunity to show he can play first base come Spring Training, and if that experiment goes well, the job will be his. Pablo Sandoval is under contract for four more years to play third base, and assuming he doesn't get traded, that job will be his. Ortiz is back for at least another year as the designated hitter, and perhaps two.
The outfield could belong to Rusney Castillo, Mookie Betts and Jackie Bradley Jr.
But Shaw could be the ultimate insurance policy.
"Right now, I feel like I'm pretty good at first, I'm pretty good at third and I'm trying to also get a little bit more comfortable in left field," Shaw said. "That's three positions in the field, and you always have the DH if Papi needs a day off. Being versatile and opening up multiple positions that you can crack a lineup is huge nowadays."
And if a player hits like Shaw did last year -- albeit in a relatively short sample size -- at-bats will be created.
"One of the things he has going for him is the versatility," said president of baseball operations Dave Dombrowski. "We like him as a player. He did very well for us up here. He has versatility, which is great, because he can play first. You saw that he can play third. I have not seen him play left field, but they tell me he can go out and play left field, also. Like a lot of the young guys, he has to continue those same strides forward, but if he plays the way he did last year, there will be room for him on the club."
One of the fascinating things about Shaw's 2015 season is that he performed better in Boston (.270/.327/.487 in 248 plate appearances) than at Triple-A Pawtucket (.249/.318/.356 in 322 plate appearances).
"Some of it has to do with information," said Shaw. "There's a lot more information that is available for you up in the Major Leagues. You can pick out tendencies of pitchers, you can watch video. You get instant feedback from video. Having all that information for you helps. The lighting is a major difference. A lot of people think you're nuts when you say that, but it is a big difference."
Shaw hopes to stay with the organization that drafted and developed him.
"I hope I'm a huge part of the Red Sox," said Shaw. "I love this organization. It's all I've ever known."
Ian Browne is a reporter for MLB.com. This story was not subject to the approval of Major League Baseball or its clubs.