White Sox extend qualifying offer to Samardzija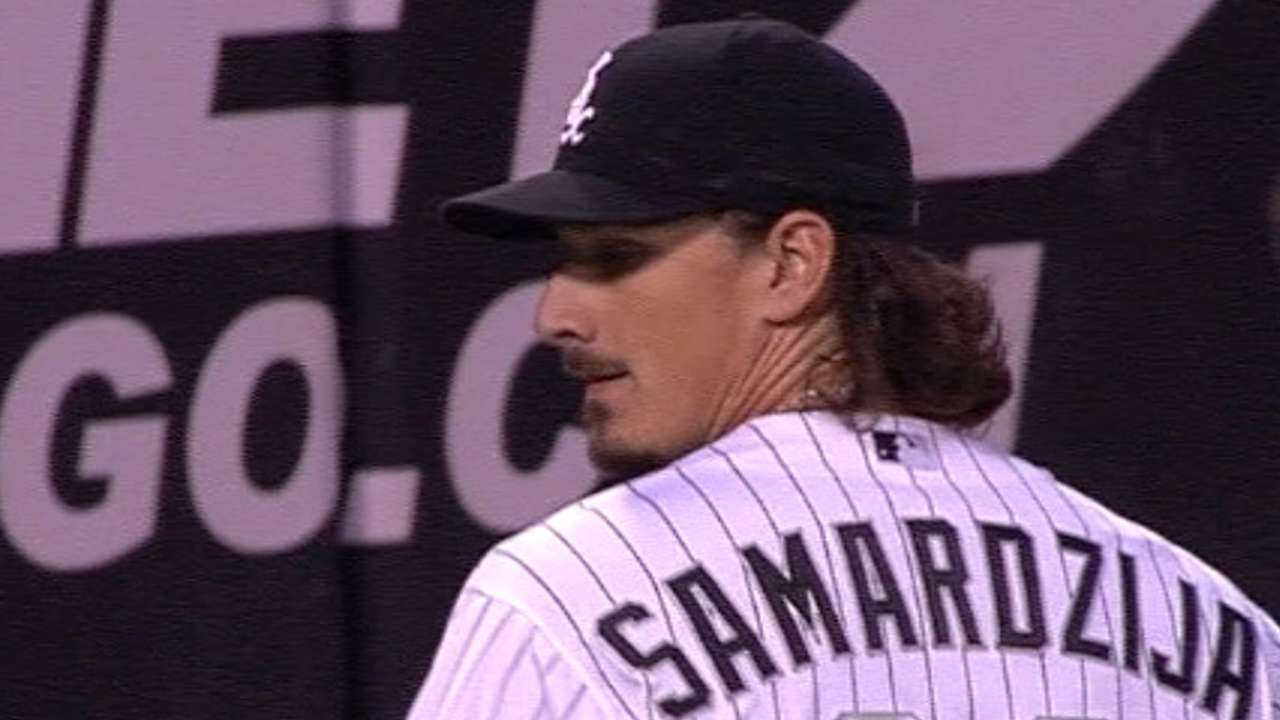 CHICAGO -- The White Sox made a one-year qualifying offer to free-agent right-handed pitcher Jeff Samardzija, which was officially announced by the team Friday afternoon. But it seems unlikely that this pairing will extend past their 2015 season together.
Samardzija, who turns 31 at the end of January, came to the White Sox from Oakland via a six-player deal on Dec. 9, 2014, in a move intended to provide a 1-2 rotation punch for the South Siders with staff ace Chris Sale. But the plans turned out far from ideal, as Samardzija finished with a 4.96 ERA over 32 starts, along with an 11-13 record and 163 strikeouts in 214 innings.
That ERA dropped below 5.00 when Samardzija allowed just two runs over 16 innings during his final two starts, including a one-hit, one-baserunner shutout against the Tigers in Detroit. Samardzija talked about finding a mechanical flaw in his delivery where his hands were getting away from his body, making him get around the ball and miss left and right, as well as up in the zone. He implemented that change over those final starts.
Many people talked about Samardzija costing himself money going into his walk-away year. But there should be a market for a pitcher who has topped 210 innings in three straight seasons but doesn't have the career-innings toll as some of the other starting pitchers on the market. Numerous scouts watched Samardzija over those last two trips to the mound.
If Samardzija accepts the qualifying offer, he would return to the White Sox for 2016 at a salary of $15.8 million. It's a move that would make some sense, with Samardzija potentially taking next season to build up his stock again before re-entering free agency as part of what he termed a winning situation following his final '15 start.
"Absolutely. There's a lot of great pieces here," said Samardzija of the White Sox. "Great team. Had a great time this year. You know, just every time we got going it seemed like it just went the other way, so it's about consistency."
Then again, Samardzija has prepared himself for this free-agent opportunity for quite some time, coupled with the fact that no player has ever accepted a qualifying offer. He's an educated individual in the system, and the team fit appears to be as important to Samardzija as that last extra dollar.
Samardzija declining the qualifying offer and signing somewhere else means that the White Sox will receive a compensatory Draft pick. Fellow White Sox free agents Matt Albers, Geovany Soto and Gordon Beckham did not receive qualifying offers.
Even without Samardzija, who has a 4.09 ERA and 901 strikeouts in 991 2/3 career innings over eight Major League seasons with the Cubs, White Sox and A's, the White Sox rotation remains the club's strong suit. It's anchored by Sale and Jose Quintana, with Carlos Rodon entering his first full season and John Danks in the fifth slot.
Scott Merkin is a reporter for MLB.com. Read his blog, Merk's Works, follow him on Twitter @scottmerkin and listen to his podcast. This story was not subject to the approval of Major League Baseball or its clubs.