MLB.com Columnist
Phil Rogers
5 moves to help the Cubs get even better
Trades for a front-line starting pitcher, center fielder would be a good start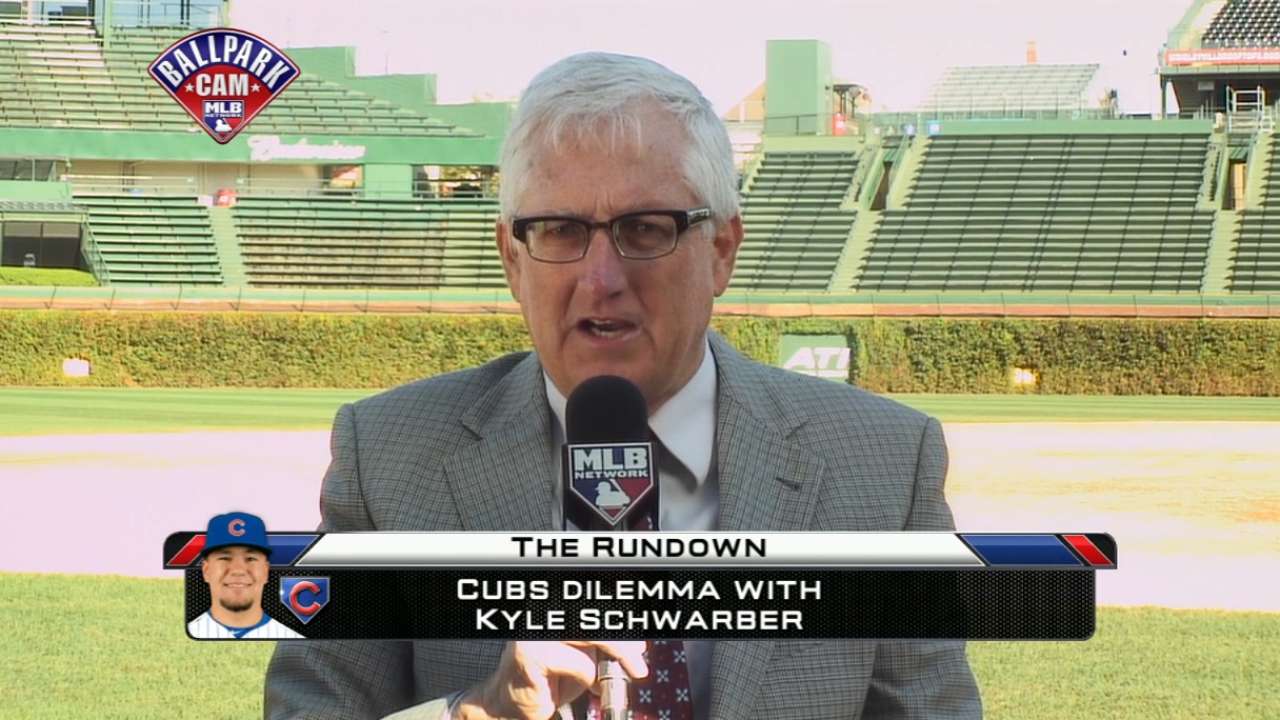 OK, so the Cubs' season ended with a loss -- four in a row, as a matter of fact. But the trip to the National League Championship Series was a thrill ride that included the franchise's biggest season-to-season improvement since 1984, plus postseason victories over the Pirates and Cardinals.
It was a season to be savored, one that will be difficult to top. But that has become the job at hand for Theo Epstein, who said that 2015 was like a beautiful baseball dream.
He wanted a challenge when he came to Chicago, and it's still there. It's not going to be easy to improve on a 97-win finish, but now he has to emulate the Royals and follow one magical season with another.
The least we can do is offer a few suggestions, so here are five moves for the Cubs to make this offseason:
1. Trade for a dominating starter who is under control for at least four seasons.
This is a short list that includes Corey Kluber (12.8 fWAR the past two seasons), Chris Sale (11.4), Jose Quintana (9.9), Chris Archer (8.5), Carlos Carrasco (8.0) and Sonny Gray (6.9).
This would be a more cost-efficient, lower-risk option than signing David Price for six or seven years at an average annual value of $30 million, assuming Max Scherzer is the appropriate comp. Price is a good fit in a lot of ways, but after last year's Jon Lester signing, Price would give the Cubs two 30-something pitchers signed for the next five seasons at a combined $55 million-plus per year.
That's a huge investment for two arms, and the Cubs have the prospect inventory to pull off a huge trade, so they should look that way first.
Both the White Sox and Indians have two starters on this list and are prioritizing hitters, which fits the Cubs' surplus. There's a deal to be made between these teams, if the Cubs will trade either Javier Baez or Jorge Soler and multiple players from a list including Billy McKinney, Albert Almora, Eloy Jimenez, Christian Villanueva, Willson Contreras, Jeimer Candelario and Dan Vogelbach.
2. Trade for Kevin Kiermaier.
Getting the best defensive center fielder in the game won't be easy, but this guy's a perfect fit for Wrigley Field. He's not only from the Midwest, but he has a brother who works on the Wrigley Field grounds crew. He has played for Joe Maddon before. His range and instincts would leave less territory for Kyle Schwarber and Soler to cover on the corners. He won't be easy to get, but going after him is a no-brainer.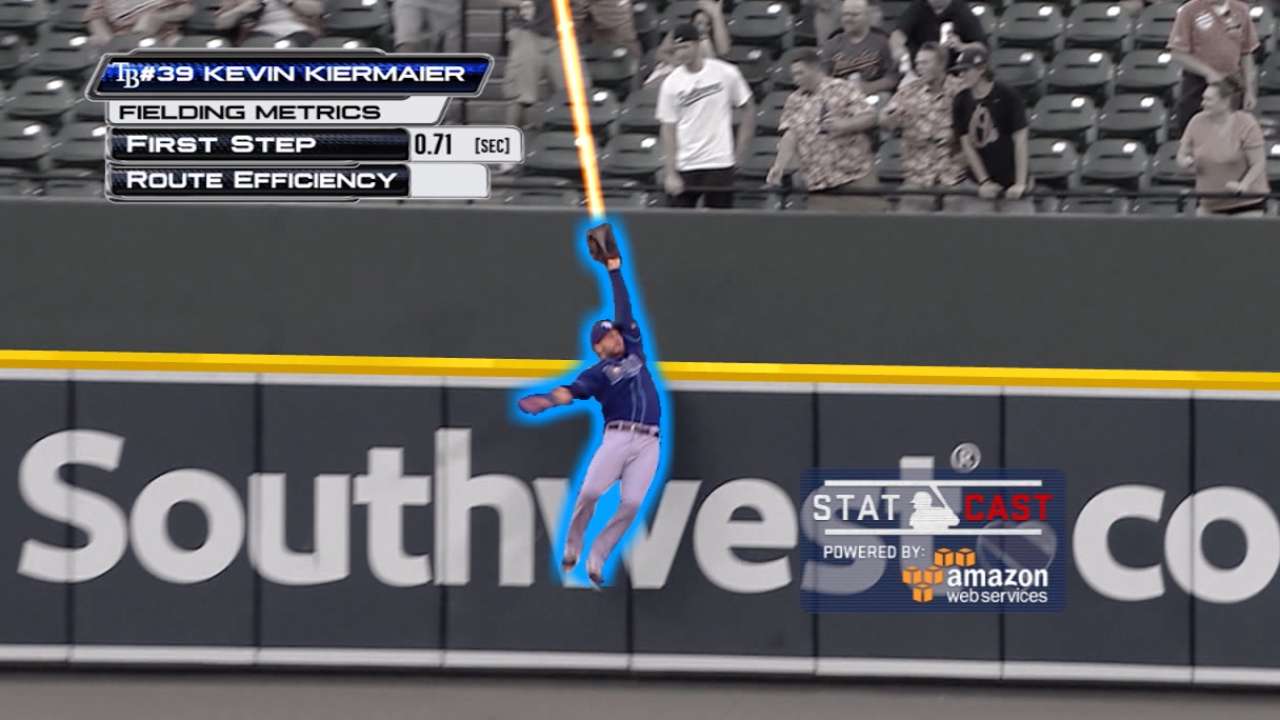 It doesn't help that the Rays are still steaming over Maddon's exit. But the Cubs can make it worth Tampa Bay's while to be open-minded. If Chicago can't, Epstein should move on to other options to replace departing free agent Dexter Fowler.
With Addison Russell available to take over the leadoff spot, defense is the priority. The list of guys who fit includes Jackie Bradley Jr., Kevin Pillar and maybe Leonys Martin (the most available guy on the list). There's talk about free agent Denard Span, but metrics show his fielding is slipping. Rajai Davis or re-signing Austin Jackson is a better bet on a one- or two-year contract.
3. Commit to catching Schwarber once a week.
Schwarber's maximum value comes if he can play regularly behind the plate, and he's made major strides there the past two years. The Cubs can keep Miguel Montero and David Ross and give Schwarber 20-30 starts at catcher next season, which will help evaluate the long-term fit. Montero probably won't be happy losing playing time, but the Cubs actually had a better winning percentage with their other starting catchers (.606) than in Montero's 91 starts (.593).
4. Sign 35-year-old free agent lefty Rich Hill or one of the more conventional second-tier free agent starters like John Lackey or Jeff Samardzija.
Hill, who started his career with the Cubs in the Dusty Baker era, made four starts with the Red Sox in September -- his first in the big leagues since 2009 -- and he was brilliant. Hill had a 1.55 ERA over 29 innings, allowing only 14 hits while striking out 36. You could see why the Cubs tried to trade for him in August, when he was still with Triple-A Pawtucket.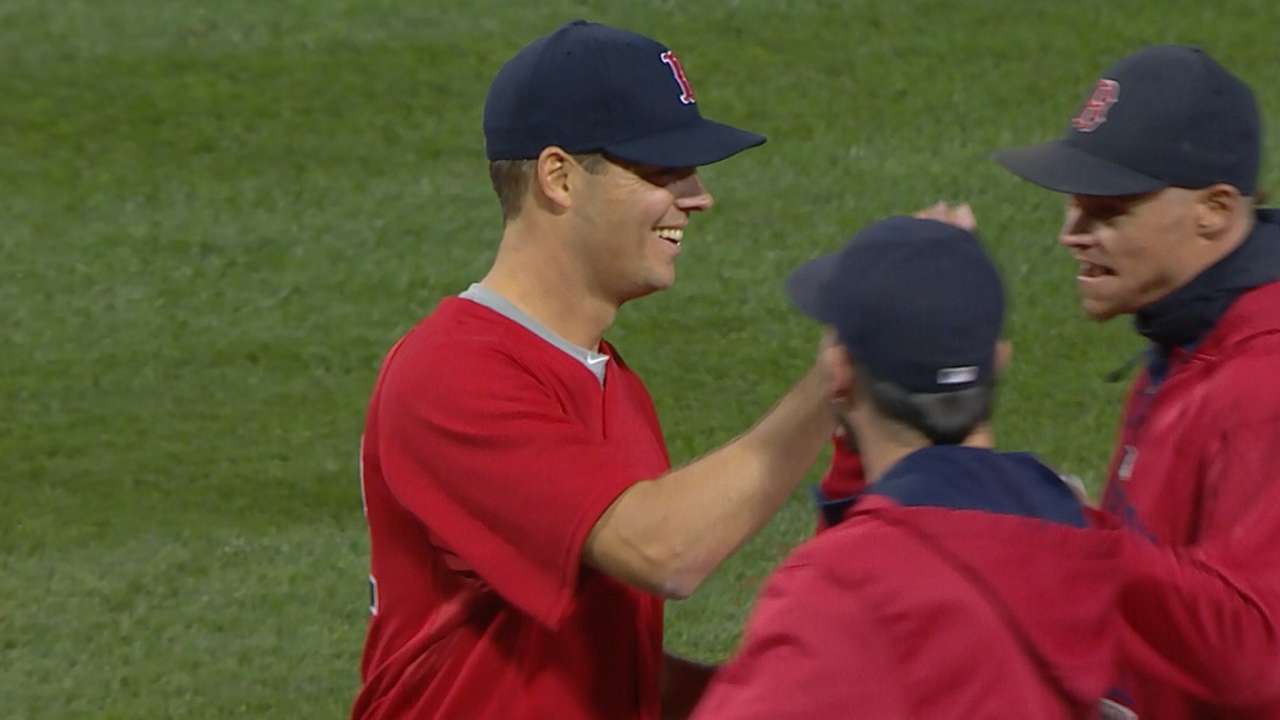 An advantage in signing Hill is he will probably wind up with a short, incentive-heavy deal compared to a three- or four-year commitment for Lackey or Samardzija. Nothing says the Cubs can't sign Hill and Lackey/Samardzija, either. They are committed to being at least seven starters deep when they go to Spring Training next year, although Epstein does speak positively about Kyle Hendricks and Jason Hammel, his third and fourth starters at present.
5. Extend Jake Arrieta.
The Cubs only control the 22-game winner for two more years before free agency. He earned $3.63 million last year and is projected to be in line for an increase to $10.6 million, according to the mlbtraderumors.com arbitration estimates.
While Arrieta has never been an All-Star, his breakout performance was really a continuation of his work in 2014. Only three starters (Clayton Kershaw, Kluber and Price) have produced more fWAR than Arrieta the past two years. The Cubs should trust those numbers and offer him something like $80 million for four years rather than leaving him on course for free agency after 2017, heading into his age-32 season.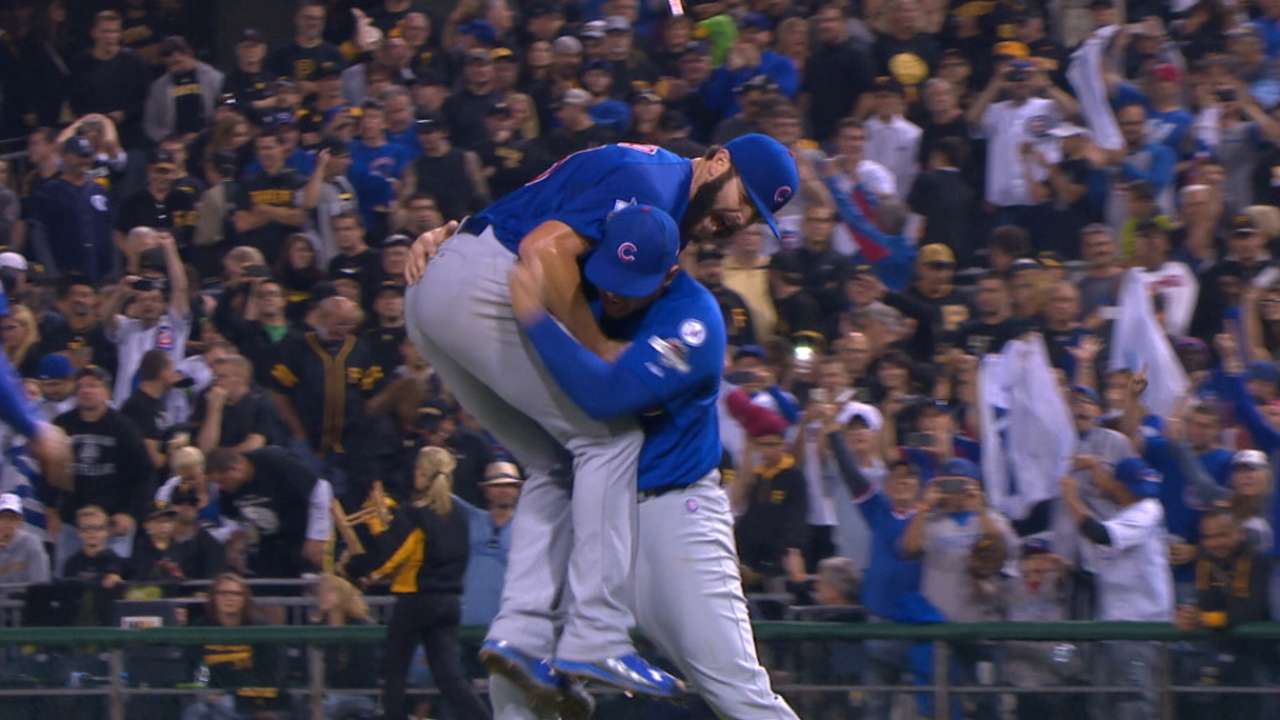 Arrieta is a Scott Boras client, but the right-hander is quick to acknowledge he's thriving in part because of where he is. The Cubs might as well see if wants to stick around a little longer.
And if all of the above fails, there's always the BAFAS plan.
That's "Best Available Free Agent Starter," meaning just throw money at Price. The Cubs have it to spend -- thanks mostly to how little they'll have to pay their young lineup -- and Price is worth it. Signing him is the easiest good move they can make.
Phil Rogers is a columnist for MLB.com. This story was not subject to the approval of Major League Baseball or its clubs.