Plenty of starters for Pirates to consider
Free-agent market includes multiple arms with proven track records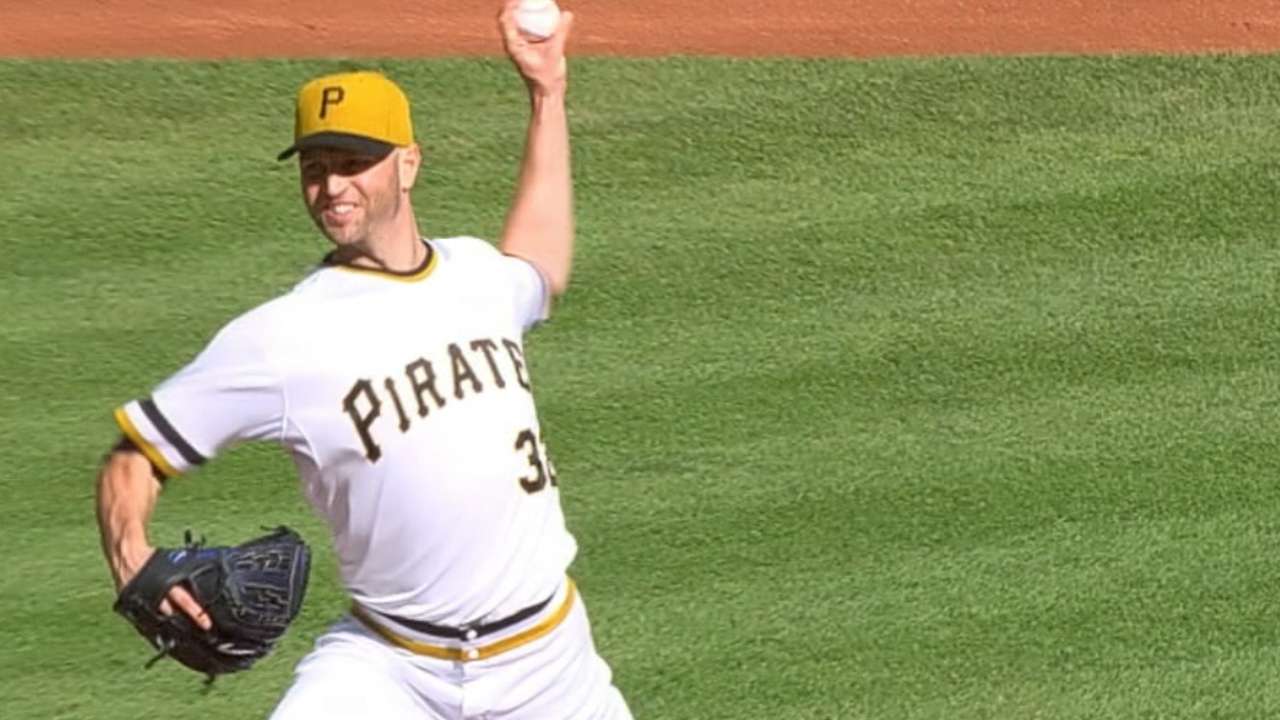 PITTSBURGH -- The Pirates began the offseason with at least one hole in their rotation. Fortunately for the Bucs, it's a good year to be on the hunt for starting pitching.
Top-of-the-rotation starters like David Price, Zack Greinke and Johnny Cueto will keep the Hot Stove rumor mill churning all offseason, but this year's free-agent class is loaded with quality arms beyond those high-profile aces.
The Pirates have had five days to negotiate with their own free agents. At 12:01 a.m. ET on Saturday, those players can begin negotiating with other clubs, and the Bucs can begin bidding on other teams' free agents as they look to improve a club that won 98 games last season.
"We like the core, whether it's our starters, our bullpen or our position-player group. We like the young players coming behind them," Pirates general manager Neal Huntington said. "How do we bridge the gap to get to some of those younger players? How do we add to the 2016 club?"
With A.J. Burnett retiring and Trade Deadline acquisition J.A. Happ becoming a free agent, Pittsburgh is left with four starting pitchers. Gerrit Cole and Francisco Liriano will return atop the rotation next season. They'll be followed by Charlie Morton, who is also under contract.
Left-hander Jeff Locke, arbitration-eligible for the first time, would line up behind those three if the Pirates offer him a contract for next season. Locke went 8-11 with a 4.49 ERA last year, making him a possible non-tender candidate. But he made 30 starts and posted a 3.95 Fielding Independent Pitching mark, and his projected salary via arbitration will be reasonable.
Even with Locke on board, the Pirates will need to add one starting pitcher this offseason. So the Bucs will look first to the free-agent market, where they will find a long list of available candidates for the rotation.
One name that stands out is Happ, who thrived after joining Pittsburgh in a midseason trade. The Pirates have expressed their desire to keep Happ, and the lefty has interest in returning to the Bucs.
The second tier of free-agent starters offers a number of other options. It's a deep group that includes, among others, left-handers Scott Kazmir, Wei-Yin Chen and Brett Anderson, as well as right-handers Mike Leake, Yovani Gallardo, Marco Estrada and Ian Kennedy.
Pittsburgh could also take a chance on a pitcher with a strong history who is coming off a disappointing year -- someone like Jeff Samardzija, Doug Fister or Mat Latos. The Pirates have an impressive track record of helping those pitchers turn it around, as they've done with Burnett, Liriano, Edinson Volquez and, most recently, Happ.
"We see some opportunities in free agency, as always. We'll explore trade matches to see if there's ways to improve the club," Huntington said. "We'll look at different ways, different opportunities, different avenues to help strengthen this 2016 club and put ourselves in position to advance beyond where we have the last three years."
Adam Berry is a reporter for MLB.com. Follow him on Twitter at @adamdberry. This story was not subject to the approval of Major League Baseball or its clubs.